Best Two Way Coffee Maker Review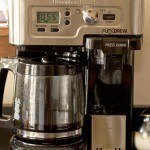 …
THE CUISINART CHW-12 VS. HAMILTON BEACH FLEXBREW
CUISINART CHW-12

WEIGHT: 9.5 POUNDS
DIMENSIONS: 10.25" X 9.5" X 14.3"   
CAPACITY: 12 CUPS                             
K CUP COMPATIBLE: NO                    
HOT WATER TAP: YES
WARRANTY: 3 YEARS LIMITED           
COLORS: BLACK/STAINLESS STEEL   
PROGRAMMABLE TIMER: YES          
BREW PAUSE: YES
OUR RATING: 4.0 STARS OUT OF FIVE
HAMILTON BEACH FLEXBREW
WEIGHT: 8.3 POUNDS
DIMENSIONS: 10.8 X 11.8 X 15.8 INCHES
CAPACITY: 12 CUPS/SINGLE SERVE
KCUP COMPATIBLE: YES
HOT WATER TAP: NO
WARRANTY: 1 YEAR
COLORS: BLACK/STAINLESS STEEL OR RED
PROGRAMMABLE TIMER: YES
BREW PAUSE: YES
OUR RATING: 3.4 STARS OUT OF FIVE
WHAT HAVE WE GOT HERE?
Basically, here we have two very similar, but by no means identical products. 
In the blue corner, is the Hamilton Beach FlexBrew Single Serve Coffee Brewer And Full Pot Coffee Maker (49983a) and in the red is the Cuisinart CHW-12 12 Cup Progammable Coffee Maker.
Weighing in respectively at 8.3 pounds (FlexBrew) and 10 pounds pounds (Cuisinart), these are well matched in size and stature, with neither over occupying the space on your kitchen counter.  If you already have enough things on your kitchen counter, you can take comfort in the fact that both of these machines are not huge space-taker-uppers.

Their capacity level is the same, at a maximum of a 12 cup size.
However, here is where they differ.  The Cuisinart is designed mainly to perform the task of a big carafe of coffee, with a smaller size of 1-4 cups also possible, the Hamilton Beach is a designated travel mug/single cup size server as well as a big pot.
Here's a video review of the Hamilton Beach FlexBrew 2-Way Coffee Maker to give you a closer look at this machine and its functions.
…and now one for the Cuisinart CHW-12 direct from Cuisinart themselves…
To make up for the lack of specific single serve size on the Cuisinart, there is instead the hot water tap function. In short, this one is aimed primarily at lovers of "big" coffee vats, as well as tea lovers/hot chocolate addicts.
The Hamilton is more for carafe guzzlers, who also live with someone who favors K cups/ single serve sizes.
Price wise, they are also quite similar, with the Cuisinart coming in slightly more expensive by $10 at the time of this writing.
Other things they have in common, is they are both programmable with a timer and both can be paused mid brew cycle.
WHAT'S TO LIKE HERE?
There's plenty to like about both of these coffee makers.
Know Your Grinder really appreciates the flexibility of the Hamilton Beach Flexbrew.
Want to switch between K Cups and grounds? No problem. Want to brew a full pot of coffee or just do a single cup?  Go for it.  There is a timer on the carafe brewer. 
=> In a hurry?  Click here to buy the Hamilton Beach FlexBrew, or click here to buy the Cuisinart CHW-12 Cup for the lowest price on Amazon now!
You can select and change the strength of the coffee and the flavors, when everything is as it should be, are highly satisfying.
But personally, we like being able to chop and change between the K Cup function and the grounds. And so do a lot of their customers too.
Likewise, the Cuisinart has plenty to commend it also. Unlike a lot of twin brewers, Know Your Grinder thinks that being able to use the coffee brewer AND the hot water tap TOGETHER is something missing from a lot of similar models.
We also like the fact our hot drinks are indeed HOT.
Both makers are not the most complicated to use and indeed the Hamilton Beach boasts a Quick Start function, to get going as quickly as possible right from the off.
The cup function is also adjustable so you can go from "regular" coffee cup sizing right up to a 14 ounce travel mug.
The Cuisinart is the only one with a dedicated hot water tap, but it may be possible to simply use the hot water without any coffee, on the Hamilton brewer single serve side, should that be what you wish. This would lend a lot of flexibility to the range it can do.
WHAT'S NOT SO GREAT?
Every coffee maker is different and very few are completely perfect, however, there are some imperfections that people find easier than others. Without wanting to dwell on the negatives for too long, we feel it is important to take a little time to gaze upon the problems customers told us they had with these models.
THE TASTE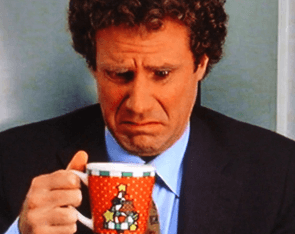 This is kind of a deal breaker really, but in a minority of cases, it seems there is a bit of an issue with a "plastic taste" in some of the coffee makers. Not the majority. The usual advice is to wash well out with vinegar and water and mostly, this works.
However, sometimes it does not.
To be blunt, we feel it needs to point out this may be more of an issue in the Hamilton Beach Flexbrew.  Although, it would seem this is a common problem to a lot of brewers in this ilk.
=> Read what other reviewers are saying about the Hamilton Beach FlexBrew on its Amazon page by clicking here!
There are other issues, but they seem fairly minor in comparison, some gripes about leakage from the Cuisinart – but to be fair, this is a standard criticism against nearly all coffee models in a few defective occasions.
=> Read what other reviewers are saying about the Cuisinart CHW-12 on its Amazon page by clicking here!
One thing about the Hamilton Beach, the hot plate gets very hot and will heat up even when the single side is in use. There are ample warnings about this however.
Here's a troubleshooting video which looks at one of the potential issues of the Hamilton Beach FlexBrew, where sometimes you might get coffee clogging the machine and a simple paper clip can help with a fix.  Handy!
WHICH ONE SHOULD I CHOOSE?
On the whole, these two brewers are very closely matched and are decent smaller-sized coffee makers, for people who haven't got a stack of money to spend on the deluxe option, nor have a huge kitchen to put it in, but still want quality and convenience.
The concept of a coffee maker that can do a carafe, as well single serve drinks, appeals to us a lot. 
=> In a hurry?  Click here to buy the Hamilton Beach FlexBrew, or click here to buy the Cuisinart CHW-12 Cup for the lowest price on Amazon now!
The multi task aspect of being able to use a K Cup (Hamilton Beach) or make your own hot drink (Cuisinart) without taking up acres of surface area to do it in, is one Know Your Grinder likes aplenty.
Unless you really want to use K cups, we feel, the best advice may be the Cuisinart, which is a pity as we really like the idea of the K cup/ grounds combination.  Although it should be remembered in the (vast majority) of cases, the Hamilton owners who are happy with their machines are VERY happy indeed.
---
Summary
Reviewer
Review Date
Reviewed Item
Best Two Way Coffee Brewer - Hamilton FlexBrew VS Cuisinart CHW-12
Author Rating