Last Updated on
By: Know Your Grinder
Every now and then I want to treat myself and my family with a delicious, foamy latte or cappuccino. 
On a regular work day, a cup of rich, black coffee works just fine for me.  That said, there's certainly  an appeal to going the other direction and making drinks that are both milky and foamy, and delicious.
The holidays, in particular, usually get me feeling frisky, and I want to experiment and decorate the lattes and drinks of the rich, foamy variety in all sorts of different manners.
---
Foam Quest – Searching For A Good Coffee Milk Frother
This is when I began wondering what the best milk frothers were.  That curiosity was fuelled by a desire to make better and better latte art.
Latte art certainly takes skill and patience, and though I can't call myself a master of it, I've learned a few things, and one of those things is being able to produce a significant amount of foam with which to create unparalleled latte art.
In order to do this "trick", the need for a good milk frother was becoming more important.  Enter the Aerolatte Hand Held Electric Milk Frother, which is the subject of my review today!
---
Aerolatte Hand Held Electric Milk Frother Review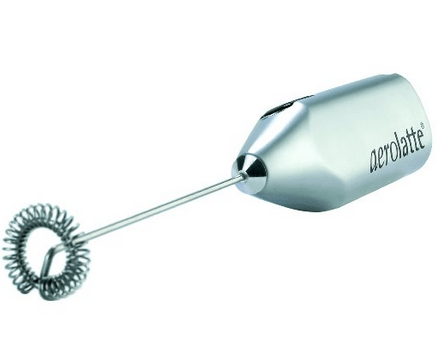 Since I'm the resident coffee lady around my house, it's pretty natural for me own most of the coffee making stuff (you don't want to see my kitchen, there is barely space for all of this stuff – luckily my husband is a coffee drinker).
The Aerolatte milk frother is a type of whisk I've been using for some time now, and it allows me to magically whip up a froth that is to die for when it comes to a latte.
Its icy blue satin color was chosen on purpose (there is also a black one available; when I saw it for the first time couldn't endure how lovely and simple the design was and yet so classy. 
But, that is not the most important part; this Aerolatte tool works excellently and helps me create wonderful milk foam in literally few seconds. 
Now that I've spent some time with it, the Aerolatte has become like a jewel in my kitchen.  Even the base of the frother is quite neat.
---
Must Have For Any Latte Lover
The Aerolatte Hand Held Milk Frother was about twenty dollars, but I shelled out 8 more dollars and got myself the Aerolatte Chrome Satin Stand where I usually put it when I don't use it.
Aerolatte itself is quite small (8.7 x 3.6 x 0.9 inches ; 3.5 ounces) and uses batteries, so no cords or cables are included. 
I feel that this makes it not only a must-have for a kitchen, but also for traveling, especially for campers or people who travel a lot and want to stick to their way of preparing their coffee.
The frother comes with 2 AA batteries which were included in the package.  Its about the size of my electric tooth brush, actually. 
The sleek handle of my Aerolatte is big enough to fit in your palm and operating it is a piece of cake.  
In only twenty or thirty seconds you will get the perfect frothed milk, and the amazing thing is that it works just as good with cold and hot milk.
Here is a video that has taught me a few tips on how to work that froth when it comes to lattes.  I recommend taking notes!  🙂
I want to point out that the frother does not generate steam or heat; you will have to warm the milk previously (whether in the microwave or in the oven) and then make the foam with the Aerolatte.
---
Satin-y Milk Foam
You'd be surprised how often my family uses this little tool.  Everyone seems to get a kick out of using it, and I have to keep an eye on it to make sure it doesn't get used for anything that will wreck it.  One time my daughter tried to make a mud pie with it, with actual mud. 
Normally, it's just used around our house to make latte art, because everyone loves that.  But just in terms of foam, it's satiny and delicious if you want to just focus on foam texture for your latte.
Beyond easy to use, even for children who might want to help out in the kitchen, it creates satin finished milk foam that you can later mix with your favourite blend and create an original Italian latte or foamy cappuccino at home. 
---
Aerolatte Art Stencils Are Cool!
My whole extended family has caught the bug and they also love it; for them of course, I prepare decaf latte and decorate it with Aerolatte Cappuccino Art Stencils.
When I purchased the Aerolatte frother, I simply couldn't resist getting these Art Stencils that are super easy to use as a lovely top decoration.
Just place one of the six stencils (star, winkey face, heart, leaf, swirl or snowflake) over the cup, dust some chocolate or cinnamon, or whatever topping you prefer and voila – an amazing decoration on your cappuccino or latte foam. We all love this.
The Aerolatte Cappuccino Art Stencils are low priced, but they are worth it and good quality.  We really have fun decorating our cups of coffee and we truly enjoy them.
On the other hand, it is not forbidden to use the Aerolatte Cappuccino Art Stencils to decorate any milk drink or even cookies or cakes (we had some really nice Christmas cupcakes decorated with the snowflake stencil and it was amazing).
---
Final Thoughts on the Aerolatte Milk Frother
I recommend this whole package as a cute present for your friends or relatives – it is beyond practical. It's just too cute!
There's also a Mooo version that I got recently which I have to recommend!
The Original Electric Hand Held Milk Frother by Aeropress has a five year warranty, uses batteries (which saves money on electricity) and above all, creates an excellent milk foam.
The time of preparation of your frothed milk is literally no longer than twenty seconds.
Wrapping up, watch this cool video on creating latte art.  It got me inspired to take my frothing skills to the next level!
Thanks for reading!  Comment below!