Last Updated on
By: Know Your Grinder
We will start with the Baratza Encore review.
---
The Baratza Encore review – a piece of perfection
The Baratza Encore is a burr grinder with a good reputation that isn't all that expensive.  Let's start out this review with some of it's main features before we dig deeper.
Baratza emphasizes the grinder's ability to do excellent espresso and manual brewing
Burrs in this grinder are driven by a high torque, DC motor which slowly turns to give you cool and quiet operation and grind for longer periods if need be

Thermal cutoff switch which will automatically reset when necessary

The burrs on the Encore have been pre-calibrated by the manufacturer to give maximum grind range, but the burrs can also be user calibrated as well

A unique speed control allows burrs to be rotated between 405 and 495 RPM if specific modification is desired

Easy access on/off switch

No tools required to remove burrs, so cleaning is extra simple

Cleaning: Burrs are easily removable with no tools, making cleaning very easy
If you were thinking of entering the world of making coffee or espresso at home by grinding your own beans, then the Baratza Encore might be the grinder for you.
The Encore has a wide range of grind styles to suit just about anyone who loves coffee, and it does have its fans!

In this review we will talk about the pros and the cons of this particular coffee grinder, to better help the home brew coffee fan with making an informed decision about this particular burr coffee grinder.

Inexpensive For A High Quality Grinder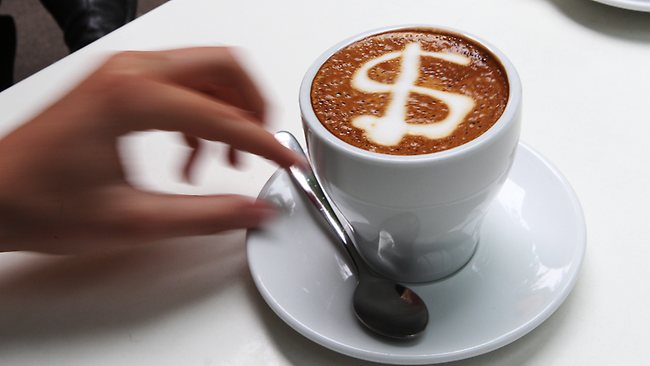 Depending where you buy, you can get the Baratza Encore for somewhere between $100 and $200.
Some might say, "$200?  Too rich for my blood!" and look for a cheaper option.  
So, if $50 is your absolute limit, you might want to read this article, which looks at the best coffee grinders under $50. 
That said, once you take a step back and take a look at the price range overall for what constitutes a quality grinder, you might begin to see that the Baratza Encore isn't really high-priced after all, all things considered.
On the contrary, for this caliber of coffee grinder, we are looking at more of an entry-level one might say "pro" coffee grinder. 
Sure, there are grinders that are much less expensive than the Encore, but those grinders simply don't have the hardware to be considered a high quality grinder like this, which focuses on both consistency and adjustability. 
At the same time, the $20-$50 models don't have nearly the grinding range to produce high quality espresso and coffee as the Baratza Encore does.
Great Coffee At Home

An espresso fan can spend over $1000 on a coffee grinder if they really wanted to, it's true.  There are no shortage of high quality grinders out there that do everything and then some.
For instance, the Mazzer Mini, to name just one of the more expensive home grinders, costs at least double the price of the Encore, but fundamentally is the same hardware set-up.  
Hence, if you are just starting out in the home grinding world, and trying to make better coffee and better espresso, your best bet is a grinder like the Baratza Encore.  No need to spend that $1000 just yet.

No, the Baratza Encore is no slouch when it comes to grinding at up to 1.1 grams per second.  
For the home user, many customers find the combination of price, value, and quality to be just right with the Encore. 
The general consensus among the Encore's many fans is that, if you're getting serious about grinding for a variety of brewing methods at home, such as drip, pour over, and espresso, the Baratza Encore is the one to go with.
One customer named Chris put it thusly:
"I did a lot of research and this was the best value. I've had it for about 3 months and it works perfectly. I go between brewing from my Chemex and french press, and it takes a only a second to change the grind setting. The grind is very even (conical all the way) and I love experimenting by changing it between the 0 – 40 range. Easy to clean. Sturdy. A great overall grinder."
Baratza – Brand Name Quality
When talking about quality coffee grinders, once the dust settles, there are only really a handful of brands that keep coming up again and again – and for good reason. 
Baratza just so happens to be one of those brands, and the reason is that they make a quality product according to their customers, with the kind of hardware that can last a long time.

Feel free to look around the web – we're pretty sure that you'll agree with us that Baratza is a brand that has rightfully earned its place in the coffee grinder pantheon alongside grinders like the Breville Smart Grinder, the Mazzer Mini, and Rancilio Rocky.  
Luckily, it's just less expensive.

Watch this Crew Review of the Baratza Encore to get an even closer look at some of its functions, and to get a peek at the Encore's inner workings.

40 Grind Settings / Stepped Grinder

The Baratza Encore has a conical burr set which makes it ideal for performing the stepped grinding functions that it does. 
Stepped grinding means simply controlling the incremental distance between your burrs, so that you can pinpoint and set it to a particular grind size, which will then suit on of the popular brewing methods – French Press (coarse), drip (medium), or espresso (fine), and anything in between. 
Looking to grind for Chemex?  There is a grind setting for that.  Looking to grind for espresso?  There is a setting for that too. 
Each of the individual 40 grind settings gives you something a little different, and the Encore is the perfect grinder to allow you to experiment with grind size.
Next, we bring you customers' feedback on Baratza Encore.
---
Baratza Virtuoso Conical Burr Coffee Grinder
Baratza Vario Flat Burr Coffee Grinder
Espresso Perfect – Customers Have Their Say
Many users of the Baratza Encore seem to praise its ability to grind for espresso.  In fact, it seems that many users use the Encore exclusively for espresso, and not much else. 
One customer commented on its application for espresso use:
"If I ever do need a grinder more suited to espresso I will only buy a Baratza."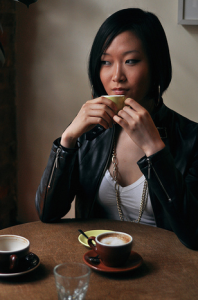 Another user, J. Ard, said this:
"I will be honest, I now use the Vario for Drip and Press and use the Encore exclusively for espresso."
Of course, buying more than one grinder can be expensive, and not to many people are willing to do that. 
Luckily, the Baratza Encore is a fairly well rounded machine, eliminating the need for multiple grinders to grind for multiple brewing styles.

Michael Manzo, who uses the machine mainly for his french press, says:
"The grind is very uniform, and each cup of coffee has the least amount of "sludge" left in the bottom of the cup, less so than any other grinder I've used."
Richard H. Schneeman, a fan of all different brewing methods, remarks on the Encore:
"I use it to make drip coffee and it turns out great. I've used it for espresso in a friend's stove top mocha maker and the gind was very consistent. It has a really wide range."
One customer named Bruce said this of the Baratza Encore:
"Why did I wait so long? …I have been using this grinder multiple times per day for a year now and so far I have NO problems to report. It still grinds just as well as it did on day one, the burrs are still sharp and I still love this grinder."
Problems With The Baratza Encore

But despite all the praise being heaped on the Baratza Encore, there are still some people whose experience with this grinder has been less than excellent.  
One customer said the following:
"There is one thing that is a "con" but this may be just my unit…the on/off switch…not the push button, but the switch that rotates on the side….it seems like there is a short in the switch…i have to jiggle it a bit but it always works."
Blade or burr? Blade! Here is why…
---
Why you should choose Baratza Encore burr grinder over blade grinder?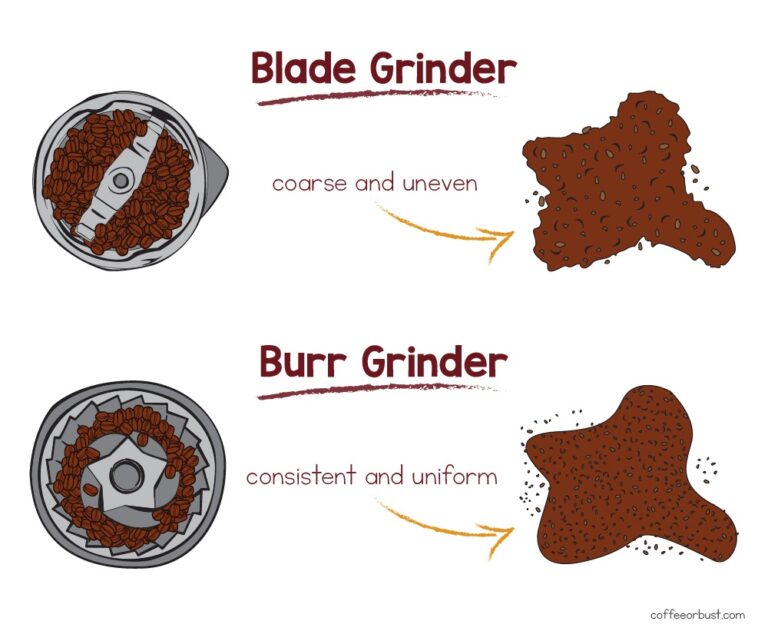 You may think that burr and blade grinders are the same and that there is no difference between them. Well, you'd be wrong!
These two types of grinders differ in several ways. Here are the key differences between them:
When you load your blade burr grinder with coffee beans and switch it on, two revolving abrasive surfaces known as burrs start to revolve, squeezing and crushing the coffee beans.
The distance between the burrs can be easily adjusted in order to change the thickness of the grind. This is especially useful if you like to use different brewing methods.
For example, you would you use fine grind for espresso, and coarse grind for French press.
It is worth explaining that the coffee gets extracted from the grains as water passes through.
If you your grinder is capable of achieving uniform grain size you will be able extract the maximum flavor and aroma from your coffee.
On the other hand, if the grains are not all the same, with some being small and some being big, you end up losing all that precious flavor form your coffee. You don't want that, do you?
Getting uniform grind with a blade grinder is almost impossible as it won't let you adjust the size of the grind. The only thing a blade grinder let's you control is how long the machine stays on.
Blade grinders also create a lot of heat with their blades hitting the hard surface of the coffee beans. This heat can reduce the amount of flavor and aroma left in the grains. The heat can also burn your coffee, making it useless.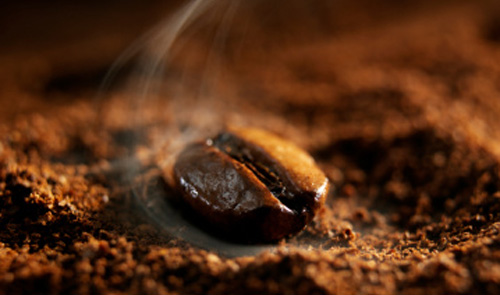 As burr grinders don't create the same amount of heat the coffee grains preserve their precious flavor and aroma. Thanks to burr grinders you can squeeze out all those amazing flavors needed for a perfect cup of your favorite brew.
Those were the reasons why Baratza Encore burr grinder is way better than any other blade grinder.
You've made your choice! What to do next? Where to go shopping? 
---
Where to buy Baratza Encore
So you've decided to buy a Baratza grinder but you are not sure where to go? No worries, we are here to help you!
Baratza is one of the leading manufacturers of coffee machines and grinders. Thus, Baratza products are available almost everywhere.
The easiest way to buy one of these products is to go online. Amazon and eBay will offer you dozens of different Baratza coffee grinders and coffee makers.
If you prefer getting your hands on the product before spending money, you can look for local Baratza dealers.
If you live in the USA, you can visit Baratza official website and access an interactive map that will show you Baratza dealers near your place.
It is worth mentioning that you may want to call ahead the local dealers to make sure they have the model you are interested in.
Here is what to do to keep your Encore spotless…
---
How to Clean Baratza Encore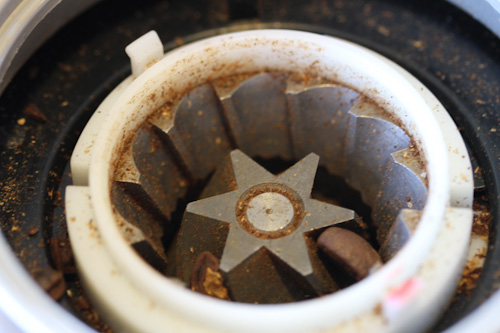 Cleaning your grinder regularly will improve the taste of your brews because you're removing old coffee particles and coffee oils that could otherwise end up in your brew.
Regular cleaning will also increase your grinder's lifespan, as old coffee buildup can make it harder for your machine to grind coffee and can add strain to grinder's adjustment system.
Cleaning a grinder is not hard, especially if you know if you have a grinder that is easy to use. Luckily, Baratza Encore is incredibly simple to use, thus incredibly easy to clean.
If you didn't know, you can buy tablets which you can run through your Baratza Encore every few weeks in order to keep it clean and spotless.
However, some places can't be reached by tablets and it is recommended you clean your Baratza Encore manually several times during the year.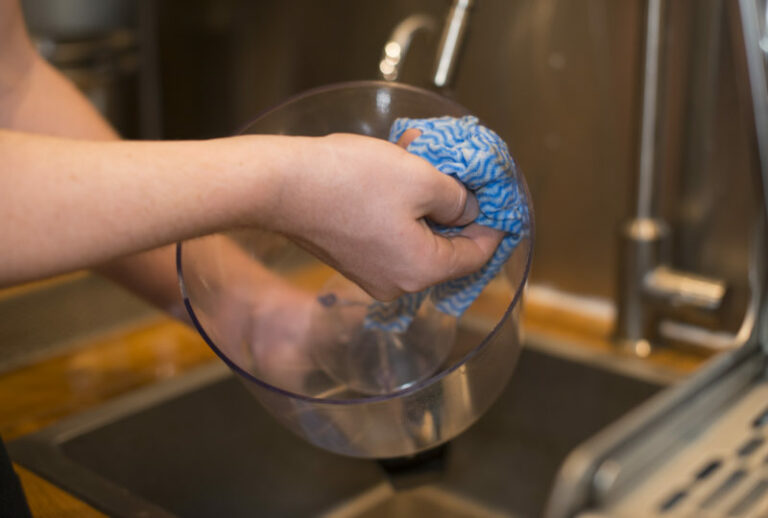 Here is the easiest way to manually clean your Baratza Encore:
Safety first!




Unplug your grinder from the wall socket in order to avoid any injuries.

Remove the hopper




Twist and remove the hopper that is located on the top of your grinder. Clean the hopper with a cloth and set it aside.

Clean the top gasket




Once you remove the hopper, you will have a clear overhead view of the inside of your Baratza Encore.  Look for the top gasket and slowly remove it with your fingers. Give it a good cleaning and place it aside.
Clean the burr




The burr is the most important part of your grinder that needs cleaning. It is located underneath the top gasket and in the very center of your machine. Take it out and clean it with a soft brush and a cloth.

Clean inside the grinder




Do not turn your grinder upside down! If you turn the machine upside down, you could upset the placements of the parts inside the machine. Simply insert the same soft brush into your grinder and brush away as much as you possibly can from the inside.

Put it back together




Once you clean and brush away everything, carefully place the parts back inside in the exact reverse order you took them out. Make sure you don't miss any parts, otherwise the machine won't work properly.

Try it out!




That's it! Your Baratza Encore should now look and run as new! Plug it in and try it out.
Here is our verdict…
---
The final verdict
We feel that the bottom line here is this – the Baratza Encore is an excellent conical burr grinder to buy if you want to jump to the next level of grinding beans at home for either french press, drip coffee, or espresso. 
There are very few complaints out there about this grinder, with the majority of people finding it to be a great all-around machine. 
All things considered The Baratza Encore receives 4.5 stars.
Hamilton Beach 49980A Coffee Maker, Single Serve Black/Stainless Steel
Freshroast Sr500 Automatic Coffee Bean Roaster
Breville Bes880Bss Barista Touch Espresso Maker, Stainless Steel