Last Updated on
By: Know Your Grinder
The Specs
Anti Static parts, so the grinds slide right out and into the bin properly

60 second timer to help adjust for perfect grind, with segmented graphics

Sculptured metal and "Virtuoso" print on the front adds to the look

Gearbox 2.0 – Increased drive transmission and decreased noise

Cool operation during grind cycle – no scorched beans!

40 mm European-made conical burrs for fast, efficient grinding

User calibration if so needed
If you're new to brewing your own espresso or drip coffee at home, one name that you will probably start to hear a lot of is Baratza.
Baratza is one of the biggest names in coffee gear, and, in particular, they are known for specializing coffee grinders that are known worldwide as some of the best burr coffee grinders you can get. 
Here's a quick video overview of this classic grinder…
Our Baratza Virtuoso Review
The first thing you might notice about the Virtuoso is that, like most other quality coffee grinders, its made from quality parts.  As such, it weighs in at a sturdy 9 lbs. 
Sure, there are bigger, heavier, and more expensive grinders on the market, but for its price point, the Virtuoso is definitely made using quality construction.
40 Steps
If you've never owned a higher end coffee grinder, you will start to run into coffee grinders which are either "stepped" or "stepless". 
Which one you prefer might require you to try each at some point in order to see the difference, and in doing so can be quite an investment. 
However, in a nutshell, the what you should know about a "stepped" grinder is that it has a certain number of grind settings, with 0 being an extremely fine grind (espresso) and 40 being the coarsest grind, meant for, say, french press coffee.
Here's a video review of the Virtuoso which shows it in action from our friends at Seattle Coffee Gear.
Of course, you'll need to play around with the grinder to find your perfect grind settings – we aren't going to tell you what the perfect settings are to get the perfect espresso with the Virtuoso.  Experimentation is a rite of passage as a home barista.  🙂
On the other hand, stepless grinders like the Macap M4 allow you to have limitless grind adjustments, since there are no "steps" to land on, so to speak, although it is much more expensive
Each has its advantages, but many coffee aficionados will agree that a stepped grinder such the Virtuoso with its 40 steps gives you plenty of leeway to select a grind that you like.

The other big advantage to having steps is when you find a grind setting that you like for a particular grind, its very easy to remember, whereas with a stepless grinder you need to be very proficient at winging it all the time.
Here are some of the best burr grinders for home use according to our editors!
Bestselling Coffee Grinders
Large Hopper & Grind Bin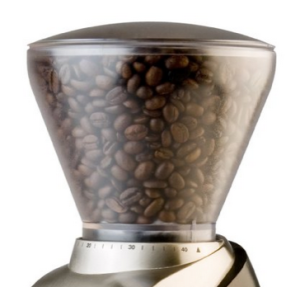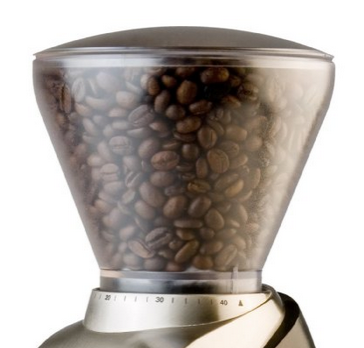 Baratza has designed the Virtuoso to have both a nice, large hopper as well as a fair sized grind bin, both of which hold the typical amount for a pot of coffee, eg. 1 pound of beans. 
Many cheaper and less awesome grinders don't hold quite so much coffee, sadly.  
This is actually a perfect amount of coffee for home use, as you're probably only going to want enough grinds to make one pot of coffee at a time, rather than two. 
The Virtuoso is designed for the home user, and so it is meant for one pot at a time.

If you had enough for two, it would quickly go stale unless you vacuum-sealed it right away. It's good to just grind for what you need, basically.
Professional Grinder
With the Virtuoso, you do pay a fair bit of money to get some call a "professional" coffee grinder – somewhere in the neighborhood of $200, depending where you shop.
By our definition, we wouldn't exactly call this a "professional coffee grinder". 
For instance, we wouldn't open a coffee shop and have this as the primary grinder, doing all of the work day in and day out. 
This is not a dig at the quality of the coffee grinder here, which are excellent.

Durable Home Use Grinder
While it is great for home use, putting this grinder "on the clock" at an establishment where coffee is served all day long is not the express purpose of this grinder. 
That said, it does have a powerful DC motor that can withstand vigorous use, which is why some users have reported it giving them many happy years of grinding service. 
Stylish
Having a Baratza Virtuoso in your home shows a dedication to the craft of both coffee and espresso making and is really quite a stylish choice, if you want to make an impression on guests simply by the look of it.
It has a sleek, modern feel, and on top of that, it does grind very efficiently for all types of coffee grinds, from espresso to french press. 
Many would agree this is just an all around great grinder, but we just object to the term "professional" by definition when applied to this grinder.
Known Issues
Timer knob has been known to fall off during grinding
*One customer suggested the following fix: Just cut a 1/4″x1/8″ (or so) strip of paper, fold it in half, remove the handle, and place that paper over the internal tang of the handle before reinserting it.
This will tighten the handle but keeps it removable in case you ever need to disassemble things.
Baratza Grinder Comparison
Here's a great comparison video which shows the differences between some of the various Baratza coffee grinders.

Overall
All in all, we find that the Virtuoso by Baratza lives up to its name and we highly recommend it for home use. 
4 STARS / 5
Hamilton Beach 49980A Coffee Maker, Single Serve Black/Stainless Steel
Freshroast Sr500 Automatic Coffee Bean Roaster
Breville Bes880Bss Barista Touch Espresso Maker, Stainless Steel