Last Updated on
By: Know Your Grinder
The BeanSafe coffee bean storage container is a colorful airtight storage solution for your coffee grinds which keeps them fresh well after you've ground them.  
With some ground herbs and spices, having a place to store them is indeed important, but never more so than with ground coffee.  
If you're brewing at home, you definitely get tastier and more aromatic coffee when you use fresh grounds, but unless you grind for the exact right amount of coffee, you're going to end up with extra.  
Check out BeanSafe's commercial for their product below…
The main problem with ground coffee is that although it tastes the best if you grind it and uses it right away, it goes stale fast.  Imagine the speed at which an apple turns brown – coffee grinds get stale that fast!  If you don't use them right away, you need to store it somewhere where the air, heat, and moisture can't get at it.  This is where the BeanSafe coffee bean / grinds storage container comes in handy!
No!  Not The Fridge!
*Quick side note – Some people think maybe putting their extra coffee grinds in the fridge might be a good idea, but oh no, its not.  With coffee, it has a tendency to absorb foreign odours and flavors from things it comes into contact with, and the fridge usually is made up of things that decidedly do not go with coffee.  Hence, do not think of the fridge as any kind of storage solution for your grinds.
BeanSafe – A High Quality Grinds Storage Solution
Airtight storage containers for coffee grinds are not a new invention.  Preceded by various kinds of jars, these types of containers, also called coffee "vaults" are meant specifically for coffee in terms of the size, design, and ability to keep grinds fresh by way of hermetically sealing them inside the container.  
In fact, there are several of these airtight containers on the market now and you can even find reviews of them on this very website. But the BeanSafe does distinguish itself with one thing that some of the other bean / grinds storage containers do not have, and that is a sense of fun and colorful style, but it has that all important airtight lid.
Coming in a wide array of colors, including white, blue, green, red, and purple, the BeanSafe coffee container has got a lot of style, and you certainly know the BeanSafe when you see it because it does have such a distinct style.
Features
To give you a bit more info, this is a 16oz stainless steel container, with a nice, wide opening which is practical for easy filling and scooping of your favorite blend.
The manufacturer says that you can store roasted or un-roasted coffee beans, guaranteeing that they will not lose their freshness even after days and even weeks.  
Although it is advertised really as a way to store beans, we think the BeanSafe container here is just as effective if not more so at storing ground coffee, which, as we mentioned, goes stale extremely quickly.
Innovative System Keeps Things Fresh
The BeanSafe container's innovative system they've developed is its secret weapon for preserving its contents' freshness, and adds a ton of value to the product.  BeanSafe has clearly a leg up on the game here – stop the oxygen from flowing inside, but let CO2 get released.  The results speak for themselves, with your coffee being kept in a dry, safe, and firmly closed container where it will remain as fresh as when you bought it.
Pizzazz 
This BeanSafe container comes with a funky lid with four locking clasps, where you can easily place your fingers and open the container without wrestling with it.
The BeanSafe valve system is unique piece that has specially shaped silicone rubber with a hole in it (located on the very top as you can see).
The glass bead that is placed on the inside is heavy enough to cover the hole; at the same time it is light enough to temporarily push the bead out of the way (as CO2 builds up to let the CO2 out, and then returns to it's position to keep oxygen out. 
It sounds complicated, but it isn't; this means that the container has to remain level to be effective. 
Bestselling Coffee Bean Storage Solutions
Coffee Gator Stainless Steel Container – Canister With Co2 Valve And Scoop
Zurich Coffee Canister
Coffee Testing (Glug! Glug!)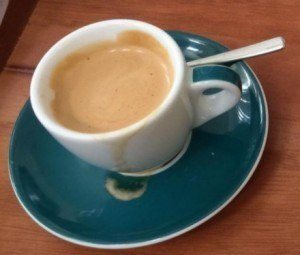 We have tested this container with our favorite fresh ground coffee, and after several weeks of testing (aka drinking more coffee) we can tell you that the coffee that we kept in the BeanSafe coffee container did taste markedly different from coffee that was stored by other means (bag, not sealed container).  It does depend how you brew your coffee, so when you doing scientific testing like this, you need to keep certain variables the same like the brewing style, the water source, the coffee bean origin, and even the type of mug you use.  Well, at least that's how we did it.
Cleaning & Maintenance
Although we find this BeanSafe coffee container to be durable, that doesn't mean you want to be tossing it around or prying it open with force.  Be nice to it, and it will reward you by working perfectly for a long time to come.  Also, the parts are dishwasher friendly, so you don't have to wash them by hand if you don't feel like it.
With dimensions of 5.5″ in width and a height of 6.5″, the BeanSafe comes with its own scoop and also just looks cool on your countertop.  Its not too big to get tucked away when necessary, and we think if you're looking to be a brewing master in your own home, this is one accessory that can help you complete your collection of various grinding and brewing tools.  
– 4 STARS
Arbuckle'S Whole Bean Coffee (French Vanilla)
Shanik Premium Quality Stainless Steel Manual Coffee Grinder Burr For Precision Brewing Portable
Cuisinart Dcc-3200 14-Cup Glass Carafe With Stainless Steel Handle Programmable Coffeemaker, Silver