Making a great cup of coffee at home has plenty to do with buying excellent beans, but after that, it's crucial to consider how you store them.
Even mild exposure to sunlight and oxygen will reduce your coffee's shelf life and diminish flavor. The good news is that it's easy to fix a coffee storage problem. You just have to buy the right kind of container.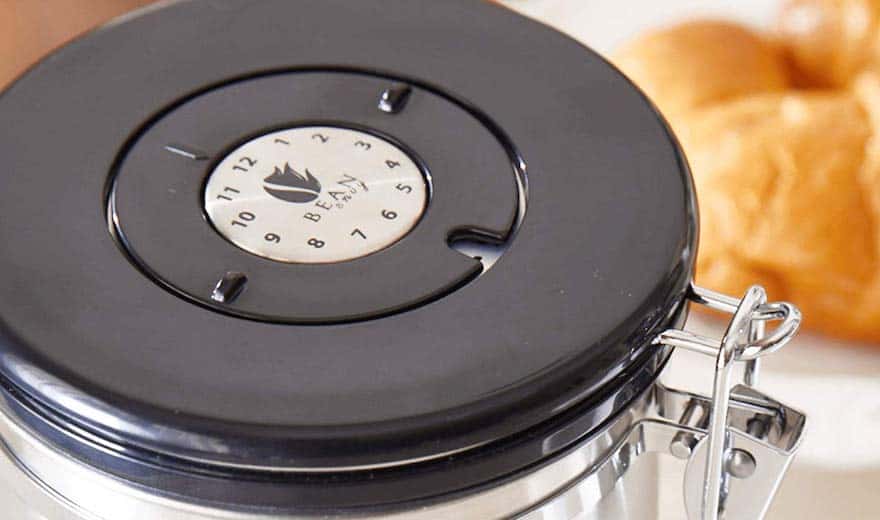 Top of the range containers promise to seal in freshness and flavor and keep the air out.
So, let's take a look at some of the best airtight coffee storage containers currently available and find the perfect one for you…
Coffee Gator Stainless Steel

Mixpresso Stainless Steel Airtight Coffee Container With Date Tracking

Fellow Atmos Vacuum Canister For Coffee & Food Storage

Frescura Coffee Airtight

Cafetastiq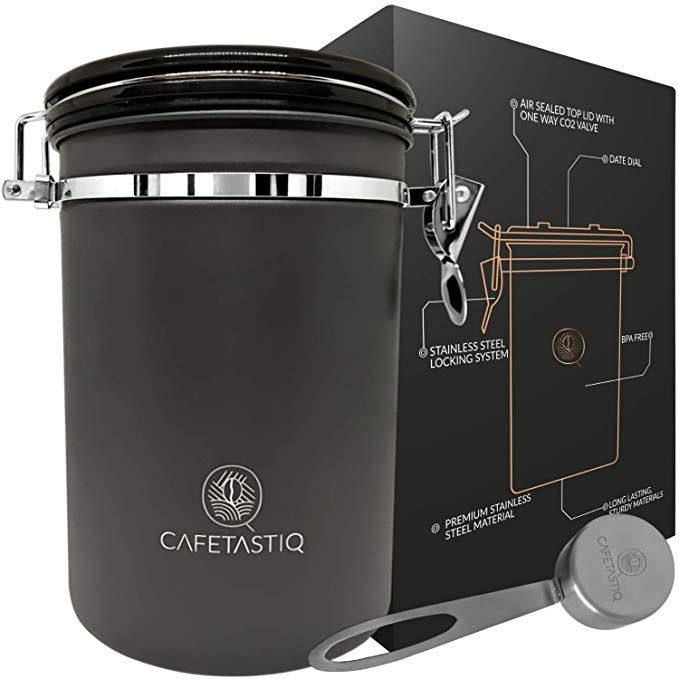 If you're not a big fan of plastic coffee storage containers, this stainless-steel container is the best solution for you.
The Cafetastiq coffee container is made of premium quality stainless steel which guarantees long life and great storage features. Not only it's more durable than its plastic counterparts, but it's also an eco-friendly option that's much easier to recycle.
The stainless-steel construction features a beautiful grey color and blends anywhere in the kitchen.
This container is large enough to hold 22 oz. (623 grams) worth of coffee beans What's really great about this container is It allows you to store different ingredients such as flour, tea, cereal, herbs, spices, and any other food item you want to keep fresh.
It features a patented lid that keeps all the air and odors out of your coffee. It retains all the right flavors and freshness for a prolonged period.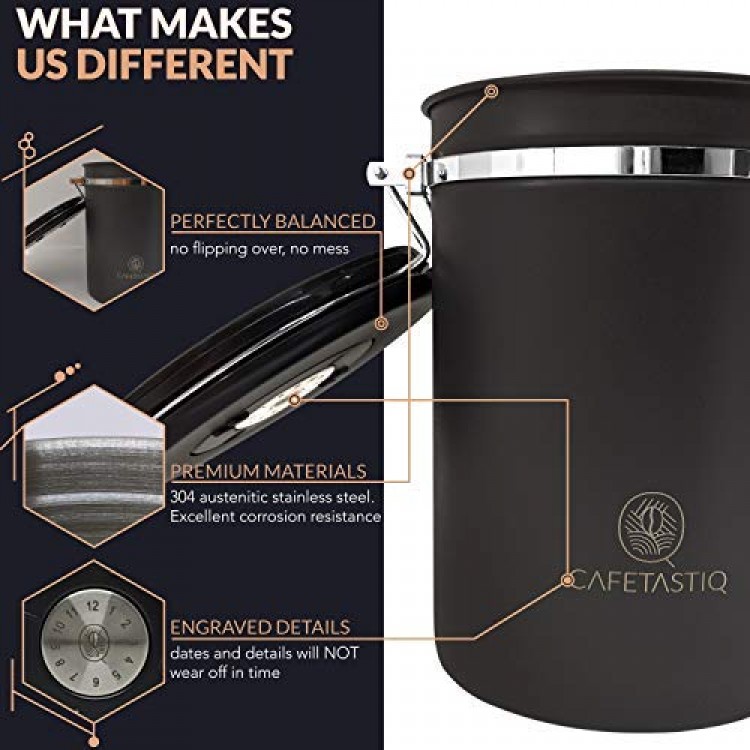 There's a date wheel built in the lid of the container. The date wheel allows you to track the freshness of your beans or grounded coffee.
Additionally, this coffee container is accompanied with a measuring scoop that's also made from stainless steel. The scoop is held securely on a unique hook built on the coffee container.
Mixpresso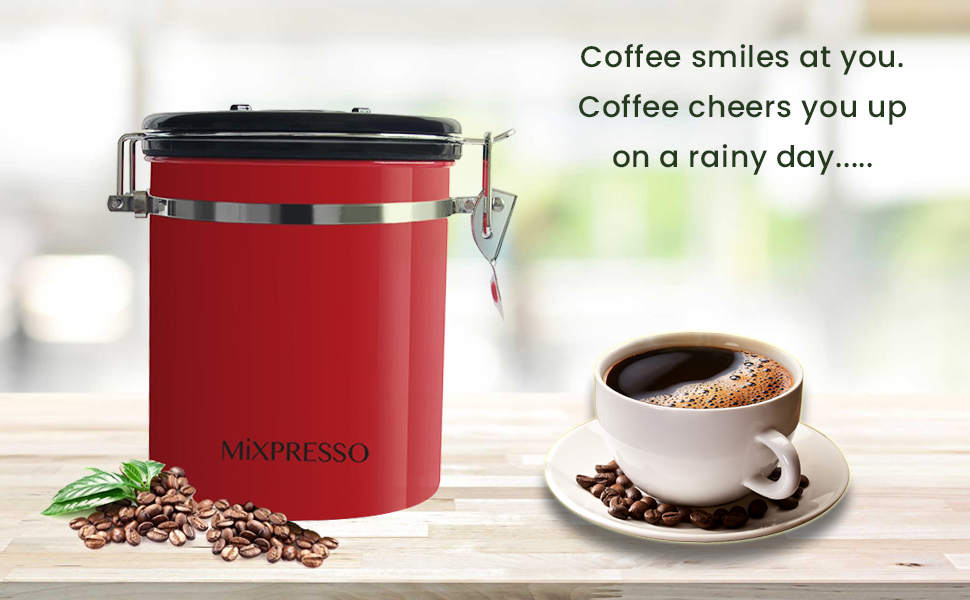 This is another great air-tight coffee storage container made of premium quality stainless steel. The Mixpresso is designed to keep your coffee fresh and flavorful at all times. It preserves aroma and keeps your coffee safe from all the stuff that could damage its quality.
The stainless-steel design keeps out all the light that could cause damage to your coffee. Its steel finish looks polished and sleek so you can leave it out on your countertop.
The container features an air-tight lid with a date wheel that allows you to track your coffee's expiry or roasted date. Its airtight seal works in a way that doesn't allow any carbon dioxide or moisture to enter the container and damage your coffee.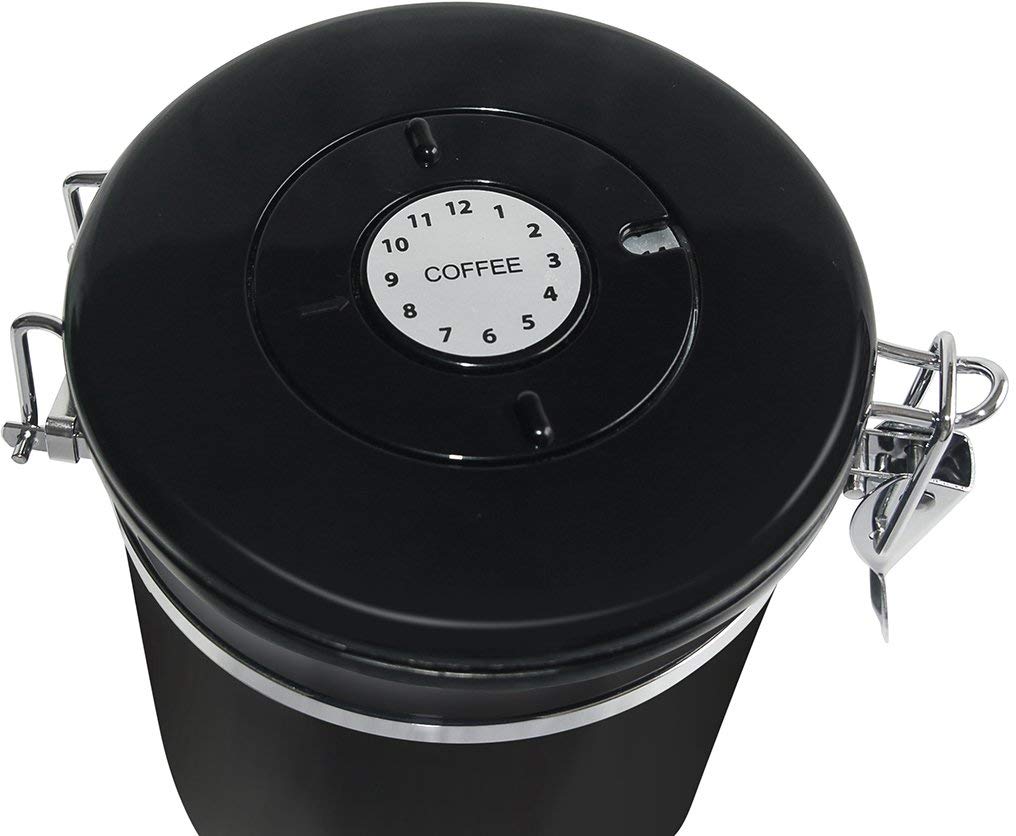 The container can store up to 16 oz. (453 grams) of coffee. If you and your family drink a lot of coffee, this might be the best option for you.
Fellow Atmos Vacuum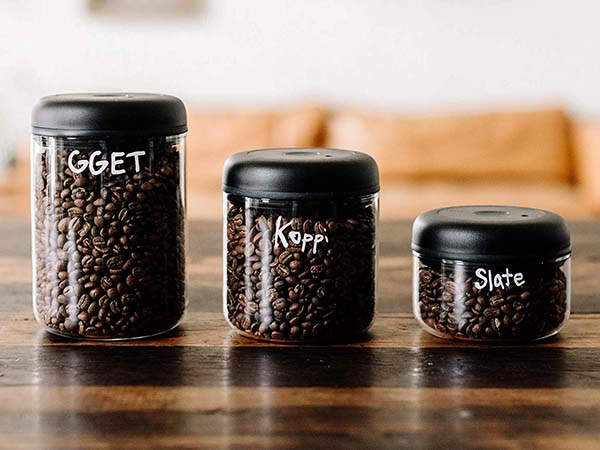 The Fellow Atmos Vacuum is a reliable coffee container that, like the name says, uses vacuum sealing to keep coffee fresher for longer. Using this coffee storage container can extend your coffee's shelf life by over 50 percent.
It has an integrated vacuum pump stored in the lid. The integrated pump makes removing air from inside the container extremely easy – all you need to do is close the lid and twist it back and forth several times (up to the moment the little button drops, revealing a green ring).
The green lock indicator ring tells you when your container is locked to prevent any air from getting in for up to a week without use.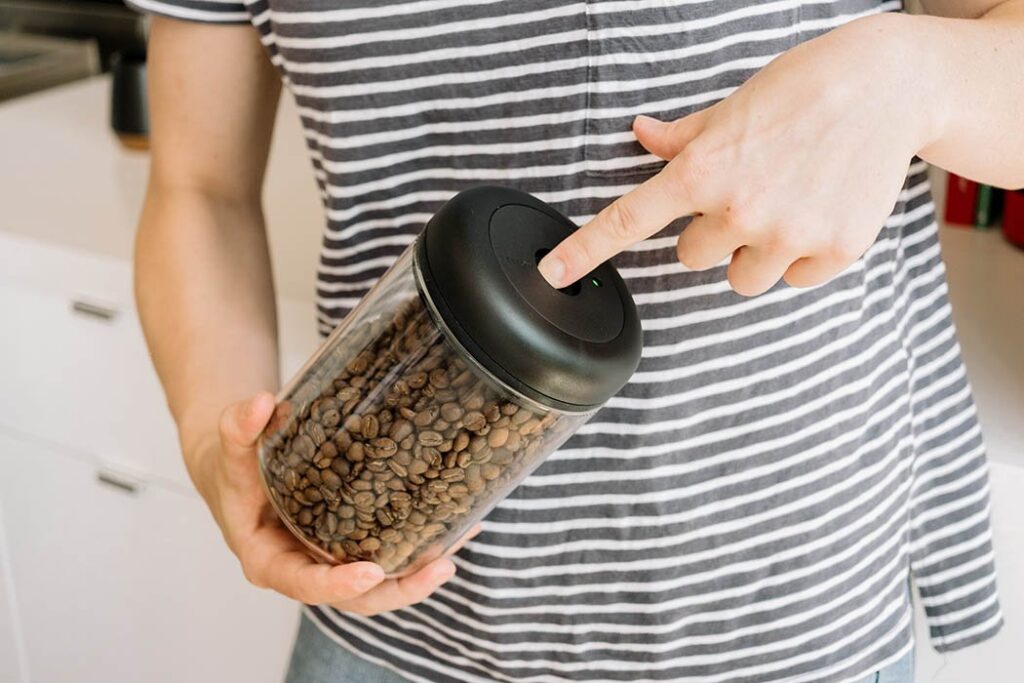 An airtight silicone seal located on the underside of the lid stops air, moisture, and odors from seeping into your goods.
When you are ready to use your beans, you can just press the button in the center of the lid to release all of the pressure instantly.
The Atmos comes in a variety of styles and capacities which can be categorized as clear glass and matte stainless steel. The stainless-steel model is considered as an upgrade because it offers better protection from that flavor-draining sunlight.
To find out more about this amazing container, please watch this video:
Coffee Gator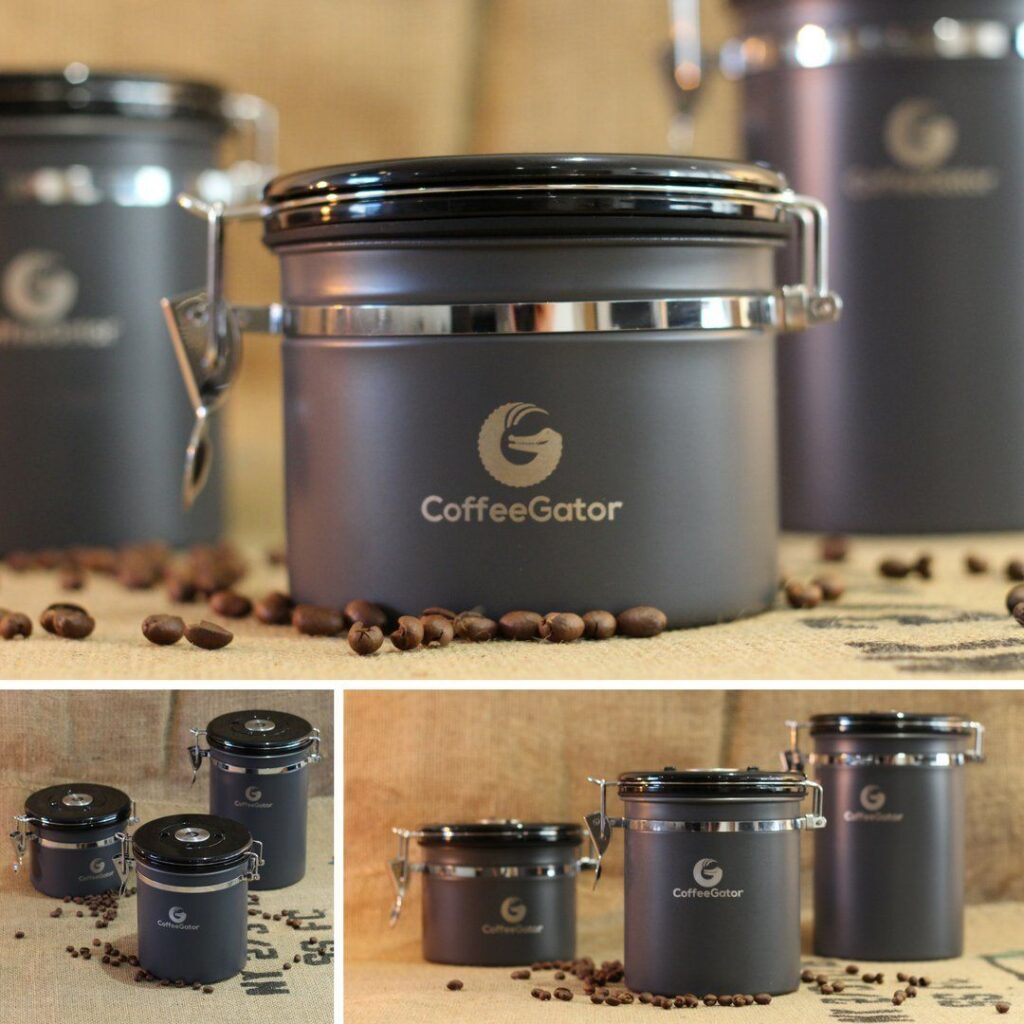 The Coffee Gator coffee storage container is a favorite among coffee lovers because it is portable, has a sleek design, sturdy construction, and, of course, performs extremely well when it comes to keeping coffee beans fresh.
It has a stainless-steel body and an airtight lid that keeps the air away from the beans. The lid has a built-in special valve that allows the CO2 to vent away. At the same time, it does not let the air in. This system ensures the proper sealing of the lid but keeps oxygen out.
This container also features a freshness tracker. It allows you to track your coffee's expiration date, so you know you're always getting the freshest coffee possible. All you have to do is log expiry or purchase date and stop wasting coffee.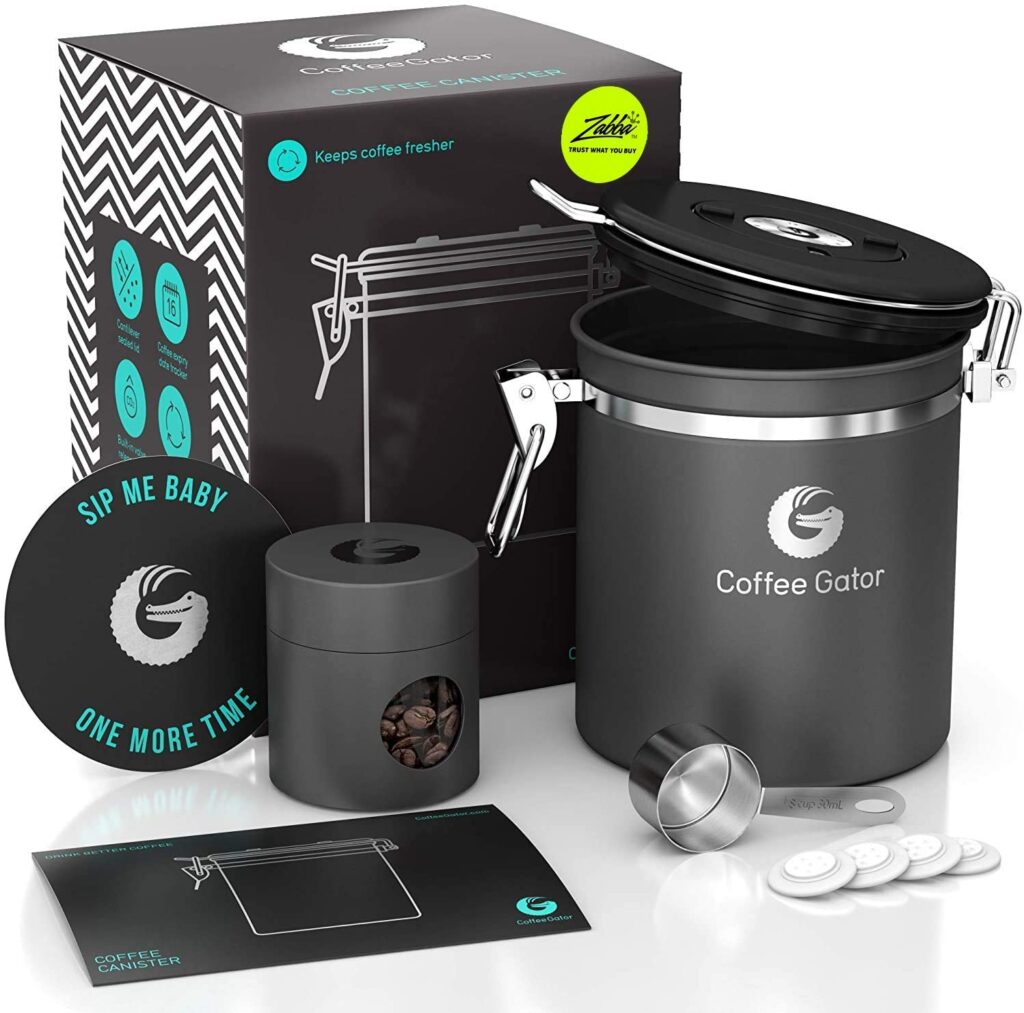 As many other airtight containers, this one is convenient and suitable for multiuse. It allows you to store different ingredients such as flour, tea, cereal, herbs, spices, etc.
Another cool thing about the Coffee Gator is that it is available in 8 different colors and 3 sizes (4, 6, and 7.5 inches tall).
Frescura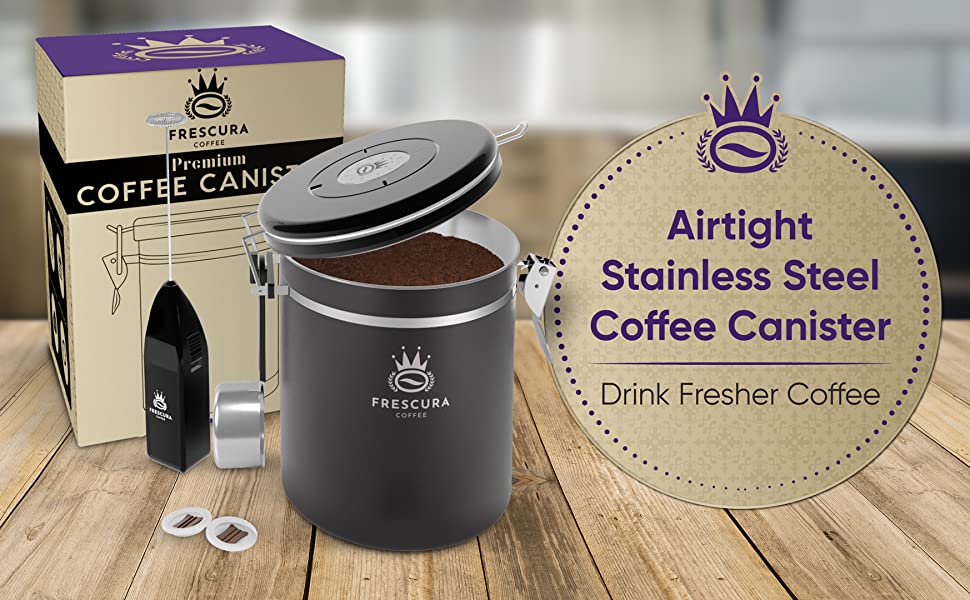 Frescura is another airtight coffee container that keeps the air out while allowing the carbon dioxide to vent.
This compact storage container has a lid with four clasps that keep the container airtight and keeps your coffee, whether it be ground or whole beans, safe from the atrocities of oxygen.
The clasps on the lid make opening and closing the container very easy.
Although the container does not let air into the container, it has a valve system that releases the CO2 that is given off by the coffee.
The container is made of food-grade S/S304 stainless-steel which ensures that the product is safe to be used for a long time.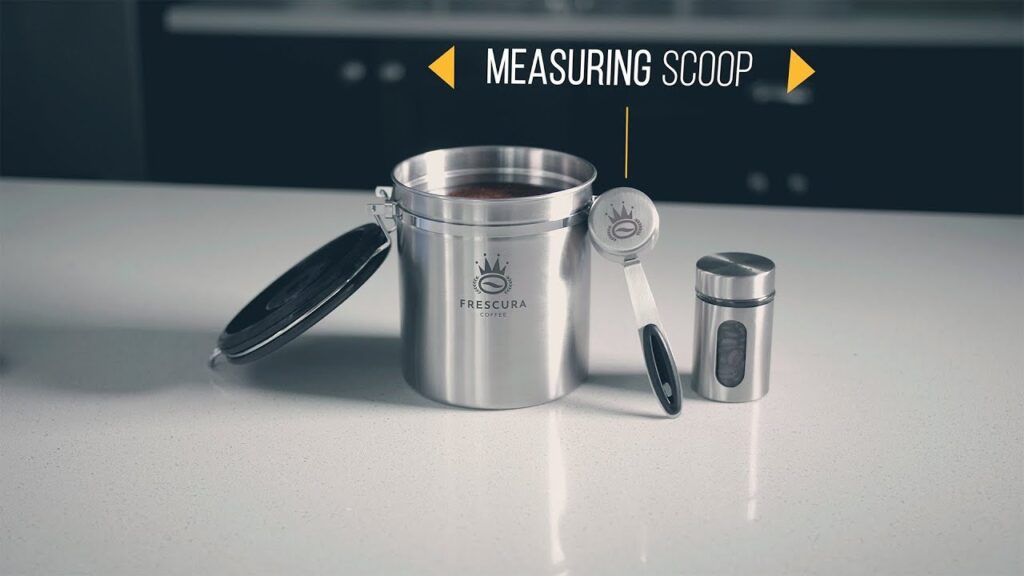 The container's stainless-steel body helps to style the design of the container and turns it into a durable and contemporary container that you would not mind keeping in your home or office kitchen.
The Frescura coffee container comes with a matching 1/8 cup measuring scoop with a silicone grip so you can always measure the exact amount of coffee you need to brew the perfect cup.