Last Updated on
Sometimes, having a coffee grinder isn't actually enough.  Not even having a "good enough" coffee grinder is, well, enough.  Sometimes, because of mighty cravings out of your control, you want a recommendation for a coffee grinder that is particularly adept at making a certain style of coffee beverage.
For example, you may be wondering: What, pray tell, is the specific best coffee grinder for making lattes, or macchiatos, or perhaps cappuccinos? 
Each of these drinks have their specific devotees, and we also know that not all coffee grinders are meant to excel at every type of drink imaginable.  Some are particularly good at grinding for lattes, while maybe not so much forcappuccinos.

Well, if you are looking for a coffee grinder / espresso maker that excels at one of these three drinks, look no further, as we have a selection of both solo grinders and grinders with coffee makers attached, to suit your needs when deciding on the best coffee grinder for lattes, macchiatos, and cappuccinos.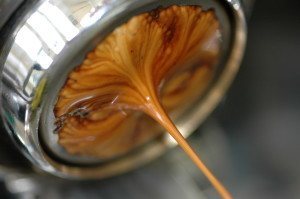 As obviously the basis of these drinks is a perfect espresso, we will be looking mainly for grinders that can cater for the fine grinds needed for this.

Additionally, for anyone looking to purchase an all-in-one, there will be a recommendation of a coffee machine that delivers whichever drinks style it is you are in need of.
---
Looking at the best coffee grinder for making a latte, there's a few great options and today we're going to focus on our favorite machines from the Breville company, because we feel like they've got this latte thing all figured out.
Breville BES870XL
The Breville BES870XL espresso machine has a built in grinder and it is a great choice. Here are its stats.
MANUFACTURER: BREVILLE
MODEL: BES870XL
DIMENSIONS: 13 X 12.5 X 15.8 INCHES
WEIGHT: 23 LBS
GRIND TYPE: CONICAL BURR
ADDITIONAL INFO: BPA FREEE
OUR RATING: 4.5 STARS
The Breville BES870XL offers users the complete package as an espresso / cappuccino / latte lover's dream.
Rest assured, if you are looking for the best coffee grinder for latte, you are in good hands here with this 2-in-1 espresso maker and coffee grinder.  This is a quality grinder combi latte maker that can do more.
At around $600, it doesn't come cheap, but for something like this, it is unlikely to come any cheaper.
Managing to combine being a latte loving heavyweight with also not overwhelming your work surfaces, this machine is like having a mini coffee shop in your kitchen.
Capable of the finesse needed for the smoothest lattes, we reckon if you are going to go the whole hog and want a three in one coffee maker with grinder, this is a serious contender.
---
Breville Smart Grinder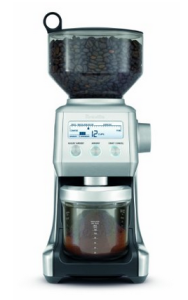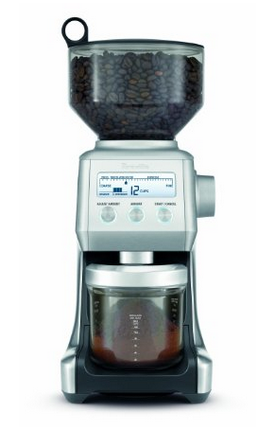 Now, if you wanted just a coffee grinder, then there's the Breville Smart Grinder.
MANUFACTURER:  BREVILLE
MODEL:  SMART GRINDER BCG800XL
DIMENSIONS:  6 X 8.2 x 15.5 INCHES
WEIGHT:  6 LBS
GRIND TYPE:  CONICAL BURR
ADDITIONAL INFO:  25 GRIND SETTINGS
OUR RATING: 4.5 STARS
Boasting twenty five grind settings, making it fully capable of first rate espresso for latte, this is definitely one of the best grinders for making a latte out there.
Now Breville have also got a similar machine called the Smart Grinder Pro, which retails for a few dollars more and does an impressive sixty grind settings. 
If you are into playing around with your grinds, this may be worth consideration, but the twenty five this little fella comes with should be more than enough to satisfy your latte longings.
---
Jura Ena Micro 9
Up next, we have the best coffee grinder for macchiatos.  First we'll take a look at a grinder-espresso machine combo that is great for this particular drink, the Jura Ena Micro 9.
MANUFACTURER:  JURA
MODEL:  ENA MICRO 9
DIMENSIONS:  9X 12.6 X 17.5 INCHES
WEIGHT:  20.7 LBS
GRIND TYPE:  BURR
ADDITIONAL INFO: PROGRAMMABLE COFFEE STRENGTH, FINE FOAM TECHNOLOGY
OUR RATING: 4.5 STARS
Although they are fairly coy about the exact specifications of the grinder, the JURA ENA comes highly recommended as being a champion best coffee grinder for macchiato.
Prepare lattes, macchiatos, espressos and cappuccinos at the simple press of a button.
At a cool grand this is not going to be cheap, but if you can afford it and want one of the best macchiato experiences that money can buy, you don't want to miss out on this.
This scores highly with customers and will look sleek and elegant without taking up lots of precious counter space in your kitchen.
---
Capresso Infinity
If you want just a coffee grinder that makes a great macchiato, then its the Capresso Infinity.
MANUFACTURER: CAPRESSO
MODEL: CAPRESSO 560.01
DIMENSIONS: 14.6 X 9.6 X 7.8 INCHES
WEIGHT: 4LBS
BURR TYPE: CONICAL BURR SET
ADDITIONAL INFO: 16 GRIND SETTINGS
OUR RATING: 4 STARS
So perhaps you already have a machine that makes mean macchiatos and just need a grinder to go with it. And also, you don't want one that costs a fortune.
Step forward the Capresso Infinity. Modestly priced, there are few burr grinders in this class that you will find produce the consistency and finesse of grind required for a truly superb macchiato.
Already reviewed in full elsewhere on this site, this is a cool little number that can be put away when it's not in use and is definitely practical rather than cosmetic (not that there is anything wrong with the way it looks).
Definitely this is up there as a potential best coffee grinder for macchiato, that we can find. And all for less than $100!
---
KRUPS EA8250
On to delicious cappuccinos, and once again we will look at an espresso machine with a built in grinder, followed by a coffee grinder on its own.  We shall look at the KRUPS EA8250.
MANUFACTURER:  KRUPS
MODEL:  EA8250
DIMENSIONS:  11.5 X 8 X 12.5 INCHES
WEIGHT:  10.4 POUNDS
GRIND TYPE:  CONICAL BURR
ADDITIONAL INFO:  EASY CLEANING
OUR RATING:  3.7 STARS
Boasting a nice and easy out of the box experience and ease of cleaning, fans of the Krups reckon this is in the same class as the more expensive (and aforementioned) JURA but without the inflated price tag.
One of our current favorite best coffee grinder for cappuccino, this also has a hot water nozzle for other drinks, as well as very quick (two minute) brew time turn around.
If you want the wow factor for cappuccinos without over doing the bank balance, this should definitely be on your list.
---
Rancilio Rocky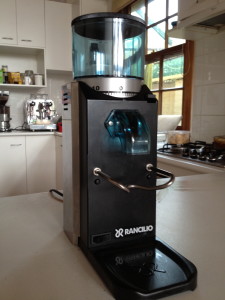 For a grinder to make a cappuccino, the best grind can be had by the Rancilio Rocky.  First, here are the stats.
MANUFACTURER:  RANCILIO
MODEL:  ROCKY HSD-ROC-SD
DIMENSIONS:  9.8 X 4.7 X 13.8 INCHES
WEIGHT:  15.4 POUNDS
GRIND TYPE:  BURR
ADDITIONAL INFO:  GRINDS STRAIGHT TO PORTAFILTER
OUR RATING:  4.5 STARS
Built like a tank and with an excellent reputation, this is something to give serious consideration to when choosing the best coffee grinder for cappuccino.
Of course it will cater for all types of grind but some people think, however, it is best suited to the fine grinds required for an espresso.
"Workhorse" is one of the descriptions you will hear if you have done any reading on the Rocky and this is an apt one, as it can take a demanding schedule and will not beg for mercy or shirk from duties should you wish to put it through its paces!
---
Whether you plump for the doserless option is entirely up to you, but whichever variant you go for, the Rocky is a heavyweight in the fight for Best Coffee Grinder For Latte, Macchiato, Cappuccino or anything else you might want to make with it!
Summary
Reviewer
Review Date
Reviewed Item
Best Coffee Grinder For Lattes, Macchiatos, And Cappuccinos Respectively
Author Rating