The hotter the weather, the more difficult it becomes to sip a hot cup of Joe. A cold brew coffee maker is something you need during hot days and nights. There's certainly no better way to cool off.
Another advantage of cold brew is that it ensures you don't get a lot of harmful oils and acids in your drink.
You don't have to put up with flavorless, watery iced coffee anymore. It is very painful to invest your time and money on a drink only for it to taste awful.
We are here to save you that agony. In this article, we outline the top 5 best cold brew coffee makers you can use to brew the cold stuff at the comfort of your home.
Oxo Brew Compact Cold Brew Coffee Maker

Takeya Patented Deluxe Cold Brew Coffee Maker Quart

Airtight Cold Brew Iced Coffee Maker And Tea Infuser With (…)

Primula Burke Deluxe Cold Brew Iced Coffee Maker

Toddy-cold-brew-coffee-maker
#1 – Toddy T2N Cold Brew System
Toddy is one of the most popular cold press brewing systems. In fact, it's among the oldest cold brew systems—if not the oldest.
Included in the system are a glass decanter, brewing container, rubber stopper, paper filter bags, and felt filter pads.
The Toddy T2N Cold Brew System is easy to operate, easy to setup, and easy to clean cold brew coffee system. It lets you brew more with less work.
The system has the capacity to brew a great amount of cold brew concentrate at one time. This means you can yield enough for a week's worth of coffee.
This brilliant device lets you brew up to 1.5L of concentrate, which you dilute with water to make a total of 4.5 liters of sipping coffee.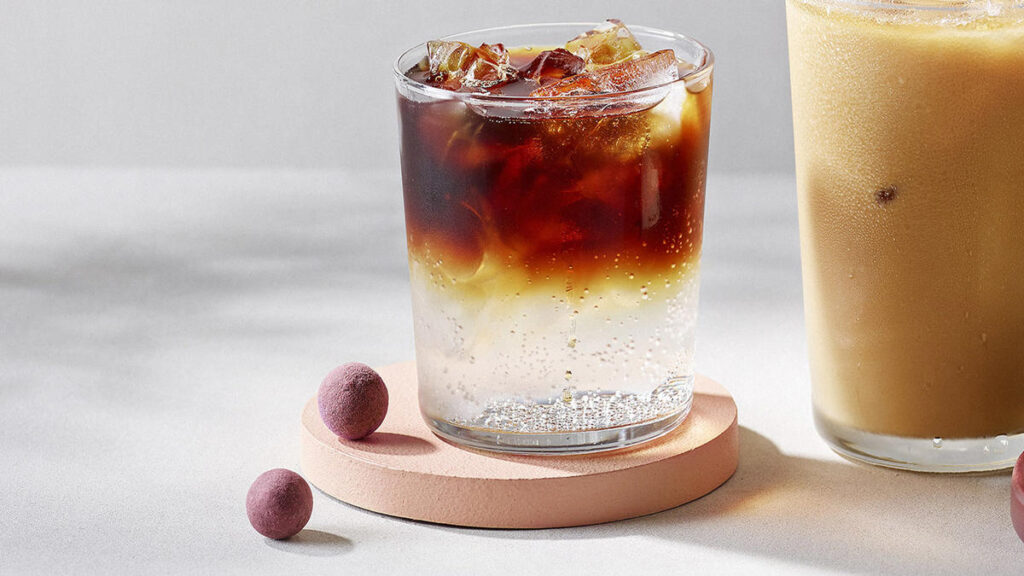 The cold brew coffee brewing process with this device can take anywhere from 12 to 24 hours. Many users claim that the "sweet spot" is actually somewhere in the middle. This slow brew is what makes cold brew coffee so beautifully smooth.
Here is a video guide on how to make a perfect cup of cold brew with this brilliant coffee maker:
According to Toddy, their coffee maker brews coffee that is 67 percent less acidic, compared to regular coffee.
Pros
Great value for money
Smooth, sweet & delicious cold brew
Simple design
Easy to assemble
Large capacity
Cons
Takes some practice to perfect using it
Tall design (takes up a lot of space)

Takeya Cold Brew Iced Coffee Maker
#2 – Takeya Cold Brew Iced Coffee Maker
This non-electric coffee maker is available in 1-quart and 2-quart models that make four and eight servings, respectively. This is just enough to feed a whole family, or satisfy an avid coffee lover.The Takeya Cold Brew Coffee Maker brews coffee with a fantastic flavor.
This coffee maker is very simple and consists of only four pieces: a lid, silicone handle, removable filter, and the pitcher.
Since everything comes assembled upon arrival, using the appliance the first time is very self-explanatory.
Overall, the aesthetic of this coffee maker is very simple. It's basically a clear, BPA-free plastic pitcher with a black lid and handle.
The leak-proof, airtight lid is designed to lock in flavor and freshness. The lid also allows you to store it in the fridge on its side if you don't have enough room vertically.
The non-slip silicone handle ensures the coffee makers doesn't slip easily from your hand and allows easy transport and pouring. The handle also feels comfortable to touch.
It is made from BPA free materials, so you can sip your cold brew comfortably knowing it is 100% safe. Note that cheap plastic parts retain bad odors and flavors.
One of this product's best features is the ease of cleaning: Just disassemble all of the pieces and stick them in the top rack of the dishwasher. It is completely dishwasher safe.
With this machine, you can easily prepare your cold brew and slurp it down at the comfort of your home. You can also store your drink in the fridge and take it whenever you like.
The only drawback with this machine is that the flavor is somewhat nutty. In our opinion, the cold brew coffee concentrate this machine makes is really strong, but it lacks flavor.
Pros
Simple to use and clean
Airtight lid prevents any leakage
BPA free
Cons
A bit overpriced for what it offers
Simplistic design (functional, but not the most attractive)
Coffee lacks flavor
OXO Good Grips Cold Brew Coffee Maker
#3 – OXO Good Grips Cold Brew Coffee Maker
The OXO Good Grips Cold Brew Coffee Maker offers strong, flavorful coffee concentrate, a sleek design that could fit in any kitchen, easy cleanup, and durability—all of which make it one of the best cold brew coffee makers on the market.Although this cold brew coffee maker is somewhat new in the market, it's still a good match for the older products like Toddy.
BPA free plastic has been used to make the parts of this cold brew coffee maker. The brewing container includes a rainmaker cover, which ensures there's uniform distribution of water over the coffee grounds.
The switch that opens the upper container is more convenient and modern, compared to the rubber stopper used in Toddy and Filtron.
There is an auto-stop mechanism that closes the valve whenever you remove the decanter, thus preventing any coffee spillage. The filters are efficient, easy to clean, and reusable.
As per Oxo's recommendations, the ratio of coffee grounds to water should be 1 to 4. Five cups of water and 10oz of coffee give you about three cups of coffee concentrate. And when you dilute with milk or water, you get about 14 cups.
Here is a video on how to make a perfect cup of coffee with the OXO Cold Brew Coffee maker:
The OXO Cold Brew comes with a stainless steel filter built into the brewing container. The stainless steel filter is effective at filtering out all but the smallest grounds.
If you are worried about a gritty cup of coffee, you can also use optional paper filters for additional filtration. The paper filter will keep additional oils from coming through, just as with drip coffee.
Pros
Reliable & consistent
Durable
Simple to use
BPA free
Cons
Expensive
Requires time to set up
Coldbroo
#4 – Coldbroo Cold Brew Iced Coffee Maker
The Coldbroo Cold Brew Iced Coffee maker has a sleek, space-saving design you'll be proud to display on your kitchen counter while your coffee brews. This coffee maker is designed to simplify the cold brewing process.
Its parts are made with borosilicate glass and food-grade stainless steel, materials that are completely free of BPA and other chemicals.
This means you get pure coffee with no off flavors and odors. The design is lab inspired, thus making the brewing process more fun.
This product also comes with an easy-to-clean permanent filter, meaning you'll save a lot of money that you'd otherwise use to buy wool or paper filters.
Put your grounds in the stainless steel infusion column. Fill the glass carafe with cold filtered water. Leave for 12 to 24 hours, depending on how strong you want your drink to be.
Take off the infusion column and pour the brew into a glass of ice. You can add your favorite flavorings.
Coldbroo's infusion column and glass carafe are also ideal for making any beverage infusion. Hot or iced tea, cucumber water, chipotle-infused tequila.
Pros
BPA free
Beautiful lab-inspired design
Not just for coffee
Cons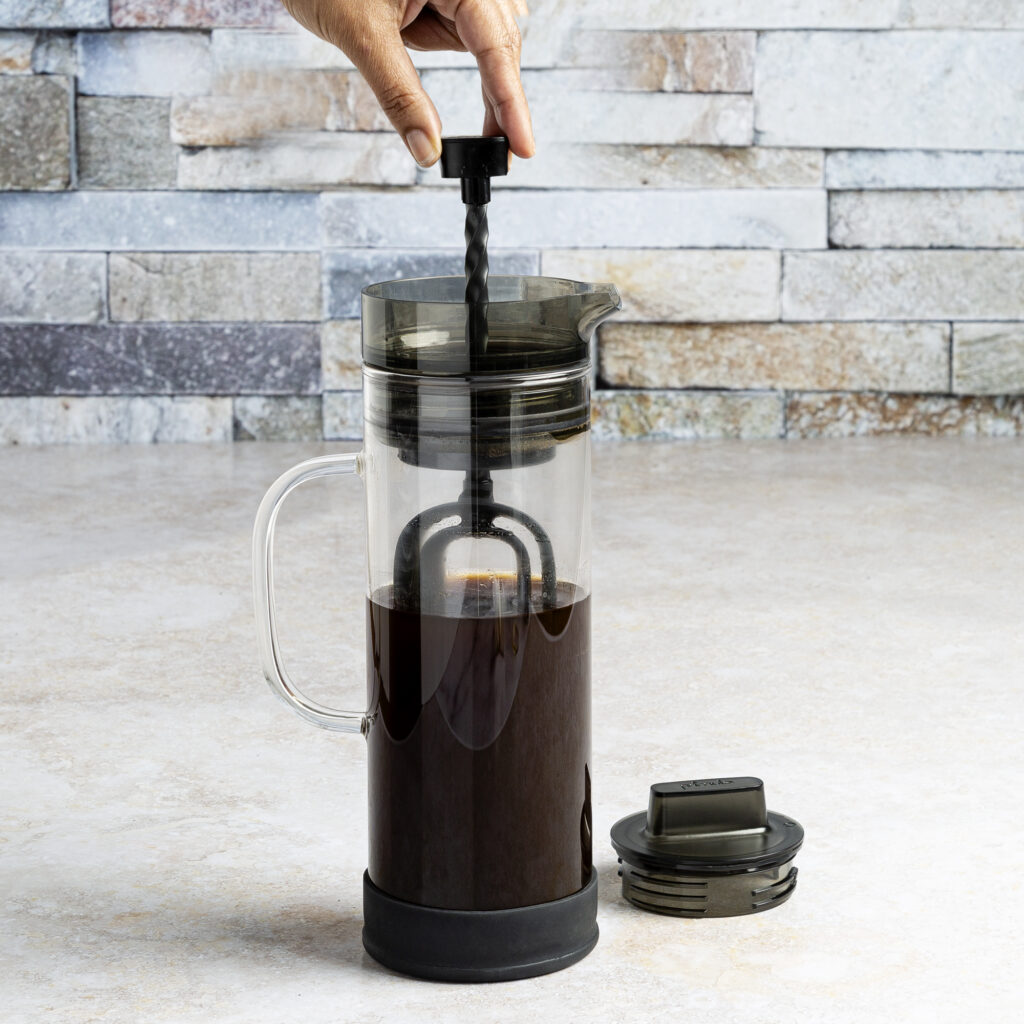 Primula Cold Brew Glass Carafe
#5 – Primula Cold Brew Glass Carafe
It makes rich, delicious full bodied coffee concentrate that is 65% less acidic than hot brewed coffee.This is one the best cold brew coffee makers on the market. It can be described as a one-stop shop when it comes to cold brewing. Your job is to add the grounds and water, and wait.
The carafe has a specially designed lid which seals in freshness for up to two weeks and provides a smooth, drip-free pour.
The carafe is also made from borosilicate glass, a material that is resistant to short drops and temperature changes.
The coffee maker is large enough for multiple servings yet still fits most refrigerator doors. It makes up to five servings of delicious, smooth cold brew coffee or tea.
This cold brew coffee maker also fits well with other Primula products. To change your brew's taste, you can use a flavor infusion system in place of the filter.
Primula's patent pending FlavorCore System allows all MyBev products to use and share the interchangeable cores. The possibilities are endless!
All parts are dishwasher safe, hence easy to clean. Note that cleaning increases the lifespan of the filter. The removable brew filter with a removable bottom ensures you can easily empty used grounds.
Pros
Borosilicate Glass Carafe
Removable Top
BPA free
Perfect compact size
Cons
The top sometimes does not stay secure and falls off while pouring.
Very thin glass (too fragile)