Last Updated on
Here are our top five quick and easy recipes for fall-themed lattes featuring chai, maple, eggnog (and more) that will have you wishing you'd tried them sooner, as not only are they tasty but they will save you money.  
Each of these recipes are perfectly doable for anyone already brewing their own coffee at home. Enjoy!
The Starbucks Knock-Off Chai Tea Latte
We are particularly fond of this recipe due to its simplicity, and the fact that every time we've tried it, the lattes seem to get better.  
Save yourself a ton of money and get into the habit of making these babies at home.  
For the syrup:
For each latte:
1 cup milk of choice (we use either nonfat cow's milk, almond, soymilk)

high-speed blender such as the Hamilton Beach 54615 Wavestation

ground cinnamon (optional)
How to make the syrup…

Step 1 – Bring 4 cups of water just up to a boil, then remove from the heat source and steep the teabags in the water for 10 minutes.
Step 2 – Remove the teabags, careful to let them drain completely, and then pour in the sugar.
Step 3 – Bring the mixture up to a simmer over medium-high heat, and then reduce to medium. Allow to simmer until it reduces by half, about 15-20 minutes, stirring every 2-3 minutes or so.
Step 4 – Remove from the heat, poor into an airtight container, and let it cool in the container without the lid until it's at room temperature.
Step 5 – Store in the fridge for up to 10 days.  Yep, 10 days!  
To make a latte…
Step 1 – Microwave the syrup for a few seconds to warm it up as its been in the fridge for so long
Step 2 – Pour 6 tbsp of the syrup into the mug you want to use for your latte (bigger is better here!).
Step 3 – Meanwhile, heat the cup of milk in a saucepan just until small bubbles begin to form around the edges.
Step 4 – Pour carefully into your blender and VERY carefully pulse slightly to start to aerate the milk.
Step 5 – Blend on low for about 30 seconds, then let it sit for 30-45 seconds to let the milk and foam separate.
Step 6 – Pour the hot milk into the mug with the syrup and top with foam and ground cinnamon if desired.
The Better Than Starbucks Eggnog Latte
Once fall hits, that means two things – pumpkin spice lattes, and eggnog lattes!  For this recipe, we're going full eggnog.  
But, unlike going to Starbucks, you're only going to be spending around $2 a cup for the same tastiness instead of $4 or whatever you end up paying at the 'bucks.  
Saving money is good!
Here again, the ingredient list is short, and the tools required are simple. 
Ingredients:
Tools:
Microwaveable glass mason jar (or some kind of jar)

A few bowls or measuring cups
You don't need an espresso machine for this one per se (coffee also works fine), but a handy Conair Cuisinart Smart Stick does make the job a lot easier.
Recipe:
Step 1 – First, brew up some coffee or espresso, depending on what tools you have in your kitchen. 
*Tip 1 – If you're going with coffee, make it the way you normally do but slightly more concentrated.  
As in, just increase the coffee to water ratio slightly to the point where if the coffee was on its own, you probably wouldn't be drinking it.  
However, it should work great in this latte recipe!  🙂  The main thing to remember here is not to brew too much coffee.  
You basically want about one third of your latte to be coffee / espresso.  
At Starbucks they'd probably throw in a couple of shots of espresso, so take that into consideration.
The majority of this drink is not going to be coffee – just a portion.
*Tip 2 – If you want to use a single serve coffee maker, this will ensure you're not brewing a pot of coffee just to get a single eggnog latte.  
That said, if you do go with the single serve / pod method, make sure its the best coffee that isn't already flavored (of course), because in the end, you just want about a cup of coffee anyway.  
That said, a single serve machine doesn't give you the control that you have when using a burr grinder and a coffee maker to brew up that coffee yourself.  
So its a trade off in terms of measuring out the right amount of coffee / espresso.  
If you use a single serve you get that single serving, but if you use your coffee maker you could risk making way too much if you're not careful.
Step 2 – Pour yourself a measuring cup's worth of milk, then one of eggnog, with two tablespoons of sugar into a microwaveable jar.  
Oh, and keep the nugmeg handy.  This mixture you will now want to do two things with – heat and emulsify (or mix together).  
Tip – According to your preference, the next time you make this recipe you may want more or less sugar, or eggnog, or milk.  Its up to you.  Some people also don't like nutmeg. 
Tip – You can try adding the sugar at this point, or you can wait 'til later to do it.  You might notice a difference in the taste, so we suggest trying it both ways.
Step 3 – Now you can shake the mixture in the jar until its bubbly and frothy, and looking to be about as much liquid as when you started.  This might take about 30 seconds.
Step 4, 5, 6 – Take the lid off the jar, and put the liquid mixture in the microwave for 30 seconds.  Take it out, replace the lid.  
Then, grab the jar with a cloth so you don't burn yourself, and shake it again.  THEN, into the microwave it goes one more time for another 30 seconds.  
This time, when you remove it, give it a shake and then get the coffee you've been brewing up while this has all been happening.
Step 7 – Pour everything into a bowl.  Now we're really ready to emulsify the mixture, together with the coffee / espresso that has been freshly ground and brewed.  
Take your stirring stick, or whatever it is you will be using to stir all of this together, and once again froth all of it together until it is the consistency you like.
Step 8 – Once it looks good, pour the mixture into your favorite mug, but be sure to hold back some of the froth back with a spoon to add afterward.
Step 9 – Add the froth, and top it off with nutmeg or cinnamon as you like.
#3 – Homemade Maple Mocha Latte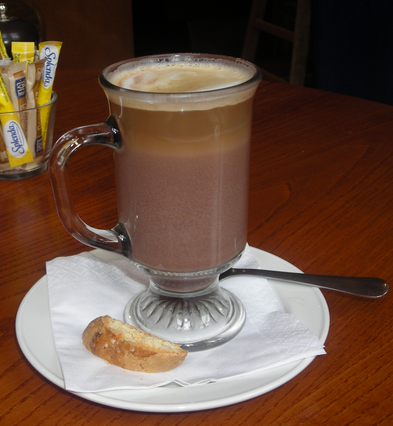 With only five simple ingredients, the key to making this recipe more autumnal is the addition of maple, which is kind of a big deal in Canada, if you ever make it up there.  
Maple mocha – oh yes, please!
Ingredients:
1/4 cup brewed coffee of your choice

1 T. unsweetened cocoa powder

3/4 cup warmed milk

2 T. maple syrup

1 T. fresh whipped cream
Instructions:
Brew coffee as directed.

Warm milk in a sauce pan or in the microwave, be careful not to scorch.

Add 2 T. maple syrup to the bottom of your favorite large coffee mug.

Add 1/4 cup coffee and 1 T. cocoa powder to the prepared mug, stir well until cocoa is dissolved.

Slowly pour in warm milk, stirring continuously.

Top with a dollop of fresh whipping cream and chocolate shavings (Hershey bars are HFCS free)
#4 – Classic Pumpkin Spice Latte
What list of fall-influenced lattes would be complete without the omnipresent pumpkin spice latte?
For this classic recipe, we offer up a pumpkin spice latte that doesn't involve a squirt of syrup, but rather pure pumpkin puree and pumpkin pie spice for a truly authentic experience.
You can go with either home brewed espresso or coffee for this one, and the total prep time is estimated at 5 minutes. 
Once again, money will be saved and skills will be developed.
After that second recipe being so darn long, we realize we should be going easy on you folks.  This is supposed to be fun!
Ok, so combine the milk, pumpkin puree, sugar, pumpkin pie spice and vanilla in a medium microwave safe bowl, cover the bowl with plastic wrap and vent with a small hole.
Microwave until the milk is hot, 1 to 2 minutes. Whisk vigorously until the milk mixture is foamy, about 30 seconds.
Pour the espresso or coffee into a large mug and add the foamed milk. Top with whipped cream and a sprinkle of pumpkin pie spice.
#5 – Cinnamon Latte
To cap off our fall-inspired latte list, here we have a delicious cinnamon latte from our friends over at food.com.
One common characteristic between each of these drinks is that they're super easy to make, and this one is no different.
If you're a fan of cinnamon, this one's for you! 
Grinding up your own fresh cinnamon can give your latte an extra bit of magic, so having fresh cinnamon on hand is well worth considering.
Cloves, cardamom, and of course freshly-ground coffee will make this a latte you will want to come back to again and again.
INGREDIENTS:
400ml strong coffee

1 teaspoon ground cinnamon

2 tablespoons sugar

1 1⁄4liters 1% low-fat milk
DIRECTIONS:
In a large pan, mix the cinnamon and sugar with a bit of milk.

Add the rest of the milk and bring to a boil.

Just as the mixture comes to a boil, take it off the heat.

Split your hot coffee between 4 mugs.

Pour in the milk and serve immediately.

Another variation is to leave out the ground cinnamon, but instead put a large cinnamon stick, some cloves and green cardamom pods in the milk.

Leave as it comes to a boil, set aside and let it infuse for a couple minutes. Then strain out the seasonings and pour into the coffee.