Last Updated on
By: Know Your Grinder
QUICK STATS
DIMENSIONS: 13×12.5×15.8 inches
WEIGHT: 23 LBS
SHIPPING WEIGHT: 26.9 pounds
PRICE: $599+
WARRANTY: 1 YEAR
OUR RATING: 4.8 OUT OF FIVE STARS
---
You Get What You Pay For
The Breville BES870XL Barista Express Espresso Machine – you may have heard its name talked about on the streets in your town or city, such is the reputation of this machine. 
This rather impressive piece of espresso-producing kit will set you back a pretty penny, although you'll have to check around to see how much. 
As per usual, there are deals to be had out there in the world, although the Breville BES870XL is by no means what one might call "inexpensive". 
Not for the fainthearted, this is definitely one of the more expensive machines out there in terms of something you might want on your counter and it scores highly on the fiddly-o-meter for dedicated aspiring baristas. 
If you were to get this for a café or business, that's another story, and suddenly the price becomes much more reasonable.
All things considered, the Breville BES870XL Barista Express Espresso Machine is a serious unit, which commands respect.
It comes equipped with about a million different functions, features and bits and pieces, destined to turn you from mere mortal into coffee guru.
Let's look at it for superficial reasons…does it look good?
---
FROM A DESIGN POV
Available in three stunning colors; stainless steel, black sesame and cranberry red, this espresso machine looks highly professional and ultra modern. It would not be out of place in an upmarket coffee shop.
Weighing in at 23lbs, it occupies a relatively modest 13 x 12.5 x 15.8 inches of your counter space. This is fairly nifty, considering the ton of extras it comes with.
True – this machine pretty much transforms your kitchen, no matter how crude, into a fully fledged mini coffee shop, simply by virtue of being there. But is it any good?
---
FEATURES



This is a two in one grinder and espresso coffee machine. This means it takes just literally seconds from grinding the beans to drinking the beverage.
Which is exactly as it should be, as according to baristas, even leaving a gap of a few minutes is too long.
The whole point of this machine is that it can grind, brew and serve an individual sized cup in a matter of seconds.
The amount can be adjusted to taste and one of the toys, sorry, features is the (patented) "razor" that trims the puck for a precision dosing.
Espresso Machine Cleaning Tablets For Breville Machines + 6 Replacement Filters – Model Brf-020
6-Pack Of Breville Bwf100 Compatible Water Filters (Activated Charcoal)
Other features include an espresso gauge to ensure the pressure of extraction is constant, an in built PID for temperature and a volume control that allows custom built shots – which you can do either manually or program the machine to remember your preference, as well as being able to choose between a single or two cup shot.
There is a pre brew function, that makes sure that just a small quantity of water keeps the grounds evenly moist and also a sort of shower head, that fully drenches them before the shot is pulled.
---
FEATURES (CONTINUED..)
This machine features a stainless steel conical burr grinder, for longevity, with a ½ lb sealed bean hopper.
There is a whopping 2 litre (67 fl oz) removable water tank and also a purge function, which adjusts the steam temperature, to ensure optimum espresso extraction.
Of course, no proper espresso/ cappuccino machine would be complete without a 360 degree swiveling magic steaming wand. 
Steam, swivel and heat milk to your heart's content and soon you will be making expert cappuccinos, lattes and macchiatos like a pro.
These are just the tip of the iceberg, there are a whole host of other features including a hot water dispenser ideal for making tea and other drinks, a 54mm tamper with magnetic storage facility, removable drip tray with handy "clean me" reminder function.
It also comes with its own custom made cleaning kit, with discs, tablets and cleaning brushes all included.
Other goodies comprise of a choice of single and double walled filters, which can be selected between by the push of a button.
---
TIP – ALWAYS USE FRESH BEANS WHEN POSSIBLE
All evidence points to using as fresh as possible ground espresso beans when you are attempting to get the best possible espresso.
We would be remiss at this point if we didn't mention a few little tips when it comes to grinding for espresso, and, in particular, some of the grinders which are most suitable for such a tasty task.
We usually recommend a Breville grinder like the BCG450XL to go with your Breville espresso machine.
Another thing you'll need to know more about if you plan on using the Breville BES870XL to its fullest potential is how to tamp. 
If you're going to be preparing your own espressos, you might as well learn how to tamp like a pro, which we cover at length in an article here.
---
BREVILLE BES870BSXL FAQ
Q:    CAN I MAKE REGULAR COFFEE IN THIS MACHINE?
A:    NOT QUITE.
*You can make an Americano, which is two shots of espresso mixed together with hot water (which is conveniently included in the unit, literally, on tap). This is pretty close to a "standard" coffee.
Q:    IS THIS MACHINE SUITABLE FOR COMMERCIAL USE?
A:    NO THIS IS A MACHINE FOR DOMESTIC USE ONLY
Although the standard of coffee this machine provides is definitely of professional quality, this is a machine intended for domestic home use. It would not be suitable for the demands of a busy coffee shop.   Why not?  Because those espresso makers are specifically designed to go non-stop every day, serving the masses.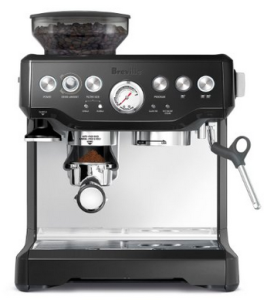 Q:    IS THIS MACHINE COMPATIBLE WITH COFFEE PODS?
A:    NO.
Q:    IS THIS MACHINE SUITABLE FOR A BEGINNER?
A:    DEFINITELY.
This machine is for anyone who enjoys crafting great tasting coffee, whether a beginner or a pro.
Q:    IS THIS ITEM AVAILABLE ON AMAZON?
A:   YES. 
Q:    IS THIS MACHINE FULLY AUTOMATIC WITH A ONE-PUSH BUTTON?
A:    NO.
No, this machine is not fully automated, if you want a one push button operated machine, choose something a bit simpler.
Q:    HOW LOUD IS THIS MACHINE?
A:    PRETTY QUIET, ACTUALLY

For a coffee grinder, this is not one of the more noisy machines out there. If you're worried about noise, this should be fine.
---
TO CONCLUDE

This is the ideal toy for the espresso lover.
If you're prepared to experiment and play about with all the settings there are hours of fun and learning to quell all your coffee needs.
In terms of extras and features, you can hardly accuse the makers of skimping on the details, either.
It comes with pretty much everything you need to make fantastic espressos, cappuccinos and lattes.
If on the other hand you just want a nice coffee with a minimum of fuss, there are other, less advanced machines out there.
All in all, although it is not cheap it scores 4.8 out of five stars in this review.
It looks sensational and delivers really excellent quality espressos and espresso-related coffees. 
However, it is not for anyone who wants convenience at the press of a button and it deserves to be treated with respect!
Espresso Machine Cleaning Tablets For Breville Machines + 6 Replacement Filters – Model Brf-020
Breville Bes001Xl Knock Box, Mini
Coffee Knock Box,Espresso