Last Updated on
By: Know Your Grinder
The Bröyêur Coffee Grinder is made of premium quality impact-resistant stainless steel and has a rust free conical ceramic burr, which will give you a lifetime of consistent performance

It is slim and light-weight, therefore great for everyday use or on your adventures

The ceramic burr grinding mechanism is quiet and produces a consistent grind size with minimal effort, regardless of how coarse or fine you need your grounds

Heavy duty extra-long handle crank for good leverage for smooth and easy grind

The bottom portion of the grinder features a viewing window. Slide off the bottom portion of the grinder and tip the grounds into your press

Easy to operate and easy to clean

Specifically designed to fit neatly into an AeroPress and Espresso Maker

Perfect thoughtful gift, a wonderful kitchen décor

Grinder specs: Length 7.5 inch. Diameter 1.9 inch. Weight 8.9 ounces. Handle Length 5.9 inch

FREE 23-PAGE COFFEE RECIPES GUIDE with 7 step-by-step all-time favorite recipes, and:

COMPLETE GUIDE on how to use and how to care for your Bröyêur Burr Grinder as well as why you should buy Bröyêur over an electric grinder

HANDY GRINDING GUIDE so you'll get the perfect grind! French Press? Turkish? Espresso? Drip? Pour Over? The precision knob ensures you'll get the perfect grind for your brew method. No assembly or dis-assembly required

Two COMPLIMENTARY ACCESSORIES are included: 1. a waterproof bag – convenient for carrying your coffee grinder and 2. a cleaning brush – to maintain proper grinder operation
What is in a name, folks?  Beats me.  We'd never heard of this company, Broyeur, before buying this ceramic burr grinder, but it turns out this little devil is a quality coffee buddy. 
To be completely honest, this shiny little burr caught our eye because of the way it was packed.  
This Broyeur grinder comes in a nice elegant black bag which is even waterproof for crying out loud, plus the small black brush that sometimes comes with manual burrs stole our hearts.  So cute and handy as well!  Well, we're now ready to tell you everything about it – how it works, how to put it together and how to maintain it.
The design is beyond good – minimalist container made of stainless steel and a discreet print of the brand name Bröyêur.
Classic Hand Crank Coffee Mill by Broyeur
If you ask myself or my husband, we think this is simply the classic manual burr coffee grinder, made of stainless steel and with ceramic burrs that will not spare any coffee bean that was placed inside from being thoroughly ground up exactly the way you want it.  We've tried other ones, but we feel that this one is superior.
It is very powerful although it looks tiny and elegant. It has the power of an electrical grinder, except it doesn't make that god awful noise.  It does take time to grind though, so if you're in a huge rush all the time, this might not be the one for you.
The Bröyêur coffee bean hand ceramic mill grinder will crush every bean into the smallest pieces possible, just as an electric grinder will, except for the fact that electric grinders don't really "crush" your beans. 
Electric grinders can heat up, and in addition to shredding your beans, they spinning blades can heat up and sort of scorch your ground coffee, altering the flavor.  I have been through this before and using a blade grinder never did me any favors.  In the case of this particular hand crank coffee mill, you can keep calm; this manual grinder ensures the flavors are fuller and the aroma as strong as if you have opened a bag of the finest coffee blend.
Super Easy To Use
Made of a few simple pieces that aren't hard to figure out, this coffee grinder is easy to use and you can have it assembled in about 30 seconds; all you have to do is put the pieces together, which is no big deal.
The bottom container (with a small glass stripe in the bottom shows the amount of ground coffee) is attached of the top container where the actual ceramic burr mechanism is located. The top of this container has an opening where you add your fresh whole coffee beans. 
Perfect For Aeropress, French Press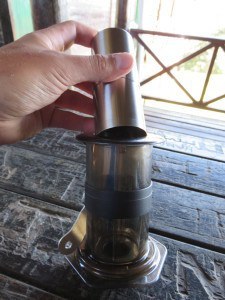 It isn't the widest opening, but it should not be a problem to put the coffee beans inside without spillage.  In fact, the size of this grinder actually lends well to an Aeropress coffee maker, if you have one.  Its also great for French Press, which can also involves grinding directly into your coffee maker (in that case, the French Press).
This is a small manual grinder that doesn't contain a lot of coffee, so your expectations should be limited as far as how much this thing can contain. 
Its not so much a mammoth grinder as you can probably tell.  More of a light, portable travel buddy.  Still, you can only hold up to 12 cups. This amount can be ground in 3-4 minutes.
Ready In No Time
Now, after you have put the pieces together, plus added the coffee beans inside, place the lid (with the black screw) on top, attach the handle on it and you are ready to start spinning that crank.
This way you can grind your coffee beans in no time, but don't get carried away.  I recommend taking it slow and steady rather than rush it – better coffee that way.  The black screw on the lid regulates the grind texture and you can do that by screwing it clockwise or counterclockwise.
Ceramic Burr Grinder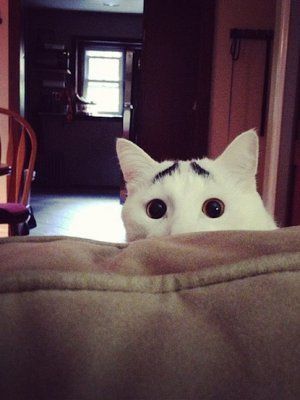 The ceramic burr prevents corrosion and eliminates the rancid taste or smell. The reason why we prefer manual over electric grinder, as I mentioned earlier, is the fact that manual grinders do not generate heat, so the taste of the brew is at its authentic best.
Also, the soundless process makes it even better. Who on earth wants to have rude awaking by loud noises.  I tell you this, my cat does not like that sound.  You will find Perkins picture inset somewhere here.  Anywho, manual grinders will provide you with the blissful silence; all you have to do is spin the handle several times and voila – your coffee is ready for brewing by whatever method you see fit.
Easy To Maintain
The maintenance process has never been easier.  The complimentary brush was included in the package on purpose. You can get to reach even the most unreachable parts of the grinder and be sure that you have left the burr completely clean even of the smallest particles.
As you can see in some of the pictures for this Bröyêur coffee mill, you can either use the bottom container or simply grind without it, in case you have decided to use the burr to grind sea salt or pepper for instance. 
*Tip – don't use this grinder for more than just coffee, if that's why you bought it, although it is completely suitable for grinding of your favorite spices and herbs.  We say if you're going to use it for spices, stick to spices. In this case the bottom container is often not necessary. All you have to do is directly grind the spice over your meal or in the pot where you are cooking.
Easy To Turn The Handle
Very easy to handle, very easy to grind, the Burr Manual Coffee Bean Crank Ceramic Mill Grinder can be used by people who have problems handling these kinds of activities; people with arthritis, people with rheumatic problems, even young children can handle it.  Heck, my husband's tough 90-year-old grandma grinds her coffee with it after we bought her one of these last Christmas.  She can out-grind me for crying out loud!
Besides everything we have mentioned above, there is another extraordinary reason why we love this grinder so much. It was specially designed to fit AeroPress or an espresso maker. In this case, you will only need one minute to grind the coffee. Oh heavens, you can now directly mill your coffee directly into these. That is a smart move and very practical at the same time.
This manual coffee grinder is fairly small, easy for transportation and storage literally everywhere in your house. Campers will definitely love it – it weighs about 12 oz and can be stored even in a large pocket.
The black elegant bag makes it even more appealing and its price (now on sale) is better than good. Whether you will pick it for yourself or for a present for someone else, you have made the right choice.
OUR RATING – 5 Stars – There's literally nothing wrong with this coffee grinder.  Plus, its a great package and comes with some extra goodies, and the price is right as well. Totally recommend it!