Last Updated on
By: Know Your Grinder
By now you must be thinking – this woman is coffee obsessed, but look, I call it passion and for me there is nothing like perfecting my coffee art though various kitchen gadgetry.
I have the whole she-bang in my kitchen, including a high quality espresso machine, to my own bean roaster, to a knock box, bottomless porta-filter – you name it! … and literally one of every type of coffee grinder known to mankind, and I cherish them all. 
On top of that, each of them has their place in my collection – from the expensive electric dosers to the more humble models like this one which I just picked up – the Casaffetto manual coffee grinding mill.  My last manual grinder met an unfortunate end and it had to be replaced immediately, for the sake of my blessed pour overs.
Casaffetto Adjustable Hand Grinder
Out of the box, this ceramic burr mill is sleek, silver-colored (of course it is – it's stainless steel) and produces actually four specific types of blends.
Not to brag or anything, but I've owned several in my time and one thing I've learned about this particular long-handled style coffee mill is that they are pretty easy for use for just everyone – kids and elderly people or people who have certain health problems such arthritis.
The handle is easy to operate, while the grinder itself is easy to grip in your hands without additional help.  I've got a bit of a wrist problem myself and this grinder doesn't really get it going like some other ones that stick a bit, which is a plus for me.

Easy To Assemble & Take Apart
There are only three pieces of this manual grinder – the bottom container where the grinds are contained, the top area where the ceramic burr is located, and the handle.
Everything is very simple as can be, yet the Casaffetto grinder here is also quite flexible. The knob that is actually screwed on top of the ceramic burr is easily adjustable – you can either screw it clockwise or counterclockwise and you can get a finer or coarser blend.
I realized that this manual grinder can go from extremely coarse grind to a much fineer blend. This is great for all manners of possible brewing methods, from French Press to espresso. I tried out a few different grinds to start with, and they were remarkable consistent.
I got another blend, a little finer, also good for a pour over or French press, while with just one or two switches of the knob I got a fine blend, as good and as fine for an espresso or for an Americano – yum.

Hario Ceramic Coffee Mill – "Skerton"
Brillante Manual Coffee Grinder – Superior Burr Design For Consistently Brewing Espresso, Pour Over, French Press & Turkish
Hario Ceramic Coffee Mill"Canister"
All my hard work was finished in several minutes, from putting the coffee beans inside the top container, to the actual grinding.
Ceramic Burr Grinding
The top container holds the ceramic burr set, but besides that it is pretty much empty so there's a fair amount of room for coffee beans to go inside.  Ceramic burr grinders are the best kind of coffee grinder burr, for a number of reasons but the main ones are that they are sharp, durable, and stay cool when grinder.
Once the beans are inside and the lid is placed on top, the handle comes last. It's easy to attach – not much different than a pepper grinder – and from there all you have to do is just spin it and grind your coffee just as you want it.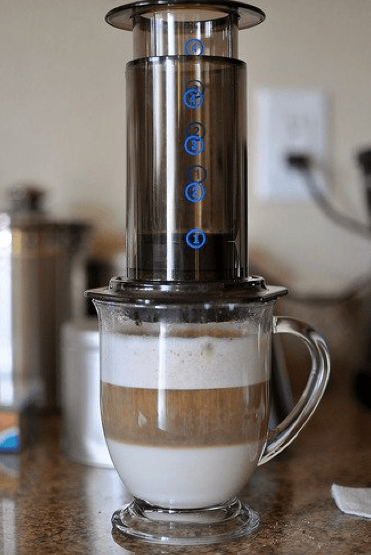 The bottom container has a little glass strip / viewing window to help you see the amount of your grind.  It isn't a very large window, mind you, but it does help you to see where you're at with your grinding.
Great For Pour Over, Aeropress
Another thing that I really appreciate is that this grind is suitable for my Aeropress coffee & espresso maker.  I usually grind the coffee directly into the Aeropress device, so I can shorten the process of coffee grinding/brewing.
No matter what you will grind your coffee for – a pour over, an espresso, Turkish coffee or something else, I'm sure that this sturdy and sleek manual stainless steel coffee grinder will help you do it.
My advice to anyone who's new at grinding coffee at home is to get yourself a manual grinder has a ceramic burr (like this one) – durable, easy to clean, adjustable, and its not going to break the bank either!
This grinder ticks off everything on my list, so to summarize, I'm quite happy with my Casaffetto hand grinder.  It doesn't cost too much, it looks elegant, it's small enough to be stored anywhere in the kitchen, it's lightweight and can be transported just anywhere and of course, works its magic with a little effort. – 4 STARS
Hamilton Beach 49980A Coffee Maker, Single Serve Black/Stainless Steel
Freshroast Sr500 Automatic Coffee Bean Roaster
Breville Bes880Bss Barista Touch Espresso Maker, Stainless Steel