Last Updated on
By: Know Your Grinder
Coffee in Mexico, over time, has become increasingly important to not only the people of Mexico themselves, but also, the world who loves their coffee.  
But first, we wonder, how did coffee arrive in Mexico originally?
The undomesticated origin of the coffee bean originated in Ethiopia Africa.
Early in the 15th century, evidence about this bean's beginnings came from a Sufi monastery in Yemen, spreading soon to Mecca and Cairo. 
From there, the coffee bean made its way to Europe.  Powerful countries like Spain, brought the bean to the Americas. 
The Spanish explorers, in 1796, left the bean in Cuba and the Dominican Republic, in the Caribbean Sea, east of Mexico. 
Decades later, German and Italian immigrants came to Mexico and other Central American countries, with the coffee plant.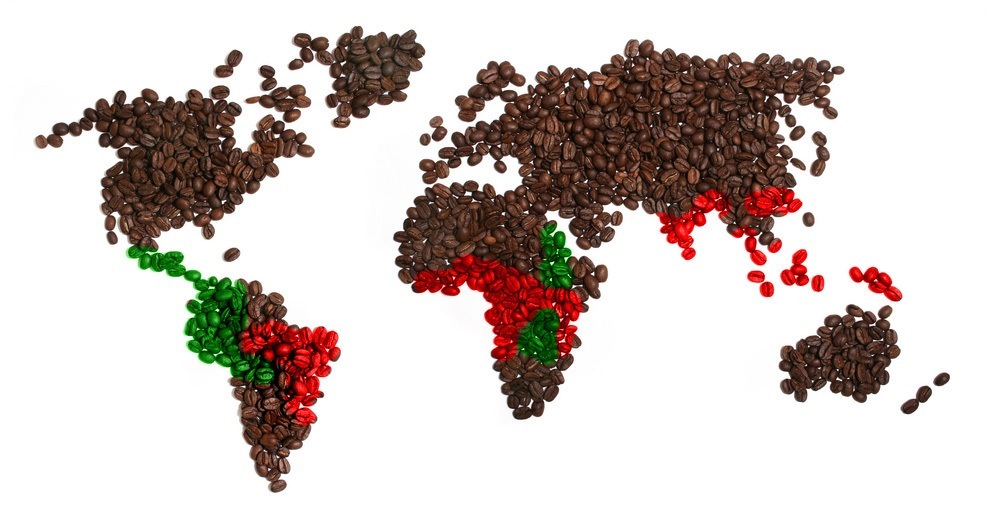 Communities like Vera Cruz and Chiapas, on Mexico's east coast, first started to farm coffee.  This was the birth of small industry, and has today become a multi-million dollar business world wide, and some claim coffee today is the most popular drink on the planet.
Coffee became hugely popular all over the Americas in the later part of the 20th century due to the low cost of the bean. Coffee production spread across the country in the 1980's. 
Plantations in twelve Mexican states occupying 500,000 hectares of land, became the primary source of income for over two million people in the country.
Employment opportunities grew and people depended on this delicious black bean.
---
Nayarit
Nayarit is a small western state in Mexico, and it wanted to grow coffee also. 
The Sierra Madre mountains and the mighty Pacific, would cradle the proud and hard working coffee farmers. 
Thousands of tourists that visit the Nayarit every year, would buy this popular drink and everything that had anything to do with this plant. 
The internationally famous city of Puerto Vallarta, in the far south, would bring coffee drinkers from around the world to perfect coffee growing territory. 
These international visitors could sit on Nayarit's spectacular ocean beaches, and sip on this black magic drink.
---
Environment
Nayarit has the coffee environment, with its well-defined seasons.  Coffee plants like cool to warm temperatures, and Nayarit has that. 
The soil must be rich in organic nutrients and free of pests and diseases. 
Nayarit has that too.  The world's coffee belt spans the globe close to the equator and Nayarit Mexico is in that desired belt.
Veracruz, Chiapas and Oaxaca are currently the most popular Mexican locations for the production of great award winning coffee products, but Nayarit can be just as popular.
---
Competition
There was a time when Mexico was one of the main suppliers of Arabica coffee for the U.S.A market, but recently investing in Mexican products, such as coffee, has been on the decline, even though more and more people are consuming it.
---
Education
Mexico is transitioning from a coffee producer to coffee drinkers.  An non-profit organization called the Coffee Quality Institute has been working since 1996, internationally, to improve the quality of coffee, and the lives of people who produce it. 
A U.S. development firm called Chemonics has been working hard since 2005 to train and educate coffee farmers in topics such as organic practices, cupping, and marketing. 
Chemonics believes in "fair trade" and has also helped the farmers by collaborating with several private exporters and with the Mexican government. 
All of this hard work has resulted in Mexico becoming one of the most successful countries using this "Q" quality program.
Mexico has certified more quality coffees than any other country and continues to improve the coffee industry especially through private companies and organizations investing in the local farmers. 
Today, Mexico is the leading country in coffee agro-ecology research. 
A research centre named "Cafe In Red", led by the Institute of Ecology, is continuing to make a big difference for local Mexican farmers as well.
---
Coffee in Nayarit, Mexico, 2020
Nayarit has several small highland coffee plantations, particularly around San Sebastian de Oeste,  where you will find a couple great brews. 
San Sebastian was a thriving mining town many years ago and now, it is a day trip from Puerto Vallarta.  It has a  small shade grown organic coffee plantation. 
Visitors can spend the night above a museum, enjoy the beautiful gardens and grounds, and relax in this mountainous paradise with a delicious cup of coffee.
Farming coffee in the state of Nayarit is growing and these local farmers need your help.
---
The Expo Artesanal y Cafetaleros 2020
The Government of Bahia de Banderas, hosted "The Expo Artesanal y Cafetaleros 2020". 
It was held on February 7, 8, 9, in Bucerias Centro Mexico.  This well attended first Cafe Expo was organized to promote local cafe farmers from Compostela in the north of Nayarit, to Puerto Vallarta in the south.  
Eat and drink local is their mission and collaborate with local businesses and hotels would by wonderful.
People are getting wiser when it comes to their environment!  These people want to consume food grown close to where they live. They know that local food is usually fresher.
These environmentally aware people are concerned about the carbon burned to bring their products to market from long distances, and they want to preserve local ecosystems, and support their local economy at the same time!
Watch this Coffee Expo held in Bucerias Nayarit Mexico in February 2020.
Thanks for reading!  Please comment below if you've had Mexican coffee or you know something about the coffee industry there!