The Delonghi Dedica machines are first attractive because of their size, sleek, and aesthetic looks. It takes less space than a toaster.
Today we're going to be talking about the Dedica EC 680M, a popular model of this machine.
The quickness in getting you coffee is amazing! After turning it on, it only takes about 30 seconds to get ready to serve you some of the best coffee you've ever had.
In addition, it will make you feel like a professional Barista (with a capital B).
8 Great Features of the De'Longhi Dedica
1. A heated mechanism that allows the espresso to come out very quickly and very hot.
2. The compact size with a large water tank in the back.
3. The discrete moveable frother wand that steams and is able to release hot water.
4. The heating rack on top of the machine which actually warms a small espresso cups while setting up for the next cup.
5. The ease of using and cleaning the machine.
6. The measured doses of expresso. There is no need to watch how fast it comes through and try to have it stop at the right point before overflowing.
De'Longhi Ec155 15 Bar Pump Espresso And Cappuccino Maker

De'Longhi Ecp3630 15 Bar Pump Espresso And Cappuccino Machine, Stainless Steel (Ecp3630)

Espresso Machine 35 Bar 4 Cup

7. It is quieter: The thermo block boiler seems to deliver water in little bursts so the chuntering noise takes some getting used to, but it's still quieter and non-rattly compared with the Icona and Micalite.
8. It provides an automatic volume limit, so you do not have to worry about standing around to monitor its brew strength.
Practice Makes Perfect
Some people complain that they are difficult to use, but as with any new machine, it will work easier and faster and a lot more efficiently if the manual is followed step by step.
Another point to consider is: Patience! There is a definitive learning curve for using this machine!
The machine takes a few extractions to stabilize (as mentioned in the manual).

At first it comes out dilute, and it may feel like the pressure is not enough. However, after around the 5th extraction, there will come the perfectly thick crema with the double shot filter basket.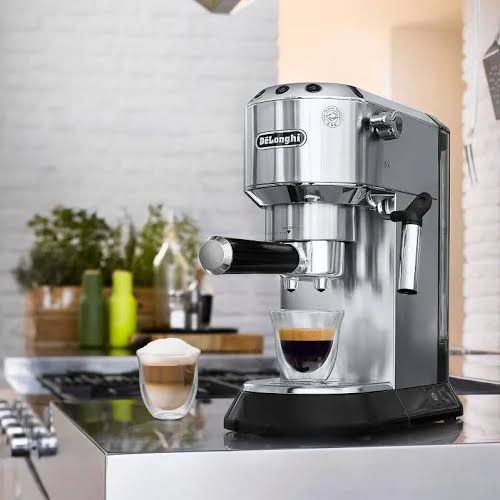 The trick to obtain such perfectly thick crema is this:
1. First heat the filter basket for one round of hot water.
2. Dry the port-afilter completely.
3. Fill up the basket with coffee ground (for some, two exact scoops might be a bit much which can be shaved off so it can fit the group head properly).
4. Give it a good tight tamp down, it doesn't need to be hard, but quite lightly.
5. Make sure it fits into the group head and then press the extraction button immediately. If it stays too long, your grounds might burn from the passive heat.
Please keep in mind the instructions regarding coffee fill weight and settle on a grind size that more emulates the size you get in a supermarket pre-grind packet. With that, you are guaranteed to get good crema and taste every time.
The machine seems to get much more flavor from the same coffee so some reviewers have swapped from double to single expressos in their latte, which ends up saving them a lot of coffee and money over time.
Milk
A very favorite part for those that like it with milk! It steams milk beautifully!
You can easily make a delicious micro foam. Suggestion: heat your milk up before putting the steam want in it.
Then, press the steam button, place a dish towel around the wand and turn on until it starts steaming (you'll just get some hot water at first).
This way you don't get gunky water in your milk. This mechanism purges (cleans) the wand and then you'll get steam right away when you start frothing. After you're done, purge again.
As for steaming milk, some have tried it for hot chocolate, only using the wand in 10 second bursts as advised by the manual. Within a minute you have beautiful creamy, warm frothy milk.
Cleaning the machine
The machine is easy to clean. Once to establish your routine, it is easier and completely worth it. The wand and the silicone parts can be easily taken off.
Some reviewers have dealt with the annoying feature of the descale warning setting off. Make sure of the type of water that you use where you live, whether it is soft or hard and select the water type appropriately.
With soft water, the machine will ask to be descaled less often. The descaling warning will prevent your machine from overheating and getting burned out.
Pay attention to the warning. It will extend the life of your machine for years if taken care of correctly.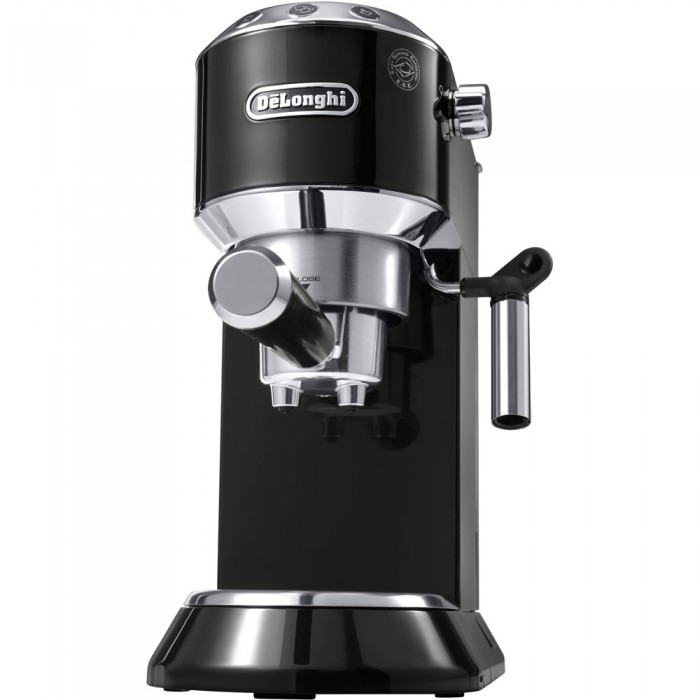 There are several different types of models to choose from.

Some allow for either single shots, double shots or pod shot of espresso. It can also have two spouts so that two espresso cups may be filled at the same time, if chosen.
Some other models work well sideways at the end of the counter. The handle goes on more smoothly and overall looks much more professional.
Apexstone Espresso Coffee Tamper,Espresso Tamper,Coffee Tamper 51Mm

Bluesnail Stainless Steel Coffee Tamper Barista Espresso

De'Longhi 5513292881 Stainless Steel Milk Frothing Jug

A few negligible downsides are:
-The filter baskets on one unit kept falling off the porta-filter
-The space to put the coffee cup to receive the extraction could be taller despite the removable drip tray. But one can simply get a shorter coffee cup that fits.
– There have been complaints about the quality of the materials that were used to make it. For the price, some would have expected it to be made of strong heavy duty stainless steel, but it is not.
– The steamer is slightly too bubbly and could do with a longer wand but if you keep it deeply buried in the milk it's fine. It only runs for a minute before stopping and flashing the coffee buttons which mean it got too hot. But if you stop for 5 or 10 seconds it works again.
Conclusion
Overall, the De'Longhi Dedica Espresso Machine does deliver a great tasting hot cup of espresso and works as described.
The machine definitely has quirks, but it is a great purchase, worth every single cent spent! It is highly recommendable to anyone looking to make coffee for a small number of people at home.
I can hardly wait to get out of bed in the morning to enjoy my coffee. I can't imagine considering a pod machine ever again.