Last Updated on
By: Know Your Grinder
Firmly on the cheap and cheerful end of the coffee snob's spectrum, this pint-sized little bit of coffee grinding isn't going to win gushing reviews from the more serious coffee blogs.
But what if you only want something basic to grind your coffee beans – and other spices?  
What if you are just looking for the best blade grinder available do make your coffee at home in peace, away from the judgmental coffee bloggers of the world who won't give any credit to certain pieces of equipment just based on price or whether its a burr grinder or not?
QUICK STATS
PRICE: $30.00 OR UNDER

WEIGHT: 2 POUNDS

DIMENSIONS:  3.5 x 7.6 INCHES/ 9 x 19.5cm

BLADE TYPE:  STAINLESS STEEL

UNIT MATERIAL: STAINLESS STEEL

MAX LOAD: 2.5 oz (70 g)

SAFETY FEATURE SHUT OFF: YES. STOPS WHEN LID REMOVED

DETACHABLE GRINDS CONTAINER: YES

SEE THROUGH LID: YES

WARRANTY:2 YEARS

OTHER FEATURES: LARGE EASY PRESS BUTTON

SPARE PARTS: AVAILABLE TO BUY
Personally, if I am looking for a small kitchen appliance, two questions spring to mind. Is it a pain in the butt to clean and will I shred my fingers to bits in it, like a small scale Texas Chainsaw Massacre?
Happily, the answer to these two questions are both no.
The Epica Electric Spice & Coffee Grinder comes equipped with a removable cup for the grounds, which makes both emptying it and cleaning it less of a chore.
Also, there is a safety function that means this device will not operate without the lid being on. So your fingers can relax!
Want to grind something other than coffee? Go ahead. This will happily chomp your spices, nuts and other ingredients.
Because the cup is detachable and made of stainless steel, it is very hard wearing but also easy to empty and clean up.  
You will not have the issue of trying to clean the interior without getting water into the electrics.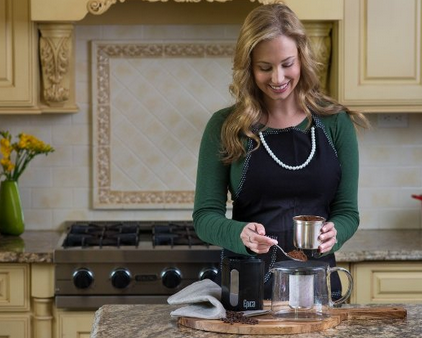 Spare blades and replacement cups are also available to buy, making this a good investment for some time to come.
Because this is a quick and simple operation, there are no confusing dials or knobs. You simply press down for as long as you want to grind for and that is all there is to it.
Obviously, you are not going to get different settings for different kinds of grind, so if that is an issue for you then you may be better off with something more flexible like a burr grinder.  
It might cost a bit extra, but perhaps will come with an extra feature or two that will suite your needs.
I'd be remiss if I didn't take the stance of the snob for one second here. 
While its true that hard core coffee nuts and purists may wish to avoid this for its stainless steel rotating blades, for the money you spend here, its a good deal if you are only after something to grind quickly and with a minimum of fuss and expense. 
If that is the case, I say look no further. Better still, because it really is quite small, it can easily be stored when not in use or be taken with you if you go on vacation.
Also the grinding chamber (or removable cup) is made from stainless steel. This means it can be plonked into a dishwasher with no problems.
In other words, there should be no issue with escaping or trapped flavours and aromas and you should be able to switch between grinding coffee beans and other items (eg. spices) with ease.
The clear lid may need a going over with some spirit vinegar just to ensure that nothing is trapped in there, though.
---
Customer Reviews Of The Epica Coffee & Spice Grinder
"Wow this grinds really fast – don't make the mistake of leaving it on for ages like I did!" – Candace, TX
"The best way to use this grinder is in short bursts and keep checking to see where the consistency's at. The clear lid is handy for that. If there was one criticism to make is that the lead is a bit on the short side, other than that it's been great." – Trent, Portland
"If you want a good all round grinder – not just for coffee – but have a limited amount of kitchen space available as well as a limited amount of cash, this is the best blade grinder you are going to find out there." – Ali D., Montana
"Because this is not automated at all it is easy to remain in control over the consistency and amount that you will grind. The only downside is that it's pretty small so obviously can only grind relatively small amounts at a time." – Syd, Toronto Canada
---
The Verdict
With its stylish steel looks and nice compact design, this is a great little item that looks smart on your kitchen counter but will also easily fit away when it's not in use.
Multi task to your heart's content grinding not only coffee but also chillies, garlic, spices, peanuts, almonds and almost anything else you can think of.
No accidents here (hopefully) as the lid needs to be firmly on in order to operate it and simply and easily removed the cup to empty the contents and clean it up.
There's a two year warranty and if parts should wear out, the blades etc can be purchased separately. And it is only about $20!
For the price this is a pretty good buy.  However, if you are a serious barista you may not wish to purchase something with a rotating steel blade at all as it does lack versatility.
Overall, for the value it provides the Epica Spice & Coffee Grinder scores 4.5 out of five stars and is one of the best blade grinders in its class.