Last Updated on
By: Know Your Grinder
Hi-di-ho!  So you decided to treat your family (and your kitchen) with a brand new espresso machine, but you don't feel like spending a small fortune on it?
Well, here is some great news for espresso lovers if you are out of the loop at all in 2018. 
It is called the Gaggia 14101 Classic Espresso Machine, and this machine in recent years has become my best friend when it comes to producing some of the best espresso I've ever had, and I've had quite a few in my day, being slightly err.. dependent on the stuff.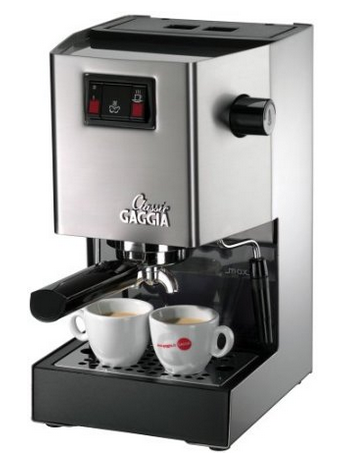 The Gaggia 14101 here makes liquid brown delicious coffee-smelling miracles that will immediately have you hopping out of bed every morning. 
As to the small fortune you'll be spending, $350 is not an insignificant amount of money by any means.  
However, when you consider that this is probably the last espresso machine you'll be needing for a good decade, the savings you will get out of this deal are substantial, but I won't bother to take you through the math, because personally I don't like math – but I do like espresso! 
So, now I will take you through the many reasons I believe this something you should keep your eye on.
But first, here's a quick introduction to the Gaggia 14101 Classic showing some basic how to's of the machine.
About Gaggia
For those know don't know, Gaggia is a famous Italian manufacturer that produces manual and super-automatic espresso and cappuccino machines.
Their products are known for their excellent quality and the Gaggia Classic espresso machine product line is not an exception.  
This machine is one of the best products Gaggia has manufactured so far, according to coffee fans, snobs, industry reps, and basically anyone who knows coffee.  
Not even kidding – you can look this stuff up yourself and we think you'll find the same thing.
---
Power & Quality
The overall wattage of all Gaggia machines is kept at 1425 watts. Gaggia has a unique boiler system incorporated with 2 heating elements.
This is nothing like other manufacturers' machines because Gaggia does not position them in direct contact with water.
The machines are actually embedded into the sides of the boiler; this prevents the heating element from corroding. Gaggia has made the entire boiler to be a heating element.
As with most Italian espresso machines, Gaggia is also made to pass certain quality standard tests.  While most companies do have their own quality standard tests, the tests that Gaggia espresso makers go through are more rigorous than most.
Gaggia 14101 Classic Espresso Machine has 58 mm filters that can typically be found in models that are a bit more expensive, but now Gaggia offers something more affordable and yet professional equal to any espresso machine you'll find it your local coffee shop.
And so, you can make a professional espresso in your very own kitchen!
---
The Body & The Brains
The Gaggia 14101 has a silver brushed stainless steel body, and you can't find it in any other color, which could be seen as a drawback.  
It comes with a 17 ½ bar pump, a high-voltage boiler and an independent expansion valve.
Besides that, there is a 3-way solenoid valve that releases the pressure from the brass group head, making it instantly accessible to the porta-filter for immediate re-shot filling.
The great thing is that if you are in a hurry, you can make two shots of espresso at once.  You and your partner or you and your friend can enjoy the delicious Italian coffee right ahead.
So having a powerful machine such as this one in your home, I think that basically trumps the design elements of the machine. 
If you are completely new in this whole espresso at home thing, you should know a few basic steps about it.  
---
The Basic Steps
First of all, when you make an espresso the water temperature must never boil, instead it should be just below the boiling point, (something below 190 Fahrenheit).
Then the pressure on the coffee beans should be up to 200 psi (or 15 bars) and last but not the least, the best ratio of coffee beans-to-espresso cup is 7-1. 
When you are making your espresso make sure the time for the water to flow through the coffee is no longer than 25 seconds. This, according to professionals is the ideal timing.
One thing that is important to know is that the Gaggia Classic espresso machine does not come with a built-in grinder and tamper, as some of the more expensive models do.  
The thing is, this machine isn't *that* expensive, so it doesn't have all of the built-in features of machines that cost $1000 and up.
Gaggia's porta-filter handle and style is commercially designed. The 58 mm diameter helps the water distribute evenly over the entire surface.
This way, it helps you to brew better espresso. Its Pannarello steam wand eases the brewing to a point where even an amateur barista can do it.
---
Steady Temperature
Its chrome-plated brass filter keeps the machine's temperature steady and constant for the extraction and brewing process.
This again is a great feature that would help you make the best home espresso, pretty much as if you just got it from Italy.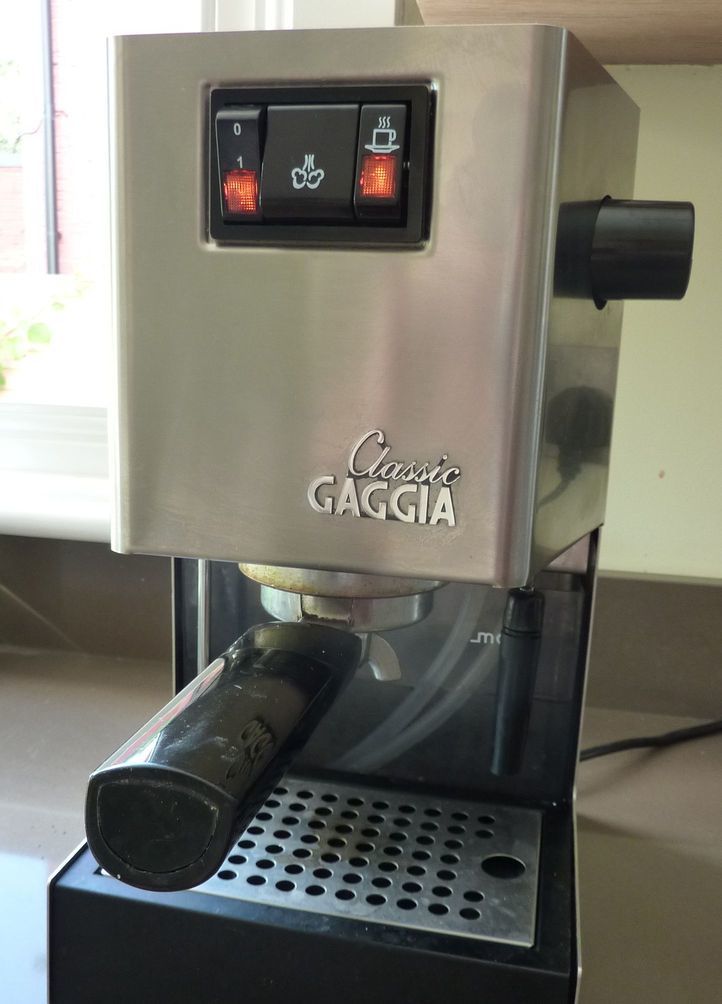 The Gaggia 14101 contains a super-conductive aluminum boiler that gets heated from two exterior elements on either side of the boiler.  
In this way, the Gaggia is provided with heat distribution, even with the low-volume and high-wattage set up.  
This machine has a fast heating time, meaning you will get your espresso as fast as you need, especially in the morning when you are in a rush.
This machine comes with a three rocker arm that switches for full control, complete with temperature indication lights and a steam switch.
This way you can know instantly where in the extraction and brewing process your espresso is. All you have to do is look.
---
Wrapping Up
The Gaggia Classic comes with a cup warmer that is big enough to preheat 5 cups at once (the original Italian espresso is served in a preheated cup).
The heater is passive and it doesn't need any extra power; it uses the residual heat created in the boiler.
Gaggia 14101 is an excellent low cost classic espresso machine, ideal for domestic brewing of your favorite coffee.
Ideally sized and priced, it would make a very practical and charming addition to your kitchen.
Check the price of the Gaggia 14101 Classic Espresso Machine on Amazon