What's your favourite pass time?  Well, mine is coffee grinding. 
Just kidding…but no, really, I do enjoy the process of transforming my favourite coffee beans into sand-like or coarse ground particles of yumminess that soon will become my much-needed flavourful brown liquid. 
Coffee definitely keeps me sane and alive during the day, but after a while, you start to want a little bit more than just any old brew.
If you have been following my recent articles on this website, you have noticed that there have been plenty of reviews on all sorts of coffee grinders.
These include electric, manual, vintage, modern looking, cheap, expensive… many of them written by me, as I add to my veritable armada of coffee gear, which is soon going to need its own room aside from my kitchen counter.  
My personal favourite grinder that I currently own is the Breville Smart Grinder, which is perfect for what I need.
That said, most, if not all of the grinders and doohickies I own are useful in their own special way.  They all do, in one form or another, what is necessary for you to grind fresh coffee and have it ready for brewing. 
But, when you are specifically using the vaunted device known as the Aeropress Coffee & Espresso Maker, then you will need to know a thing or two, especially if you are going to grind your coffee at home.
Enter…The Aeropress Coffee And Espresso Maker
The Aeropress is a practical little thing that will help you make an espresso, Americano, or cup of coffee at home in no time and with unmatched smoothness. 
In a recent article, we've evened shared some tips on the Aeropress, not to mention our classic review of the product itself. 
We here at Know Your Grinder definitely would like you to get the most out of your Aeropress, that's for sure! 
For those who haven't used one, the Aeropress is a simple plastic coffee maker made up of just a few parts such as the main Aeropress chamber and the plunger (perhaps the most important things in the whole set), as well as the filter screw and filters.  
Overall, the point is K.I.S.S., as you may have learned in middle school.
Finding The Best Coffee Grinder For Aeropress
Firstly, for your Aeropress you will need a coffee grinder with the ability to grind fine-ground coffee, and, more often than not, we are going to pick manual burr grinders over the electric burr models, although they can do the job as well.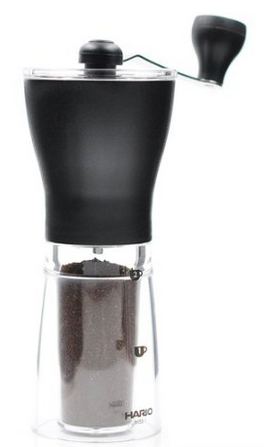 So, why manual and why not electric coffee grinders?  Here's a video that should shed light on this matter…
In this video, he's using a Porlex Mini manual grinder with his Aeropress.  
This adds a little more convenience to the process, because you can quickly and easily grind and then pour the grinds directly into the Aeropress.  
On top of that, manual grinders are excellent when it comes to grinding for pour over coffee, which is exactly what the Aeropress is – pour over coffee.
In fact, if you wanted to, you could simply grind directly into your Aeropress with a manual grinder.  Most of them are sized to do so.    
Why Grind The Coffee Yourself?
We've said it before and we'll say it again: when you grind the beans yourself and use them as soon and as fresh as possible, its going to really benefit the flavour, aroma, and everything about your Aeropress coffee. 
Its just common sense, really, but people tend to let coffee get a bit stale by leaving it out, which is actually quite detrimental to the flavour.  A sturdy and airtight coffee vault can help with this.  
Get A Manual Adjustable Ceramic Burr Grinder
So, if you are in agreement with us that manual sounds like a good idea in terms of a coffee grinder for your Aeropress (they're much cheaper than electrical too!), we suggest you go with a manual adjustable ceramic burr coffee grinder. 
While this may sound like just a bunch of words strung together, each has its own special significance, which we'll what they each mean presently!
Steps To Using A Manual Grinder With Your Aeropress
Because your grinder is manual, that means you have to do all the grinding which yourself, which is somewhat slower than an electrical grinder (of course).  
So if you're pressed for time all the time, that could be a problem.  On the other than, slower-ground coffee beans taste better, so that's the upside.  
Once you've got yourself a manual grinder, its as simple as deciding how coarse or fine you want your beans (I like medium-coarse for my Aeropress), and then you just add the beans to the grinder.  
In the above picture, it shows the grinds being added to a French Press, but in our case we're using an Aeropress, so its just that easy.
Overall, the whole process shouldn't take more than 5 minutes anyway.
Ceramic Burrs Are Better
In terms of the word "ceramic", we're talking about the type of burrs that the coffee grinder uses.  
Often they are made of metal, but sometimes they're made of ceramic and that is what we prefer for our Aeropress – a coffee grinder that uses ceramic burrs.
Avoid Blade Grinders If You Can
Blade grinders are roughly the same price as manual burr grinders, but your coffee won't taste as good if you use this type of grinder.  
Mainly, this is because they tend to overhead the beans and scorch the grinds, affecting the flavour.  
Ceramic burr grinders slowly kind of mince the beans in such a way where the flavour is maximized for reasons that are slightly scientific and we won't be getting into here – but it's true, ceramic burr grinders are my personal favourite in terms of attaining the correct flavour.
Grind Size For Aeropress
For Aeropress, you'll want to achieve a grind size that is just less fine than salt – eg. a medium grind.  Finding the right grind size that suits you may take a few times, but it'll be worth it!  
Once you've managed to consistently get a grind you like, just leave the settings on your grinder the same and then you can then grind straight from your manual grinder and into your Aeropress.  
Hopefully, if you buy the right size grinder, it you won't spill anything.  🙂
In the image below, we're looking at the "French Grind" for Aeropress, AKA the size that works best for pour over coffee methods.

Aeropress Coffee On The Go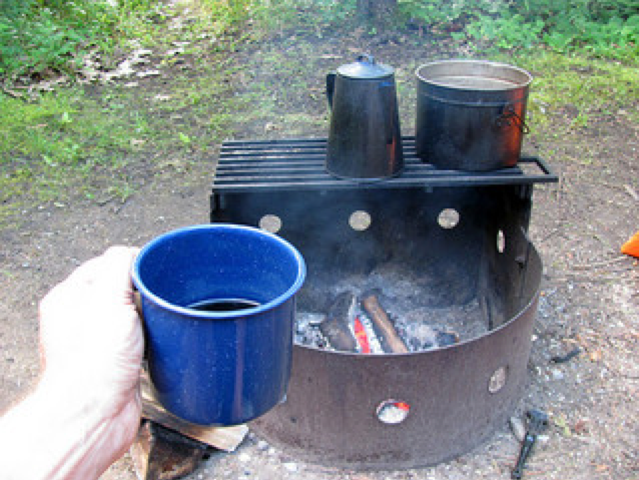 The great thing about Aeropress is that its very portable.  If you are a person who travels a lot and loves camping, having your manual grinder and your Aeropress in your bag will be a real blessing. Together, the grinder and the Aeropress don't take up much room and don't use electricity, so its perfect.
I hope this helped a little bit when it comes to grinding for your Aeropress.  If you want to learn more, check out the articles listed below…