Last Updated on
By: Know Your Grinder
Café management is not for everyone.  It's one thing to work at a café, quite another to manage it.  But that's exactly what Abby Khamphoumy does week in week out at Blackwing Coffee Bar in Cambridge, Ontario, Canada.
Today we had the chance to chat with Abby about what it's like managing Blackwing Coffee Bar, a position she's held for about a year now.
"Blackwing", as most people in Cambridge refer to it, is a café that is owned by Katherine Chiles, who co-owns two other similar yet uniquely different cafés in the tri-city area, those being Smile Tiger and Death Valley's Little Brother.
Blackwing Coffee
Blackwing is a café that possesses something that is perhaps elusive in the café world – two things actually – and that's charm and class.
All images courtesy of Blackwing Coffee's Instagram page
This is partly due to the location, which is hard to describe if you aren't from the region, but let's just say that the building has a fascinating history, is uniquely positioned, and there's a river that runs beside it, although hidden of view.
Also adding much to the atmosphere is the staff who work there, and of course the customers who frequent the café, coming there for work, rest, and play, often regardless of the weather, as Blackwing provides an escape from the hustle and bustle of the workaday grind, opening early and closing late.
Abby is there most days, managing the place, as Katherine, the owner, has other duties to attend to pertaining to the café(s) she owns, which require her attention.
The following chat is with Abby, and the focus is seeing exactly how one goes about managing a café, in terms of everything that goes into it.
Enjoy our little chat!
---
When did Blackwing Coffee open?
April, 2018.
And when did you start at Blackwing?
August of 2018, just a few months later.
What made you apply?
I first applied because I was trying to look for a new job and different environment after working 3 years at a factory job. My friend who works here said they were hiring, so she referred me.
Was your goal at that time when you were looking for a job to work as a barista?
No, I just wanted to get another job, in addition to my job at Frito Lay, where I was working as a general labourer.  Once I started here at Blackwing, I switched from part time to full time because I loved it so much! 
A few months later, I became manager here.
Was that your aim once you started working at Blackwing – to be manager?
The opening came up, and I asked for it, and was happy to get it.
Did you know what the job of café manager was going to consist of prior to taking the position?
No, not really.  I had an idea.  I thought it might be easy, but it wasn't easy when I first started.  It did get easier, though.
This was your first management position?
Yes, I liked the idea of a challenge. 
Do you have any post secondary education that somehow fit in with this job?
I took a business management program at Conestoga College. 
That sounds pretty relevant.
Yes, it was, and that's why I went for the management position here. I had that academic experience while also trying to find something related in my field after graduating. I admire Katherine, the owner of Blackwing, and I thought she would be a great boss & mentor to work for, and, so far, she has been the best for supporting me in this role.
How many years was that program?
It was a 3 year degree.
Do you know what the initial idea for this café was?  As in, the concept behind the name "Blackwing", and why she chose to have the two blackbirds to represent the café?
 The black bird has long been associated with wisdom. Katherine and Joel (her business partner) love using animals in their logos from the totem references as well as the Chinese birth years.
She was born in the year of the rabbit so DVLB (her first café) has the rabbit in it. Joel was born in the year of the tiger which represents Smile tiger the second café.
The blackbirds are very intelligent and are revered in native American lore.
They both felt like they gained a lot of wisdom more recently than ever, and continue to look forward to aging for the beauty of the lessons that come with it.
Therefore, "Blackwing", being the baby of the two cafés represents the black birds.
Do you know how Blackwing came to be in this particular building?  It's a very unique spot.
Katherine always loved the area of Downtown Galt. This particular building back in the day used to be the society of agriculture and then became Canada bread factory.
After that, it turned into other things, like a dance club and banquet hall. I think she liked the history of what it used to be and wanted to be a part of restoring something that is now a landmark of Galt today.
The building was completely empty and had available spaces – Katherine was shown this space by someone and happened to come by and see it, she saw potential here and loved it.
She was able to envision the idea of the café here.
And there are other businesses here too…
Yeah, besides us there is our neighbor across the hall, Galt Collective, who rent out work spaces for a temporary amount of time, and also provide space for private events.
Upstairs, we have various different, privately owned businesses, including Pixels & Coffee Media, who are an animation studio.
My friend Penny who is a Mortgage broker for Mortgage Centre and Shaw Realty Group, a real estate brokerage.
Do you work with them in any capacity?
We will cater for them sometimes – a lot of events or board meetings will take place in Galt Collective, so we end up fuelling people with coffee, treats, and sometimes food.
All the workers support us they are always getting coffee or beer here. So, yes, we are pretty connected.
Ah, like the Cambridge Chamber of Commerce stuff.
We provide coffee, treats, and food, dependingly.  Yes, we are pretty well connected with everyone here.
Yeah, it's such a nice spot.  Was this place made over when Blackwing came here?
Yes, the owner designed the whole look and feel of the place.
What kind of look do you consider this to have?
I get some rustic, industrial vibes…
Indeed!  What cafés have a similar vibe around here, do you think?
None, really.  I find that a lot of cafés around here seem to go for white, where as Blackwing has more dark tones, with red brick, the exposed rafters and pipes… and lots of wood!
Does this place attract a certain type of customer, since the food and drinks aren't exactly the cheapest here?
Well, I'd say our coffee is a lot different from other cafés, as we take the time to dial it in, craft it, and taste test it, before serving it to our customers.  I've tried some of the other local coffee shops, and there's no comparison, in my opinion.
Where do you get the beans?
We use Nightmare Hippy Girl beans for our drip in house coffee and the espresso beans.
Nightmare hippy girl beans are from Nicaragua & Colombia and Thunderpeel beans are from Brazil & Colombia.
All of our beans are Direct Trade, meaning we know exactly where our coffee comes from.
Smile Tiger Coffee, our sister store that I previously mentioned, which is located in Kitchener, Ontario, is able to look up the farm on google maps and pin point where they grow exactly.
Smile Tiger also does the roasting.  It's a farmer from Puerto Rico who grows the cherries and harvests the beans.
Do you grind it here at Blackwing?
Yes.
What kind of coffee grinder do you have?
For our drip coffee we use a Bunn G3 HD commercial coffee grinder. 
For espresso, we use the Mahlkonig K30 Vario espresso grinder.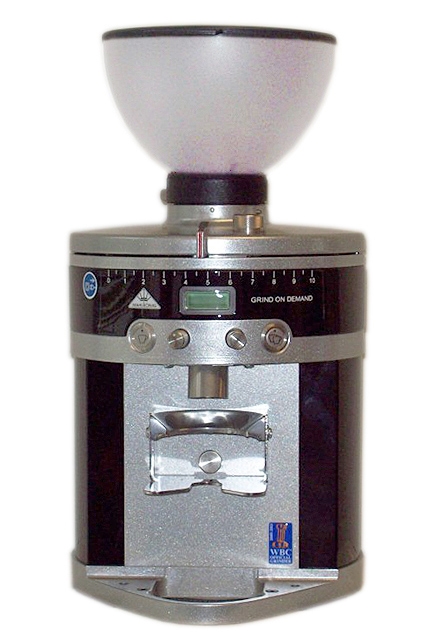 Who does the grinding?
All baristas do the grinding – were all trained to know what grind size, dosage, etc. that the machine should be set at to pull the perfect espresso shot.
Drip coffee beans are ground in the backroom – it's a really really loud machine so we keep it away from customers. It has different settings on it so we can grind coffee beans to be coarse for French presses, or finer for pour-overs, moka pot & drip coffee, etc.
So there are specific dial ins for different types of coffee or espresso that you serve?
For espresso beans, we use the Mahlkonig – its right beside our espresso machine. We fill the container with whole beans and when we put our porta-filter through, it will grind automatically for the perfect 2 oz shot.
It is pretty technical trying to describe how and why we change things mechanically on it to adjust our espresso shot.
We also do this for decaf beans. We only have decaf espresso available, so it also uses the Mahlkonig the same way.
How long does it take new workers to pick everything up?  I mean, all of the tasks they need to know to be a barista here.
I'd say 3 months and you'll be totally comfortable with all that is required of you.  For me, I took about 1 month, as I'm a pretty fast learner.
What are the hours here?
It's weekdays 8am – 10pm, Saturday 9am – 10pm, and Sunday 9am – 6pm.
Those are long hours… Why so long?
We also do serve alcohol, so that's a different vibe altogether, and it gets going a little later.  In the evening, people are more about the beer and wine, as well as the decaf and tea.
Are your hours in any way related to the late hours that Starbucks keeps these days? They also have a bit of a coffee bar look lately, at least the newer locations do. They seem to have ditched the cozy couches…
Ah, not really, no.  We're more of a niche café.  I'd say we're more like Central Perk from Friends.
When is this place the busiest?
We have a 9-10 am rush, and also a 6-7 pm rush. It's a bit spread apart in terms of the main peaks. It's pretty steady through lunch.
What's the busiest days here?
I'd say the weekdays, like Tuesday, Wednesday, Thursday during the day and weekend mornings.
Why do you think that most people come here?
For everything!  To have meetings, work, study, catch up with friends, people do it all here, and there's lots of different types of people who come here.  A huge diversity…and we have good parking too!
And you have plugs!
Yes, we do have lots of plugs…and we also have good internet!
How do you avoid getting some of the people that hang around the downtown area, for instance squatters or drug users, to not come here? 
I don't know… maybe because it's just nice in here, as in relaxed and everyone's doing their thing, so if people come here and they don't have a nice disposition, they end up gravitating out of here before long.
Yeah, that makes sense.  Ok, so what's your basic order of operations for you when you come here?
There's a difference between barista tasks and manager tasks.  For baristas, there's an opening procedure including grinding coffee, tamping in, putting out baked goods, and those kinds of things…
For anyone who doesn't know what "tamping in" means, can you explain?
You fill up your porta-filter with espresso and then take your tamper, and even out your coffee. Then, you press down hard.  The tamping is done beforehand, so we can know what the espresso tastes like, and know how many seconds we have to stop our espresso shot at.
Do you use any particular fancy tampers?
We just have our own legendary tamper that's been here since the beginning.  There are other methods for tamping that I'm aware of, using different techniques and tools, but we don't use them here.
Are you super into coffee, and techniques for making coffee.  Like, really, how interested are you in coffee? Or do you just like being a manager?
I'm very passionate about coffee!  It's an art and a science, and a lot of work, which goes into preparing and serving coffee.
May I ask – how old are you?
I'm 22.
When did you start drinking coffee?
13 ha ha.  I started out drinking Tim Hortons typical drinks, but now I only drink black coffee. Black coffee is better because you can really appreciate the coffee.
What are the most popular drinks here?
Other than our drip, it's Americanos.  I get told our Americanos are the best…especially when I make them, ha!  They're just stronger, and people always come back for that.
Are there any other specialty drinks that Blackwing is known for?
We are known for our London Fogs.  We have a secret ingredient!
Is it cardamon?
No, I'm not telling you what it is.
What makes yours better, in terms of the preparation?
Well, we do use loose leaf tea, and it makes the tea stronger and more flavourful!
Is there something you do as a café manager that people wouldn't know you do as part of being a manager?
Since we're not corporate, I basically work on my duties by myself, so that requires self motivation while I run things behind the scenes.
Any super boring stuff you do you can mention?
I wouldn't call it boring, but I do the ordering… food, baked goods, beer, other supplies, and of course…the coffee!
That means a lot of phone calls?
Actually, emails, but sometimes calls.  I'm the first point of contact for any supplier.  I also set up the private events, which means I have to make sure the staff is all available for those events, and make sure the right drinks are here and ready to go.
Is keeping track of the drinks and supplies part of taking inventory?
Yes.
Is that on paper or done electronically?
I use an Excel sheet and go through the list that way, but I can also usually just tell when we're low on something, or don't have it.  I can just sense it.  I'll go and check the fridge, and I can see from the list, at a glance, what needs to be done.
So Smile Tiger doesn't affect you guys much, if they happen to be out of something coffee-wise?
Not really. Only if they run out of beans.  One time we ran out of beans, and I had to call them, and go get them.
It's fair to say that things are usually running pretty smoothly here overall?
Yes.
What does a manager of a café need to be good at, specifically, in terms of skills?
Time management, prioritizing oneself, balancing free and working time.  For instance, when I go home, I sometimes feel like I'm at work when I'm not here.  That's because I'm always wanting to make sure things are perfect.
Would you say you're a bit of a workaholic?
Yeah, I'm a bit of a workaholic.  I want things to run smoothly at all times, and I don't want to mess up the flow of other people, either.
Do you think a café manager has to have a certain temperament?  You seem pretty chilled out.
I'm just lucky because everyone gets along well here, and we all communicate and say how we feel.
Say you had a person apply for a job here that didn't fit the team, how long would it take you to, say, realize this and fire them?
That doesn't happen.  We usually know long before we hire them if they're good for the job.
Are you in on the interview process?
Yes.
How?  You mean that you're in there with Katherine when the interview is being conducted?
Yes.  I like to be in there, as well, in order to learn as much as I can.
Would you ever hire a total noob?
Yes, as long as they're passionate about coffee. I think you can teach knowledge, but not character.
So that potential employee wouldn't have to have worked in the coffee industry before?
No. I think that as long as you're hardworking and like coffee, that's good enough.  It's intense at first, but once you get the hang of it, you'll be a coffee pro!
What licenses do you have to have to run this café?
Health & Safety inspections are done regularly, then there's fire inspection, and building code inspections.
How often do those happen?
Health & Safety is about every 3 months. The others come by from time to time.
Does that freak you out, having all these inspectors coming around?
No, we have nothing to hide here.  Oh, and there's also a Liquor License, and one for food as well. All our licenses are handy so we can get them out in a jiffy if we need them.  Katherine deals more into the licenses though, more so than I do.
Well, thanks for all the info, Abby!
Thank you!
---
Thanks for reading, folks!  If you have any questions or comments, please leave them below.  We'd love to hear from you.
Visit the Blackwing Coffee Bar Facebook Page here