Kitchen Aid has always made a number of products with their signature smooth line look and multiple color choices that run consistently throughout the KitchenAid product line.
Along with this stylish look, KitchenAid has managed to bring high-end quality products to a more reasonable price point for the average consumer.
One of these products is the KitchenAid Proline Series Espresso Maker, model KES210FP.
This machines quality and features are comparable to much higher priced commercial espresso machines on the market.
At around a $1000 this machine is for regular espresso drinkers or ideal for an office, hair salon or small café.
This machine can handle any coffee request from Americanos, hot chocolate, hot tea, cappuccinos and of course espresso. Bring out your inner barista.
This is the third generation Pro Line Espresso machine from KitchenAid.
They seemed to have listened to consumers and improved on complaints they may have had in the past, however, there still are a number of reports of steam and pressure problems on some units.
Quality and Build
The KitchenAid Espresso Maker has many features only found on professional machines. The main feature is it has 2 Unique Boiler Systems just like professional machines costing thousands of dollars.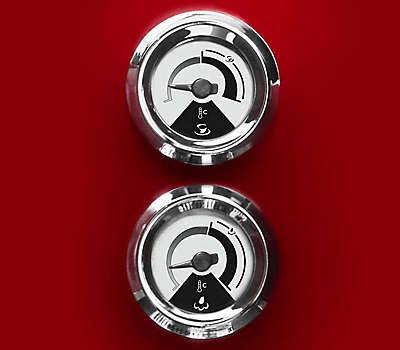 Two Unique Boiler Systems
A two-boiler system means that each boiler is dedicated to a specific function.
1. The Espresso Boiler delivers a constant temperature and pressure for optimal brewing. Produces an excellent espresso with a very nice crème.
2. The Steam Boiler delivers abundant dry steam to froth your milk for a creamy cappuccino. With a nicely designed frothing arm that swivels horizontally and vertically makes it very easy to use.
The advantage of the two-boiler system is there is no need to wait between making an espresso and frothing milk.
The Filter holder is the same model used in professional espresso machines. Two baskets are provided. One is for single shots and paper espresso pods; the larger one is for double shots.
This versatility allows you to use any blend of ground coffee or pretty well any paper pod being sold.
Like all KitchenAid products, the Pro Line Espresso maker is available in many vibrant colors, to match any décor.
Filling the KitchenAid Expresso machine has been made very easy. The water tank is located at the back and slides either left or right for easy access to conveniently fill with water in any kitchen.
I suggest always using fresh filtered water as it removes any traces of chlorine taste in the water for a better tasting espresso.
The two large espresso and steam gauges clearly tell you exactly the temperature in both boilers. Allowing you to control the water temperature instantly.
Another nice feature is the non-drip system. A Solenoid valve prevents water passing through after espresso brewing has finished. Keeping things nice and clean with no mess.
The large work area allows you to brew coffee and steam milk at the same time.
The two-boiler system keeps temperature and pressure up in both units so that you can produce a number of espressos at once without having to wait to regain proper pressure and temperature.
Just like the big professional models, the KitchenAid has a well-designed cup warmer located on the top of the unit that is railed to safely store up to six espresso cups and always provide you with a nice warm cup for your next espresso.
Ideal if you're producing a number of beverages for friends, a family get-together or customers during an afternoon rush at your local café.
Safety features include 2 thermostats and 4 fuses to ensure a safe operating machine.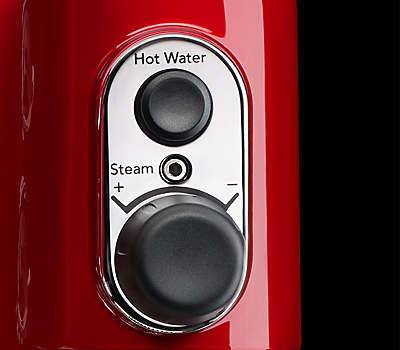 Operations
Using the KitchenAid Espresso machine is quite easy. It comes with clear easy instruction for new users with helpful tips and instructions on how to make the perfect espresso or a number of other hot beverages.
Set up is pretty basic. Plug it in, slide the water container on the back to the right or left and fill the water container. Turn it on a wait for the machine to get to temperature.
Place one level measure of coffee in the smaller coffee basket or two scoops for the larger basket.
Sweep away any excess coffee on the top and press the tamper into the grounds press down twice with firm pressure being sure to keep a level surface. This will ensure an even coffee extraction. A tamper is included with this unit.
If you are having a cappuccino its best to froth your milk before brewing your espresso, steaming milk I believe is the most difficult part of making a cappuccino.
It takes a little feel and listening to the frothing sound to ensure you get a nice creamy froth. Insert the frothing arm into the milk and tilt the pitcher to create a whirly motion. Bubbles should start to forum and froth will build.
Be careful to not overheat the milk if after a minute you are not getting nice foam and just bubbling milk you are doing something wrong. Turn off the valve and try again. If overheated dispose of milk and add fresh milk.
After you have steamed your milk it is now time to brew your coffee. Clamp coffee basket to the machine.
Place a cup under the coffee basket and press the button and it will automatically give you the right shot. Now pour your hot foamy milk over the espresso shot. Sprinkle with cinnamon or cocoa, add sugar and enjoy.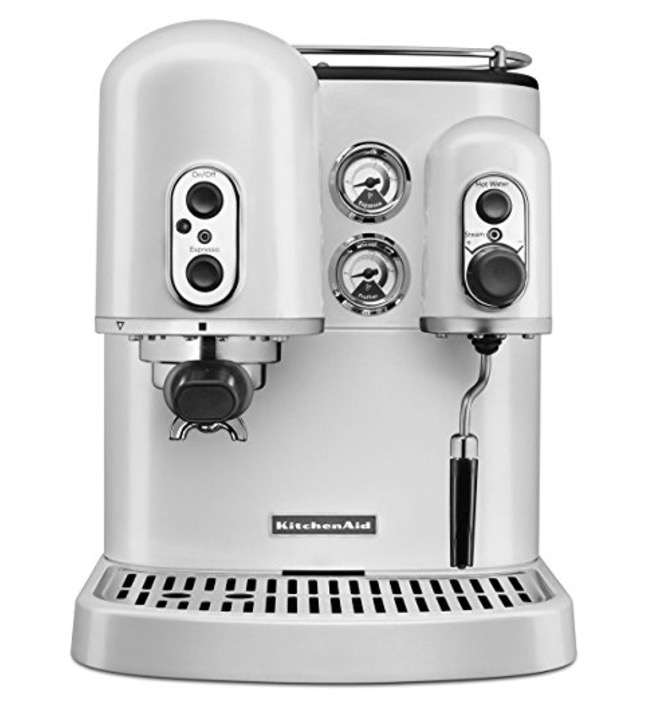 Pros and Cons
Pros
• Well-built machine
• Very attractive design and ease of use.
• Steam milk and make espresso at the same time.
• Coffee filter attachment allows you to use paper pods
Cons
• Takes a lot of room on your countertop
• Need to drink a fair amount of espresso to justify the cost
• Still some reports of steam and pressure problems
• Although good instructions are provided there is a little learning curve to learn to use this machine properly.
Conclusion
Like many KitchenAid products, they have the eye candy down. This is a gorgeous machine. They always produce a very good-looking product but sometimes have annoying performance problems.
The KitchenAid Proline Series, Espresso Maker is a great example of that. This is their third generation machine and still seems to be reporting some issues.
It does have a five-year warranty so if there are issues you are covered. The price is not cheap but it does have many features of much more expensive espresso machines.
So if you love your espresso coffee and have a nice spot to proudly display this looker. Then the KitchenAid Proline Series, Espresso Maker will help bring out your inner barista.
Video operating instructions: