Last Updated on
By: Know Your Grinder
When it comes to the fine art of the French Press, there is no pitcher on the market that tops this hot little number made by Idlyc Homes in terms of popularity and overall customer satisfaction. 
In this review we will break down the features of this little gem, and explain to you why we think this device ranks as highly as it does.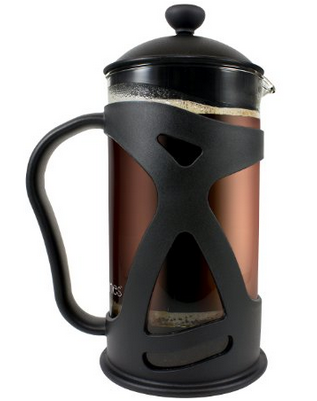 Check price of the KONA French Press on Amazon now
---
KONA French Press – Why All The Fuss?
When it comes to making coffee, sometimes the simpler the better.  Here, you can't really get much simpler than this KONA French Press.  With fancier machines, there's a lot of maintenance and moving parts to think about.  If you're into a slightly more involved process, we say more power to you!
In this case, with this simple decorative pitcher, you simply need your chosen temperature of water and your fresh ground coffee or espresso, or your tea leaves, and you're good to go!  No filter, no electricity required.
A Note About Grinding For French Press
As we have mentioned in other articles on this website, half the battle when it comes to making delicious coffee or espresso is at the grinding stage.  In a sense, the brewing stage is simply a way to retain the quality that is found in the ground coffee after you grind it – and soon after, because fresher is of course better.
If you're new to brewing coffee yourself at home, the first thing that makes or breaks your coffee's flavor will be at the grinding stage.  Do this correctly and then you are at the brewing stage, which is another chance to make your coffee taste delicious or not.  We are merely suggesting that if you want to get the most out of your French Press, you need to first grind for French Press.  
If you want a few suggestions for great French Press-dedicated grinders, click here to read an in depth article on that topic.  If you've got your grinding done properly, lets move on to what makes the KONA French Press by Idlyc Homes possibly the top French Press out there.
This multi-purpose vessel is reputed to be one of the finest when it comes to brewing great coffee, tea, or espresso.  But what makes it so?
Attractive / Protective Design
One of the main features that has customers raving about this pitcher is its design, which as a twofold purpose.
In addition to being quite elegant in appearance, with its fun and modern looking black plastic exterior shell, this same shell functions as a protection against cracking or chipping the glass.  Many other French Presses don't offer the same protection, and damage can occur more easily.
The handle is the same.  Its sturdy and easy to grip but it looks great.  Overall, the design of this KONA French Press is just pleasing to the eye and that seems to be what makes it such a hit with its buyers.
Multipurpose
Coffee?  Tea?  Espresso?  The KONA French Press is designed to do each of these beverages, and do them so well that one might confuse whoever made the drink with a nationally acclaimed barista.  To be quite fair, there is that potential with this vessel. 
Like we said, it is simple as can be, and specializes in not only coffee drinks but teas as well.  The quality of your drink, again, depends on the freshness of your coffee grind / tea leaves, plus the temperature of your water and how long you let it steep for.  That's really about it.  If you can master these factors, which isn't too hard, you'll be making great espresso / coffee / tea in no time.
Size
At 34 oz / 1 Litre, this guy is a biggie.  That's 8 cups of whatever you choose to brew with this KONA French press, so that's perfect for having guests over, the in-laws, or any fair-sized group of people who might be dropping by.
Customers have had nothing but praise for this French Press, and its more than adequate size is definitely one of its primary selling features.  
Flavor Saver
When it comes to flavor, a French Press in general operates totally differently than an electrical device such as a drip coffee maker, which uses a filtration system that filters out unwanted particles, but prevents your coffee or espresso's natural flavor from joining the party.
With this KONA French Press, it is designed to keep all of the good stuff in, and since it is just a matter of boiling water (or using cold water, depending on your preference) and then letting your beverage steep, it is simply a matter of those two factors mainly that determine how good your drink will taste – we're talking about temperature and flavor of your water, along with your steeping time. 
Oh, and of course there's the freshness and quality of your ground coffee.  But that's it!  Its not exactly rocket science with this French Press by KONA.  Whereas, if you get yourself a more expensive device (oh, did we mention this is way cheaper too?) like a huge espresso maker, it actually is a lot more like rocket science.  Of course, we're not saying bigger machines don't have their place – of course they do, but the price here is generally right with this one at around $20.
Other Cool Features of the KONA French Press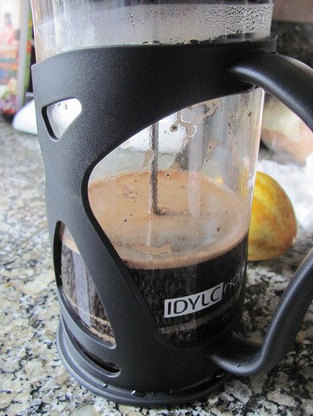 Comes in a nifty gift box that any grateful coffee / tea / espresso lover will love

BPS / BPA-free lid where no plastic comes into contact with your beverage AKA no flavor sabotage

Non-electric means this thing is quiet

Easy-pour spout designed to minimize spillage

Portable – If you can pack it away properly, you have a good chance of taking this thing on a trip with you whether it be to a campsite, Tibet, or even Vegas and not breaking it (but its not exactly indestructible so be careful)  🙂

Easy to clean and dishwasher friendly
Conclusion
This KONA French Press is top notch in our experience and has one of the highest ratings on the web we've ever seen with a product like this.  Can't go wrong, pick one up today!