Last Updated on
By: Know Your Grinder
We were delighted to get our hands on this stylish coffee vault by the coffee lovers at LOVFFEE, as we were expecting it to live up to its name in terms of keeping ground coffee fresh long after the grinding is done. 
Coffee can go to waste this way without a means of storing it, going stale fast or simply being tossed out because we didn't have time to use it.  With this LOVFFEE coffee vault, we were expecting our wasting days to be over.
Lovffee Blue Ceramic Premium Coffee Container With Scoop Hold 1 Lb Whole Bean Or Ground Bean
The fact is, keeping your coffee fresh after you grind it isn't that easy.  If you buy it in a bag (pre-ground or whole bean), as soon as that bag is opened, the beans are exposed to oxygen, and that's when they start to lose freshness.
A good analogy is to think of an apple.  Apples naturally stay nice and crispy as long as they're kept in a cool spot, but as soon as you cut into them, the oxygen just attacks them and turns them brown, and it isn't long before they go bad.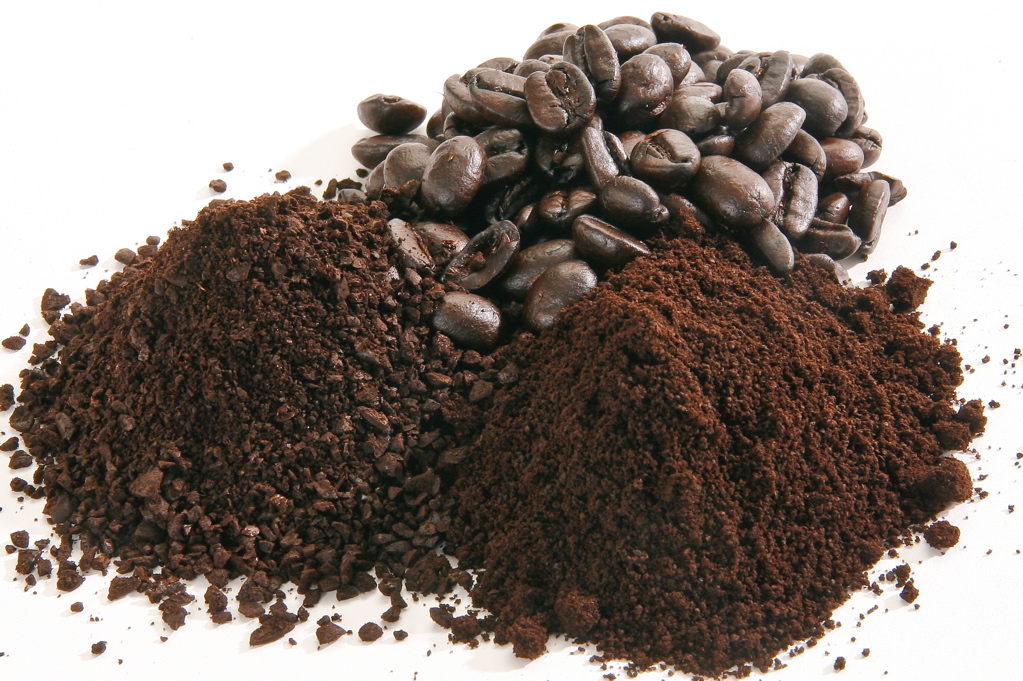 With coffee beans, because they're already dark, you aren't going to be able to see what is going on in terms of loss of freshness, so we merrily go ahead and brew our coffee with a stale grind, and guess what?  Its just not as good! 
In addition, once coffee is ground, the particles are smaller and that means the air is going to do a number on them a lot quicker, because of that fact.  Again, picture the apple, shredded, on your counter.  How long do you think that's going to last?  Give it 5 minutes and the whole thing will be turning brown.
Airtight Coffee Solutions by LOVFFEE
Sure, keeping your grinds in a simple mason jar is an option, but unless that jar is totally airtight its not going to save your coffee.  We're not saying your precious blend will be ruined by simple oxygen, however, we are saying that your coffee will go stale faster, and around here that's tantamount to a crime.  We figure, if you're going to brew stale coffee, you might as well not even brew coffee at all.  Harsh words, we know.
This airtight coffee ceramic canister which can save the day also has a very catchy name – love your coffee or LOVFFEE.
It is not enough to have a great coffee grinder  but also a vacuum-sealed container where you can be sure your coffee will be kept fresh.  Yep, that lid had better be hermetically sealed in order to keep the freshness and aroma locked inside.   With the Lovffee coffee "vault", we like that it comes in a number of stunning colors because it gives the buyer a lot more selection, and the colors choices are really stylish.

LOVFFEE's Patented Technology
LOVFFEE's hermetically-sealed vault uses patented technology that guarantees the freshness of products stored inside, whether they be coffee or not. 
This means that while we are all noticing the cool look of this snazzy coffee vault, what we may not be looking at is the seal that is the main reason we like this coffee vault.  It is their own design, and from all the customer reviews, its working well.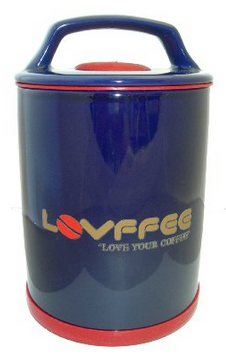 The container was designed to be stylish, modern and practical.  As we mentioned, it comes in some fancy colors! 
It is available in five color options so you can actually match them to your kitchen decor.  LOVFFEE sells this container in black, white, blue, orange and royal blue color; all of them equally elegant and equally good-looking. 
Of course, everyone has their favorite color and that's part of the fun of these vaults.  Because of the deal that's on now, you may want to get more than one just because having a couple side by side would look great in your kitchen.
Bestselling Coffee Bean Storage Solutions
Coffee Gator Stainless Steel Container – Canister With Co2 Valve And Scoop
Zurich Coffee Canister
Beansafe Coffee Storage Solutions In Bpa-Free Polypropylene White
Easy To Clean
This is an airtight container that comes without any special manual, but it is completely easy for using and maintaining. It is perfectly safe to clean it in the dish washer (or simply rinse it manually).
The patented one-way valve built into the lid keeps your whole bean coffee and ground coffee fresh and flavorful.  It was created to last and for years; investing in this product will provide you with fresh coffee whenever you open the lid.  So what else makes this LOFFEE Ceramic Premium Container so special and different than the rest?
Total Coffee Freshness – A Tricky Proposition For Most Vaults
It is oxidation that wreaks havoc with your coffee freshness and aroma outside of the container, but inside the container it can be CO2, if it is kept in for too long.
LOVFFEE had this problem in mind and designed a container that will always keep your coffee fresh.  First of all, the storage container keeps the coffee air tight (thanks to the vacuum closure) while the one-way valve vents away carbon dioxide (CO2).  Simultaneously, trapped CO2 gas is eliminated and the flavor degrading factors are prevented from taking place.
LOVFFEE Coffee Vault – Elegant but Fun
The LOVFFEE designed a coffee storage container with an elegant lid with a practical handle that helps you open it right away and actually not find yourself breaking a nail or hurting your fingers.  My guy broke one of his precious guitar-picking fingernails on our last coffee vault and I still hear about it after a whole year.
Besides the practical features of this container, LOVFFEE invested in a product that not only looks good; that glossy finish will not lose its shine after years of use.  Its shining ceramic exterior will remain shining on your counter for years, provided you don't do anything crazy with it.
Yep, LOVFFEE Thought Of Everything
LOVFFEE was made to endure heat; made of light resistant ceramic material, it keeps the all important coffee grinds fresh, aromatic, and completely full of flavor. 
This container is not only a shiny looking piece of kitchen décor, but it can easily hold 1lb of whole coffee beans, or 16 ounces of ground coffee (same difference).
Yes folks, LOVFFEE thought of everything, so they put a silicon base on the container in order to avoid scratching counter top services in your kitchen.  Besides the container, you will get a coffee scoop that is capable of serving 9-10 grams at a time. The scoop, too, is dishwasher-safe and is perfect for the right amount for your morning cup of coffee.
The whole package comes in a cool bag, which makes the product quite suitable for a present for the upcoming holidays. Its price is fairly reasonable, because this container will serve you well for years.
Arbuckle'S Whole Bean Coffee (French Vanilla)
Shanik Premium Quality Stainless Steel Manual Coffee Grinder Burr For Precision Brewing Portable
Cuisinart Dcc-3200 14-Cup Glass Carafe With Stainless Steel Handle Programmable Coffeemaker, Silver