Last Updated on
By: Know Your Grinder
QUICK STATS
DIMENSIONS – 8.32" x 11.93" x 11.91"
SHIPPING WEIGHT – 18.6 POUNDS
ACTUAL WEIGHT – 10.85 POUNDS
ROUGH PRICE – $250+
COLORS AVAILABLE – BLACK / CHROME /  RED
CENTRIFUSION TECHNOLOGY – YES
CENTRIFUSION SPEED – 7000 RPM
REMOVABLE WATER TANK – YES
WATER TANK SIZE – 40 OUNCES
CUP SIZES – 8 OZ AND 1.35 OZ
BUNDLE INCLUDES AEROCCINO PLUS – YES
HEAT UP TIME – 15 SECONDS
ONE TOUCH SYSTEM – YES
PODS TAKEN – NESPRESSO VERTUOLINE 
Maybe it won't bring George Clooney to your kitchen door (though it might), but the Nespresso Vertuoline does at least bring the promise of fantastic coffee wafting from within, all with the absolute minimum of effort on your part.
Never seen one of these things?  Here's a video to show you the Nespresso VertuoLine Coffee & Espresso Maker in action.
---
Smooth Espresso At Home
Yup, if you want the coffee without the fuss and you are an espresso fan, you could certainly do a whole lot worse than this machine.
With an impressively quick heat up speed of only fifteen seconds, your coffee can be as instant as the push of a button. It is simple and easy to use and not going to take up acres of kitchen area either.
Looking stylish and swish in an array of different colors, this item starts at about $250 or so and promises a user experience to rival any other.
Taking two pods for a larger cup or just one for an espresso, this machine is simplicity itself to use and certainly all the reviews can attest to the nice and easy operational aspect to the Nespresso Vertuoline Espresso & Coffee Maker.
---
Tasty?  Takin' The Taste Test
Pretty much everyone is agreed this is as good as it can get, in terms of pure flavor, for espresso to taste coming out of an automated pod machine.  
Even the Vertuoline's detractors seem largely agreed that the flavor of this coffee is really fairly decent.
So you can rest assured that if you purchased the Nespresso Vertuoline Coffee Maker, taste would not be one of the problems.
This isn't to say this machine is flawless in every aspect, but the espresso is generally on point.  And coming with an enticing set of twelve freebies – you should surely be able to find a blend to suit your taste buds.
---
How It Works
Once the lever is pressed, the Nespresso Vertuoline Coffee Maker pod spins at a speed of 7000 rpm, as the flavor is extracted from it and it blends with the water to create the perfect cup of coffee, or espresso, complete with an amazing crema.
Each capsule has a barcode which tells the machine what settings and what the water temperature needs to be, so the user never has to worry about a thing and simply enjoy the end product.
When purchased with the Aeroccino as a bundle, it transforms your coffee and espresso maker into a full coffee house experience capable of lattes and cappuccinos.

---
Judging by the amount of positive feedback the Nespresso Vertuoline has received, it would seem that this is a success and if you want espresso, cappuccino and latte, but just don't want the fuss of grinding everything by hand and then operating a slightly scary coffee machine, this could well be the machine for you.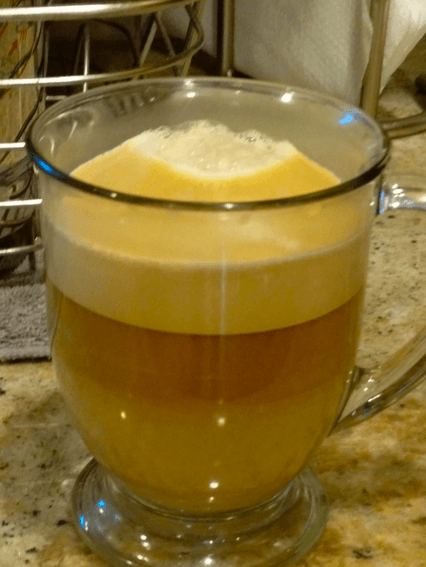 ---
What Else Should I Know?
So far we have focused entirely in on the (many) positive attributes of the Nespresso Vertuoline Coffee Maker.
But at this point in the review we must stop and cast a slight downer on the love fest.
Of course, there are a few niggles with this machine. Not everyone is going to love it and to be frank, for some people, maybe only purchasing a very snooty espresso machine plus expensive grinder will suffice.
All the same, there are one or two issues that go with this machine.
Principally, there is some disquiet about the temperature of the coffee simply not being hot enough.
Maybe this is one of these eternal conundrums, that some people simply like getting third degree burns from their morning coffee, but a significant – yet small – percentage of users have reported it is not quite hot enough for their tastes.
The second little hornswoggle is the price, some say.
Once again, this is probably something that just goes with the territory of a single cup coffee maker that uses pods.
Put bluntly, it is never going to be the cheapest option and if you want thrifty, it's probably best you don't get this and go for something more cost effective.
All the same, the Nespresso Vertuoline coffee and espresso maker pods are pretty pricy and it also needs pointing out that they are not compatible with Nespresso Original Line capsules. And they cost more too.
Thirdly, and this could also be the coffee snobs talking, but there is some controversy about the type of crema this machine produces, with some dark mutterings that "it is foam not crema" and not produced in the same way.
It does need to be stated that most users are reportedly delighted with the thick crema this unit makes and it is way above the experience of many an espresso machine!
Here's a video showing how to descale your Nespresso VertuoLine…
PROS
CAN CHANGE BREW SIZE

EASY TO USE

CONVENIENT

NESPRESSO CLUB SERVICE VERY QUICK – REPLY TO EMAILS WITHIN 24 HRS

CAN MAKE REGULAR COFFEE AND ESPRESSO

FAIRLY SMALL

DECENT FLAVOR AND CREMA
CONS
POSSIBLY LOW BREW TEMPERATURES

DEBATE ABOUT CREMA STANDARD- "IT'S FOAM NOT CREMA" SAY PURISTS!

EXPENSIVE PODS AND NOT AS MUCH CHOICE/ VERTUOLINE

EVEN MORE PRICY THAN REGULAR NESPRESSO PODS
---
OVERALL
Overall it does feel as if maybe the grievances have had a little too much air time and that on the whole the Nespresso Vertuoline Coffee Maker is a good machine that does an awful lot, very quickly, at the touch of a button and it does it very well indeed.
Yes, there are issues with the price and some people will not be happy if their coffee is anything cooler than the surface temperature of the sun.

But by and large, this is an excellent single cup coffee maker and along with the Aeroccino its well worth the price.
Nifty 6145 Nespresso Vertuoline Capsule Drawer For Coffee Machines, Black
Nespresso Vertuoline Altissio Espresso (135 Ounce), 20 Count [ Import From Eu And Uk ]
Decobros Crystal Tempered Glass Nespresso Vertuoline Storage Drawer Holder For Capsules