Last Updated on
By: Know Your Grinder
We are quite fond of ceramic burr manual coffee grinders, as they tend to get better results.
So, we got our hands on another one that seemed to us to be very promising in terms of design and that seemed to come with some goodies as well – the Orvite Cermaic Burr Manual Coffee Grinder.  
Its very similar to another model we've tried, which is the Tanor's manual grinder.  Virtually the same, actually.
So, Orvite is the name here, eh?  Interesting name, but not something you'd want to name your first born.  
In our experience, a name you don't know very well could go either way, and so it was with some trepidation that we tried this grinder.
Yes, it looked like a swish bit of swag, but…you never know.  
Another thing we've noticed in our grinding adventures is that, with manual hand grinders of this sort, things either go smoothly, or very, very wrong.  
Time to find out!
If you believe in speed, efficiency, and that the future belongs to the machines, that might put you off of this Orvite grinder because, yes, it is hand operated.  
Then again, maybe you want humans to win the battle after all, in which case, read on…
Portable – Great For Traveling, Camping, Etc.
Parts!  So many parts!  Actually, not really.  
What you see here can be assembled in a matter of seconds, or disassembled for that matter, and its all machine-washable or just use soap and a cloth.
Once you put the puzzle together, the Orvite stainless steel conical mill that will be there for you anywhere you go – from a picnic in the park, to a laid back day on the beach, or your regular morning spent in your kitchen.
Once we assembled this grinder, it started to show its true colors in the coffee department.
Following The Golden Rule
Luckily, Orvite followed the golden rule to always use a ceramic burr because they do last for a long time and are hard to get worn out. 
Not only that, but ceramic burrs are the best when it comes to grinding coffee.  They don't generate as much heat, they stay sharp, and they are durable as heck. 
This is a coffee grinder than can easily be operated manually, even by children.  Safety here is not an issue, since its like you're grinding pepper. 
Elderly people too can use it, because the handle is very long and easy for spinning and the results can be seen within a few minutes. 
This isn't a hand crank manual grinder you're going to find yourself wrestling on the ground with just to crush a few fresh coffee beans. 
All you have to do is put the coffee beans inside the top container and you are ready to do the grinding.
Now, let's take a detailed review on the main parts that the Orvite Ceramic Burr Manual Coffee Grinder is made from.
As you can see there are two main containers – the bottom one and the top one.
The bottom container, where the Orvite logo is printed, can contain up to 2-3 table spoons, which is more than enough, if you are going to use that ground coffee right away.
Adjustable
Considering the fact that this is a grinder that people use almost every day, the relatively small amount is really not an issue, because this grinder is perfect for using it as you go. 
Personally, I don't want to keep already ground coffee and I want it to be fresh every morning, so for me it is not a problem to do the grinding every day, or really every time I want to make coffee.
To me, this process of grinding the coffee right before brewing is a morning ritual and a luxury that not many people can afford (we are all in a rush and don't live the moment, if you know what I mean).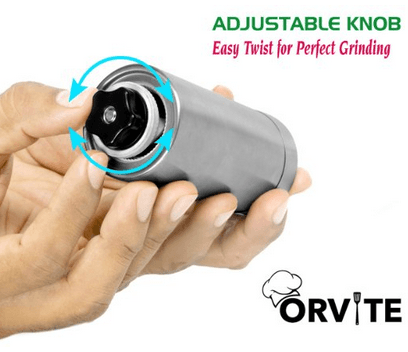 The bottom container has two see-through stripes; a good way to let you see how much coffee you have ground up.
You can keep the ground coffee in here for at least a little while, in case you can't use it all, it will be well preserved from the invading air and moisture that comes after your fresh coffee, making it stale quickly, and the aroma and the taste will be good for a few days. 
That said, this grinding isn't meant to be used as storage and isn't really airtight.
Coffee Or Spice Grinder
The top container is the "home" of the ceramic burr and can be easily placed over the bottom container so you can safely grind your coffee without making a mess.
But, we wanted to see whether this grinder will do its work if we put herbs and spices and inside and yes, the burr didn't fail us.
We ground some coriander and sea salt over our lunch and it was done as we expected.  
So you don't have to stick to the coffee beans only. Of course, keep in mind, we bought two of these – one just for coffee and one for spices.
The top container has a black screw that actually regulates the texture of the ground coffee or herbs.
With one simple twist to the right or to the left you can get either a fine blend or something rawer and thicker.
This is especially good because, let's face it, we all hate unscrewing the entire thing, then putting it together again.
Now, the top lid comes with the removable handle that is easy for attaching with one metal screw only.  
Once you have done this, the grinder is ready for work.
Place whatever you want to grind inside the top container (we measured in spoonfuls, so pretty much one and a half spoonfuls of coffee beans is more than enough to get a few grams of ground coffee).
Don't be afraid of the physical work here, you will only have to spin for a minute, and really, it gives me a bit of a workout when I can't get to the gym (kidding – kind of). 
Whether you prefer Turkish coffee, espresso, French press or pour over, this little stainless still thing will help you get the desired blend.

Hario Ceramic Coffee Mill – "Skerton"
Brillante Manual Coffee Grinder – Superior Burr Design For Consistently Brewing Espresso, Pour Over, French Press & Turkish
Hario Ceramic Coffee Mill"Canister"
Pet Friendly
One thing that may seem obvious due to the nature of this coffee grinder, but we'll say it anyways, is that it is very quiet. 
If you've ever had a cat, and an electric burr grinder, whether it be blade or burr, you may have had the experience where your cat flies out of the room in terror whenever it sees, or especially when it hears the coffee grinder come on. 
We may not give it a lot of thought, but our poor cats are getting themselves a complex over these machines. 
But not with the Orvite (or really any) manual hand crank coffee grinder, because, like we say, its like grinding pepper. 
Your precious kitty (for some reason dogs care a lot less, it seems) will no longer have to spend half the day recovering from the trauma of you grinding your coffee in the morning, only to have the dreaded horror return shortly after noon, and then again at 6pm for supper. 
For instance, our cat Buttercup actually purrs when she hears the Orvite coffee grinder. 
We thinks she thinks its another cat purring, albeit weirdly cylindrical and metallic.  (*she's not very smart – cute though!)
Aeropress Friendly

One other good thing about this manual grinder is that can be easily placed over an Aeropress, so you can directly grind your coffee in there, without using the bottom container.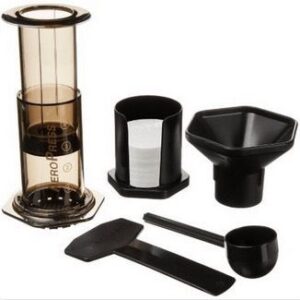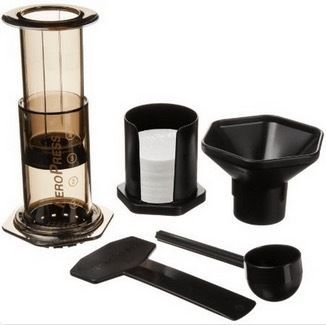 Orvite's manual coffee grinder does not come with a cleaning brush, but I find it easy to clean it with any brush that is thin enough to reach the inside of the top container.
Overall
In the package besides the grinder, you will get a booklet with 101 + coffee recipes.
We've learned some new tricks to brew a better coffee and I have to say there are still plenty of recipes that are waiting to be tried.
The final word here on this grinder is that it is well made, adjustable, quiet, portable, sleek and modern looking, and easy to use. 
Its got ceramic burrs which are the ones to use for grinding coffee specifically. 
We feel that Orvite has done a really good job with this product, and so we highly recommend it.  4 out of 5 stars from us!
Hamilton Beach 49980A Coffee Maker, Single Serve Black/Stainless Steel
Freshroast Sr500 Automatic Coffee Bean Roaster
Breville Bes880Bss Barista Touch Espresso Maker, Stainless Steel