Last Updated on
By: Know Your Grinder
STATS
DIMENSIONS: 8.9 X 2.4 X 2.4 INCHES
WEIGHT: 10.4 OUNCES
OUR RATING: 4.5 STARS OUT OF FIVE
MATERIAL: STAINLESS STEEL
COLOR: SILVER/ METAL
PRICE: UNDER $20
MANUFACTURER: THE PURPLE TRACTOR
GRINDER TYPE: MANUAL BURR GRINDER
BURR TYPE: CERAMIC
This is not rocket science, ladies and gents. The first thing to say about this grinder is that it is not highly complicated.  In fact, if you watched the above video you can see that this young fellow has already nearly mastered the art of using the Purple Tractor manual coffee grinder mill. 
You will not feel as if you are pioneering the first ever Mars space probe when you get this out of the box and assemble it.
Unlike some electric grinders, with all the whizzy bits, buttons and knobs, back-lighting, on and off lighting, this will not be a full hour of reading the instructions and then brushing up on your engineering skills.
And whereas whizzy bits, whirligigs and knobs definitely have their place (hur hur) this is a simple cylindrical sex aide grinder, that will simply help you master the gentle art of hand cranking your nuts or beans to powdery perfection.
There are no dials or notches on this apparatus, which is one of the things that a few customers have reported as a slight niggle. But if you want that level of grinder, you probably will be looking to spend a few dollars more than the roughly under $20 it is currently on offer for at various spots around the web (and in real life, as if anyone goes outside anymore).
Here is a quick review video for the Purple Tractor coffee grinder so you can see it up close and personal.
=> In a hurry?  Click here to purchase the Purple Tractor hand crank coffee grinder for the lowest price on Amazon right now!
Aeropress & Pour Over Friendly
To get back to basics, we need to point out the essentials. This is a hand coffee bean grinder, in case you missed it. It is light and portable, is AeroPress compatible, in fact, it is also available with an accessory kit for AeroPress if you should so wish (more about this later).
It is a burr grinder, so already streets ahead by many people's reckoning and also superior in our view, here at Know Your Grinder. 
Ceramic Burr Coffee Grinder
Better still, the burr grinder is ceramic. These are usually more costly than the metal grinders, but it is thought that there may be a better level of longevity involved as it will not erode or wear out etc.
Some people feel that possibly, not being a conductor of heat, this may assist the beans in not being "burnt" whilst they are being ground.
It is unlikely that this would happen anyway, with any manual grinder, as it has no electric component, but if you were somewhere hot, it might be a thought to bear in mind.
Obviously, this has the advantage that it won't rust and some people prefer it in taste, texture and consistency over the metal burrs. Others, it must be said, do not, but it probably comes down to a matter of personal taste.
Compact & Portable
As already mentioned, this is not a large item.
Even if you have an electric grinder at home that you are already happy with, you may wish to consider this item as an all-important back up grinder.
Because, if coffee is as important to you as it is to us, then you won't want to go without if there's a sudden power shortage.
Campers especially, or even frequent travelers away from the home, may want to look at getting this.
If you are a French press enthusiast, or any other type of coffee that can be made by only heating up the water and not requiring electricity, this might be all you need, plus your French press.
   
This is also available to buy with a set of filters which can be used within the AeroPress.  You can check that deal out over here.

The Purple Tractor Coffee Grinder fits inside the AeroPress plunger and the filters can be stored inside the cap when not being utilized.  They are re usable stainless steel filters, so once invested in, are eco friendly, as well as saving you money.

You can also pick up the Purple Tractor's own drip brewing system for $30 or less, if you know where to shop.  Plus, it comes with Melitta filters – an awesome deal.  It is a great package and actually works perfectly with the Purple Tractor's ceramic burr grinder we've been discussing all along in this review.
Easy To Use With Custom Grind Settings
If you've never used a manual grinder before, you might be a bit phased and think that you should limber up slowly to this arduous task, maybe starting with a couple of arm wrestles and then working up to a minor league title at the next world wrestling championships.
This won't be necessary. The Purple Tractor Coffee Grinder handles beautifully. Of course, it takes a little effort, but it is not the full aerobic workout you may be fearing.  Here is one reviewers take on it.  Read more reviews here.

It's not the largest grinder, at approximately eight inches high. You may have to stop and refill it a couple of times if you're making a lot of coffee.
Perhaps, it is best suited for people who either have a mild coffee habit or for whatever reason are only requiring a couple of cups worth.
This is only if you are in a big hurry as well. There is absolutely no reason why you could not grind up a whole pot full of coffee with this grinder, it just may take a little longer than an electric one, obviously.
Simple But Effective
One of the good things about hand grinders in general, and also the Purple Tractor here, is there are generally fewer things that can go wrong with it.
Simplicity means longevity and the inclusion of a ceramic burr grinder in this device means the manufacturers are playing the long game here and not expecting this to simply fizzle out after a few months.
Generally speaking, if electric coffee grinders were built to last this long, well, a lot fewer coffee grinders would be sold.
Adjustable Manual Grinder
Something to bear in mind is that this does not have any dials or notches on it to tell you where to set the burrs for the grinding of the beans. In other words you will have to use a system of trial and error to try and find which setting is best for you. 
That said, at least it is adjustable – hence you can get a wider variety of grind sizes if you play around with it a bit.

It *can* achieve excellent consistency of grinds for everything from a coarse, French press grind, to the fine grinding required for espressos. And everything in between.
The fun will be in remembering exactly how and where you managed to do this!  Usually, if you like one grind specifically, your best bet is to leave it on that setting.

The Final Word
It is the considered view of Know Your Grinder, that this is an excellent grinder that will plod on for a very long time, making a high quality of very consistent grinds, for many years to come.  It is both easy to use, and easy to clean since there are very few parts to it.

It's less likely to break than a lot of expensive electric grinders are, but of course with that comes a bit of commitment from the owner to take care of basic maintenance and cleaning and, a bit like learning how to play a musical instrument, figure out how to get the best out of your manual coffee grinder.  5 STARS!

---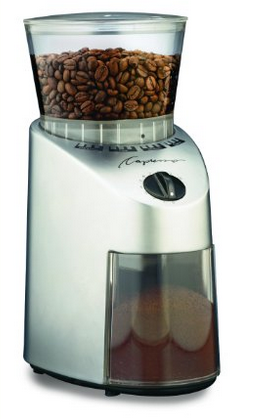 If you get a chance, visit our section on burr coffee grinder reviews, which has a lot more info and article on this type of coffee grinder.
Our Most Popular Grinder Articles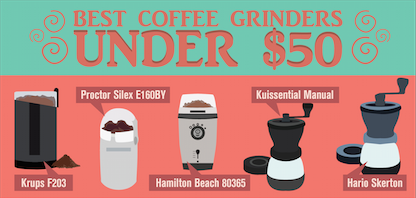 We've got a lot more to offer the coffee lover in your family here on Know Your Grinder, with lots of coffee-related articles, reviews, and information, so feel free to have a look around our website as you please.  Click on our logo below to return to the Home Page!