Last Updated on
By: Know Your Grinder
The Rancilio Group, now part of the Ali Group, offers a range of traditional and fully automatic coffee machines, as well as instant and electronic doser grinders.
These products enable the Rancilio Group to offer a technological product range without compare, making it one of the most widely acclaimed industrial players on the international scene.
These aren't your usual home coffee makers, but can be an ideal choice for a restaurant, coffee shop, hotel, large business or caterer. There is a single serve option also available for the home market from Rancilio.
The Rancilio Group specializes in espresso machines, and has since 1927. The corporate culture is based on not only innovation and technology, but also on talent, sensitivity and ingenuity.
As such, Rancilio produces both EGRO fully-automatic coffee makers and Rancilio Traditional Coffee Machines, or high-end espresso makers.
Rancilio's first well-known coffee maker was a vertical boiler style coffee maker, in a gilded age-design. By 1950, the company had moved to a horizontal boiler, and adopted lever piston technology in 1953.
Technological innovations continued through the 1960s and 1970s.
By the 1990s, as coffee shops became more popular in North America, the Rancilio coffee makers were increasingly common in the United States and Canada.
The Rancilio line of coffee makers were revamped significantly in 2001, with the introduction of the Epoca and the Classe series.
In 2011, a modification to the Classe 9 provided improved control of water temperatures with Xcelsior technology.
This technology is still in use or available for most of the Classe product line. Variable brewing temperatures can improve coffee quality.
The Classe 12 series offered a fully automatic coffee maker; however, this was a failure. 
Rancilio has opted to focus on the production of traditional espresso machines, largely for the commercial coffee market.
The acquisition of EGRO provided Rancilio with a line of fully automated products for the restaurant market.
The EGRO line of products offers fully-automated espresso production, many with touch-screen capabilities.
These are ideal for a low-training situation, with high production demands.
Depending upon the model, the EGRO line can produce between 32 and 96 different milk and coffee-based drinks.
Smaller models are available for less intensive needs. Unlike a traditional espresso machine, there is relatively little room for human error.
The automated machine can be loaded periodically, without a need to refill the filter for individual espresso drinks.
High end home users can purchase a Rancilio traditional coffee maker designed for smaller-scale use.  
The Silvia machine is a one group machine with a vibratory pump designed by ULKA and a single brass boiler, controlled by 3 thermostats for both steam and hot water.
The Rancilio Silvia produces commercial-quality espresso using classic pump technology for the home market.
It is frequently sold with its companion Rocky grinder that is available in doserless and dosered models with stepped settings.
In comparison to the commercial Rancilio coffee makers, the Silvia is available for approximately 1/8 the price.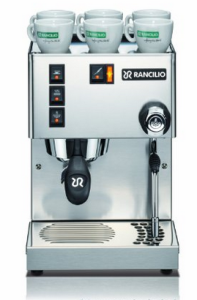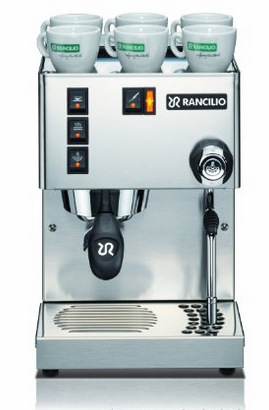 Both the home model and industrial models of the Rancilio Group have a long reputation for quality, durability, and reliability.
Many of the industrial editions are available in various colors, including bronze, white and blue.
Depending upon the business needs, machines are available in two, three and four group brewing configurations.
The Rancilio Group also produces a range of high-quality grinders, such as the famed Rancilio Rocky coffee grinder.
Both manual and electric products are available, with most products in the dosing style.
The grinder produces the exact amount of espresso needed for a single or double shot, limiting the risk of employee error and maintaining consistent coffee quality.
Grinding speed varies depending upon the coffee grinder, and all can dose appropriately for a single or double shot of espresso.
Production speed varies depending on the size of the burrs in the individual grinder.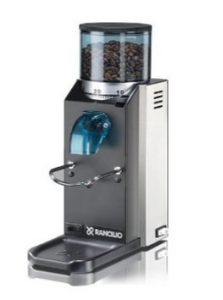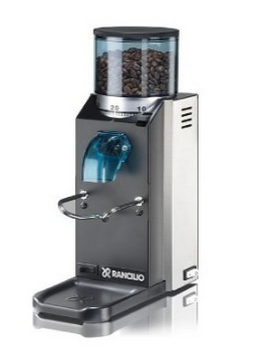 Learn more about Rancilio products here at Know Your Grinder.
The Rancilio Rocky Coffee Grinder: Answers to your Questions
Rocky HSD Doserless Grinder Review
Rancilio Silvia Espresso Maker Review
---
Additional Viewing
The Rancilio Rocky Review by Seattle Coffee Gear
The Rancilia Silvia M Review by Seattle Coffee Gear
Rancilio Egro One Super Automatic Commercial Espresso Machine Review by Kaldi Gourmet Coffee Roasters
Rancilio Epoca Review by Denby Dale Coffee