Last Updated on
If you miss the days of coffee beans ground by hand and kettles of water boiled on an open flame, you're a person after my own heart.
The space-age style grinders that look like they could shoot to the moon on their own power are great for contemporary homes with modern equipment.
There's nothing wrong with electric grinders and coffee makers with digital conveniences, but coffee should be savoured before the start to a busy day full of technology, buzzing phones and the bing of invading emails.
While this is just my preference, vintage-style manual grinders are terrific for slowing yourself down and enjoying the coffee process. It's a reminder of a lifestyle that wasn't as hectic.
So let's not rush anywhere today. Let's dedicate vintage grinders the attention they deserve. 
Here is what we are going to talk about today:
First, let's mention some advantages of vintage grinders over electric grinders.
---
Why you should choose a vintage grinder over an electric grinder?
Vintage grinders are not only functional but also decorative. They are pieces of art that will look amazing in your kitchen.
Vintage grinders are manual grinders, meaning they don't require electricity to work. This makes them eco-friendly machines. Also, they are much quieter than the electric grinders as they don't have noisy electric motors.
Vintage coffee grinders are often more durable than their modern electric counterparts. This is because vintage coffee grinders are incredibly simple machines.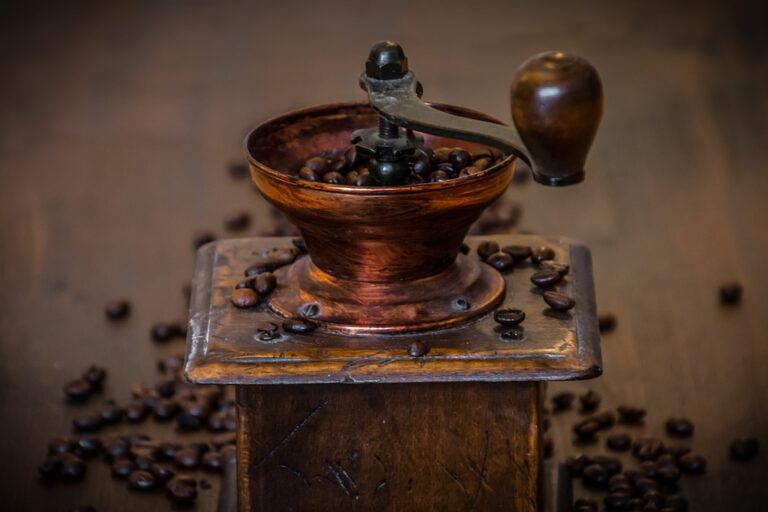 They usually have a tiny hopper that is used for storing beans, a set of burrs that funnel and grind coffee beans as the fall through. At the bottom there is a collection chamber that collects ground coffee.
 Everything is connected by a single rod that turns the burrs and connects to the handle.
Vintage grinders are built to last. Their parts are made of high quality materials that will easily last for several years, or even several decades. Yes! You've read correctly! Some of these grinders will easily last 20 or 30 years.
Next, we talk about money…
---
How much does a vintage coffee grinder cost?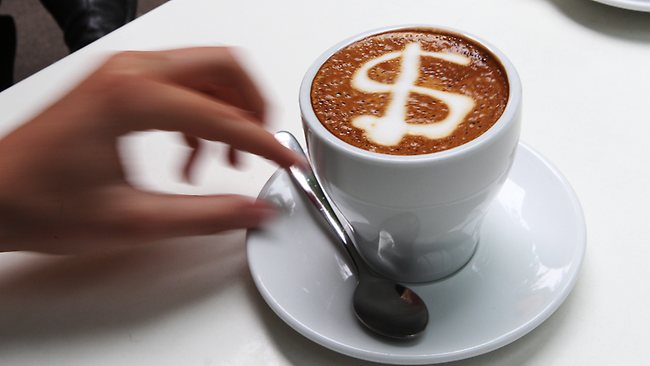 To be honest, getting your hands on a real vintage coffee grinder can be incredibly hard. Vintage coffee grinders are usually either snapped up by coffee enthusiasts or sold at high prices.
Some real vintage coffee grinders can cost over $500. That's pretty expensive, right?
Unless you can't imagine your life without a real vintage coffee grinder that is decades old, we suggest you buying a replica.
Luckily, nowadays there are new coffee grinders that have been produced in the same way as the real vintage grinders. The only difference is that these grinders cost much less than the real vintage grinders.
Sounds cool, right? You can't wait to get your hands on a vintage coffee grinder? Stay with us and discover four of the best of 2019.
We start with CoffeeWerks Vintage…
---
CoffeeWerks Vintage Cafe Manual Ceramic Burr Coffee Grinder
Dgq Brushed Stainless Steel Manual Coffee Grinder With Conical Burr Mill(63″ X 37″,Silver)
While it was mentioned above, the vintage manual grinder is not just for those who love all things vintage and original, it's also perfect for people who find themselves without electricity often.
That includes those people who live on their boat or in an RV. It's great for camping and hiking adventures, too.
Features:
Adjustable ceramic burr

Fully disassemble for cleaning

Compact size – 4.5 x 8 inches

Ceramic base

Stylish, vintage cafe appearance

Adjustment Upon Arrival
To keep the grinder from being damaged during shipping, the manufacturer ships it with the mechanisms very loose. You'll need to adjust the grind out of the box. There are two screws located in the bowl that need to be tightened.
Remove the handle nut as well as the handle. The cog wheel is what needs to be adjusted to alter the grind size. Test it with a tablespoon of beans before making a full hopper.
Cleaning the Mechanism
The entire grinder can be dismantled to provide easy clean up for the best coffee. You don't want old, stale grinds hanging around inside the grinder. A brush will help you rid the grinder of old coffee dust and you can run a cup of rice through to clean the burr.
Next, we move on to XHHOME Vintage Roman Style grinder.
---
XHHOME Vintage Roman Style Manual Coffee Bean Grinder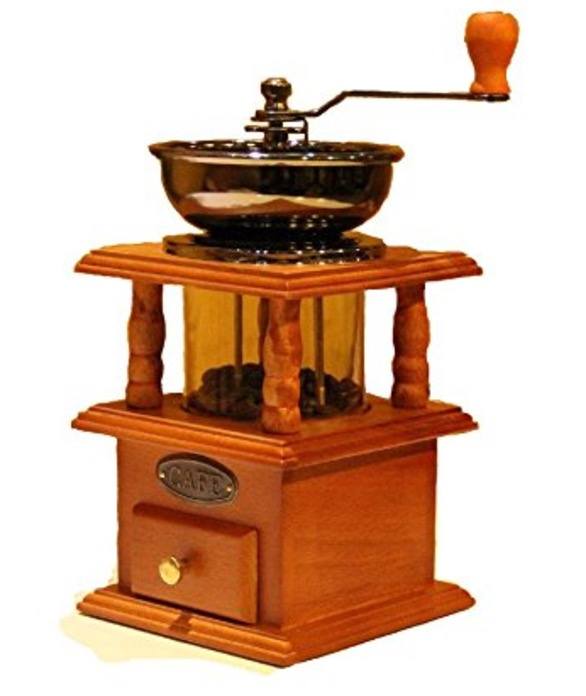 If you're looking for a vintage coffee grinder that will look like an amazing conversation piece on your counter, this is the right grinder for you. It's a stunning blend of bronze and wood.
This grinder will give you the ultimate control over the size of your grind for the perfect cup of coffee.
Features:
Cast iron

Closed bin design

Wooden base

Beautiful bronze and wood color

A Slow Grind
Add a small amount of coffee beans to the bowl of the grinder. Make sure you're ready to spend a few minutes turning the handle to get the perfect grind for your coffee. If you grind too fast, you'll end up with heat that can influence the flavor of the grind in the end.
Cleaning the Machine
One of the considerations for a grinder is getting inside to clean. You don't want to plunge the grinder into water since it can cause problems with the mechanism. Instead, use a damp cloth to clean the exterior but use a dry brush on the interior.
Next on the list is DGQ Manual Coffee Bean Grinder.
---
DGQ Manual Coffee Bean Hand Grinder Vintage Style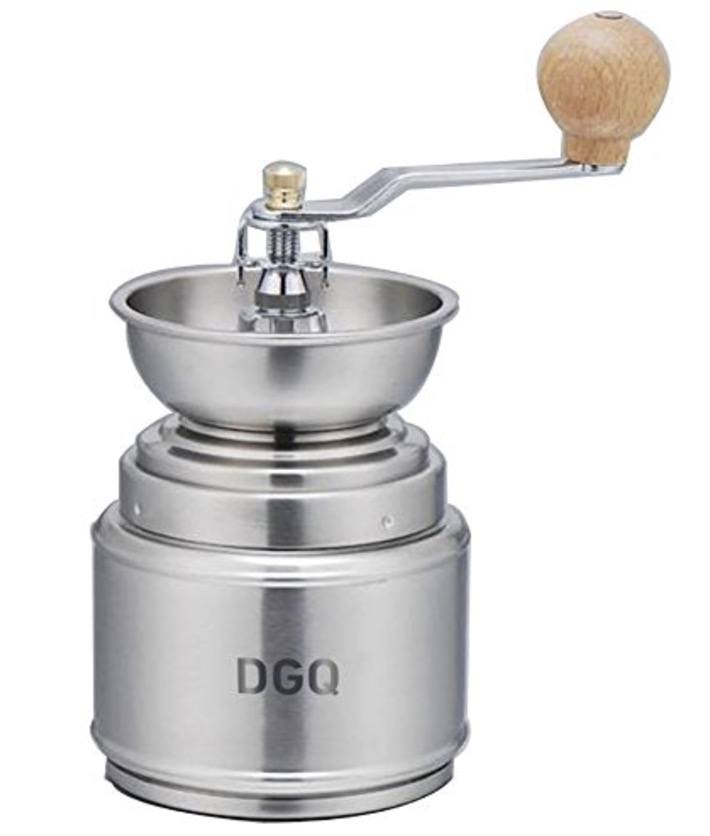 This has been included at the end of the list because while it's a vintage style coffee grinder, it's also a beautiful shiny metal that can blend a modern world with the vintage style you might love. It's a great compromise.
Features:
Sleek stainless finish

Adjustable grind

Compact design – 6.3 x 3.7 inches

Ceramic burr grinder

Adjusting Out of the Box
Upon arrival, remove the center nut and the handle. There are gaskets and a nut under the handle that can be removed, too. The hexagon screw is the one to be tightened or loosened to adjust your grind. The looser the screw, the coarser the grind. Tighten it fully to get a fine grind for espresso.
Cleaning the Grinder
This is a grinder that can be fully immersed in water to get it as clean as possible. The ceramic burr interior and stainless exterior means you don't have to worry about rust in the grinder if it's wet.
Make sure it's completely dry, though, before attempting to grind your beans. Otherwise, you'll end up with a wet clumped mess at the end of your grinding time. 
Last but not least on our list is Foruchoice Vintage Style Grinder
---
Foruchoice Vintage Style Coffee Grinder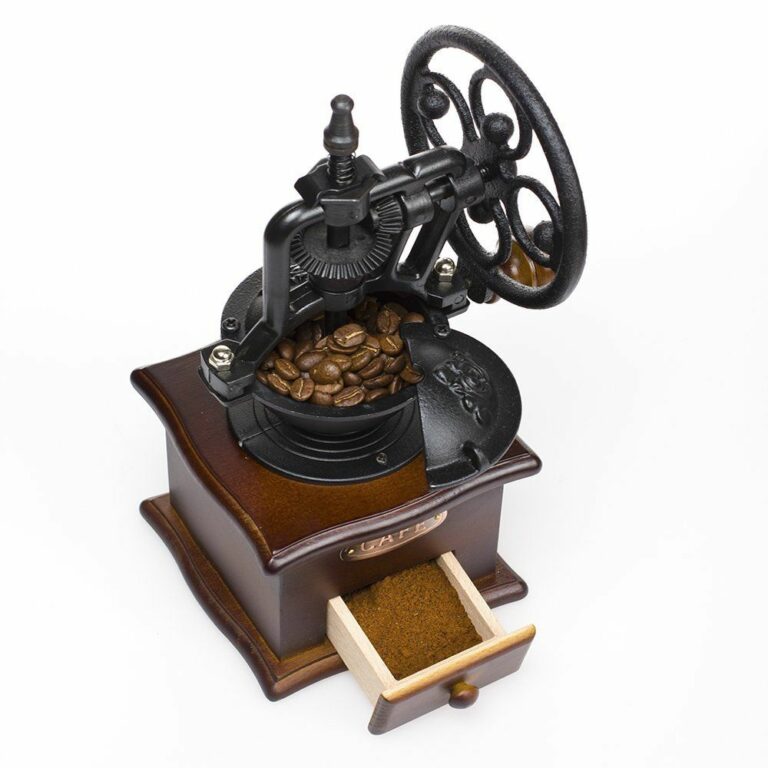 If you are looking for a grinder with incredible vintage look, we highly recommend you take a look at the Foruchoice manual coffee grinder.
This retro grinder is fully capable of producing different sizes of coffee grind. You will be able to produce a fine coffee grind suitable for Turkish coffee or a coarse coffee grind for French Press.
The most amazing thing about this grinder is the big cast iron crank wheel that not only looks cool but also makes grinding incredibly efficient.
This grinder is also incredibly easy to use.
All you need to do is to place coffee beans inside the cast iron bowl and crank the handle for few minutes.
Within few minutes, you will have freshly ground coffee that is nicely stored inside of the wooden drawer at the bottom of the grinder.
Next, we bring you some tips on how to clean and maintain your vintage coffee grinder.
---
How to clean a vintage coffee grinder?
No grinder will last long unless it is properly maintained and cleaned. If you are not sure how to clean your vintage coffee grinder, you've come to the right place.
We've made step by step instructions that will explain you how to clean your grinder, making sure it will last for years.
Coffee grinders should be cleaned on daily, weekly and monthly basis. Let's start with daily cleaning:
Daily cleaning
Let's get some things straight! You should quickly clean you vintage coffee grinder after each use. There is no excuse not to spend few minutes each day on cleaning and wiping your grinder.
Here is how you can daily clean your grinder in 3 simple steps:
Step 1
Remove the small bottom drawer or grind container.  Give the drawer or container a vigorous shake to remove any remaining coffee bean grinds.
Hold the drawer or container upside down and gently tap the bottom to remove any lingering grinds.

Step 2
Next, securely hold the entire coffee grinder in your hands. Turn the grinder upside down and give it a good shake.
Step 3
Use an appliance brush to brush out the inside of your coffee grinder. Make sure you sweep inside the grinder, around the blades and other hard-to-reach places. After brushing the grinder, clean the grinder with a dry cloth.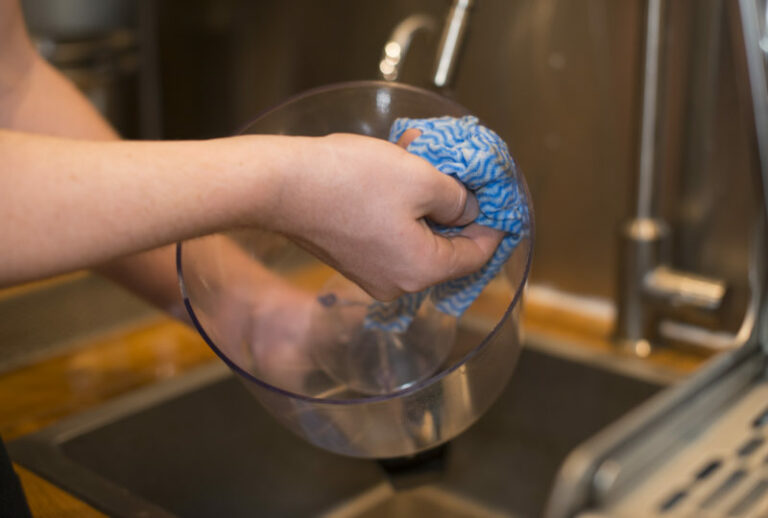 That's it! Your daily cleaning routine is done.
Next, we move on to weekly and monthly cleaning.
Weekly and monthly cleaning
Here is how you perform weekly or monthly cleaning:
Step 1
Remove the small bottom drawer of container that collects the coffee grinds. Set this art aside for now. Next, attach a small hose to a hand held vacuum cleaner. Adjust the vacuum cleaner and set it to low power.
Step 2
Turn the vacuum cleaner and use the small hose to collect all the caked-on grinds. Make sure you move the house around thoroughly in order to collect all the remaining grinds.
Place the hose into the interior of the drawer or container and vacuum any leftover grinds.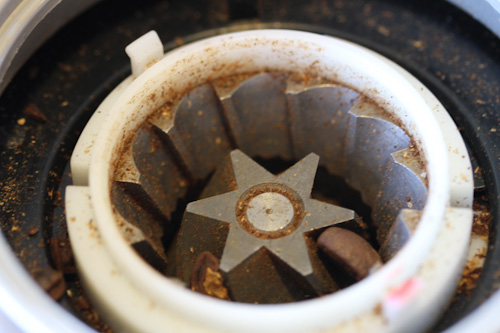 Next, place the hose on the top of your grinder and vacuum any remaining coffee bean remnants.
Step 3
Fill the top of your vintage coffee grinder with half of a cup of uncooked white rice. Turn the handle of your grinder vigorously for few seconds. The white rice will suck up and eliminate any remaining coffee odors or stains.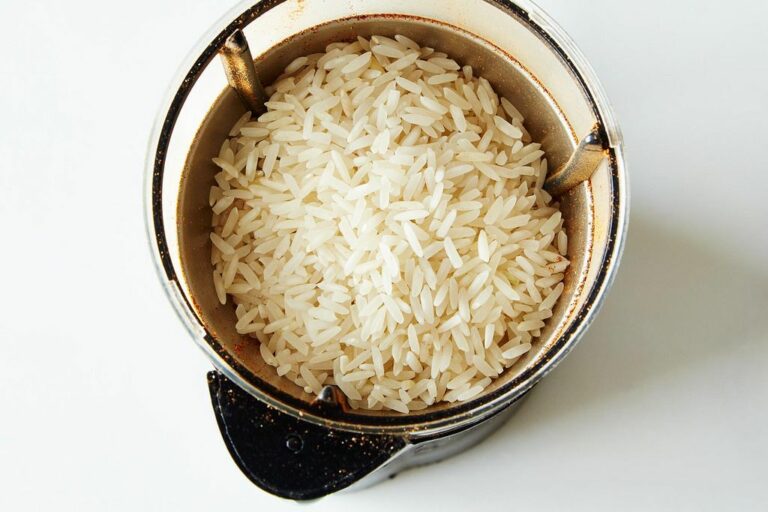 Step 4
Empty your coffee grinder and use an appliance brush to brush all the parts. Next, give your grinder a good wipe with a dry cloth.
There you go! Your coffee grinder is now perfectly clean.
Now you can treat yourself with a cup of freshly made coffee.
Thanks for reading!