Last Updated on
Quick Definition Of A Coffee Mill:
Coffee mills, AKA hand crank manual coffee grinders.  Think pepper mills, but for coffee.  You grab the handle, you turn it, and voila! – freshly ground delicious coffee courtesy of the all-important coffee grinder burrs contained within.   
This type of manual coffee grinder has a number of advantages, including being compact, non-electrical, and relatively inexpensive. 
Now you might say, "Non-electrical…that's an advantage?"  Well, it certainly can be, if you like to go camping, vacationing, or you simply want to grind coffee somewhere other than where a plug is located.

Coffee mills also are often considered to be one of best options for many pro baristas, because they also give you some of the truest coffee flavor you'll ever taste! 
Why?  Because the slow burr grinding action lends itself to a cooler grind, and a slow cool grind is better for your beans, because sometimes the heat from electrical grinders can alter the taste of your grinds if the machine you're using isn't particularly efficient.

Here's a quick video review of the popular Hario Mini Slim hand crank manual coffee grinder, to show you what a good manual coffee grinder is like.
As you can see, grinding with a coffee mill isn't rocket science.  Its just a simple but effective way to grind coffee.
Advantages of Manual Coffee Grinders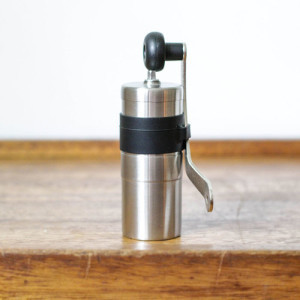 Coffee mills have a wide range of styles, where some of them look ultra-modern, and others look like actual antiques.  Its a broad spectrum when it comes to hand crank manual grinders in the looks department, although they all do operate in much the same way – using adjustable burrs to grind your coffee. 
The reason they can look so different is because coffee mills actually date back to the dawn of time.  Well, maybe not that far, but coffee mills have been around for a while, since coffee grinding has been around for centuries, and mills have also been around for centuries. 
3 Of The Best Hand Crank Coffee Mill Reviews Of 2018
#1 – The Hario Skerton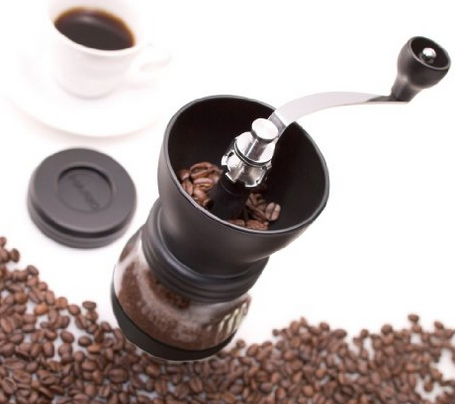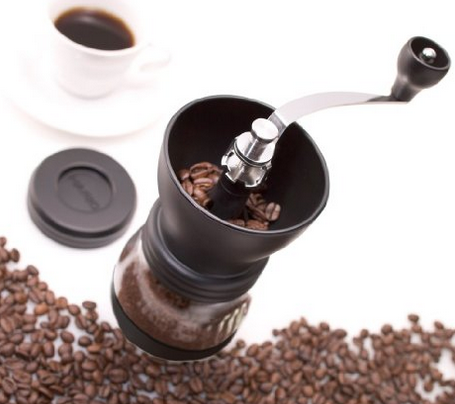 Small, light weight, and portable

Great travel grinder


Adjustable burrs

Inexpensive

Easy to use

Easy to clean

Professional experience

Made by Japanese glass experts at Hario

Consistent grind

Read our full review of the Hario Skerton here
---
#2 – The Brillante BR-MCG-SS1
Easy-Grip Handle

Sturdy construction

Great for traveling

Great for all brewing methods including French Press, drip, or espresso

The SS1 is the superior model to similar looking grinders

Stainless steel construction

Grind-viewing window

Easy to dismantle and clean

Perfect for spices as well

Ceramic conical burrs a preferred type of burr set

Handy "click" feature to keep track of adjustment of burrs

Grind enough for 2 people in about a minute or so (38 grams / 6 tbsp)

Diameter of body: 1.89 in / 48mm – Total length: 7.5 in / 190.5mm

Weight: 8.95 ounces / 254 grams
Read our full review of the Brillante Manual here
---
#3 – The Hario Canister Coffee Mill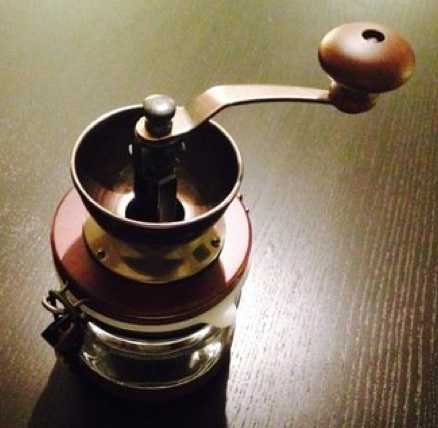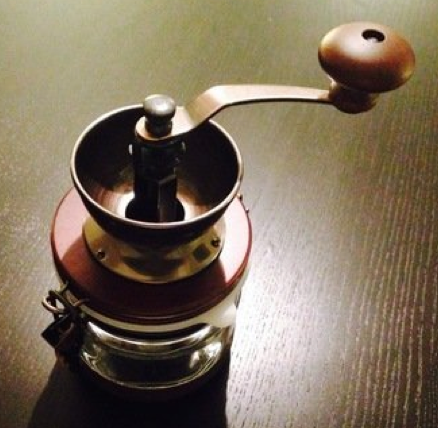 No slip rubber cover at bottom

Adjustable burrs

Works great for any style of grind, from coarse to fine

Capacity : Makes 120g of coffee grinds


Easy to use

Easy to Clean

Once again made by the glass masters at Hario