Last Updated on
By: Know Your Grinder
Today I will be reviewing the Tanors Tall Ceramic Burr Manual Coffee Grinder. 
The Tanors name isn't one that I would say is very well known in the global coffee market, but I came across their products and felt like giving them a chance, based on claims I read about on their website as to the high quality and such.
Also, I was on the market for a new coffee grinder of this type that was portable and durable.  This one seemed to fit the bill.
With its stainless steel body and sleek, modern design, this Tanors "tall" manual grinder is made to provide users with durable, portable, and also versatile option when it comes to grinding coffee beans at home.
With its ability to easily adjust for grind size by way of an internal black knob you can turn clockwise, the folks at Tanors have specifically designed this device to specialize in making Aeropress-style coffee, which is amazing!
At the same time, it does just as well with other pour over brewing methods, such as French Press or Chemex.  Also great!

Tanors Ceramic Burr Manual Coffee Grinder With Water Resistant Travel Bag And Cleaning Brush, Stainless Steel
Thankfully, Tanors has gone that extra mile with what they include with their tall coffee mill and provided both a handy cleaning brush and a quality black travel bag, which lets you know that this grinder is good to go with you when you decide its time to hit the road. 
For the price of under $20, that's not bad at all!
---
Tanors Coffee Mill Grinder Vs. Porlex Mini
In this review we will compare this Tanors Tall Coffee Mill Grinder with other similar coffee mills such as the Porlex Mini, as they are quite similar.  In fact, I'm no coffee historian per se, but one of these grinders could easily have been based on the other.
Regardless of which grinder came first, I do like the look and feel of the Tanors grinder. 
Unlike some grinders, which are made for spices or other things as well, this grinder was made just for coffee, and puts an emphasis on the act of grinding yourself, and taking your time.
Which, granted, isn't for every coffee fan – most people want it hot and fast, but for me – I like the aesthetic, so it suits me fine.
I also think that portability in a coffee grinder is an often overlooked feature, and there are certainly some grinders which are built for travel.  As it happens, the Tanors Tall Coffee Mill Grinder here is one of them.
What makes it portable?  Well, as you can see its made from a high food-grade stainless steel, so its the kind of coffee grinder which would be difficult to break, and can easily be thrown into a bag or some luggage.
It's extremely durable, and that means you don't have to worry about taking it places and smashing some fragile glass component, but that's not the case here.  Again, we're talking steel for the most part. 
Sure, you might scuff it up if you were to drop it onto a hard surface, but damaging it is not easy.
Some grinders are very fragile, made from glass or just flimsy but this one is like a small Sherman tank.  At least, without the handle attached. 
With the handle attached, yes, you could probably break that if you tried.  But, if you pack it properly and with some care, you shouldn't have much to worry about.
Also, we're talking about a 12 ounce weight here, and dimensions of 8 x 3 inches, so that alone means its quite portable because its compact as well as tough. 
If you are into traveling, camping, or anything of that sort, this grinder is your best friend if you're trying to home brew some coffee.  
---
Adjustable Grind & Easy To Operate
With some more expensive grinders, they come loaded with a ton of automated features, which can be great on one hand, but of course you pay for all of that convenience.
This hand crank coffee mill by Tanors is designed to be simple, and as you can see from the parts shown here, there isn't a lot of fancy stuff going on with this grinder. 
I think the advantage here is that you get to grind the beans yourself, which means you determine the slowness of the grind, and did you know that a slower grind means better flavor for your coffee?
Its true, as there is less heat and friction on the beans. 
Heat and friction can ruin the flavor of your coffee if your not careful, and this is often the case with blade grinders, but not with coffee mills or burr grinders in general.
Luckily, this is a ceramic conical burr grinder, and as you'll learn if you look at some of our informative articles here on this site, you'll note that these are actually the best kind of burrs you can get.
As such, it's great in my humble opinion that such an inexpensive grinder features such a handy dandy ceramic grinding burr for better flavor, which is also adjustable.
With its adjustable black knob, you can decide on the size of grind you want, and then you just add your fresh coffee beans and you're good to go! 
Of course, we want our coffee beans to be fresh in order to get the best possible coffee flavor, but that is just coffee science 101 right there.
Since you are able to adjust your grind size via the adjustable knob here, you are able to get some variety out of your grind size, and you can grind for a number of brewing methods, from espresso (fine), to drip coffee (medium coarse), to French Press (coarse). 
It takes time to become a pro at this, but at least with the option to adjust your grind you can test your mighty coffee grinding skills and see what you can accomplish grind-wise with this Tanors Coffee Mill.
---
A Note On Grind Technique
Grinding with this Tanors Manual Grinder is fairly straight forward, but in order to to do correctly to get the best coffee flavor, there's a few things you should know. 
Obviously the first thing is to grind slowly in a clockwise direction, with emphasis on doing it slowly but steadily. 
This means don't speed up or slow down while grinding.  This causes that friction we mentioned earlier which can burn your beans and also if you go to fast, you will get an inconsistent grind.  
Grinding can be a very zen experience.  You turn the handle, and grind smoothly until you're done. 
It's as simple as that, and your coffee will thank you later for being a consistent grind-meister.
---
Hario Ceramic Coffee Mill – "Skerton"
Brillante Manual Coffee Grinder – Superior Burr Design For Consistently Brewing Espresso, Pour Over, French Press & Turkish
Hario Ceramic Coffee Mill"Canister"
---
Further Comparison With Porlex Mini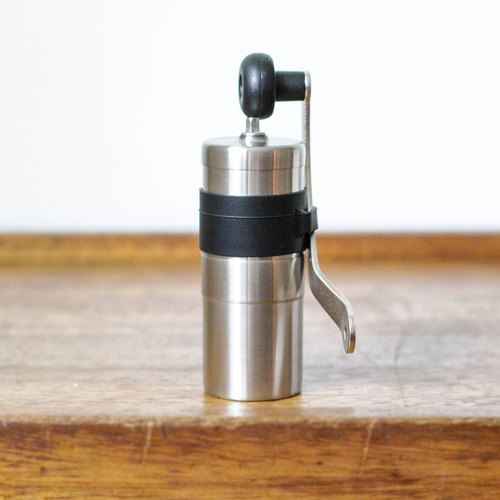 Here is where we think things get rather interesting. 
Pictured left here is the Porlex Mini Coffee Grinder, a great little grinder which is one of the most popular on the market, which we of course have also reviewed in the past.
When comparing the Porlex Mini to the Tanors Manual Grinder, we noticed a few things right away that struck us as worth mentioning. 
Which one is better?  Of course, its up to you to decide, but here's what we found…
With the Tanors Manual Grinder, you get both a water-resistant travel pouch, as well as a cleaning brush. 
We love these kinds of little extras, and the fact that they are simply bonuses without driving up the price is a great thing. 
Both extras are useful and actually compliment the overall package with the Tanors Manual Grinder.

While the Porlex Mini is closer to 5″ tall, the Tanors is closer to 7.5″, so its a bit taller, making it less compact if you want to look at it that way. 
The Mini has a 20 gram bean capacity, while the Tanors has a 30 gram capacity (that makes sense, its bigger), so that's about enough for two huge cups of coffee. 
The Porlex Mini has a silicon ring around it in order for you to more easily grip it while you're grinding, which the Tanors does not have. 
However, the Tanors has a looking window where you can see the grinds after they've been ground up, which is helpful.
Both grinders are made of stainless steel which cuts back on static, and look very modern and pleasing to our eyes.  The design differences are there, but overall they aren't radically different.
Both models of grinder are easy to grind with and for those of us with wrist issues, this easy turning via their long handles with an easy-grip knob at the end is a plus. 
However, the Porlex Mini does have a fold-up handle which attaches on the side which scores a point in its favor, as far as we're concerned.
Both grinders have rust-free burrs, which are adjustable as we mentioned before. 
Both grinders are made by companies which are known for their feats of engineering, namely Porlex who are based out of Japan, and Tanors who are US-based. 
Did we mention that there's a huge price difference between these two similar grinders, with the Tanors being about $20 cheaper. 
For some, that will be the deciding factor right there as its hard to argue with that type of value.
A final advantage with the Tanors model is that it is designed specifically for Aeropress coffee making, as we mentioned in the beginning. 
This is a cool feature, which works out due to the Tanors' size.  If you don't know, Aeropress is a unique coffee brewing method. 
Let's have Gwilym Davies show us what its all about in this video below:
---
Verdict
We've gone to McDonald's for less than you might spend on a Tanors coffee mill and all the goodies that come with it, at around $20 for everything.
There is a great deal of value in this Tanors Manual Coffee Grinder – a surprising amount, actually, especially when you consider how similar it is to the Porlex Mini which costs twice as much – again, depending where you shop. 
Plus, it has features that other grinders don't offer like the travel bag, the viewing window, and the cleaning brush, which are more than just extras. 
The bottom line here is that we think the Tanors Manual Coffee Grinder is a great deal overall, and we'd recommend it to any of our coffee-loving friends.  – 5 STARS!
---
Hamilton Beach 49980A Coffee Maker, Single Serve Black/Stainless Steel
Freshroast Sr500 Automatic Coffee Bean Roaster
Breville Bes880Bss Barista Touch Espresso Maker, Stainless Steel