Clash of the Titans – Baratza Vs. Rancilio
Baratza and Rancilio are two of the biggest names in the coffee business, and they take their coffee making very seriously.
About The Manufacturers…

Baratza, founded in 1999, is from Washington and quickly became one of the most respected names in coffee grinding by focusing their efforts into some of the most beloved and award-winning coffee grinders used today, including the popular Vario line.
The Baratza Vario
Here is a quick video overview of the Baratza Vario courtesy of our friends at Prima Coffee Equipment.
Main Features
54 mm professional ceramic flat burrs for highest accuracy
Grinds at 1.6 grams/second at Espresso and 2.2 grams/second at Press
Grind range 230 microns to 1150 microns
Narrow particle distribution
Front-mounted control panel with LED
Three programmable buttons which allow for grind time setting within 0.1 second / 0.2 gram
Macro & micro grind adjustment for easy fine tuning
Great for espresso and pour over brewing methods
Powerful, high torque DC motor which drives the burrs
Cool grind, quiet operation
Thermal cutoff switch
Calibration tool comes with the grinder for easy calibration
8 oz. grind bin
Portaholder comes with this unit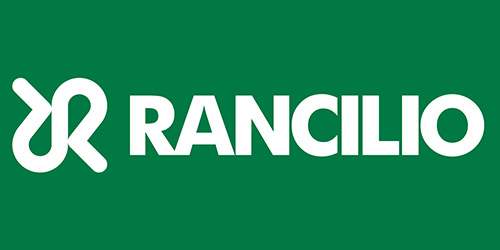 Rancilio has a history that goes way back to 1927, where it was founded in Milan, Italy, and ever since, it has been one of the giants of the coffee business.
They have an array of high quality coffee making products, including their most popular grinder – the fabled Rocky.
The Rancilio Rocky
Take a look at this brief user video review for the Rocky, to start off with.

Main Features
50mm commercial grade grinding burrs
Grinds directly into porta-filter for simple operation
Powerful 166-watt direct drive quiet operation motor. All units are tested prior packaging which might leave a small trace of coffee residue. Please refer the video under product images for overview
Tinted hopper with a 0.65lb capacity
Simple variable grinder adjustment control (For Trouble Shooting Steps refer on the page 32 in the user manual)
The Comparison
BURR SIZE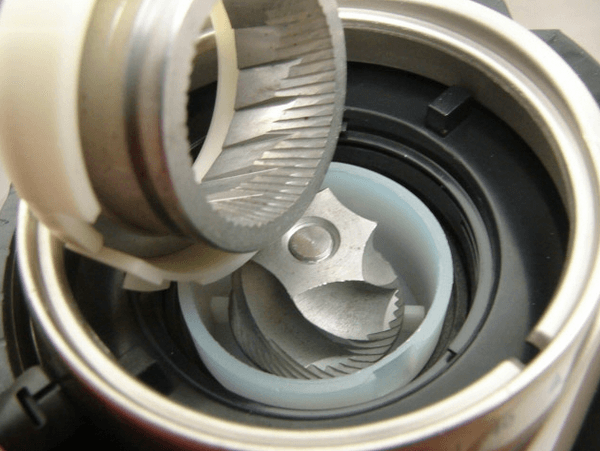 With the Baratza Vario, we've got 54 mm ceramic burrs, while the Rancilio Rocky has commercial grade stainless steel burrs that measure 50 mm wide.
When it comes to coffee grinder burrs, bigger is always better because they do lend more power and control to your grind.
Also, ceramic burrs have the advantage of not getting as hot as steel burrs, which is always good for your coffee – a cool, slow grind is always best.
Therefore, we have to hand it to the Baratza Vario here.
Bigger ceramic burrs beats the relatively smaller steel burrs of the Rocky in our books, although, to be fair, 50 mm burrs are by no means tiny.

GRIND SETTINGS

With the Rancilio Rocky, you get up to 50 grind settings, which means you can adjust your settings to produce various grind sizes that will match up with the next step in the process – the brewing.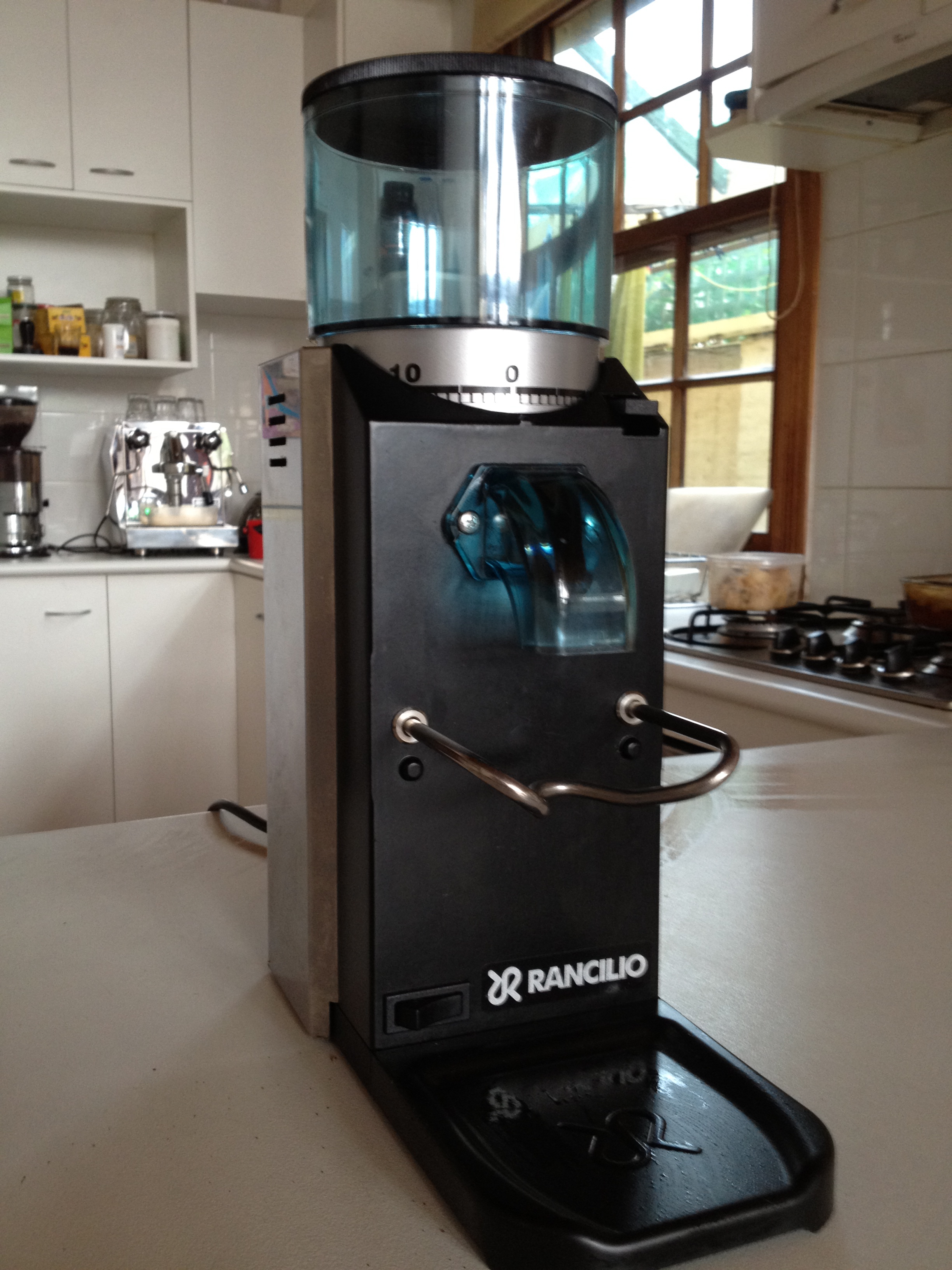 Whether its espresso, pour over, or drip, the Rocky has you covered.
With the Baratza Vario, you get over 250 possible grind settings when you take into consideration the two dials on either side of the grinder, which are labelled by letter on the left and then by number on the right.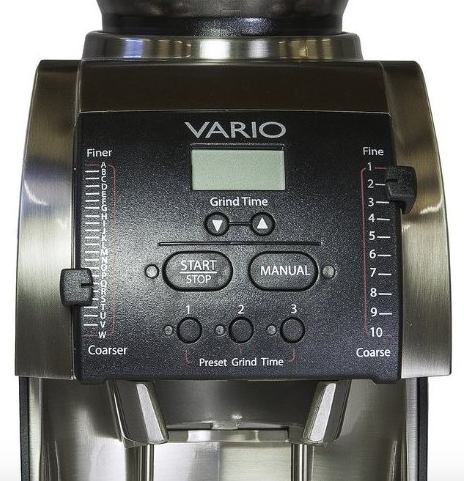 This is handy when you're grinding different beans, you will eventually know that for a particular type of bean you like it will be an A3.
You can even make a little chart for yourself, if you are a stickler for remembering super specific grind settings.
With the Rocky, 50 grind settings seems like a lot less when compared to the Vario 886, but the advantage to having it laid out the way it is with the Rocky SD, it is perhaps easier to remember your settings when grinding for different brew methods.
The Rocky has an easier system overall, but we're going to have to go with the Vario 886 because they have more grind settings and it too is easy enough to use.
So, the Vario takes another round. Is the Rocky getting worn out? ….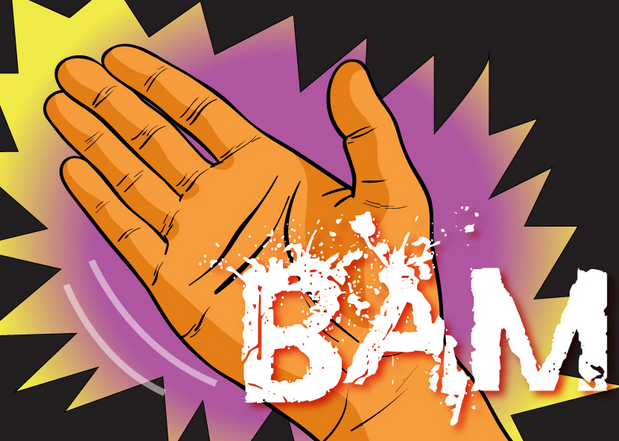 Far from it. The Rocky manages to get an unexpected jab in when the Vario lets its guard down!
Say what? Well, a few customers have made the odd complaint that the plastic used on the Vario for adjusting the grind settings can be a bit rickety, and in one case an adjustment dial even came right off!
Which leads us to our next point…
CONSTRUCTION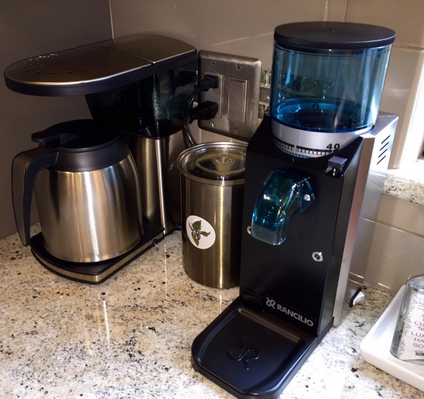 The Rocky SD is built like a tank, and its outer casing is made from solid metal.
The Vario, on the other hand, is built out of a combination of plastic and metal.
Basically, the Rocky has more metal, and that means its less likely to break down. That said, the plastic used for the Vario is high quality, and yet it is still plastic.
For construction, we have to hand it to the Rocky here.
BEAN HOPPER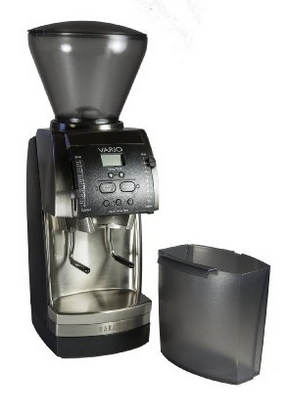 Both bean hoppers have about a 3/4 pound of coffee capacity, which is, frankly, more coffee than most people are going to need for one sitting.
You won't be storing the coffee in the hopper in any case (we hope you'd use a good quality airtight coffee vault for this).
So, suffice it to say that both the Rocky SD and the Vario 886 have plenty of room.
The design of these two hoppers for each of the units is quite different looking from one another, and so in terms of looks we think it really comes down to personal preference here.
Technically, neither really has the upper hand so we're calling this round a toss up.
GRINDS COLLECTION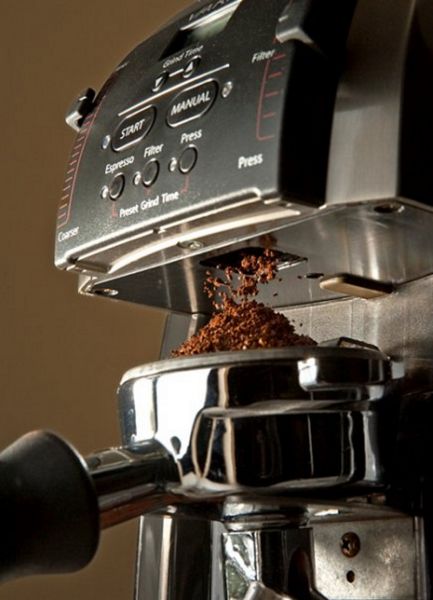 With the Vario 886 you can collect the grinds in one of two ways; either by using the porta-holder, or you can slide that out and replace it with the grind bin that comes with the unit.
So, depending on if you're making espresso or not, you can decide which one to use.
With the Rocky SD you have a detachable porta-holder that comes with the unit, or you can grind into a container of your choosing, meaning, no, it does not come with anything in terms of a bin.
This is because, we think, the Rocky is more of an espresso-grinder than anything.
And, so, there's at least some excuse for not designing it with a bin in mind, but there are other ways to brew, so a bin would be nice.
That said, most customers who have purchased the Rocky don't complain about this so much – the Rocky is too rock solid.
Still, we once again give a nod to the Vario for at least coming with a bin.

HOW YOU GRIND
In terms of how you grind, the Rocky SD has a very simple set-up. First you make your grind adjustments using the dial.
Then, you simply power up the grinder by turning it on, and then when you want to grind, you hold down the grind button and away you go.
You can even get a dosing version of the Rocky to make measuring out your doses a lot easier, and the prices are comparable.

For fans of simplicity, this might be preferable.
Here's another video showing the Rocky in action to give you an idea how the grinding goes, showing both the dosing version of the Rocky and the doserless version.

The Vario, on the other hand, is much more automated, starting with the display timer to tell you how long you've been grinding.
There are also three buttons which are essentially timers that grind for your different brewing methods.
If you are a fan of automation, then the Vario might be your choice.
Here's another video showing how to grind with the Baratza Vario.

GRIND RANGE
We've talked about how these two grinders grind, but what about the grinds themselves? Its one thing to talk about how these two machines supposedly can grind, but which machine does a better job of doing the actual grinding?
This is sort of like the million dollar question, because we're talking about real results. The answer is that each machine has their sweet spot.

For instance, in our opinion, the Vario doesn't do coarse grinding as well as the Rocky, making the Rocky better at grinding for French Press.
That said, the Vario can achieve a better finer grind for espresso and nearing a Turkish coffee fineness, which is something the Rocky isn't quite capable of.

Overall, the Rocky does have a better range, while the Vario only takes you as far as drip level and that's as coarse as it goes, really.
The Vario we think is more consistent on the whole, however, we have to say, this category is a really close call as well, but we'll have to hand it to the Rocky SD just slightly due to its expanded grind range capabilities.
CONCLUSION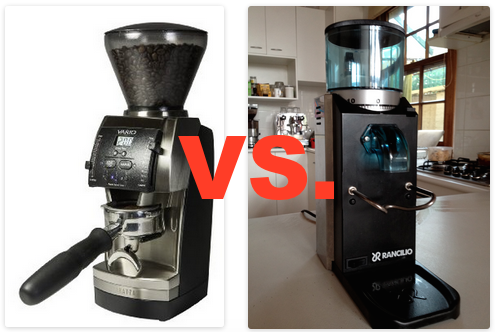 Clearly both coffee grinders have their strengths as well as their flaws, so the race is almost too close to call.
That said, we might want to hand the crown to the Rocky simply because it is overall a better built machine, and its a little bit less expensive on the whole.
On the other hand, there are things about the Vario are clearly superior to the Rocky, like its programmability, so its definitely hard to say one of these grinders is miles ahead of the other.