Looking for a Coffee maker made in the USA?
Unfortunately, these days coffee makers made in the USA are hard to come by. It seems that all the major manufacturers had moved their production lines overseas and that nowadays everything is made in China.
Thankfully, there are still a handful of coffee makers that are made in the USA.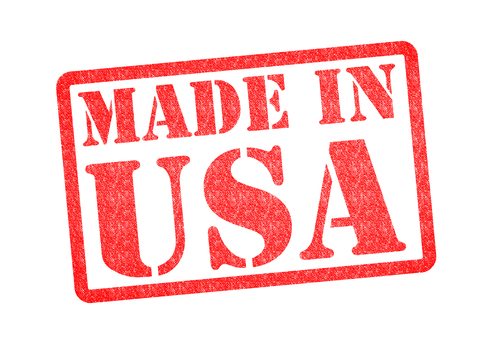 We've done a research to track down the best coffee makers made in the USA for every type of preparation. No matter if you prefer drip, pour over, cold brew, or a French press – we have an option for you.
Let's start!
Ratio-1
Ratio Eight Coffee Maker
The Ratio Eight coffee maker is a true piece of art. This coffee maker confirms that the company advertising slogan, "Reinventing Coffee from the Ground up," is not an exaggeration.
An American-made coffee maker with this much style is a hard thing to find. The Arts and Craft movement of yesteryear first indoctrinated us with the idea that form and function could ennoble each other.
This company address' the relationship between form and function from a hipster point of view; giving us powerful performance with beautiful design, not to mention Oregon-sourced beautiful walnut wood.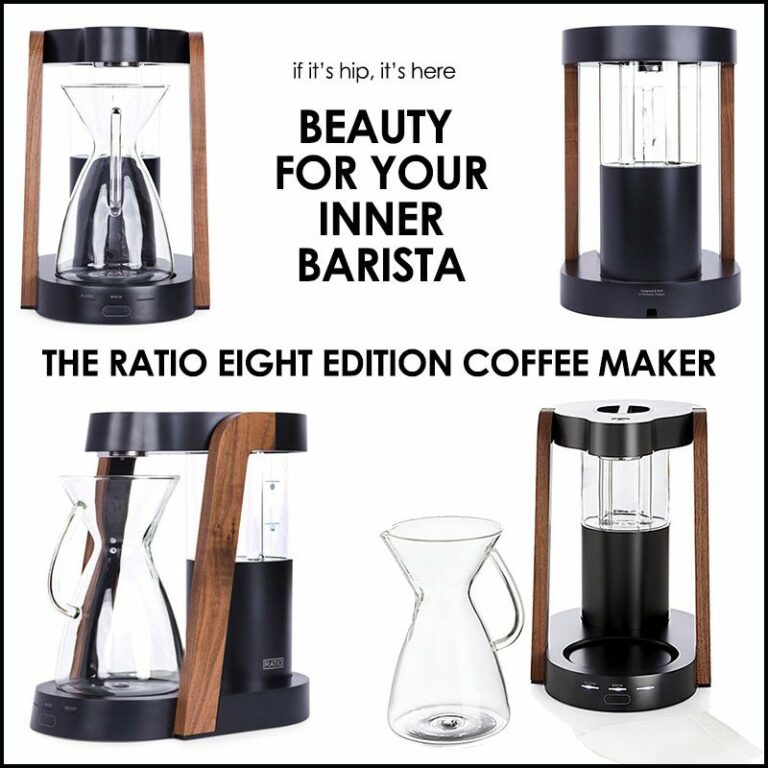 The reviews are a little weak on the performance of the machine compared to the high price tag.
But the company promises uncompromising quality. The stainless steel showerhead utilizes a Fibonacci Spiral pattern to ensure even water distribution over the grounds.
The precision machine died-cast aluminum body and borosilicate glass tank ranks the Ratio Eight is a masterpiece of industrial design in my books.
The designer of this American made beauty is, as mentioned previously, Mark Hellweg. His focus came from an awareness of the new coffee culture and a niche in the market place for a machine that met the need for quality and beauty.
Mark says, "We had to evaluate everything and try to be thoughtful and really narrow down what we're trying to deliver to three things, One: the quality of components and materials. Two: beauty and design. And three: the way it brews coffee. It had to be true to all three. If you lose one of those, you haven't achieved balance."
Key Features:
Beautiful, elegant design
Well-made with high-quality materials
5-year warranty
Brews up to 40oz. (eight 5oz. cups)
Powerful 1400 watt/110 or 230 volt heating element
Hand assembled in Portland, Oregon

Bonavita BV1900TS
It's the simple things in life that matter. It looks as Bonavita took 'simplicity' to heart when they designed the BV1900TS Coffee Brewer.
This incredibly simple coffee maker produces the type of quality you'd expect only from higher priced machines.
This coffee maker is the easiest you can get when it comes to ease of use. In addition to the one-touch start button, this machine has very few parts, too.
The Bonavita BV1900TS comes with a classic drip coffee maker design. The transparent water tank is stacked on a brushed stainless steel encased body. The black-colored, BPA-free plastic filter basket sits on top of the stainless steel carafe.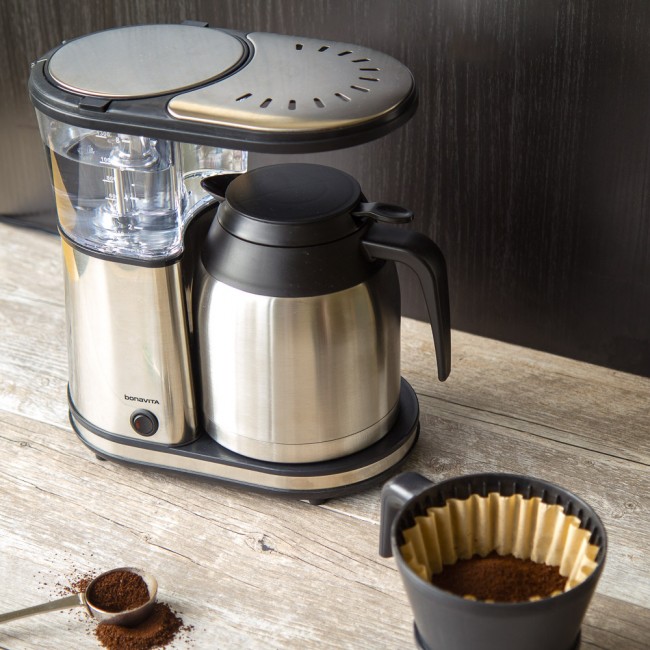 The filter basket is flat-bottomed rather than conical. Flat-bottomed baskets have a wider distribution of coffee grounds. The lid and basket are dishwasher safe, which is convenient.
This coffee maker features a 1500 watt heater which is a lot for its size. The Bonavita BV1900TS heats quickly during brewing and maintains the precise temperature needed for a perfect cup of coffee. With its 1500 watts of power, it reaches 200 degrees in only two minutes
This coffee grinder is also designed to let you know when your coffee is done by releasing a gentle audible signal.
Key Features:
One-touch brew operation with auto-off
Powerful and precise 1500-watt heater maintains optimal brewing temperature of 195 Degree-205 DegreeF (91 Degree-96 DegreeC)
Optional pre-infusion mode wets freshly roasted ground coffee to allow degassing before brewing
Flat-bottomed filter basket and larger shower-head allow for even better saturation and uniform extraction
Durable stainless steel lined thermal carafe

The Bunn Velocity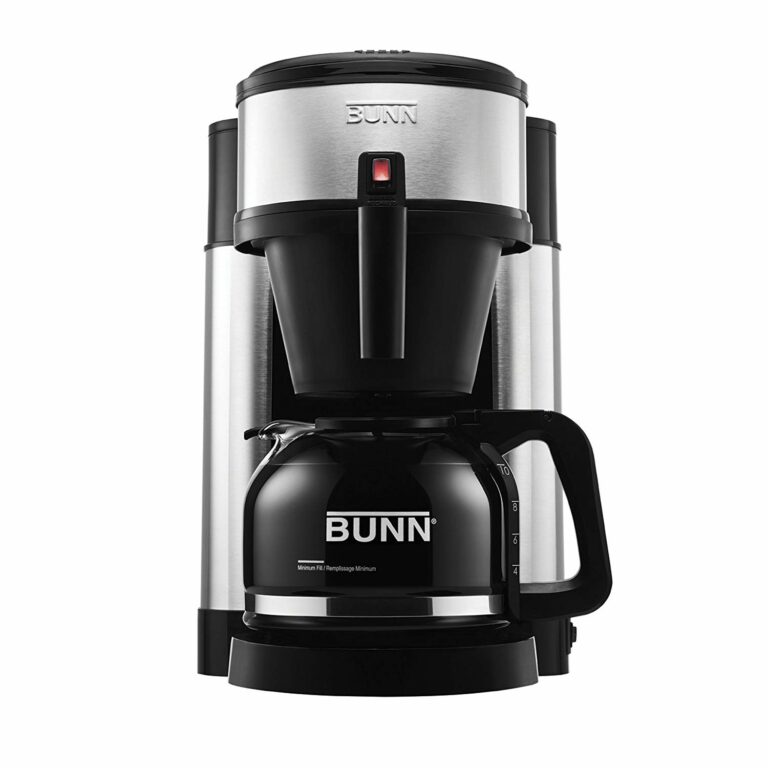 The BUNN Velocity coffee maker is made by the BUNN Matic Corporation that has been in the beverage business since 1957 – that is over 60 years of experience in making durable, reliable and high quality products.
This amazing coffee maker is able to make 10 cups of perfect coffee in less than 4 minutes. That's why it is one of the most popular USA coffee makers.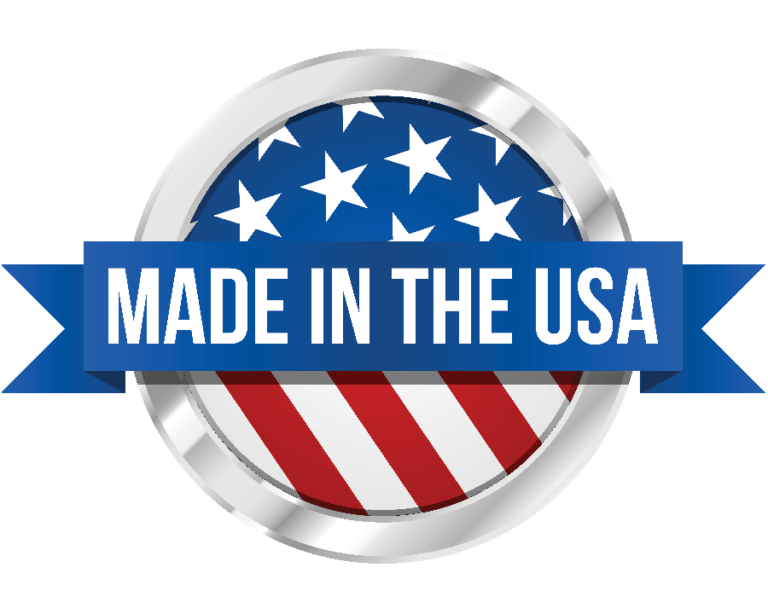 The Bunn Velocity coffee maker has a very modest and simple design. It doesn't have any LCD screens, clocks, LED lights, timers, or any other indicators. There is only one power switch placed at the base of the water tank, making it very easy to use.
While physical beauty and design are not the Bunn Velocity's strong suit, amazing coffee making performance is. This brewer will make you up to 10 cups of coffee in no time.
So, how fast can it actually make 10 cups of coffee? Believe it or not, it can produce a full pot of coffee in 3 minutes and 33 seconds. Yes, that's right! You can make enough coffee for you, your family, and your friends in less than 4 minutes.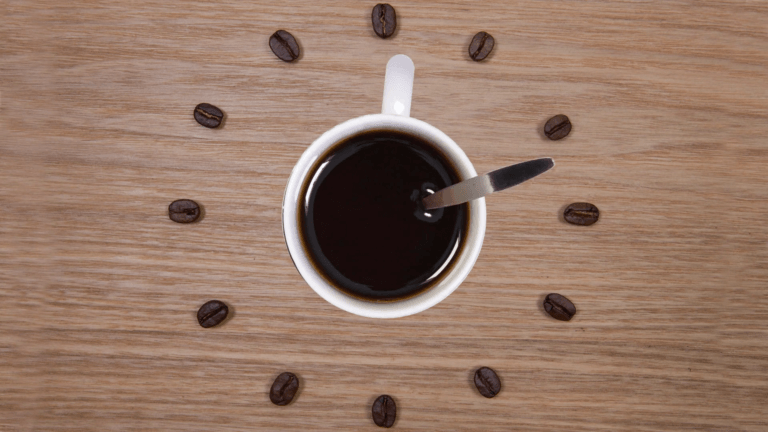 Speaking about time, it is also worth mentioning that the Bunn Velocity's thermal carafe will keep its content hot for at least 2 hours, meaning you don't need to rush drinking your coffee anymore.
Key Features:
Fastest 10-Cup Home Coffeemaker
Multi-stream spray head
Brews 4 to 10 cups (20 to 50 oz)
Large flat bottom filter and funnel
Double-wall thermal insulation

Cuisinart CHW-12
Cuisinart CHW-12
If you're looking for the best value for money, the Cuisinart CHW-12 is the one to go with. In spite of its relatively low price, it features amazing design and offers the same basic perks as the more expensive models.
The Cuisinart CHW-12 features a 12-cup glass carafe as well as programmable and automatic features that make coffee brewing incredibly fast and simple.
The CHW-12 also features a hot water system which means it can dispense hot water within moments for soup, tea, hot chocolate and more.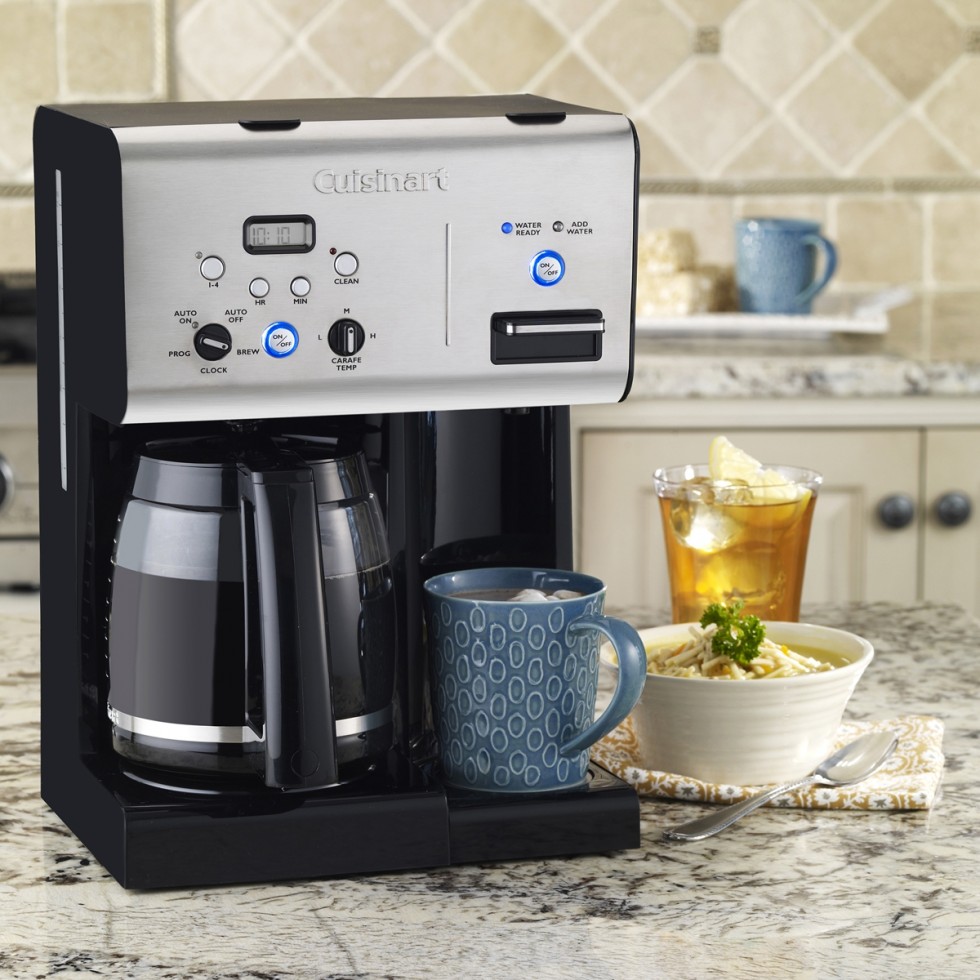 Coffee is always kept at the perfect temperature, thanks to a Carafe Temperature Knob. The machine lets you choose from high, medium and low settings to keep your beverages at the ideal temperature.
It is also worth mentioning that this machine features self-cleaning function which makes cleaning and maintenance incredibly easy.
Key Features:
Fully automatic
Easy to use
Programmable up to 24 hours ahead
Brews quickly
Stylish look