Last Updated on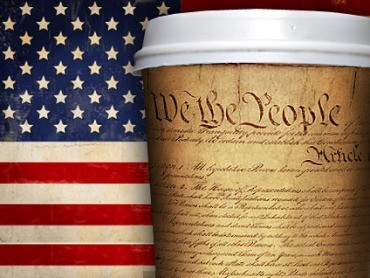 Looking for a Coffee maker made in the USA? …some brides don't make it easy.
My cousin, who lives in Florence, Alabama, is getting married this summer.  I made the appropriate inquiries about what the couple might like as a wedding present. 
Coffee and all things related to coffee were high on the list, and as a self-proclaimed coffee aficionado, I felt that I should find a beautiful coffee maker that the happy couple will be happy to use for years to come. 
The other thing on this socially-conscious couples' mind is that they would like all of their gifts to be from the USA.  Fair enough, but that would narrow my search slightly…
So the search begins.  Nespresso is out!  Made in Switzerland.  Well, this is a bit of a chore. 
At first glance this is not going to be an easy task.  Every coffee maker so far looks like a 1970's old-fashioned piece of junk. 
Where is the stainless steel? Molded glass?  Where is the design process?  Where is American pride?  I know it's there, I continue my search.  
And, Bingo! I have found one of the most beautiful automatic drip coffee makers ever and it is made in the USA!!!!
Their advertising slogan, "Reinventing Coffee from the Ground up," is not an exaggeration. 
The "Eight" by Ratio is a work of art.  
Coffee should be enjoyed.  My cousin will flip over this absolutely beautiful machine. 
If it is coffee that they want to surround themselves with and coffee that represents joy, then this couple will be blown wide open with this American work of art. 
An American-made coffee maker with this much style is a hard thing to find.
The Arts and Craft movement of yesteryear first indoctrinated us with the idea that form and function could ennoble each other. 
This company address' the relationship between form and function from a hipster point of view; giving us powerful performance with beautiful design, not to mention Oregon-sourced beautiful walnut wood.
Creator Mark Hellweg puts it like this: "I always wanted to make a coffee maker that would be respected by people that really like the esoteric, manual process.  I wanted to have enough precision and respect for the brewing process that it would be appreciated by connoisseurs, even if it's not the right machine for them. We use the term 'inspired by pourover' often." – SOURCE: http://ratiocoffee.com/pages/about
Made In America – The Ratio Eight Coffee Maker
The reviews are a little weak on the performance of the machine compared to the high price tag.
But the company promises uncompromising quality.  The stainless steel showerhead utilizes a Fibonacci Spiral pattern to ensure even water distribution over the grounds. 
The precision machine died-cast aluminum body and borosilicate glass tank ranks the Ratio Eight is a masterpiece of industrial design in my books.
The designer of this American made beauty is, as mentioned previously, Mark Hellweg.  His focus came from an awareness of the new coffee culture and a niche in the market place for a machine that met the need for quality and beauty. 
Mark says, "We had to evaluate everything and try to be thoughtful and really narrow down what we're trying to deliver to three things, One: the quality of components and materials. Two: beauty and design. And three: the way it brews coffee. It had to be true to all three. If you lose one of those, you haven't achieved balance."
Undaunted by any of the criticisms, I feel sure that this is the right American made coffee maker to get as a wedding gift for my cousin and her fiancé. 
One More Great American Made Coffee Maker
And so ended my search for the perfect American-made coffee maker.  The Ratio Eight was ordered, and the rest is history. 
However, I feel obligated to mention that there was another US-made coffee maker that came up in my search – the Bonavita BV1900TS coffee maker. 
This machine, unlike the Ratio Eight, seem quite reasonably priced, but I must say…I am a stubborn woman when it comes to getting what I want, and what I wanted here was the Ratio Eight, so that's what I had to have in the end (even though it wasn't even for me – I ended up buying my own anyway, so, yes, I did end up ordering two).

Still, as I was reading about this coffee maker, it did tickle my fancy somewhat.  Here is more info on the Bonavita BV1900TS in case it's more up your alley…
Bonavita BV1900TS



FEATURES:
One-touch brew operation with auto-off

Powerful and precise 1500-watt heater maintains optimal brewing temperature of 195 Degree-205 DegreeF (91 Degree-96 DegreeC)

Optional pre-infusion mode wets freshly roasted ground coffee to allow degassing before brewing

Flat-bottomed filter basket and larger showerhead allow for even better saturation and uniform extraction

Durable stainless steel lined thermal carafe
Summary
Reviewer
Review Date
Reviewed Item
Best USA-Made Coffee Makers
Author Rating