How do you store your coffee? Is it in a container on the counter, or maybe in the fridge? What if we told you that you're doing it all wrong and your coffee is getting stale faster than it should? Keep reading to find out the best way to store your coffee for maximum freshness.

Making a great cup of coffee at home has plenty to do with buying excellent beans, but after that, it's crucial to consider how you store them.
Even mild exposure to sunlight and oxygen will reduce your coffee's shelf life and diminish flavor. The good news is that it's easy to fix a coffee storage problem. You just have to buy the right kind of container.
Top of the range containers promise to seal in freshness and flavor and keep the air out.
Editor's Recommendation: Top Airtight Coffee Storage Containers
Top 10 Best Coffee Storage Container Reviews in 2022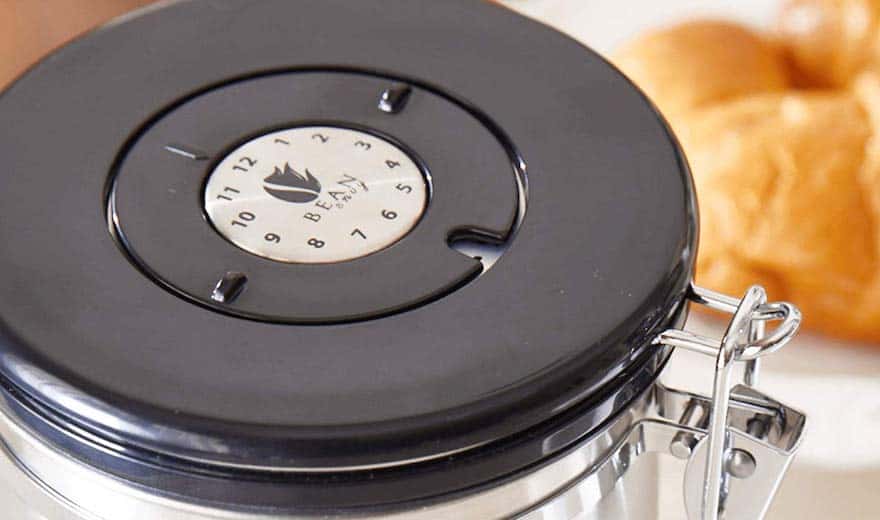 So, let's take a look at some of the best airtight coffee storage containers currently available and find the perfect one for you…
CafetastIQ Coffee Storage Container for Coffee Beans and Grounds, Airtight Stainless Steel - Link
If you're not a big fan of plastic coffee storage containers, this stainless-steel container is the best solution for you.
The CafetastIQ coffee container is made of premium quality stainless steel which guarantees long life and great storage features. Not only it's more durable than its plastic counterparts, but it's also an eco-friendly option that's much easier to recycle.
The stainless-steel construction features a beautiful grey color and blends anywhere in the kitchen.
This container is large enough to hold 22 oz. (623 grams) worth of coffee beans What's really great about this container is It allows you to store different ingredients such as flour, tea, cereal, herbs, spices, and any other food item you want to keep fresh.
It features a patented lid that keeps all the air and odors out of your coffee. It retains all the right flavors and freshness for a prolonged period.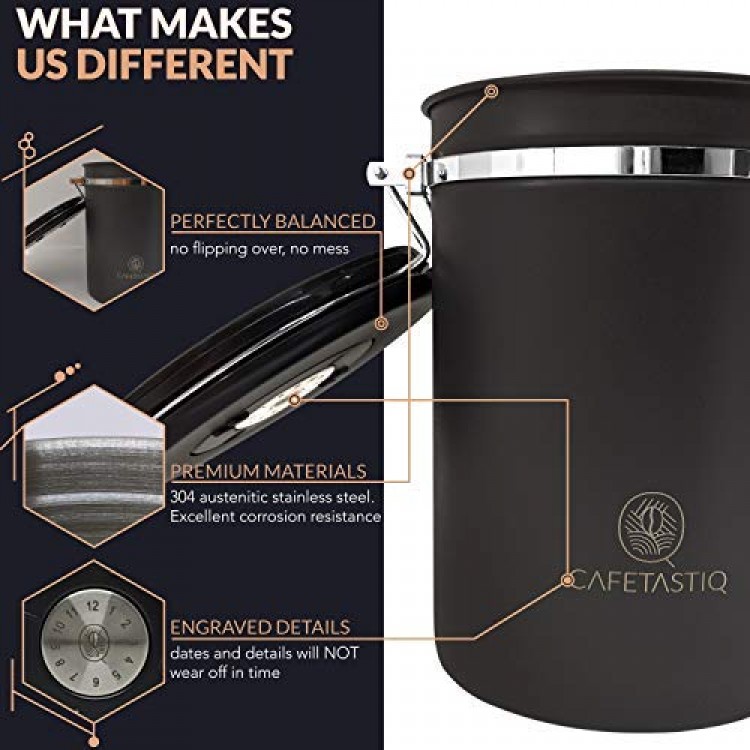 There's a date wheel built in the lid of the container. The date wheel allows you to track the freshness of your beans or grounded coffee.
Additionally, this coffee container is accompanied with a measuring scoop that's also made from stainless steel. The scoop is held securely on a unique hook built on the coffee container.

Mixpresso Stainless Steel Airtight Coffee Container with Date Tracking, Vacuum Sealed Airtight Container - Link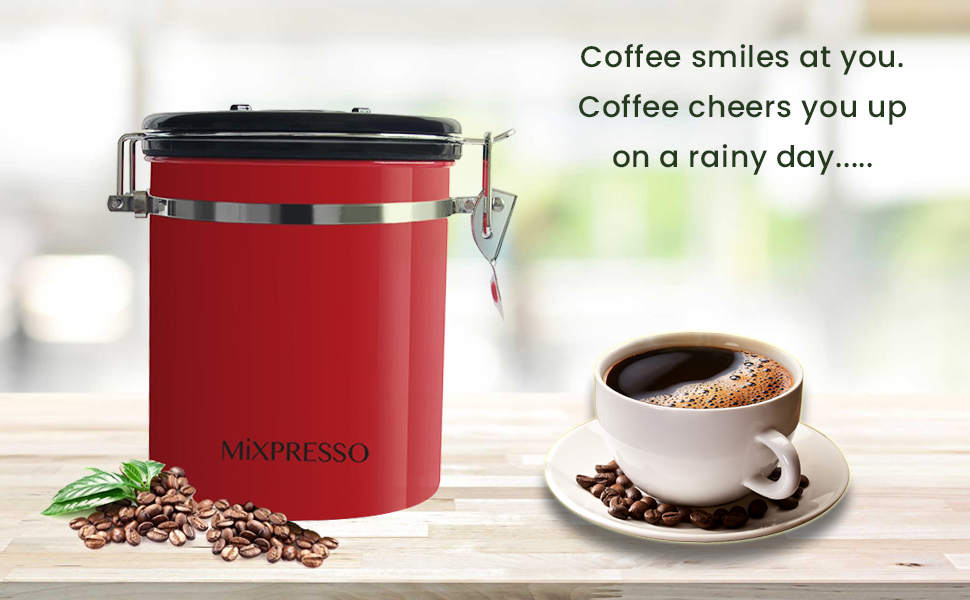 This is another great air-tight coffee storage container made of premium quality stainless steel. The Mixpresso is designed to keep your coffee fresh and flavorful at all times. It preserves aroma and keeps your coffee safe from all the stuff that could damage its quality.
The stainless-steel design keeps out all the light that could cause damage to your coffee. Its steel finish looks polished and sleek so you can leave it out on your countertop.
The container features an air-tight lid with a date wheel that allows you to track your coffee's expiry or roasted date. Its airtight seal works in a way that doesn't allow any carbon dioxide or moisture to enter the container and damage your coffee.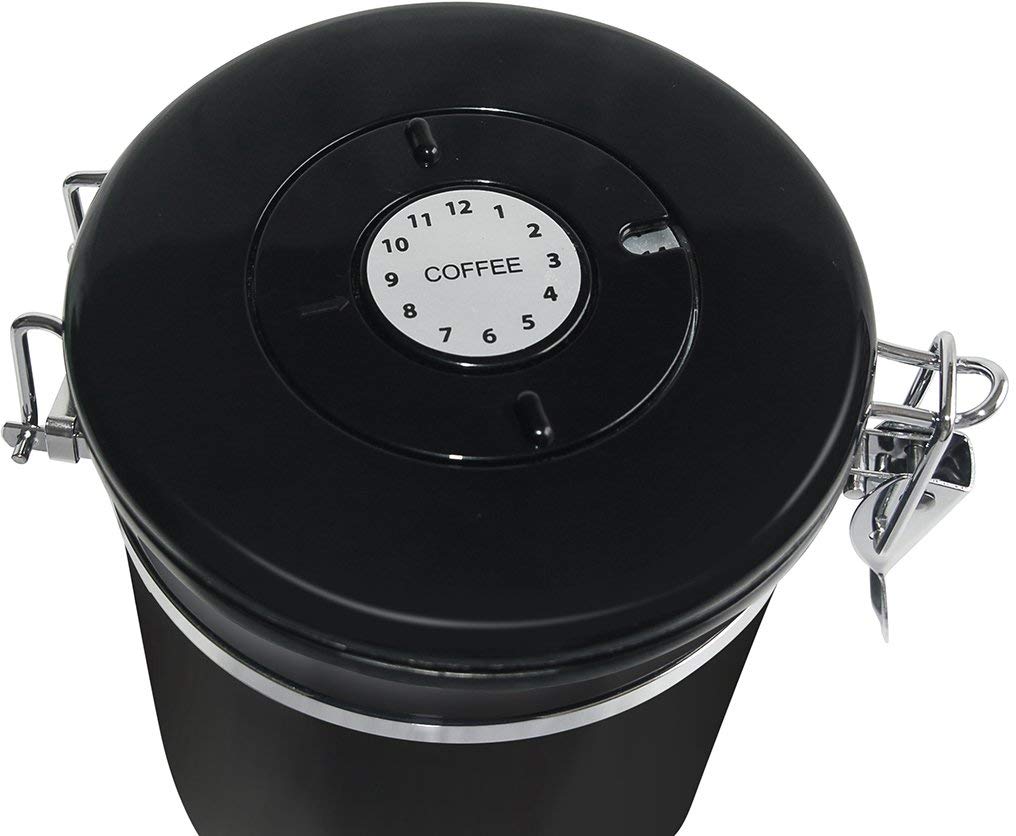 The container can store up to 16 oz. (453 grams) of coffee. If you and your family drink a lot of coffee, this might be the best option for you.

Fellow Atmos Vacuum Canister for Coffee & Food Storage - Link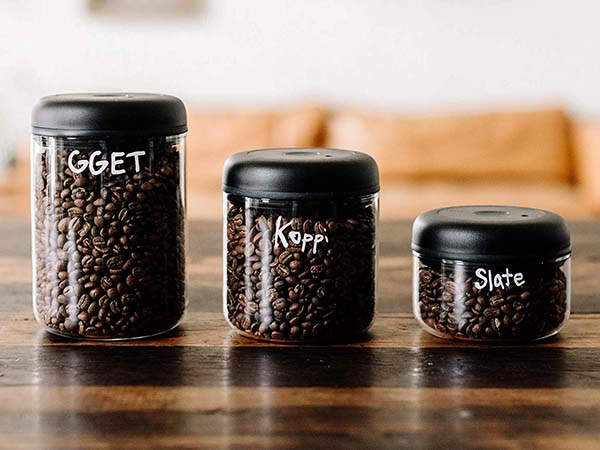 The Fellow Atmos Vacuum is a reliable coffee container that, like the name says, uses vacuum sealing to keep coffee fresher for longer. Using this coffee storage container can extend your coffee's shelf life by over 50 percent.
It has an integrated vacuum pump stored in the lid. The integrated pump makes removing air from inside the container extremely easy - all you need to do is close the lid and twist it back and forth several times (up to the moment the little button drops, revealing a green ring).
The green lock indicator ring tells you when your container is locked to prevent any air from getting in for up to a week without use.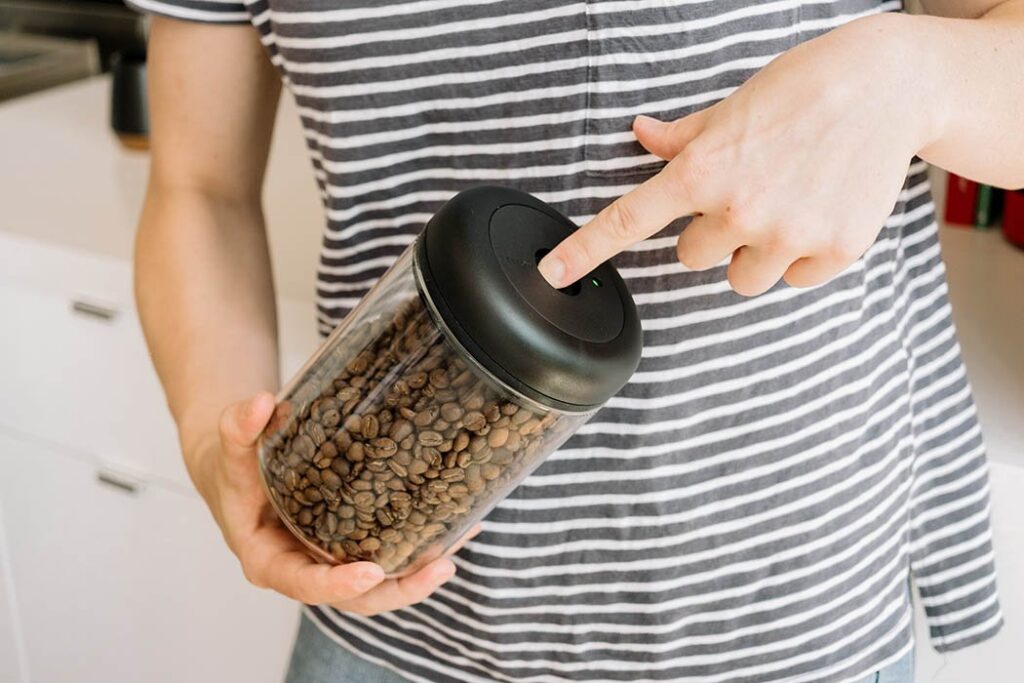 An airtight silicone seal located on the underside of the lid stops air, moisture, and odors from seeping into your goods.
When you are ready to use your beans, you can just press the button in the center of the lid to release all of the pressure instantly.
The Atmos comes in a variety of styles and capacities which can be categorized as clear glass and matte stainless steel. The stainless-steel model is considered as an upgrade because it offers better protection from that flavor-draining sunlight.
To find out more about this amazing container, please watch this video:

Coffee Gator Coffee Canister - Link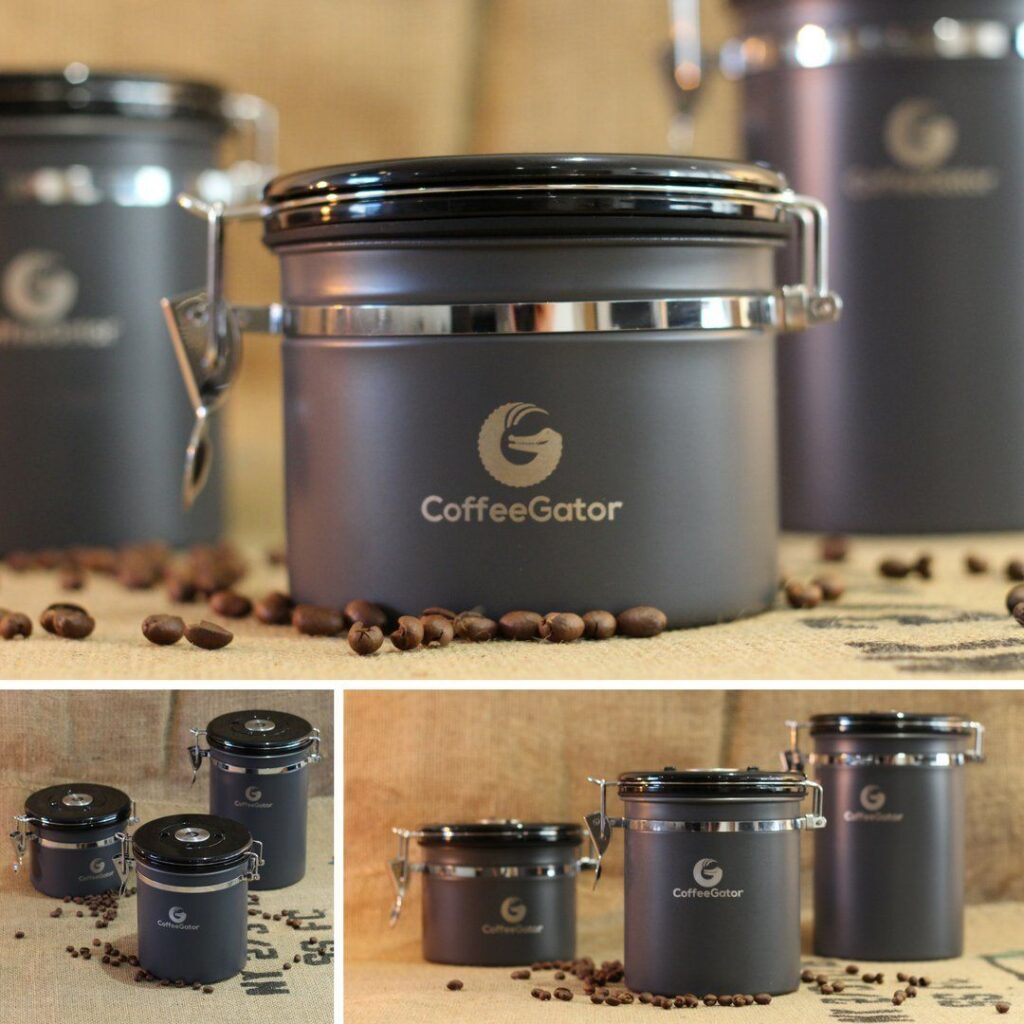 The Coffee Gator coffee storage container is a favorite among coffee lovers because it is portable, has a sleek design, sturdy construction, and, of course, performs extremely well when it comes to keeping coffee beans fresh.
It has a stainless-steel body and an airtight lid that keeps the air away from the beans. The lid has a built-in special valve that allows the CO2 to vent away. At the same time, it does not let the air in. This system ensures the proper sealing of the lid but keeps oxygen out.
This container also features a freshness tracker. It allows you to track your coffee's expiration date, so you know you're always getting the freshest coffee possible. All you have to do is log expiry or purchase date and stop wasting coffee.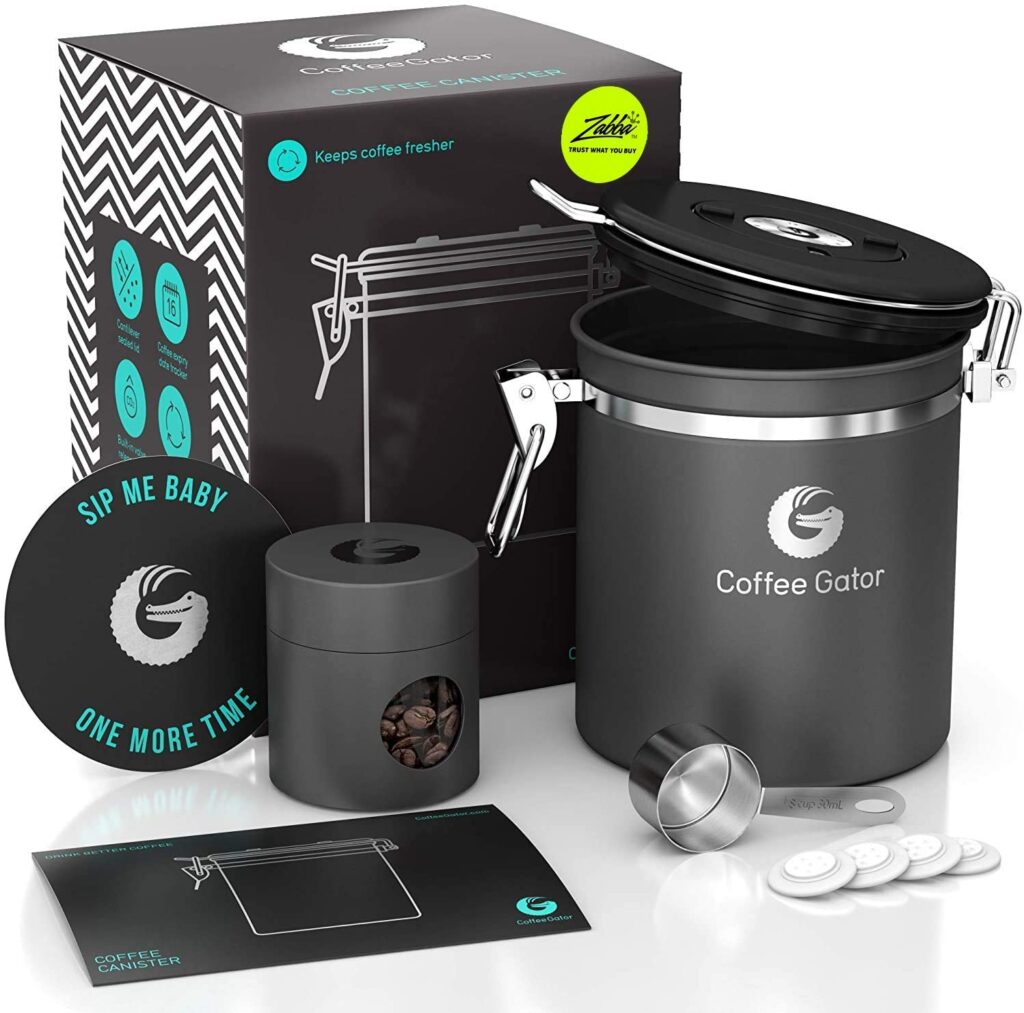 As many other airtight containers, this one is convenient and suitable for multiuse. It allows you to store different ingredients such as flour, tea, cereal, herbs, spices, etc.
Another cool thing about the Coffee Gator is that it is available in 8 different colors and 3 sizes (4, 6, and 7.5 inches tall).

Frescura Coffee Gator Coffee Canister - Link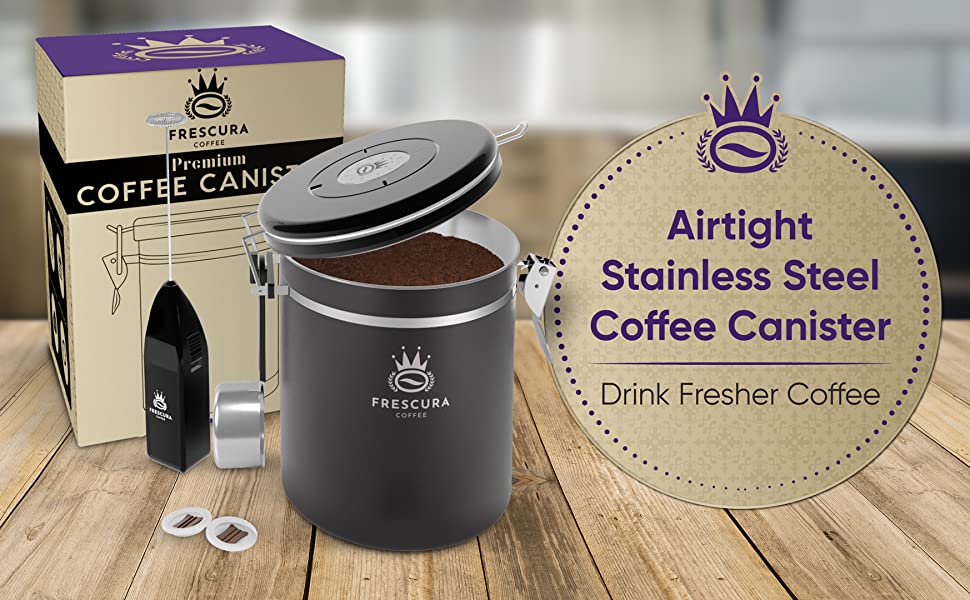 Frescura is another airtight coffee container that keeps the air out while allowing the carbon dioxide to vent.
This compact storage container has a lid with four clasps that keep the container airtight and keeps your coffee, whether it be ground or whole beans, safe from the atrocities of oxygen.
The clasps on the lid make opening and closing the container very easy.
Although the container does not let air into the container, it has a valve system that releases the CO2 that is given off by the coffee.
The container is made of food-grade S/S304 stainless-steel which ensures that the product is safe to be used for a long time.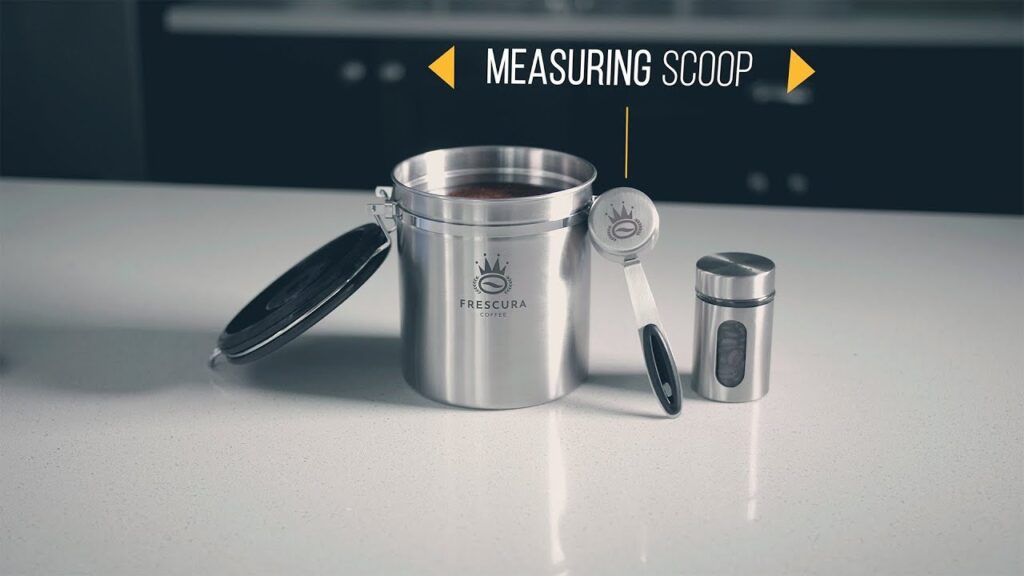 The container's stainless-steel body helps to style the design of the container and turns it into a durable and contemporary container that you would not mind keeping in your home or office kitchen.
The Frescura coffee container comes with a matching 1/8 cup measuring scoop with a silicone grip so you can always measure the exact amount of coffee you need to brew the perfect cup.

Different Types of Coffee Storage Containers
It is important to know what coffee storage containers are available before buying one. The right type of storage container will preserve the freshness and flavor of your coffee.
Different types of coffee can be stored in different ways, depending on their origin, roast level, moisture content, etc., so it is important to choose a container that will keep your coffee fresh and flavorful.
Let us take a look at the different types of containers that are available: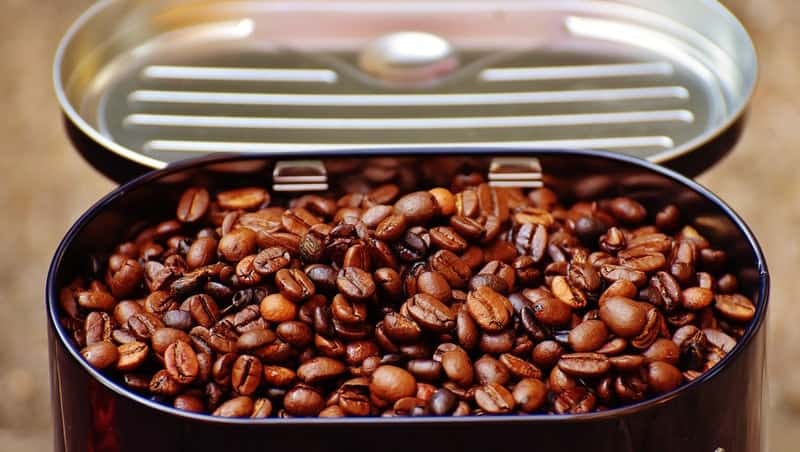 Metal cans can be lined with plastic, which blocks moisture. They also block light and airflow, so they are not recommended for storing green beans or roasted coffee as they will quickly lose their freshness.
Kegs are made out of stainless steel
Kegs are made out of stainless steel. They also help to keep the coffee fresh by blocking light and airflow. However, they cannot be sealed so the beans will eventually lose their flavor if not consumed quickly.
Metal tins with plastic lids let air in but block light, which helps to preserve freshness for a longer period of time than other types of storage containers. These can be lined with foil to allow you to store your coffee for an even longer period of time. However, make sure that these tins do not hold foods with strong odors as this may affect the taste of your stored coffee after extended periods of time or through repeated openings and closings.
Glass jars are available in various sizes
Glass jars are available in various sizes, but they will break if dropped. Some have foam gaskets to help with sealing the lids so your coffee can be stored for longer periods of time.
Paper bags are not suitable for long-term storage
Paper bags are not suitable for long-term storage. Coffee should always be kept away from moisture, oxygen and light in order to preserve its freshness after roasting.
Buying Guide for Choosing the Right Coffee Storage Container
A coffee storage canister is made of different materials and it all depends on the price point. Make sure to consider size and durability as well as warranty before buying a coffee storage container.
Meet the Needs
The best coffee storage containers are those that meet the needs you have for storing your favorite drink. There are different types of canisters, both reusable and disposable.
The Type of Coffee
It is important to consider the type of coffee you drink before choosing a storage container. For example, some storage containers come with an airtight seal which helps keep your coffee fresh for longer without losing flavor. This makes it possible to save money by not having to buy pre-ground coffee or pre-packaged pods.
Size
One of the biggest mistakes you can make before shopping for a storage container is to limit yourself on size and design options. Depending on your needs, you may want to purchase one that holds just enough beans for three days or one that has enough capacity to last more than two weeks.
The Materials
The materials used to make the coffee container also matter since they affect durability, flavor and smell. For example, stainless steel is preferred because it does not absorb or transfer flavors to your beans which means it isn't as likely to alter the taste of your drink.
While glass doesn't usually offer much protection from air exposure and odor, it's easy to clean and maintain. Plastic storage containers are generally reusable but this material can absorb odors from other foods, which makes it a poor choice for coffee storage.
The Advantages of Using a Coffee Storage Container
Coffee storage containers are not just an excellent way to keep your coffee fresh, they offer many more benefits that you may not be aware of. If you're looking for ways to improve the quality of your coffee, then it's time to start considering a storage container. Keep reading to find out more about what this smart investment can do for you.
Once you start using a storage container, you'll wonder how you ever got by without one. You can use them at home or take them with you when you want to ensure your coffee is always fresh for the next cup. Whether stored in the freezer or refrigerator, it will stay fresh for much longer than simply left sitting on your counter all day.
Coffee storage containers are a great investment, and they're good for more than just coffee storage. From bringing baked goods to friends' houses or parties, to storing leftovers from dinner, these versatile containers have many different uses. You'll wonder how you ever got along without one!
How to Properly Store Your Coffee in a Container
If you are like most people, your coffee comes in a bag with a zipper on it. It is easy to open and close, making it seem like the best option for keeping your beans or grounds fresh. However, this type of packaging actually exposes your coffee to more air than necessary, which can decrease its freshness over time. This is why many coffee lovers turn to airtight containers to store their coffee.
With the right container, your coffee will be able to maintain its freshness much longer and you will enjoy it more when you brew a fresh cup. If you are interested in finding out how to choose the best container for storing your coffee, keep reading:
What Size Container do I Need?
The size of the container that you need will depend on how much coffee you drink, as well as how often you drink it. Obviously, if you have a large family then you are going to go through more coffee than someone living alone.
However, even if you live by yourself, it is still best to buy the largest container that you think will be necessary. This way, you won't have to worry about constantly running out and having your coffee lose its freshness while you wait for a new bag to arrive.
What Type of Container is Best?
Airtight containers are great because they keep all of the air away from your grounds or beans. However, the type of material that you store your coffee in is also important. For instance, a glass container will not protect your coffee from light or air the way that a metal one would. This means that it is best to choose a plastic or tin canister instead.
What to Do if You Notice Mold or Mildew on Your Coffee Beans
If you find most of your coffee is coming from a bag that has begun to grow mold, or if your whole crop is contaminated, there are some things you can do to salvage the majority of what you have. First and foremost, discard any beans that are visibly affected with discoloration or spore formation. Next, remove the rest of the bag or container from areas that are not affected.
It is best to not wash the mold off of your beans in a washing machine or with running water because moisture will only spur it's growth further. It is best to spread them out on a tray and allow them to air dry away from sources of heat for at least 24 hours before putting them back in storage.
It is very important to keep the beans away from moisture during this process because mold spores can easily grow on wet surfaces or absorb water. Freezing the beans will not kill mold spores but it will prevent them from becoming airborne, reducing the chances of further growth. Prevention is key if your coffee was merely stored badly and does not show any signs of contamination yet.
Best Ways to Brew Coffee From Beans That Have Been Stored in a Container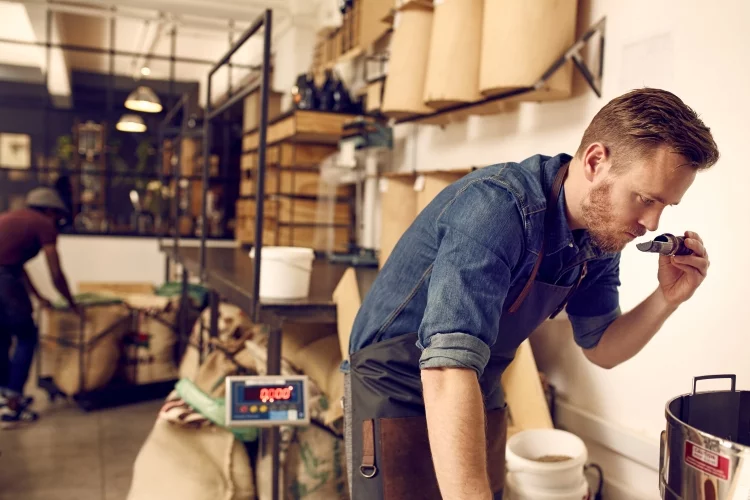 After roasting, transfer roasted beans in an airtight and opaque container. Store it in a cool, dark spot (an under counter cupboard will do) and keep it sealed. This ensures that light does not degrade the quality of your coffee bean.
After you have bought your coffee beans, it is best to use them within 2 weeks of opening the package.
Grind your coffee just before brewing. This ensures that the most flavor is extracted from the beans. If you are keeping your coffee grounds for more than a day or two, it is advisable to refrigerate them in an airtight container.
Brewing coffee from beans that have been stored in a container:
For best flavor, use 1 tablespoon (or 2 "doonks") of ground coffee for each 6 fluid ounces (1/2 cup) of water.
Place the ground coffee into the filter and level across with your finger or spoon. Pour hot water into the container.
Swirl or stir the coffee grounds until they are saturated with water, then allow the coffee to rest for about 30 seconds. This process is known as "blooming" and allows gases to escape from within the ground coffee.
If you're making a pot of coffee and want it stronger, use less water and more ground coffee.
Pour a small amount of water into the container. Swirl or stir to remove any excess grounds from the surface of the filter, then discard this water. Repeat until you have enough coffee in your container (it should be no more than two-thirds full).
Buy now at Etsy, eBay, Walmart (limited quantity)
Fellow Atmos Vacuum Canister for Coffee & Food Storage - Airtight Sealed Container, Matte - Walmart, Etsy, eBay
Airscape Kilo Coffee Storage Canister Large Food Container Patented Airtight Lid 2-Way - Walmart, Etsy, eBay
OXO Steel POP Coffee Container with Scoop- 1.7 Qt for Coffee, Tea and More - Walmart, Etsy, eBay
Coffee Gator Coffee Canister - 16 oz Stainless Steel, Airtight Coffee Containers for - Walmart, Etsy, Ebay
Le Creuset Stoneware Canister with Wood Lid, 2.5 qt. (5.5" diameter), White - Walmart, Etsy, eBay
Old Dutch International Canister Set, 4Qt, 2Qt, 1½Qt,1Qt, copper - Walmart, Etsy, eBay
Barnyard Designs Decorative Nesting Kitchen Canister Jars with Lids, White Metal Rustic - Walmart, Etsy, eBay
DecoBros K-cup Storage Drawer Holder for Keurig K-cup Coffee Pods - Walmart, Etsy, Ebay
Conclusion for Coffee Storage Container Buyers
If you are in the market for a coffee storage container, we suggest checking out our recommendations. Not only will you find a great option for your needs, but you will also be doing your part to help the environment. Thanks for reading!