Last Updated on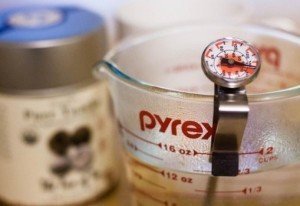 What is six inches long, gives you unbridled performance and you wouldn't mind dipping in your foam?
Answer: An espresso thermometer <insert laugh track>
These thermometers are of course quite useful for all things temperature related, since an espresso thermometer is still technically a thermometer.  Most importantly, they are designed for measuring the temperature of your all important foam.  
These thermometers can also be used for latte and making sure that water temperature is right as well. People also find other uses for their espresso thermometer, including cheese making, beer making and making yogurt.
Espresso thermometers have been designed especially for measuring the heat of milk and should fit snugly inside your frothing pitcher.
Some people insist they do not need them then proceed to give themselves third degree burns by attempting to check the temperature of the milk by hand.
You can avoid the unnecessary skin grafts by a simple purchase of the humble espresso thermometer. It will also ensure your foam or latte is never too hot or cold again.
Without further delay, here are three choices for best espresso thermometer that we think you'll just love!
---
NORPRO 5981 ESPRESSO THERMOMETER
Quick Specs          
SIZE: 6×1.5×1 INCHES/15.2x 3.8 x 2.5CM
WEIGHT: 0.4 OUNCES/ 12 GRAMS
MANUFACTURER: NORPRO
MODEL NO:  5981
TEMPERATURE RANGE: 60F- 220F
CLIP INCLUDED: YES
OUR RATING: 4.5 OUT OF 5 STARS

In pretty red and very pleasing to the eye, this certainly looks stylish.  But does it work properly?  With the majority of customers who gave feedback giving this five stars, it would certainly seem to!
The clip makes this practical and it fits easily to pretty much most types of frothing pitcher.  Some have mentioned that the dial is slightly small to read, but most people do not flag this up as being problematic.
Other good points include a shaded in red area on the dial to show when the milk is in the correct temperature zone.
The only mild niggle is that it may steam up a little bit. This is hardly a major concern though. It records temperature accurately and this is all you could really wish for in an espresso thermometer!
---
UPDATE INTERNATIONAL LONG DIAL FROTHING THERMOMETER
Quick Specs
SIZE: 5.5 INCHES X 1.75 INCHES
TEMPERATURE RANGE:  30F-220F
WEIGHT:  0.8 OUNCES
MANUFACTURER: UPDATE INTERNATIONAL
MODEL NO: THFR-17
CLIP INCLUDED: YES
OUR RATING: 4.5 OUT OF 5 STARS
This has a nice big dial which makes it easy for just glancing at the face of it and seeing instantly where you're at with your milk frothing. 
Also, it helpfully has two areas on the dial to show when the milk is at its ideal temperature and when it is into burn territory. There is also a part on the face that lets you know where your ideal starting milk should be at (around 35F).
It locks down nicely on the frothing pitcher and gauges the temperature of the milk speedily and accurately.
The only slight moans are that the dial is pretty large and sometimes can obstruct the frothing wand a tad, although it's not enough to cause a serious problem really.
This has a slightly larger temperature gauge range than the Norpro, meaning you can check your milk is cold enough to give the best results with, giving it the slight edge, we feel.
All in all, there aren't too many reasons not to commend this as an espresso thermometer!
Read our full review of the Update International Frothing Thermometer
---
COOPER-ATKINS ESPRESSO MILK FROTHING THERMOMETER
Quick Specs            
SIZE: 5 INCHES LONG 1 INCH DIAMETER
TEMPERATURE RANGE: 0F-220F
WEIGHT: 0.5 OUNCES
SHIPPING WEIGHT: 1.6 OUNCES
MANUFACTURER: COOPER ATKINS
MODEL NO: 1236-70-1
CLIP INCLUDED:  YES
OUR RATING: 4.1 OUT OF 5 STARS
The only one of our trio of espresso thermometers to actually go from zero to 220 degrees Fahrenheit and comes from Cooper-Atkins, a manufacturer who specialize in making, amongst other things, thermometers. So hopefully this little beauty should be top notch.
Things that people like about it are its large printed numbers, which make it very easy to see where the milk is at and, as previously mentioned, this measures from zero Fahrenheit, which means it can be used for testing the temperature of very cold things and not solely used for frothing or steaming milk with.
The major problem with this model is it reportedly quite slow to gauge the correct temperature of the frothed milk. This can result in the temperature of the milk actually being some degrees higher than the temperature as it is read. Not an unheard of complaint with espresso thermometers in general and something that the wannabe barista needs to keep a sharp eye open for. 
Read our full review of the Cooper Atkins Espresso Milk Frothing Thermometer
---
Comparing These 3 Espresso Thermometers
Out of the three models, it is up to you which you plump for. They are all around the same price and all do pretty much the same thing.
The Cooper-Atkins is the only one that goes from zero degrees, but you may have to learn to stop frothing 5-10 degrees sooner than the dial actually tells you to.
Update International is a happy compromise with a dial going from 30 degrees Fahrenheit – ideal if you want to check the temperature of your milk before starting.
And finally the Norpro is the one with the most five star ratings, but the dial only starts at 60 degrees, however this is absolutely fine for the task in hand which is frothing milk.
Ultimately, the choice is yours! 
HOW TO CALIBRATE YOUR ESPRESSO THERMOMETER
Soon you and your espresso thermometer will be brewing up espressos in a mutual and loving union. But first the thermometer needs to be calibrated.
This is how you do it:
Dip it in some boiling water, then using some pliers, gently rotate until the temperature registers the correct number for boiling water. You could also use ice and set it accordingly if you wish. The nut or bolt in question is usually at the bottom of the thermometer.
You are now ready to start making barista-quality espressos!
SOME FACTS ABOUT MILK IN ESPRESSO/CAPPUCCINO
You should really begin with milk that is fresh from the fridge. The milk wants to be of good quality (it is the proteins that matter here, not the amount of fat in the milk) and when frothing it, it should not exceed 149-158 Fahrenheit.  When it goes above this temperature the sugars begin to be released.
Thanks for reading!
Summary
Reviewer
Review Date
Reviewed Item
Froth It Up! The 3 Best Espresso Thermometers For Coffee
Author Rating