If you're always in a hurry and live a lifestyle on a go, Black and Decker CM618 is a single serve coffee maker which will benefit you the most.
Wondering why? It comes with a travel mug which makes traveling and rushing to work way easier.
On the other hand, it's very compact and no matter how small your kitchen is, it will always fit.
Also, did I mention how inexpensive this portable coffee solution is? Black and Decker CM618 single serve coffee maker will help you enjoy your active coffee making even when you don't have the time for it.
Single Coffee Maker Basics
This single coffee maker brews directly into the travel mug which is provided with the coffee maker. At the same time, it's ideal for a small kitchen with no space at all. Its design is very compact and is made to fit anywhere, even when you think there is no space left in your kitchen.
There is a permanent grounds filter so you won't have to get replaceable paper filters (but you could, in case you would want to). This filter is made out of metal and it works with both grounds or soft pods.
With 16-oz. travel mug, you will be able to make enough of coffee and take it with you so you can push throughout your day without any lack of caffeine.
If you're in a rush, after the coffeemaker is done brewing, you just have to pick up your travel mug and the coffee maker will turn itself off so you don't have to think about anything else.
Space Saving Coffee Maker
Thanks to the space-saving design Black and Decker CM618 coffee maker doesn't require a lot of space, and you can easily fit it anywhere.
It's ideal for apartments with a small kitchen or even students who would love to have a caffeine ready for them every morning in their dorm rooms.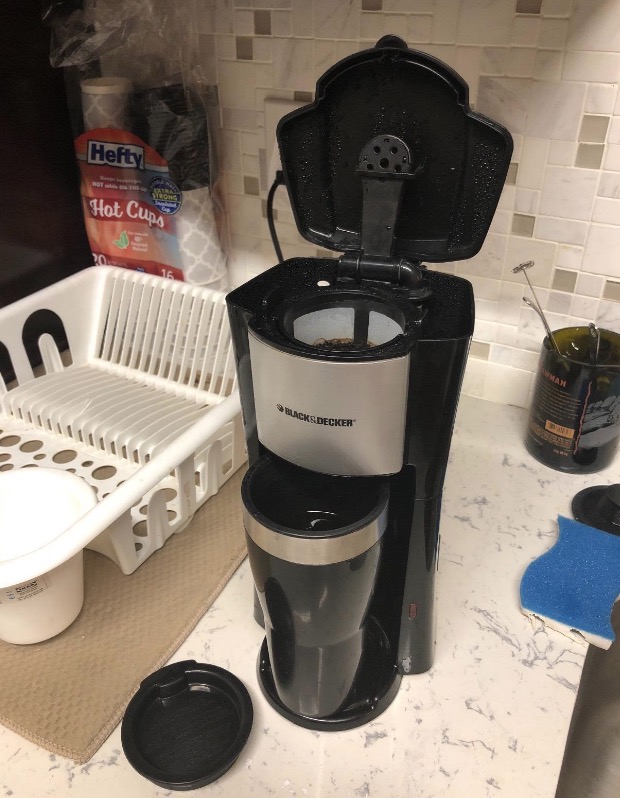 Black and Decker CM618 is lightweight which makes it pretty compact, so you can even store it after every use if you really have no free space at all.
Believe it or not, you won't be able to find a coffee maker as compact as this one is. Its size and dimensions work really well with the integrated coffee travel mug.
If you happen to be going camping and you'll have an access to the electricity, you could even take Black and Decker CM618 with you and enjoy freshly brewed coffee almost anywhere.
Using the CM618
Black and Decker CM618 coffee maker really stands out when it comes to its use. You couldn't possibly find an easier coffee maker for use.
It's an ideal coffee maker for people who are very active and are on a go most of the time. Simply have your coffee grounds or pre-packaged coffee pods ready and you can brew your coffee directly into a mug you can take with you.
This coffee maker uses a one-touch operation which is pretty convenient and it even turns itself off immediately after the brewing process.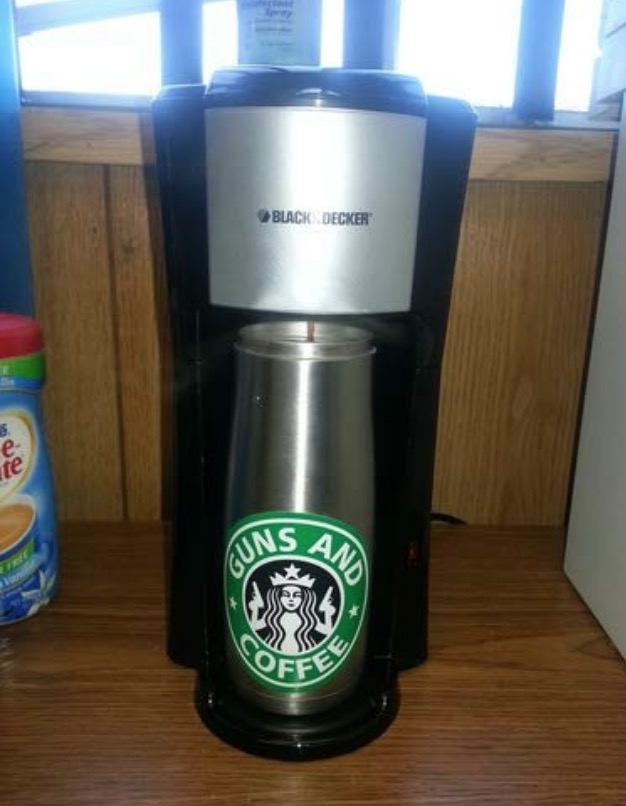 Black and Decker CM618 coffee maker can actually make your mornings smooth and flawless with the help of a removable filter and a permanent filter in the basket.
This coffee maker also has an optimal brewing temperature setting which will make sure that the water is heated correctly for the perfect brewing temperature which will result in ideal flavor.
It's incredible how simple yet useful and convenient Black and Decker CM618 coffee maker is. You'll get your morning caffeine routine in no time, and you won't have to spend your precious time in Starbucks either.
Needless to say, you won't even have to take your time to get used to this coffee machine. All it takes is one try, and you'll feel like an expert already.
Black and Decker have really thought well about crafting such coffee maker that offers a hassle-free experience for busy and hardworking people who are spending most of the time on a go, yet just want a cup of freshly brewed coffee.
Maintenance
It would be ridiculous if the maintenance was any way harder than the use of this simple coffee maker.
With that being said, you will even be able to save your time while taking care of your precious coffee maker.
First off, the compact design of this coffee maker doesn't require a lot of maintenance. Yet, all necessary parts such as filter basket are removable and dishwasher-safe which makes cleaning a simple task to do.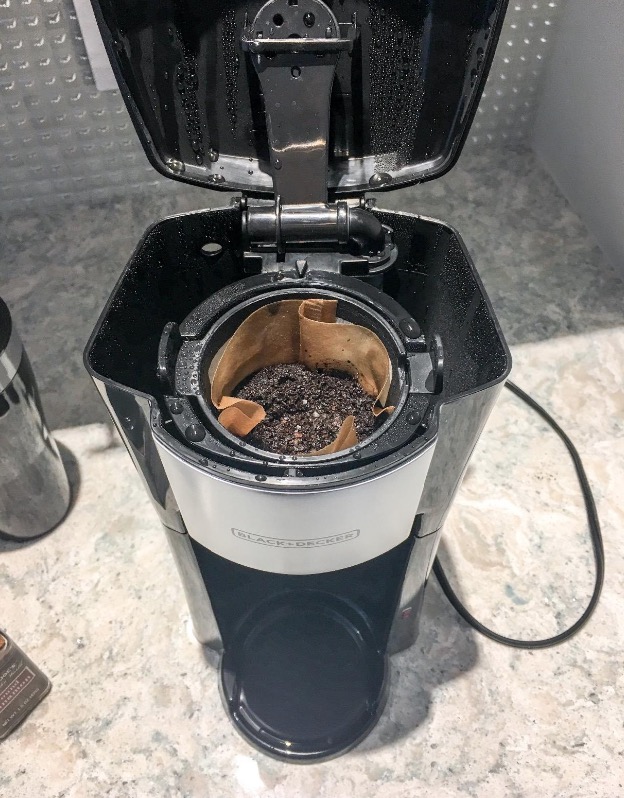 Other than the filter basket, you will also have to give a quick clean to the travel mug you'll be using every time to brew the coffee into.
After every few uses, you should remove the filter basket, give it a nice clean, and that's basically everything you will need to do to take care of your most likely favorite coffee maker.
The Pros and Cons
Here's everything that makes this coffee maker an absolute winner:
It's very compact and it doesn't require a lot of space.
It's portable and practical as well.
The travel mug is included with the coffee maker.
One-touch operation makes it super easy to use this coffee maker.
The filter basket is removable which makes cleaning a breeze.
Automatic shutoff after brewing gives your head a bit more freedom.
Optimal brewing temperature feature for the most ideal flavor.
Price is very affordable and it even gets discounted as well which is a win-win situation.
Now, let's see what's negative about this coffee maker:
K-cups can't be used with this coffee maker.
The opening of the water reservoir is just a bit too narrow which makes water-filling a bit complicated.
Brewing can't be stopped once the process has started.
Needless to say, Black and Decker CM618 isn't perfect at all, but it's definitely one of the better solutions for people who are always in a rush or simply want to get their hassle-free coffee every morning, with as little involvement with the coffee maker as possible.
For the super-cheap price this coffee maker sells for, you can't really go wrong and in my opinion, it would be a really bad opportunity to miss on.
Capresso 56004 Infinity Conical Burr Coffee Grinder Kit

Yeti Rambler 20 Oz Stainless Steel Vacuum Insulated Tumbler W/Magslider Lid, Black

Cafe Don Pablo 5Lb Decaf Swiss Water Process Colombian Gourmet Coffee Decaffeinated – Medium-Dark Roast