Two of the very best conical burr grinders are the Capresso Infinity and the Baratza Encore. If you're sitting there reading this with an espresso in one hand, you might be slowly nodding as I say this.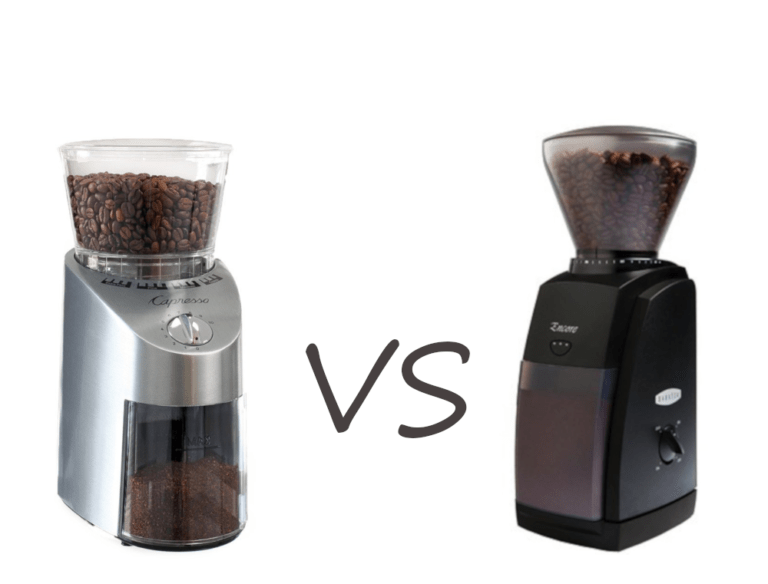 As these grinders are so good and useful, we have decided to do give them the attention they deserve.
Today, we bring you our reviews for what we think are the two best conical burr grinders you can purchase today, along with our reasoning for why these grinders are perfect for espresso, drip coffee, and also pour over methods like Aeropress and French Press.
We will also discuss the key factors that can help you make a perfect cup of your favorite brew each time.
Finally, we will discuss the importance of choosing the right coffee grinder and explain the difference between conical burr grinders and flat burr grinders.
Here is exactly what we are going to talk about today:
Without delay, lets dive into our reviews. We'll start with the amazing Capresso Infinity.
Capresso Infinity
The elegant, user-friendly design, in addition to the great price makes the Capresso Infinity the ultimate entry-level conical burr grinder for grinding your beans at home. Also, it looks great in just about any type of kitchen and won't take up a ton of counter space.
The Infinity is available in black, brushed silver or stainless steel. The black is the standard model that most people seem to like the best, while the brushed silver and stainless steel models will cost a little bit extra.
However, if having some different color options is important to you, then the Infinity here does supply three great color choices.

Capresso Infinity Features:
100-watt conical burr grinder
16 grind settings
Commercial-grade conical burrs- which ensures maximum flavor
Bean container holds 8 ½ ounces
Grinds container holds 4 ounces
Built in timer
Easy to clean
1 year limited warranty
Measures 7 2/3"L X 5 2/5"W X 10 4/5"H
Shipping Weight 4.2 pounds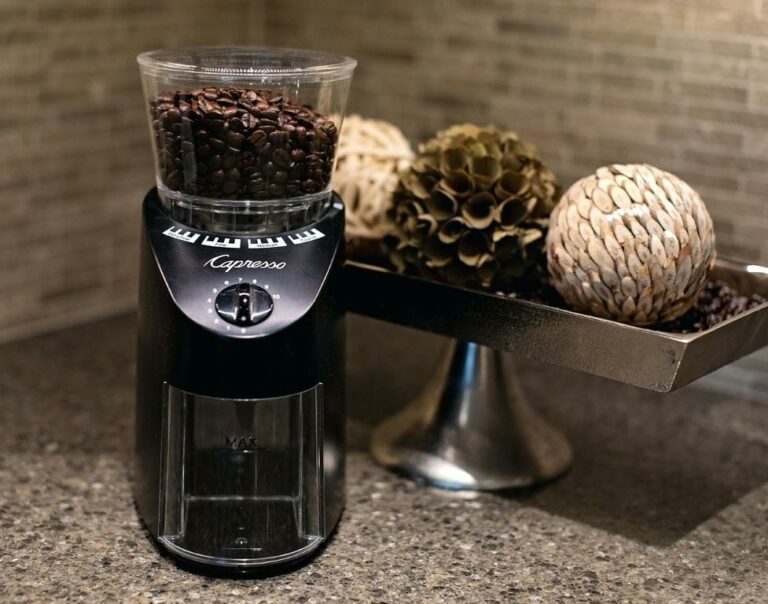 This grinder boasts maximum aroma and flavor retention due to the precise fit of the matched pairs of hand-assembled conical burrs.
Here is a detailed video review of this amazing grinder:
As mentioned in the video we showed above, conical burrs are the preferred burr due to the way in which they grind the beans – with less heat and more precision. This is why its rather rare to see burrs like this in a grinder like the Capresso Infinity – but there they are!

With the Infinity, the multiple gear motor produces slow grinding action, resulting in high precision grinding for grounds that range from a fine powder great for espresso machines to coarse grounds perfect for French press.
The Capresso Infinity is so quiet, you could almost consider it …soothing? It has a total of 16 settings; 4 each for extra fine, fine, regular and coarse. It features a safety lock system and a tight fitting ground coffee container.
Clean up is simple; the upper conical burr and bean counter lift right off, and it comes with a cleaning brush. A measuring cup and see through bean container are also included with the grinder.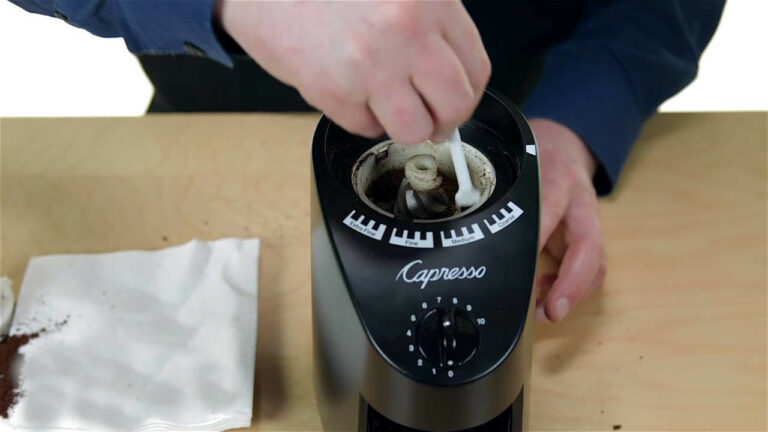 The Infinity is advertised as having commercial-grade conical burrs, implying you may want to use it for your place of business.
While we wouldn't suggest opening a café and having the Infinity be your only grinder on hand, it would make a great grinder to use in conjunction with a bigger commercial grinder – say, a Mazzer Super Jolly. It is way too small of a grinder to have it grinding coffee all day for dozens, if not hundreds of people.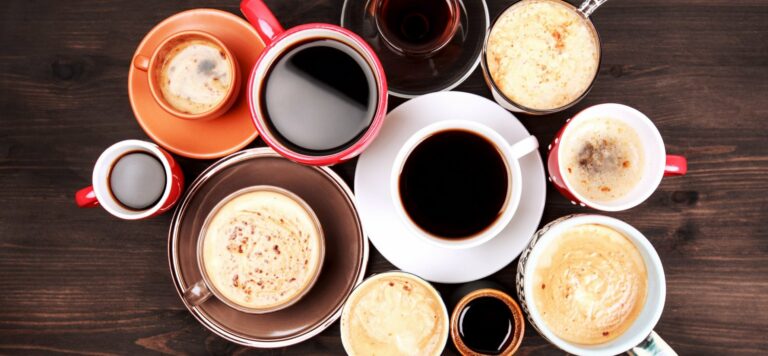 What the Infinity is definitely great for is home use. With this grinder, you can easily up your coffee skills to the point where you will feel like you can step in at your local café, if some moody barista suddenly has had it with their job and storms out.
At home, you can easily grind enough coffee to get your morning started. While the finest setting does boast a fine enough grind for Turkish coffee, this is notoriously difficult to pull off.
However, it easily grinds perfect and consistent fine grinds for espresso and coarse grinds for the French press as well.
The built in timer can be set from 5 to 60 seconds – allowing for a few moments of multitasking. This is a great feature, we must confess. Timers are certainly a handy tool when you are multitasking at home, as many of us often are.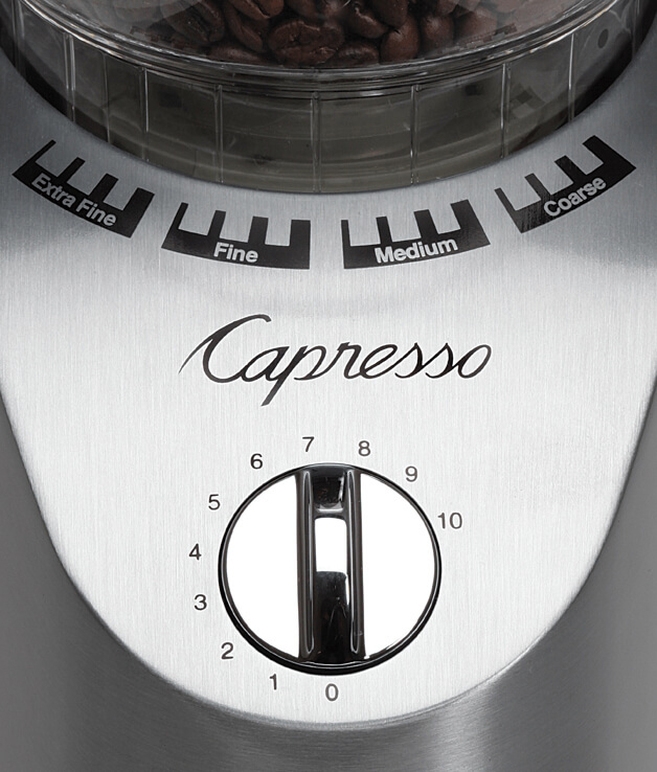 The only drawback to the Infinity is that the grinding dust will pack up under the burr after a while, although this is really true of any grinder that gets used on a regular basis.
However, this is easily avoided with a quick clean out with the included brush after each use, or you can use a Datavac electric duster to literally blow out all the loose coffee dust that sometimes accumulates.
You know we love the Capresso Infinity because it we chose it as our top coffee grinder between $50-$200. If you want to read more about how it conquered and otherwise totally dominated a slew of other awesome grinders, click here.
Next, we review the incredible Baratza Encore…
Baratza Encore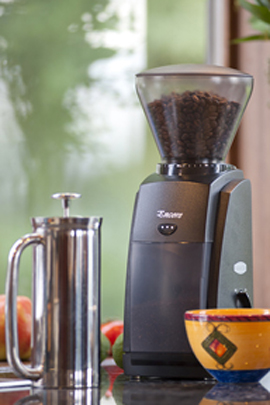 This sleek black conical burr espresso and coffee grinder would look great in any kitchen with its slightly curvy, organic appearance, and practical-looking design.
The Encore is highly lauded by many coffee experts as the best entry level coffee grinder for home users and serious coffee and espresso fans, at around $120 generally speaking (price depends on where you buy), and the Encore's users echo that sentiment.
Baratza Encore Features:
230 Volts
40 grind settings
The DC motor keeps your beans cool, even during extended grind times
The Gearbox significantly increases durability of the drive transmission
Grinds quietly and efficiently
Speed to Grind: .8 – 1.1 grind per second
Bean Hopper capacity is 8 ounces
Grounds Bin capacity is 5 ounces
Measures 6.2"L X 4.7"W X 13.7"H
Shipping Weight 7.4 pounds
The quality you get from the Baratza Encore is outstanding and we must say perfect for espresso, but the Capresso Infinity is a bit more affordable so its hard to ignore that fact.
With 40 settings to choose from, you can grind beans fine enough for espresso or coarse enough for French press, and everything in between. The Encore minimizes grinds left in the grinder to maximize freshness and taste.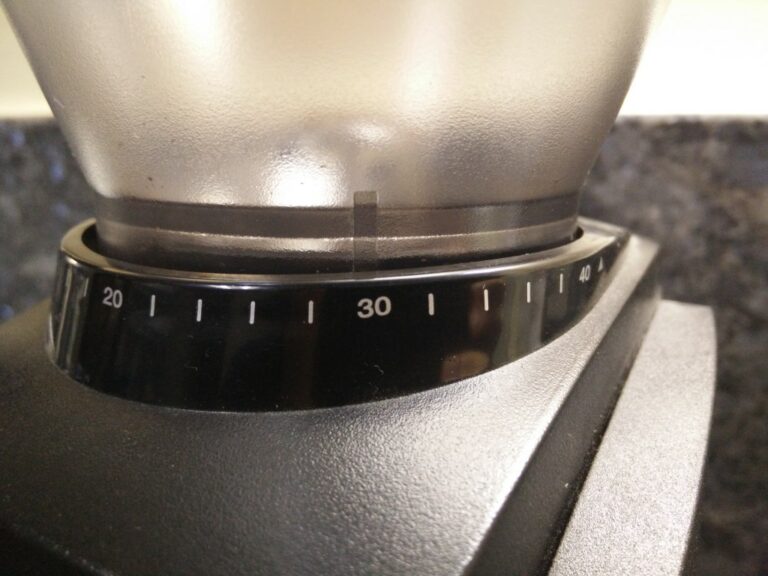 The Encore features a powerful, high torque DC motor that effortlessly drives the conical burrs. The motor turns slowly allowing for slow, cool grinding and quiet operation.
This slow speed reduces noise, heat, and static during a grinding session. The circuitry is equipped with a thermal cutoff switch that automatically resets itself.
Here's a great video explaining the workings of the Baratza Encore…
The front-mounted pulse buttons makes it easy and convenient to grind on demand right into your brew basket. It also has a removable hopper, but be careful, as there is no locking mechanism on it, and this could result in beans everywhere! (a slight drawback)
Here is one more video about the Baratza Encore explains why it is one of the best conical burr grinders out there.
More Info On Conical Burrs
There are two main types of burr grinders that are found in most grinders: flat burrs, and conical burrs. The two grinders we discussed above – the Infinity and the Encore – are both conical burr grinders, as opposed to flat burr grinders. The image below shows a conical set of burrs on the left, and a set of flat burrs on the right…

Next, we talk about the key factors that make a perfect cup of coffee.
What Determines Coffee Greatness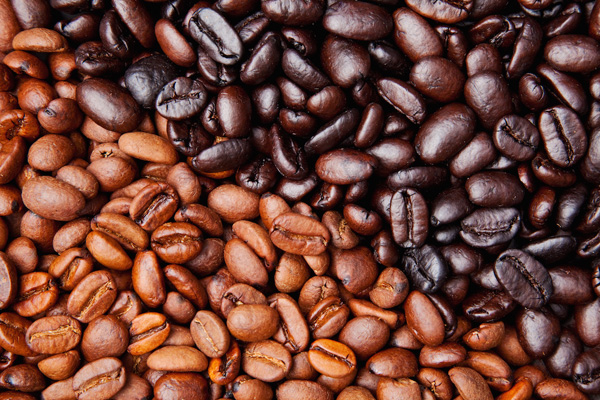 Starting with the right coffee grinder is essential in brewing a delicious cup of coffee at home. Pre-ground coffee is fine, but grinding the beans yourself puts your drink on a whole other level if done correctly.

There are other factors which determine coffee greatness as well, of course – such as the type of beans, freshness of the grind, which brewing method you'll be using, and even the type of water you use, but we think that the real determining factor in terms of the quality of your coffee is your coffee grinder.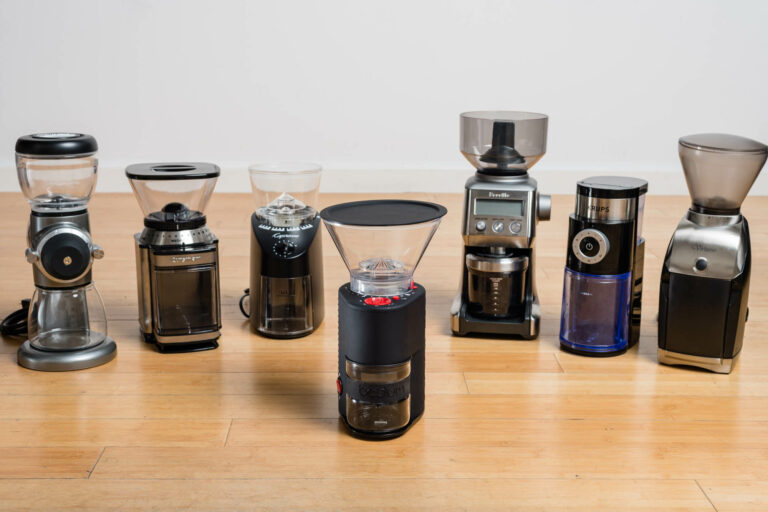 Why? Because the wrong grinder has the ability to rob the bean of its natural flavor, or even ruin its flavor if you don't grind properly. This is partly due to user inexperience, such as using the wrong type of grinder for your chosen brewing method.
Before we get to why we prefer conical burr grinders to flat burr grinders, lets clear something up once and for all – any kind of burr grinder (flat or conical) is going to be a step up from blade grinders.

Have a look at the picture below. On the left is a conical burr mechanism found in conical burr grinders, and on the right is a typical blade grinder with its whirlybird blade.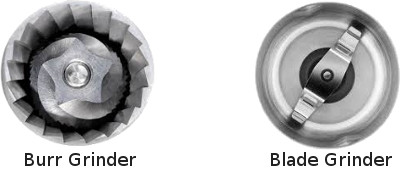 The difference between these two methods of "grinding" is marked. Conical burrs are more heavy duty, create less heat, and overall do not slice the hell out of your fresh whole coffee beans, where as the common blade grinder has no such restrictions.
Blade grinders, while they are usually quite cost effective and do the job fast, are not the grinders preferred by pro baristas under any circumstances.
All in all, if we have any choice in the matter, we'd just as soon stay away from blade grinders entirely. They are more static-y, and can often lead to a great big mess in your kitchen if you're not careful.
For a good French press grind, you need a consistent, coarse grind free of larger chunks, which blade grinders are generally incapable of providing – and you definitely don't want sticky coffee grinds, which blade grinders are definitely capable of providing.
Sticky coffee grinds means the natural oil in the beans has been ruined during grinding, and will affect the overall taste of your coffee.
Finally, here's a great video which compares conical burr grinders and blade grinders and why a conical burr grinder is the way to go!
Let's discuss the differences between Conical burr grinders and Flat burr grinders…
Choosing Between Conical Burr Grinders & Flat Burr Grinders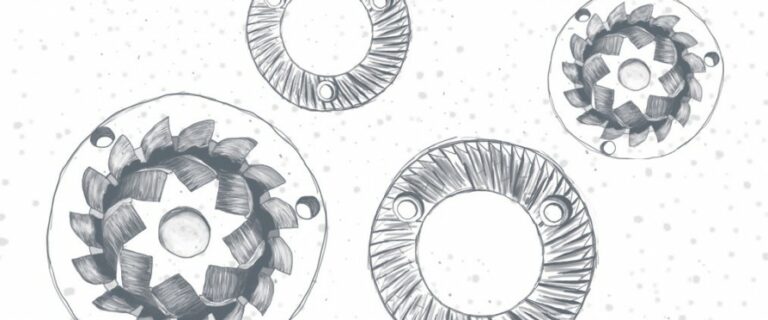 As you can see by the diagram below, a flat burr grinder operates on a horizontal plane.
You can see the the coffee beans descend by way of gravity into the burr chambers where the top flat burr is spinning while the lower one remains stationary.
At this point centrifugal force takes over and grinds the beans down into smaller and smaller grind particles, or tiny slices, resulting in our grind which exits through the tiny openings you can see here. The larger that opening is, the coarser the grind.
This method of grinding, or slicing, still yields a flavorful grind, but its not as flavorful as with conical burr grinders. Also, this process is overall a bit louder than with conical burrs, which tend to be on the quieter side.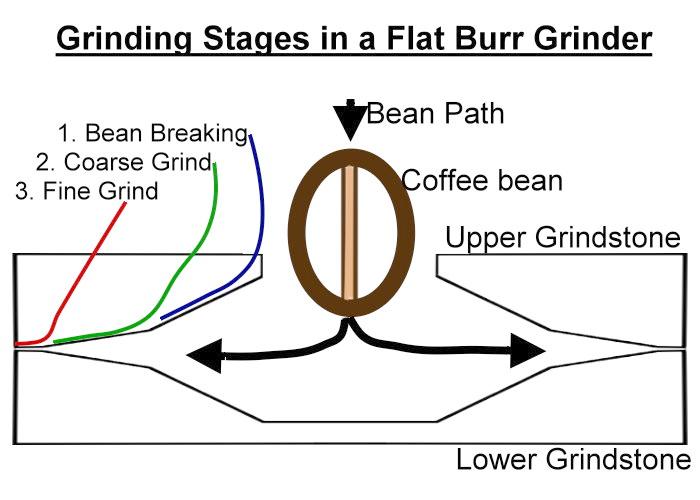 Finally, we explain why you should choose Conical burr grinder over Flat burr grinder.
Advantages of Conical burr grinders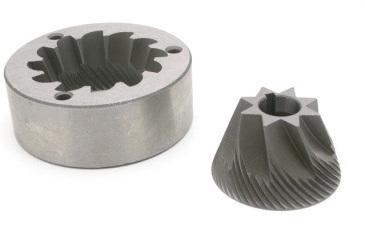 Conical burr grinders operate a lot differently than their flat burr counterparts, using completely different laws of physics, giving them their distinct advantage over grinders which employ flat burrs. With conical burrs, this cone-shape is the key to its success.
This shape provides several overall advantages. One advantage is that because of the more vertical position of the burrs, the beans simply fall into them and let gravity do most of the work.
In order for flat burrs to get the centrifugal force they need to operate, this requires the motor on the grinder to work harder, which creates heat. The beans are adverse to this heat, as it evaporates essential oils containing the bean's flavor.
With conical burrs, they stay cooler and hence the grinding process isn't so taxing on the bean and the flavor remains intact.
This video of a conical burr grinder in action will give you an idea of what we're talking about here.
Another advantage of conical burrs is in the "pre-breaking" process. Because of the cone-shaped design, the beans fall into the burrs and gradually get ground up, in stages.
This more gradual process continues until they reach the bottom of the cone, at which point they've sufficiently been ground to the specified grind you selected.
With flat burrs, there is less of a gradual grind, which, again, means that the coffee bean is going to be in for more of a "wild ride", as it were.
Here is a useful video narrated by a coffee expert, which talks about conical and flat burr grinders, which will help put it all in a better perspective.
To Recap
The slower operation of the conical burr grinder means less friction and heat being produced during grinding, which greatly reduces the loss of flavor through the coffee's oils being vaporized.
So now that you know a conical burr grinder is the best choice to grind your beans, how do you decide which model or brand is best for you? We have suggested two excellent conical burr grinders here – the Capresso Infinity…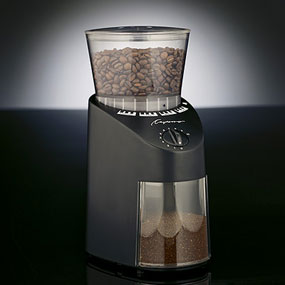 …as well as the Baratza Encore…