This is a review of the Coffee Gator Coffee Canister. It's a coffee vault that has a degassing valve and is quick sealing. It's a canister that will look fantastic on your counter, too. There are a variety of colors and sizes for everyone. With all the features available along with the great colors, this canister is a good choice for your beans or grind.
Features of the Coffee Gator Coffee Canister
Degassing valve
Fast sealing
Stainless steel body
Stainless steel mounted lid
Tracking wheel
Expiry date wheel
Various sizes and colors
Degassing Valve
The biggest destroyer of flavor for roasted beans is the CO2 that it emits. When you seal the beans into a container, the beans continue to emit the gas. That gas saps the flavor of the beans. In fact, most professional coffee brewers will tell you that the CO2 emitted from your roasted beans should be allowed to vent for a few days before it is even brewed into your favorite cup.
The degassing valve will keep your beans fresh while allowing the CO2 to vent properly. While the degassing valve will let the gasses out, it will not allow oxygen in to attack your beautiful roasted beans.
Fast Sealing
Another problem with roasted beans is oxygen. It causes the beans to quickly become stale and old-tasting. There are many things that will attack your beans including light, air, high temps, and moisture. The seal on this coffee vault will quickly protect the beans and grind from all the things that can make it stale.
There's a perfect time period from 5 days to a week or two where the beans are perfect for grinding and brewing. You'll need a fast-sealing coffee vault to preserve the beans until the perfect time for brewing. As you become more knowledgeable about roasting and preparing your beans, you'll understand the process better. But, you'll still need a good coffee vault for preserving your beans.
The fast-sealing container also has a quick release bail clasp for easy access to your beans or grind.
Various Sizes and Colors
The container comes in more than stainless steel silver. There's a dark gray, blue, green, orange, red and even a pink container. The outside of the container can be shiny or matte depending on the color you choose. You can base it on your kitchen colors, or pick a contrasting color for some drama.
The container comes in 3 sizes. There's a small 4.3 inch container that will hold 11.1 ounces of beans. It'll hold 9.2 ounces of grind. The medium 6" container will hold 16 ounces of beans and 13.3 ounces of grind. The large container is 7.5 inches and will hold 22.8 ounces of beans or 19.5 ounces of grind.
We recommend that you consider how many beans you'll roast or grind to ensure that you don't have a ton of extra space in the container.

Coffee Gator Stainless Steel Container – Canister With Co2 Valve And Scoop

Zurich Coffee Canister

Beansafe Coffee Storage Solutions In Bpa-Free Polypropylene White

Tracking and Expiry Date Wheel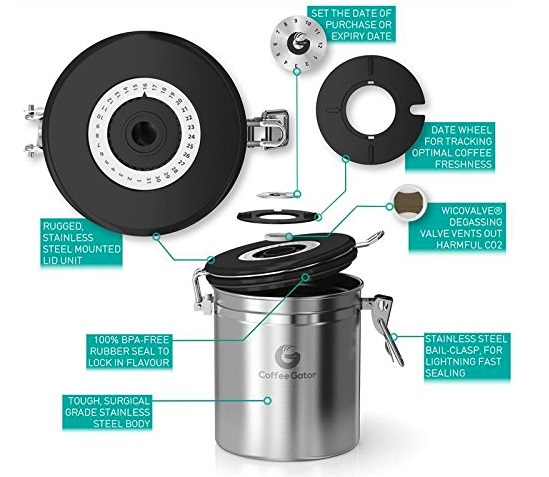 You can keep track of the exact date when you'll need to use the beans or grind by. It'll never be a guessing game to remember the exact day when you roasted the beans. Instantly, you'll be able to see the exact use by date.
Stainless Steel Body and Mounted Lid
The stainless steel container won't break or get ruined if it accidentally falls or gets knocked over. That's a concern if you have children in the home. Your significant other might not be as careful as you'd like, either. You might even be a bit clumsy. That's never a problem with the container. It has a lid mounted directly to the container, too. It'll never get lost or separated from the container.
Frequently Asked Questions
Does the container have any pieces with BPA?
BPA is often used in hard plastic, but the company doesn't use BPA in their containers.
Can the container be kept in the refrigerator?
The container can definitely be kept in the fridge because it's a durable stainless steel. It's not recommended that you keep coffee in the fridge, though. It alters the taste by causing condensation and moisture.
Should the canister be used for beans or grind?
It can be used for either one. Choose whether you want to use it for beans or grind at one time, though. The two shouldn't be mixed.
This Coffee Gator Coffee Canister is a great coffee vault for keeping your beans fresh while allowing the gasses to be released properly. It can be used for grind, too. The choice is up to you, but you'll be happy with how fresh your coffee is for beans and grind.
Arbuckle'S Whole Bean Coffee (French Vanilla)

Shanik Premium Quality Stainless Steel Manual Coffee Grinder Burr For Precision Brewing Portable

Cuisinart Dcc-3200 14-Cup Glass Carafe With Stainless Steel Handle Programmable Coffeemaker, Silver