I am 70 years of age tomorrow and yes I was a "beatnik".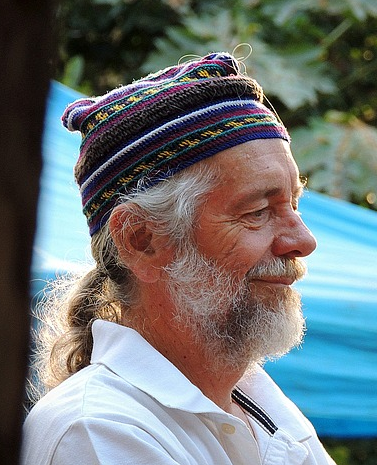 The "Beat Generation" was born in 1948 when Jack Kerouac, an iconic poet and novelist of the time, wanted to recognize the youth in New York City. He was famous for his spontaneous poetry such as this haiku…
One flower
on the cliffside
Nodding at the canyon
A haiku poem is a type of Japanese poetry that is made up of 3 lines with a total of 17 syllables.
There are 5 syllables on the first line, 7 syllables on the second line, and 5 syllables on the third line.
If you check out Jack's flower poem, I don't think it is a true haiku, but I still like it.
Jack was a rebel, and a writer of beautiful words. I am sure he hung out in many coffee houses.
Here's a video of the great beatnik poet himself…
Coffee, Beatniks, and The '60's – The Way It Was
In the mid 60's, I remember visiting downtown Toronto Canada, on a Friday and Saturday night.
I lived in a little city some miles away, and so going to Toronto was a big deal.
Some folks think Toronto is Canada's capital, because of the CN Tower, maybe, but our capital is Ottawa.
Anyway, when friends got together we went directly to a street called Yorkville in Toronto. This is where the action was back then.
It was only one block long and all of the houses on both sides of the street were coffee houses.
This street didn't get busy until after midnight and all of the people on the street seemed to be in their late teens.
Here's a picture of Yorkville during the daytime, still bustling…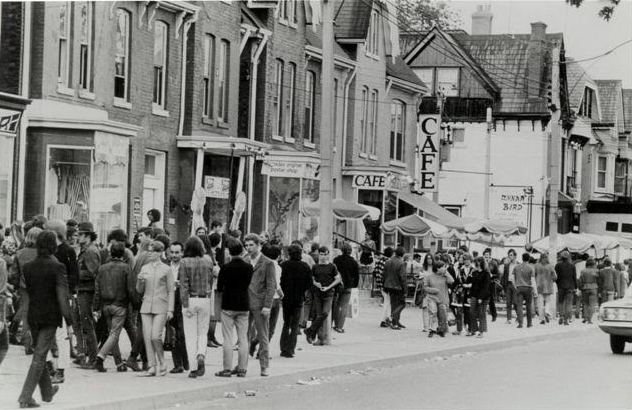 My girlfriend and I were 18 at the time, still in high school, but wanting to get a bigger perspective on life.
Each coffee house began with live folk music happening.
This soon evolved into psychedelic folk rockers. The musicians and singers were usually in the window so they could be seen easily by the crowds outside.
There was even a show called Shindig! which was a monthly dance party held on Bloor St. in Toronto which was always very popular.
Here's a clip of Shindig! from way back when…
Many of the teens in attendance at these parties / concerts wore bell bottom pants, and wore no shoes.
I was actually a bit of a square, so I don't remember alcohol or drugs but I do remember drinking my share of coffee.
We drank it black, maybe just to be "cool cats".
We danced and moved from house to house until the sun came up. Many people recited poetry and lots of new friends were made.
Here's a great photo from the Toronto Star.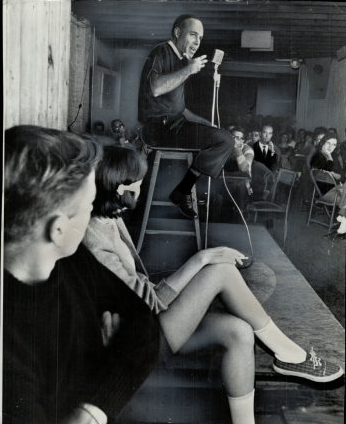 By dawn, the street was vacant. Yorkville was like Haight Ashbury in San Francisco.
Walking westward along Yorkville from Bay Street, you stop in at Chez Monique, at # 88, where the house band was the blues band called the John Kay And The Sparrow.
This band later became known as Steppenwolf and became world famous. The 71 Club and the Half Beat were also very popular coffee houses.
Here's a sampling of John Kay & The Sparrow. You can hear that "Born To Be Wild" voice in there, can't you?
We spent most of the early morning hours in these two coffee houses. Even though they were also super crowded, we loved every minute of it.
I have to mention the go-go dancers at the Mynah Bird at 114 Yorkville. These dancers gyrated all night long in a glassed booth, up on the second floor.
Crowds and crowds of teens, including us, watched in amazement from the street below.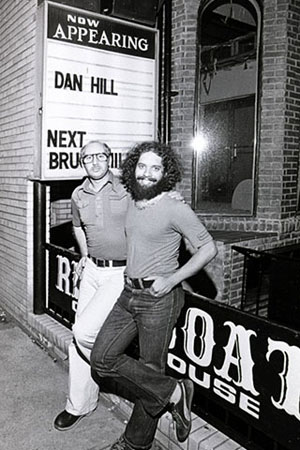 The most famous of all Yorkville's clubs was the Riverboat coffeehouse, at 134 Yorkville.
In 1964, it became part of a very popular North American coffee house circuit including The Chess Mate of Detroit and the Bitter End of New York.
The seats in the Riverboat were set up perfectly so everyone could see and hear without any interruptions.
Simon and Garfunkel, Tim Buckley, Dan Hill, Arlo Guthrie, Seals and Croft and James Taylor played the circuit and were in this coffee house. I wonder if they liked the coffee?
Here's a video interview featuring Jane Harbury, the impresario at the Riverboat at the time talking about some of her memories from that time.
Coffee was a mysterious potion that brought people together and opened their minds to the world and its potential!
Eric Clapton and his band, Cream, went right to the Riverboat. It was home away from home for them.
Everyone who was anyone in the music industry in the 60's, played the Riverboat coffee house in Yorkville, except Bob Dylan.
But there were rumours that he lurked in the shadows.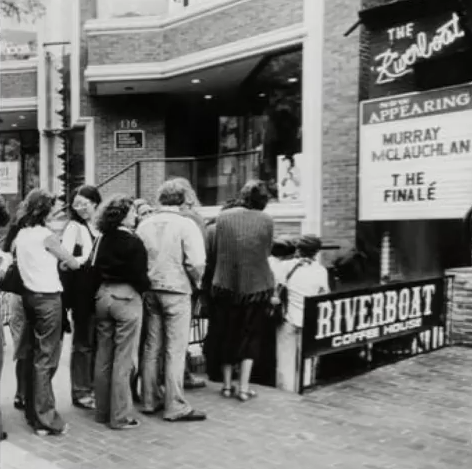 Coffeehouses – Then And Now
Were there coffee houses hundreds of years ago in cities like Damascus, or Cairo, or Constantinople?
Probably … Rumour has it that many different kinds of conversations took place in coffee houses of the past.
Simple games were played like hopscotch and chess and raconteurs of all sorts told stories and spoke in rhymes.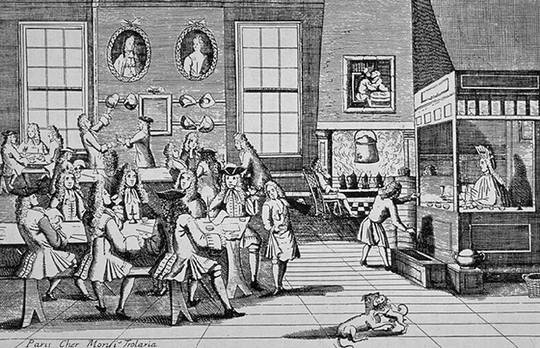 Coffee was there throughout history. Maybe travellers brought it with them when visiting far off lands. It would have made a favourable gift for Kings and Queens.
In Victorian England, coffee houses were set up for working class people to have a place where they could come and relax after work and visit with their friends.
There was no alcohol present. This wasn't a pub.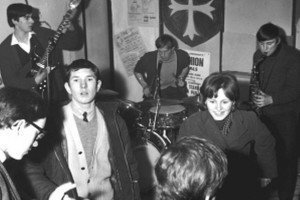 Today, as respectable senior citizens living in the suburbs of a modern Canadian city, my wife and I are still old beatniks.
We love all kinds of music and we still live one hour from downtown Toronto and Yorkville.
But when we go to Yorkville now, we are looking for a dessert shop called, "Pie in the Sky".
We do wander down Yorkville street and think back to the days of the Mynah Bird go-go dancers, the crowds of barefooted teens, and the black drink that kept us all moving until dawn.