QUICK STATS
DIMENSIONS: 8.00″ h x 3.25″ w x 3.25″ l
SHIPPING WEIGHT: 12 OUNCES
MANUFACTURER: CONTIGO
CAPACITY: 20 OUNCES
OTHER SIZES: 16 OUNCES
EXTERIOR MATERIAL: STAINLESS STEEL
MODEL NO: SSG100B01
LID TYPE: SNAP SEAL: ONE PIECE LEAK PROOF
KEEPS HEAT IN: 7 HOURS PLUS
KEEPS COLD FOR: 18 HOURS
FITS CAR CUP HOLDERS: YES. MAJORITY
COLORS: GUNMETAL, GREYED JADE, VIVACIOUS
LID DISHWASHER SAFE: YES
BPA FREE: YES
WARRANTY: LIFETIME
OUR RATING: 4.5 STARS OUT OF FIVE
In today's review, we take a look at the pros and cons of the Contigo SnapSeal Travel Mug.
According to the following video advertisement by Contigo, we can clearly see that man's best friend is not some hairy four-legged beast, but actually a vacuum-insulated, stainless steel travel mug that you can take with you anywhere which comes in a variety of colors and is available in 16 oz or 20 oz, btw.
WHO NEEDS A TRAVEL MUG?
We've all been there. Trapped in a workplace with no proper coffee and only the drink machine of doom, dispensing boiled-sock-juice to keep you caffeinated until home time.
Meanwhile, sitting at home is your new espresso maker. Memories of that morning's pre-work Americano come flooding back and nearly brings you to tears. If only there was some type of…oh, let's say some sort of travel mug / tumbler that would allow you to bring your hot beverage with you.
After all, what is the point of having a great espresso maker and shit hot grinder at home, if you can't take it with you when you're out and about? Right – you need a travel mug!
If you are deprived of decent coffee all day and your only respite is the nearest over priced Starbucks, having a travel mug can not only help you bring the good stuff to work with you, but you can bring it on trips – anywhere you go! And it will save you big bucks in the long run as well.
COFFEE TRAVEL MUG-OLOGY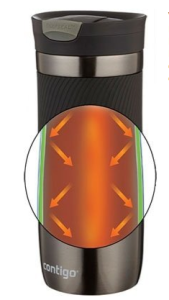 Welcome to the world of travel mugs, which have become the must have item of the twenty first century and no longer the sole preserve of teachers or drivers (although these are clearly still a handy item for drivers).
Being able to have a hot, spill proof drink in the car, which fits neatly into the cup holder and stays warm for the duration of even a very long journey is certainly appealing.
But perhaps you have a long commute by train every morning. Don't risk third degree burns and the ire of your fellow travelers by chancing it with a foam cup. With a vacuum-sealed travel mug you can safely imbibe the beverage of your choice, then throw it into your bag, without fear of it leaking.
CONTIGO TRAVEL MUG – NO LEAK GUARANTEE
Visually pleasing, this is smart and sleek with an elegant stainless steel design. Designed to be used single handed, this is not overly cumbersome and won't prove problematic for those with smaller hands or who are not as dexterous as they once were!
Available in two other colors to gunmetal (a shade of gray), which are Vivacious (a cherry red color) and greyed Jade (a sort of muted green). This can also come in a smaller size if you prefer (16 oz). The Snapseal comes with a no leak guarantee as well.
Autoseal VS. Snapseal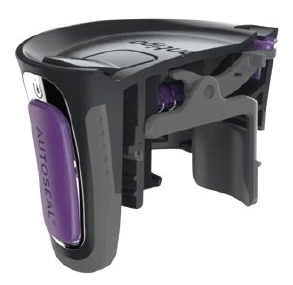 There is something we should get out of the way which we get asked about a lot, and that is the difference between the Contigo Autoseal, and the Contigo Snapseal we are talking about mainly in this review.
Basically, the Autoseal has been designed to make for a one-handed drinking experience, allowing the lid to close between sips. It is an ingenious system, and the product has caught on like wildfire on Amazon, with many glowing customer reviews for this great product.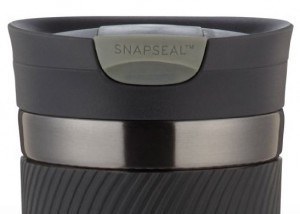 The Snapseal, on the other hand, is just about as popular, but the difference is that there's no auto-sealing going on here.
The lid on the Snapseal is easy to snap shut, but you will have to snap it closed yourself, and that means if you're driving the seal will be open until you snap it closed yourself. This is a minor niggle, but it is a distinct design difference and we thought we should mention it. We should say though, once you snap it shut, you can turn this thing upside and shake it, nothing gets out.
Contigo Snapseal VS. The Rest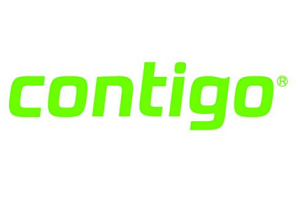 Compared to some travel mugs, the Contigo Snapseal is easier to use for sure. There is less messing around than some of the more laborious lid designs.
It has been designed for use on the go and with only one hand and compared to some other models, this has fewer parts that are required to move, to make drinking from it more straightforward.
Easy To Clean
The dead simple design also makes it easier to clean than some of its fiddlier counterparts and the lid is safe for dishwasher use (although not the mug itself).
The patented SnapSeal is the hidden gem of this mug, it really is simple to use and reseals with a reassuring 'click' each time, so you can be certain that your drink is secure and will not spill out everywhere.
So what, if any, are the hitches with this product?
Any Issues?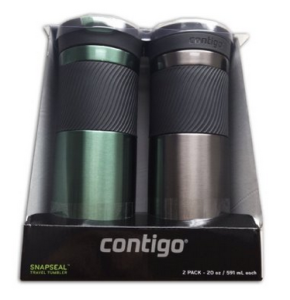 Although the majority of reviews are quite favorable, not everyone is totally tickled pink by this coffee travel mug.
There have been a few complaints. Like what? Well, there have been reports that it is uncomfortable to drink out of or difficult to use.
Put bluntly, some people have found it hard to get their mouths around – literally. Tales of scalding hot contents burning people's top lip have been heard and it is apparently difficult to get a really long deep drink out of, according to some customers.
Perhaps these things can be gotten around by simply waiting for the contents to cool a little before pouring in and learning to sip, rather than gulp your drink. In any case, some of these obstacles to a perfect travel seem rather preventable, rather than labeling them as design flaws.
What Reviewers Have Said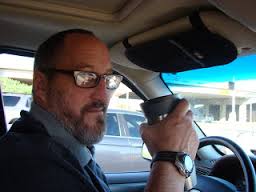 "This works great keeping my beer cool in the 90 degree heat of summer. I can be out all day and still sip ice cool beer. Sometimes when you're out and about it's handy not to be swigging on an open can – as well as if you get stopped by law enforcement. This is unlikely to arouse suspicion AND keeps your beer cool without spilling any. Win Win."
"Nice and easy to clean and perfect when operated correctly. This new SnapSeal lock has saved us a ton of spills and mess in our new car. Also, unlike some of the other travel mugs out there, I can operate this one just fine single handed and I don't have very big or strong hands."
"Really didn't like this lid as burning hot liquid kept spilling on to my top lip. When I contacted Contigo customer service, they were helpful and sent me another lid, which does work better, but doesn't cool the coffee down! I guess I can't complain too much about a flask that keeps a drink TOO hot."
"This really keeps liquids super hot for hours. If you have put boiling hot coffee in it four hours beforehand, boiling hot coffee will come out! I have started to allow my coffee pot to stand a while before pouring into the mug because it was just too hot! This is the best steel travel mug I have found so far."
Final Word
When all is said and done, this is a pretty darn good mug. It looks nice and it is robust as well being dishwasher safe (the lid) and is easy to clean.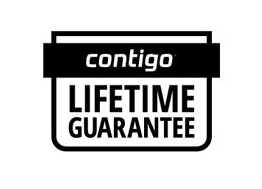 Should anything go wrong, Contigo customer service are reportedly very good and honor the lifetime guarantee fairly assiduously.
Contigo Spill Proof Mug
There are cheaper mugs available, sure, but they might not all be as reliably leak proof or have the practicality that the SnapSeal has. We give it 4.5 out of five and says it is worth it for the money.