Could the Cuisinart DBM-8 Supreme Grind be the best burr coffee grinder for under $50?
Based on what people are saying about this nifty little unit, it very well might be. When you take a closer look at this grinder, its not hard to see why people are going crazy for it.
It is sleek, stylish, and packs a lot of value into that $50 (or less).

In this detailed review, we will tell you how the Cuisinart DBM-8 Supreme Grind Automatic Burr Mill Coffee Grinder scores overall, judged on the following criteria; design, quality, longevity, performance and price.
Cuisinart DBM-8 Design
At a first glance, this coffee grinder is very well put-together and appealing visually. The edges are straight and neat and it has a shiny black finish.
It is made from stainless steel and will fit sleekly into the corner of any kitchen area, no matter how pressed for space you are.
Specifications
Measuring 6 x 7.13 x 10.75 inches (15.25 x 18.11 x 27.3 cms) and weighing 4.7lbs (2.13 kgs) the unit is built to North American Electrical Standards.
This is a heavy duty fully automated grinder, designed for a large workload and thirsty coffee lovers!
That said, it doesn't take up a lot of counter space and can be used to grind for a variety of brewing methods, from French Press to espresso.
Value For The Price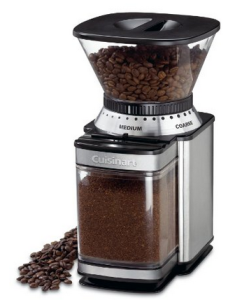 This is not one of the more expensive coffee grinders out there starting at about $30 (depending when you buy) and this review takes into account the level of performance, which is quite high for the relatively low price tag.
Generally speaking, we feel that the Cuisinart DBM-8 is one of the best burr grinders, for the price, on the market.

Here are some of the best burr grinders for home use according to our editors!
Capresso 56001 Infinity Conical Burr, Black

Baratza Encore Conical Burr Coffee Grinder

Hario Ceramic Coffee Mill – "Mini-Slim Plus"

Rancilio Hsd-Roc-Sd Rocky Espresso Coffee Grinder

Breville Bcg820Bssxl The Smart Grinder Pro Coffee Bean Grinder, Brushed Stainless Steel

Capacity
Whether you're re-caffeinating the 5000 or just want a quick brew on your own, the number of cups can be adjusted by a rather swish slide selector.
Between 4 to 18 standard cups can be guzzled in one sitting and, in fact, there is the capacity in the grind chamber to hold up to 32 cups.
Below is a quick video review showing the Cuisinart DBM-8 coffee grinder in action.
Need Coffee Now – How Fast Is It?

Need a fix fast? This machine can dispense a medium grind for 12 cups within 40 seconds and 18 cups in just under a minute.
Some reviewers have said that this is too slow for them, but I am not sure how fast is fast enough, if that is the case!
More Features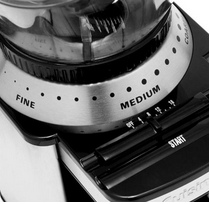 Using a burrs to grind your beans in order to produce a uniform and regular grind of coffee, with a black stainless steel casing, this coffee grinder comes with an 18 position grind selector – ranging from the very coarse to the ultra fine.
If you've got the right espresso machine, having this grinder nearby is very handy.

Safety features include a shutting off mechanism, when complete and not functioning without the hopper, the hopper lid, grinding burr or grind chamber, which can be removed for cleaning purposes.
This product comes with an 18 month warranty.
Burr Grinders VS Blade Grinders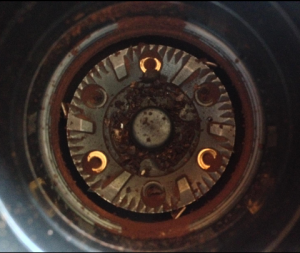 Cuisinart DBM-8 Review
Generally speaking, most coffee aficionados will tell you that they prefer the burr system of grinders as opposed to the blade system.
This is because the burr does not generate the same heat that a blade grinder will, nor will it leave the imbiber with the bumpy uneven type of grind that can occur with other grinders.
The Cuisinart DBM-8 is a burr grinder, and that gives it an edge over other grinders in its price range, which tend to be blade grinders.

A blade grinder will repeatedly hit the hapless coffee bean, coming at it with heat each time, that eventually dries it out.
You can actually watch the color deteriorate to a paler brown. You do not get this with a burr mill. The coffee bean is split the once and that is the end of it.
The richness and the flavor of the bean is still kept, in it's entirety.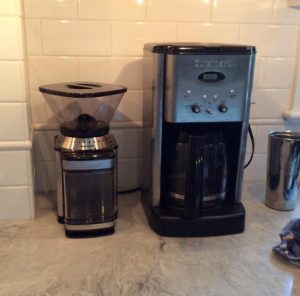 As one bean addict puts it: "The flavor of coffee ground in a burr mill barely resembles that of beans chopped up in a grinder with spinning blades.
The spinning blades keep hitting the coffee over and over, heating it up. If you watch, you will see the coffee turn a lighter shade of brown as it dries out.
A burr mill spits the ground beans into a cup as soon as it's finished with them, and the grounds are the same shade as the beans were.
The difference in flavor is tremendous, so recommending a burr mill, such as the Cuisinart, is a no-brainer".
Performance
Catering for the wide palette of the coffee addicted, from French Press, to drip, to Espresso, this coffee grinder dispenses each grind within a neat lid to minimize waste and fuss.
There is a rather pleasing "one touch" button, that only requires a simple press and the whole thing is done in one step.
Endurance
Most reviews for this product have been encouraging, with an average lifespan of at least, if not more than, five years.
Many people have reported going on to buy multiple models either for themselves or others as gifts.

Coffee = Fantastic
From our own observations, we have found the Cuisinart DBM-8 to be stylish and capable and is easily one of the best coffee grinders in this range.
It makes fantastic coffee with a minimum of fuss.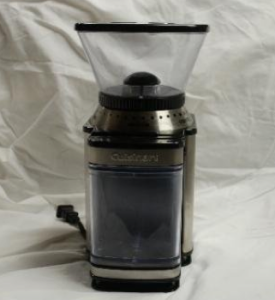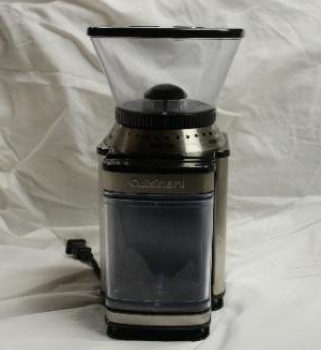 For taste, user friendliness and longevity, it performs very well against the other grinders in it's category and I would recommend it for the relatively small price tag it comes with.
The multiple grind settings are useful and it produces a very nice consistency of ground coffee.
It's general life expectancy (in the five year range) is what I would expect and the only minor drawback is it is a bit noisy when operated.
Like anything, you will want to experiment with this machine, trying different beans and different settings and types of grind.
Pretty much everything this grinder made was worth the effort and will not be a disappointment if you buy it.
Conclusion
All in all it is a good buy compared with other, even slightly more pricey burr coffee grinders.
Perhaps if you already own an expensive espresso machine, you may wish to get a separate (and more costly) grinder, just for doing that, as some users have reported the grind for this purpose is merely adequate and not outstanding.
As long as you are not obsessed with getting something higher end, this should not present a problem.
For anyone (like me and members of my family) who simply enjoys a coffee and is a relative novice to the world of coffee grinding, this is a great first purchase.
Hamilton Beach 49980A Coffee Maker, Single Serve Black/Stainless Steel

Breville Bes880Bss Barista Touch Espresso Maker, Stainless Steel