I've been trying to submit something to Know Your Grinder for the past month, because I consider myself to be highly opinionated and also one of the most die-hard coffee fans you'll ever meet in your life.
I also have been using the…ok, what's the full name of this thing again?
The… Hamilton Beach 80365 Custom Grind Coffee Grinder for the past year and I wanted to share my opinion of this product with you because I feel like this review will save someone somewhere some time and money.
There is a bit of a story to go with my Hamilton Beach grinder, so I hope you get a kick out of it.
Ok, so my experience started last year when my boyfriend of 5 years decided to leave me (for an unemployed drug addict).
Without going into it too much, suffice it to say that during our break-up, our awesome Virtuoso ended up getting thrown down the stairs and smashing on the cement floor. I guess if I can't have it, no one can! Tee hee!
Ah, there's a pic of the Virtuoso over there on the upper right, and as you can see this is a pretty classy grinder that made splendid espresso.
In retrospect, the fact that it got broken is the biggest tragedy that happened during that time, because ultimately the relationship ending was a good thing! 🙂
Anyway, I'll save the gritty details of this break-up story for another time, but basically I ended up in a one-room apartment and one of the first things I needed to buy was a coffee grinder, but I was really low on cash.
I'd just spent a ton of money on moving fees and I couldn't afford much at the time, but I HAD to have a new grinder of some sort immediately.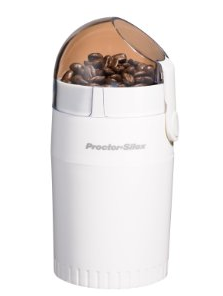 It ended up coming down to two extremely inexpensive blade coffee grinders – the Hamilton Beach 80365 and the Proctor Silex which you can see pictured on the left here.
I ended up buying the Proctor-Silex because it is just a little bit cheaper and still had some great reviews as far as being able to grind for several different brewing methods – a good drip coffee grind being what I was after.
Secura Electric Coffee Grinder & Spice

Cuisinart Sg-10 Electric Spice-And-Nut Grinder

Kitchenaid Bcg211Ob Blade Coffee And Spice Grinder Combo Pack – Onyx Black

Oxo Brew Conical Burr Coffee Grinder

I must admit, I didn't give it too much thought, I just picked up online and shortly after it arrived at my apartment. "Well, that was easy!" I thought.
As it turned out, my luck with this grinder wasn't very good. Who's to blame? I don't know…
First of all, there was a crack in the lid when it arrived, which started off my relationship with the Proctor-Silex grinder on the wrong foot.
By the way, I was not feeling very lucky at that time in general, so receiving a damaged product was not what I wanted to see.
Rather than call customer service, I just went ahead and started using the product anyway. Besides, it seemed to fit the theme of my life. 😛
Then, after about a week, I started having technical issues with this reportedly great little blade grinder. By the end of the second week, it was kaput!
The grinder I got might have been a dud, but to be completely honest, it did get knocked off my counter once by my cat, so I don't think that helped at all.
Enter The Hamilton Beach 80365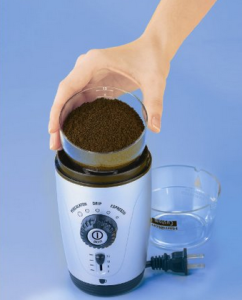 Anyway, I don't completely blame Proctor-Silex for making a bad product here, but I wasn't about to buy another one, despite their super affordable price.
I figured I'd just get the other grinder I was considering, that being the Hamilton Beach 80365, which actually isn't much more expensive than the Proctor-Silex at around picked up the Hamilton Beach 80365.
That purchase was made one year ago, and I'm happy to report that this blade grinder has got to be one of the best ones out there.
I am actually shocked that it has lasted this long, to be honest, since it was less than $20 to buy.
I really can't compare this thing to my old Baratza Virtuoso (R.I.P.), which ground so exquisitely for espresso. I really felt spoiled with that grinder, which I'd definitely recommend to anyone who's way into espresso. It does cost a lot more that's for sure.
So what do I like about the Hamilton Beach 80365? There's a lot to like here, actually. Let me count the ways how I love thee, oh 80365!
First off, this blade grinder might not be what you'd call heavy duty, but it has a bit weight to it. Its definitely heavier then the Proctor-Silex, and it just looks and feels a bit more substantial overall.
This blade grinder is easy to clean, which is a plus for me because I'm not the tidiest person on earth. I just pop the grinding chamber into my dishwasher and its taken care of. I do like to keep my grinder clean, because I use it a lot, and the nice thing is its easy to do that.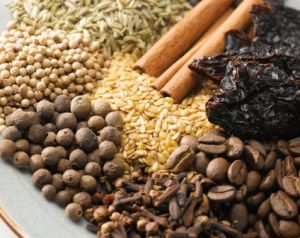 I can also use this grinder to grind a lot of different things other than coffee, making it a truly all purpose little unit.
I've ground numerous spices with it and have had no problems with that. I even discovered that grinding a little bit of cinnamon with my beans can be a really good idea.
One day I had ground some cinnamon in there previously and it had a tinge still left over when I ground my beans, and that's when I noticed it. Coffee and cinnamon – great combo!
I tend to go through coffee like its going out of style, and after grinding my own beans for so long, I don't think I can ever go back to buying ground coffee. It just takes noticeably better when I do it myself.
I tend to stick to French Press and perc coffee grinds when using my Hamilton Beach, as I just recently picked up another grinder which I am starting to use exclusively for espresso.
I guess if I had one complaint is that it doesn't really grind that well for espresso, but now that I have another grinder dedicated to that, I don't really mind so much.
Plus, perc coffee is my main thing anyway.
Coffee Grinder Cleaning Brush, Wood Handle & Natural Bristles

Premium Gold Whole Flax Seed | High Fiber Food

Lavatools Javelin Digital Instant Read Food And Meat Thermometer (Chipotle)

My Last Word
I have no problem recommending this blade grinder to anyone, for a couple of main reasons. One – its super cheap, as far as coffee grinders go.
Some of these things can be really expensive, if you haven't noticed. Two – it does a good job! I didn't really talk much about the switches and dials that are on this grinder, but you could almost call it sophisticated.
Also, I think it looks good in my kitchen. Purchasing this grinder is a no brainer if you ask me. Lots of great reviews, and a reputable company name. 5 stars from me!