Today, we will be taking a look at two similar hand crank coffee grinders from the Hario company. Namely, the Hario Skerton, and the Hario Slim Mini. They are both comparable in terms of size and functioning, but there are differences, which we are going to explore. Is one better? Is one worse? Let's see…

Glass Vs Plastic
Although each of these grinders both come from the same stable, being Harios (which means "king of glass"), the first big difference is that the Hario Skerton is has a glass grinds receptacle, while the the Mini Slim uses plastic.
Would you say this is a disadvantage from the outset for the Mini? On one hand, if you are a fan of actual glass, you might appreciate the Skerton better. Some would say real glass looks better, but on the other hand plastic is slightly less likely to break in the event that there's any sort of slip.

Hario Mini Slim Is Definitely Mini
Weighing in at only 1.4 pounds (Skerton) and approximately 11 ounces (Mini Slim) it is clear that this is going to be something of a lightweight contest.
With the Mini measuring 7.3 x 4.5 x 3.2 inches, you can see that it won't hold a whole heck of a lot of coffee, but it does actually hold up to two cups worth of beans. By comparison, the Skerton holds up to 100 grams of coffee. Neither one of these grinders is designed to grind en masse, and most customers know this going in. The Mini Slim, in terms of size, is definitely verging on pepper mill size.

Grinders On The Go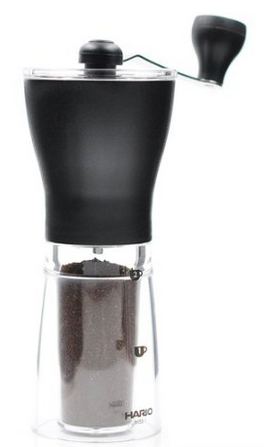 Both are manual hand grinders that are designed with transportation and portability in mind.
In the case of the Mini, the handle is actually detachable. If you are packing to go somewhere, the Mini here is easy to take apart and stow into a compartment somewhere, without much worry that it will break or crack. This is a great traveling grinder, as many owners have remarked.

One other thing slight detraction about the Hario Slim Mini which has been mentioned over on Amazon is that some customers have said it takes too long to grind anything more than a cup. We feel this is probably a little unjust, considering the Hario Mini is in fact quite "mini", as well as manual, so don't expect it to grind super-fast like some large electric burr grinder.

Have a closer look at the Hario Mini Slim in this video tutorial and review.
The Hario Skerton
Now let us take a closer look at the Hario Skerton. Obviously a bit larger, as we mentioned this coffee grinder mill is capable of holding 100 grams and so a better choice for someone who wants a bit more coffee.
The Hario Skerton is also advertised as being lightweight and perfect for traveling, although if you're taking it on a trip you'll need a slightly bigger backpack than the Hario Slim Mini plus you'll have to be more careful due to the glass.

Here's a quick video review of the Hario Skerton to show it in action.
Grind Quality Comparison
The quality of your coffee grinds for both grinders is good and generally consistent, as many fans can attest to. In fact, onn this point specifically they both score rather highly. There are some faint murmurings that the Skerton is not quite so good at the coarser grinds but… help is at hand!
With the simple (ish) addition of a different screw, it is possible to upgrade the Skerton's performance of the coarser grinds, which, if you're a French Press enthusiast, will be good news.
This part is available to buy from Blue Horse on Amazon now. The downside of installing this part is that it is a trade off against the quality of the finer grinds. In other words, you will lose the great fine grinds for espresso it can produce. This can be rectified by removing it, although this may prove fiddly. Ultimately, whether to fit this device is down to you and whether you are very fussy a French Press addict or not.
Watch Out For Fakes On Amazon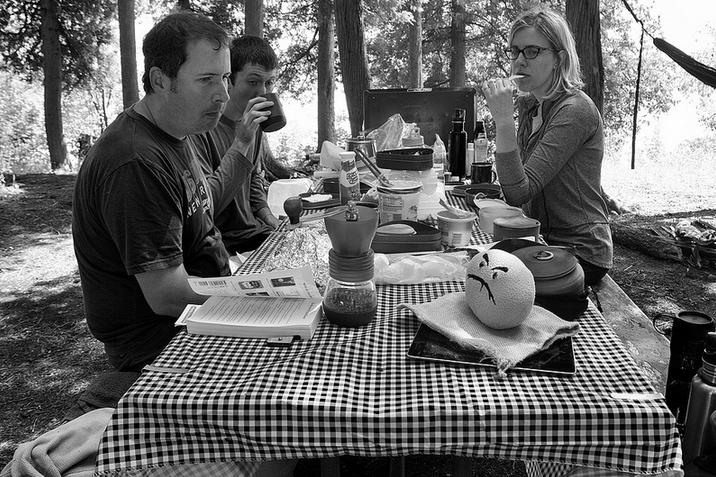 Other points to make about the Skerton – although also the Mini to some extent, is to be careful what you purchase, because it might be an imitation.
There have been a spate of fakes on Amazon, especially of the Skerton. If you read some of the reviews of this coffee mill, you will see that vigilance is required when buying this model.
The real Hario should have the manufacturer's name all over the packaging and has a metal bolt on the bottom with the name stamped on it. There is also a lid for both parts of the grinder on the genuine article, but not on the wannabe one. It is possible that the low star reviews were in some cases, for the fakes, which of course drives the ratings downwards.
Hario Skerton Vs Mini – Who Wins?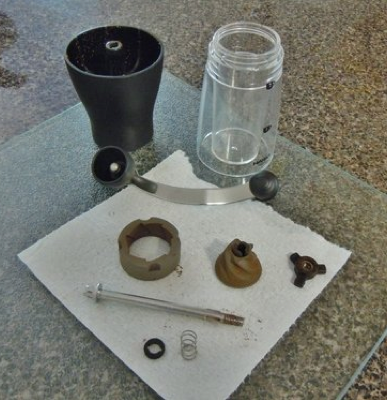 Although both the Skerton and the Mini were neck and neck for a while, suddenly one has begun to get away.
Despite the fakes and the slight issue with the coarse grind (this is not a problem for everyone, by the way, just some and it can be rectified) the Skerton does seem to be in the lead in our books

The Mini is a decent grinder, but it just cannot compete when all the votes are cast. It is smaller, less durable (there have been some issues about the handle jamming and being hard to use, complaints that parts wear out more easily). The Skerton seems more built for everyday use, made of glass and not plastic and can easily take a larger load.
However, if you are going to be carrying this everywhere and only want to be able to grind enough for your single cuppa, then maybe take another look at the mini. As it is lighter, less likely to smash and will do everything you want it to as long as you do not overwork it.
The bottom line is this reviewer feels given the extremely tiny price differential, the Skerton has the upper hand in terms of overall package. Although possibly not to French press fans who also want to make espresso!
HARIO SKERTON KEY POINTS
THERE ARE/WERE SOME FAKES ON AMAZON SO BEWARE!
CAN BUY PART TO MAKE SKERTON BETTER AT COARSE GRINDS – BUT ITS NOT AS GOOD FOR FINE ONES
A CHEAP ALTERNATIVE TO EXPENSIVE ELECTRIC BURR GRINDERS – SOME EFFORT REQUIRED
SEEMS TO HAVE LONGER LIFE THAN THE MINI
HARIO MINI KEY POINTS
MAKES GOOD COFFEE BUT PARTS WEAR OUT
SHOULD REALLY ONLY BE USED FOR CAMPING/ HOLIDAY/SHORT TERM
Ta da!