QUICK FEATURES OF THIS MACHINE
Selection of coffee type and serving size
Adjustable grind settings
Stay fresh bean container
Integrated burr grinder
Easy to use electronic controls
Integrated frothing nozzle
Adjustable coffee dispenser
Coffee grind container
Integrated service guide (user manual)
Removable 1.8 Liter water tank
Produces a wide variety of beverages
Ho-hum! Another day, another cup of delicious espresso.
Wherefore did this divinely hot, rich, and creamy beverage come from that I sip upon as the birds begin their morning conversation with one another?
Why, from my new espresso machine – the KRUPS EA82 Espresseria – that I simply had to have, of course.
Actually, not only did I want the Empresseria, but I needed it as well.

Here's a quick ad from KRUPS themselves in case you've never seen this thing in action before…
Life can very mysterious sometimes, but I do believe that there was a reason that my old espresso machine kicked the bucket after 10 years of faithful service, because it was time for something new – and perhaps even improved!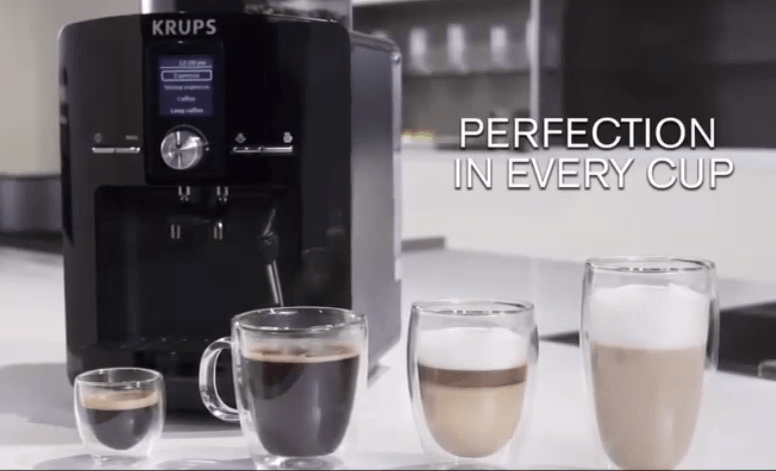 Yes, as my old espresso machine finally met its end, I was online that same day (no time to grieve) looking at the KRUPS EA82 Espresseria Fully Automatic Espresso /Coffee Machine, which seemed like an intriguing choice.
Not really one to dilly dally, an order was then placed, and it wasn't long (just a few days) before it was on my counter, ready to be given a whirl.
Nice Package
As the list above indicates, the KRUPS Empresseria does an awful lot of things, which is fine by me, since my goal was and still is to use my kitchen space better and this machine combines an espresso / coffee grinder along with an espresso maker into one rather compact unit (11.5 x 8 x 12.5 inches ; 10.4 pounds).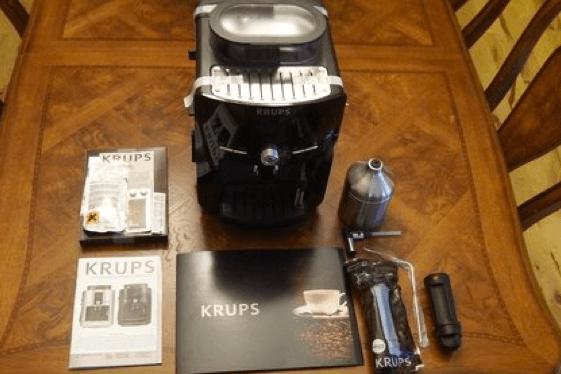 I purchased this KRUPS Empresseria espresso machine in the color black, because there was only one color I could see that was available – and that was black.
That was fine with me, as I was looking for something in black to match my decor, and most espresso machines are typically shiny silver.

I have to say that the KRUPS Empresseria has a very distinctive and striking modern look to it, and really its nothing like any other espresso slash coffee slash grinder machine I had seen up until this time. It is compact, and yet the space is used very efficiently.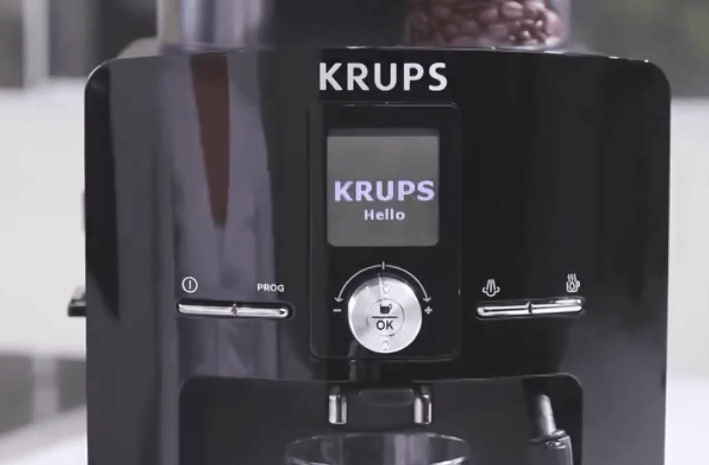 That's what caught my eye about the Empresseria initially, I think – it looks rather different from other machines I've looked at and certainly from the one I had previously.
This machine, as I said, combines the coffee grinder right into it, so it eliminates the need for another appliance.
About The Price
If you're reading this, there's a chance you might want to invest a little bit in your espresso experience.
The KRUPS Empresseria is a rather serious espresso machine, in that its designed to make you espresso that is café quality and nothing less.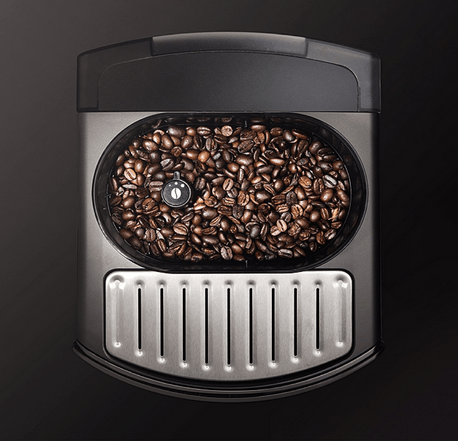 For that kind of quality, you're looking at spending anywhere upwards of $500 for this machine, and, if you weren't aware, that is not exactly the high end when it comes to espresso machines.
Sure, you can get an espresso machine for under $200 if that's what you want, but just know its not going to be in the same league as the KRUPS Empresseria here.
All-In-One Functionality
If you are willing to pay the price, then you will also reap the rewards of the KRUPS Empresseria, which are many.
For one, this espresso machine works very simply – all you have to do is read your easy-to-follow user manual (or "Integrated Service Guide", as they call it), or simply continue reading this review to get an overview of this machine's functionality.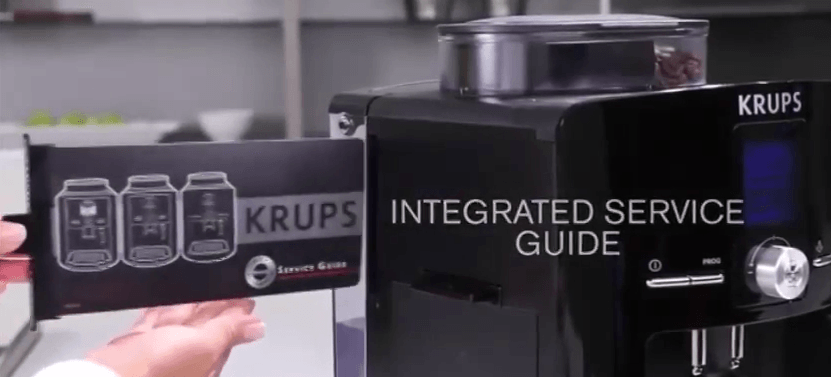 I promise you it won't take you long before you are harnessing some very serious espresso making power in your kitchen.
For people who hate having too many things in their kitchen, I think this is the ideal solution.
The Front Of The Unit (Once Again)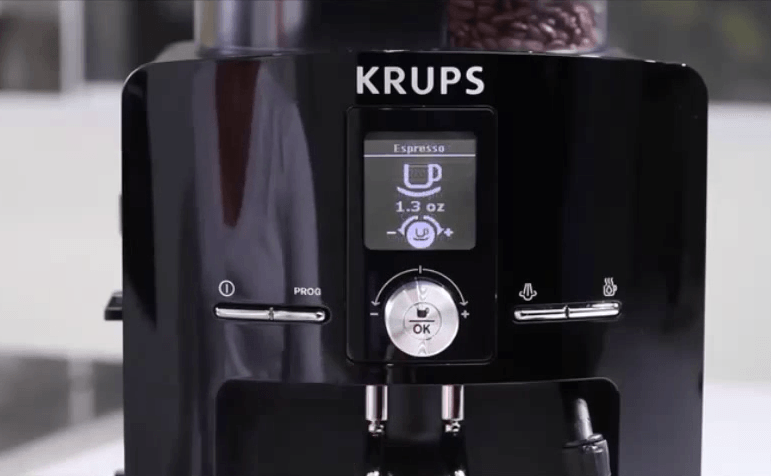 The front of the unit laid out very logically, and its where most of the action is in terms of customizing your brew.
The display on the front clearly shows all the info you need to know. There is an auto on and auto shut off; with a built-in clock which will help you to set this timer.
By rotating the large indicator button right bellow the display, you can pick one of the few options such as espresso, strong espresso, coffee and long coffee.
The display will also remind you to clean the coffee drawer, it will actually ask you, like a strict mother – Have you cleaned the coffee drawer?
This espresso machine almost seems like it is…dare I say…alive. It has a very "Jetsons" feel to it, which, once I got used to it, I now really enjoy it. It is quite helpful.
Grinding With The KRUPS EA82 Empresseria
The KRUPS Empresseria has a top see-through lid that covers the slightly elevated bean hopper, which has a capacity of up to 0.6 lbs, which is a fair amount.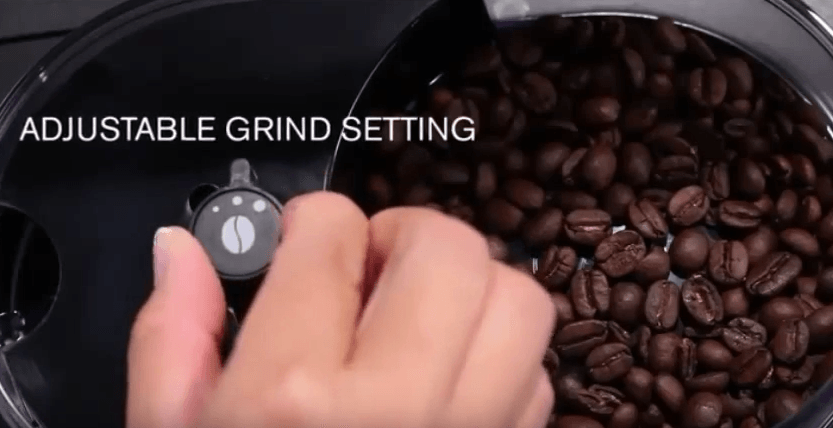 As you can see, there is an actual switch, or indicator, that with a few rotations helps you pick the right size of your grind – of which there are three options.
I will say that this is, on one hand, very handy to have this built-in coffee grinder, but, on the flip side of the coin, only three settings?
If you're used to grinding with a fairly decent coffee / espresso grinder, this isn't a huge diversity of options compared to dedicated burr coffee grinders.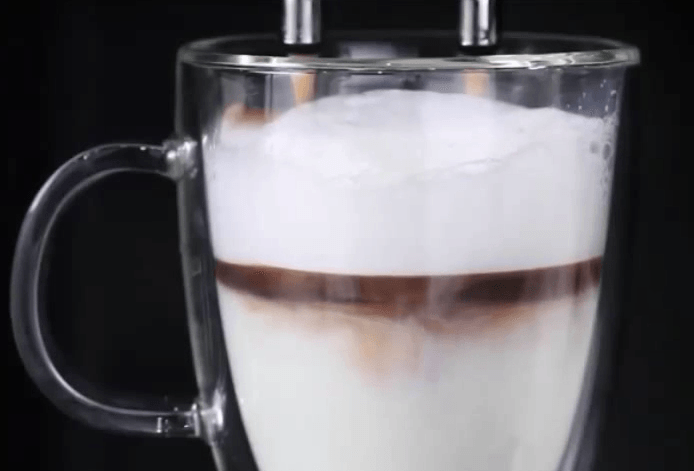 If you're really into the specifics of coffee grinding, you may want to get yourself either a nice little grinder on the side here like the Capresso Infinity or look at a different espresso machine altogether.
It depends how picky you are with your grinds. Luckily, I am not complaining because this machine makes my two favorite drinks to perfection – cappuccinos and lattes.
KRUPS EA82 – Pros & Cons List
Pros
All-in-one unit (stores, grinds, brews and disposes of your coffee & no outside water lines needed)
Stainless Steel milk frothing bottle provided
Auto clean/rinse cycle – only needs complete cleaning once every 360 cycles
Modern and sleek black look
Very compact in size for an espresso machine
Easy to use digital interface and quick set up
Water proof service guide stored inside a side slot of the machine
Steamer nozzle also dispenses hot water for tea/hot chocolate drinkers
Extremely quick brew time – less than 2 minutes
Energy efficient and has an auto-off timer
Made in France (not Taiwan or China like many products today)
2 year or 6,000 cup warranty
Machine alerts you on all cleaning/replacement functions
Tool provided for easy installation of the unit's water filter, which is especially useful if you have larger hands
Cons
Usually over $500, so somewhat expensive
Milk frothing bottle and attachments are a bit cumbersome to use and clean
Water filters are $18-20 each and need to be replaced every two months
Unable to use flavored or pre-ground coffee – There's no bypass chamber to change beans, so once your coffee is in the machine it's in there until you use it
Frother is rather rigid and has limited flexibility
Can be rather noisy, especially early in the morning
Clock display doesn't stay on when you're not using the machine
Water dispenser tray platform is a bit small and while the coffee nozzles do raise, it's not really enough for larger coffee mugs
Some crucial pieces of the machine are plastic (coffee nozzles, parts of the frother etc.)
Final Word
So there you have it! This is by no means a perfect machine, but it has so much going for it I really can't help but love it.
If I wanted utter perfection which might be defined as doing everything including growing arms and legs and serving me the espresso, I know I'd have to spend double what this machine costs.
I can't complain, and I give the KRUPS EA82 an easy 4 STARS!
RELATED VIDEOS