Last Updated on
If you are looking for a great commercial coffee grinder for either home use or to use in a café setting, the MACAP M4 is definitely a coffee grinder you should consider. 
Quick List Of Main Features:
Worm Gear-Driven Step-less Adjustment

Extremely Low Blade Speed (1600 rpm) at 60 HZ

58 mm Grinding Burrs 58


Dosing Levels can be Adjusted from 5.5g – 9g

Bean Hopper 1.3 lb.
Costing upwards of $500, the MACAP M4 is no lightweight grinder.  Literally, it ships at 30 lbs, weighs 25 lbs, and measures 12.5 x 7.5 x 17 inches, so its no small fry of a grinder.

If you are totally new to coffee grinding, the MACAP M4's price may throw you for a bit of a loop as some grinders are decent enough and can cost you less than $200.
However, if you are not new to the espresso world, you will know that a MACAP M4 is actually on the more cost effective side when it comes to professional or commercial coffee grinders.
MACAP M4 VS Mazzer Mini
Here is a video which compares two similarly effective pro grinders – the Mazzer Mini (see our review of that one here) and the MACAP M4. 
In this video, you will get to know some of the reasons why we are very much in favor of the MACAP M4 as a dosing grinder, although the Mazzer Mini has its own perks as well. 
Check it out!

As you can see from this video, these two grinders are very similar, producing a very similar grind, and yet the MACAP M4 does have a few small advantages over the Mazzer Mini that you might appreciate. 
The Worm Drive Advantage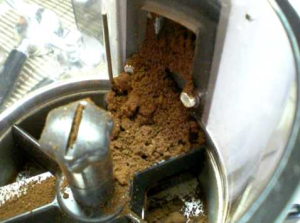 For instance, because it is worm gear-driven, you can make micro-adjustments to the grind settings using an easy-to-turn, smooth handle which will allow you to find those hard to get grinding sweet spots. 
This makes this grinder perfect for any type of grind you like because it zeroes right in there. 
So, basically, if you are looking for a grinder that can grind for everything, this would be the one to look at buying. 
This is particularly true if you own a small shop, where changes in the grind settings will occur throughout the day. 
At home, you may be less likely to be adjusting it so much, since you will only have one customer – yourself!  🙂

Bestselling Coffee Grinders