If you are looking for a great commercial coffee grinder for either home use or to use in a café setting, the MACAP M4 is definitely a coffee grinder you should consider.
Quick List Of Main Features:
Worm Gear-Driven Step-less Adjustment
Extremely Low Blade Speed (1600 rpm) at 60 HZ
58 mm Grinding Burrs

Dosing Levels can be Adjusted from 5.5g – 9g
Bean Hopper 1.3 lb.
Costing upwards of $500, the MACAP M4 is no lightweight grinder. Literally, it ships at 30 lbs, weighs 25 lbs, and measures 12.5 x 7.5 x 17 inches, so its no small fry of a grinder.

If you are totally new to coffee grinding, the MACAP M4's price may throw you for a bit of a loop as some grinders are decent enough and can cost you less than $200.
However, if you are not new to the espresso world, you will know that a MACAP M4 is actually on the more cost effective side when it comes to professional or commercial coffee grinders.
Capresso 56001 Infinity Conical Burr, Black

Baratza Encore Conical Burr Coffee Grinder

Hario Ceramic Coffee Mill – "Mini-Slim Plus"

Rancilio Hsd-Roc-Sd Rocky Espresso Coffee Grinder

Breville Bcg820Bssxl The Smart Grinder Pro Coffee Bean Grinder, Brushed Stainless Steel

MACAP M4 VS Mazzer Mini
Here is a video which compares two similarly effective pro grinders – the Mazzer Mini and the MACAP M4.
In this video, you will get to know some of the reasons why we are very much in favor of the MACAP M4 as a dosing grinder, although the Mazzer Mini has its own perks as well.
Check it out!

As you can see from this video, these two grinders are very similar, producing a very similar grind, and yet the MACAP M4 does have a few small advantages over the Mazzer Mini that you might appreciate.
The Worm Drive Advantage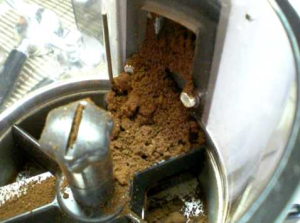 For instance, because it is worm gear-driven, you can make micro-adjustments to the grind settings using an easy-to-turn, smooth handle which will allow you to find those hard to get grinding sweet spots.
This makes this grinder perfect for any type of grind you like because it zeroes right in there.
So, basically, if you are looking for a grinder that can grind for everything, this would be the one to look at buying.
This is particularly true if you own a small shop, where changes in the grind settings will occur throughout the day.
At home, you may be less likely to be adjusting it so much, since you will only have one customer – yourself! 🙂
Micro-Dosing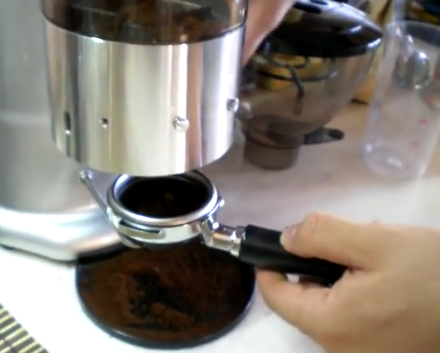 Another great thing about the MACAP M4, in comparison to the Mazzer Mini, is that the MACAP gives you the option of doing conventional dosing using the pie-shaped areas inside the dosing chamber, or you dose as you like, because you can make smaller adjustments.
This is great because you're not forced to dose the conventional way, giving you more flexibility in this regard.
Mazzer Hopper Swap Advantage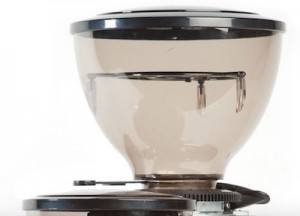 While both grinders have a 1.3 pound hopper, only the Mazzer grinder allows you to swap out the hopper for something larger, while the MACAP does not.
This is partly because Mazzer has a small family of grinders that you can choose from, where as the M4 is more limited to its "M" series of grinders including the M4 and the M2.
That said, the MACAP M4's 1.3 pound hopper is nothing to scoff at.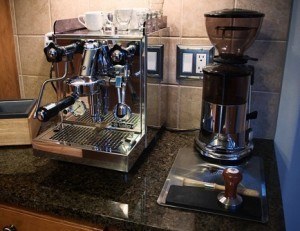 If you are using your MACAP M4 along with a Rocket Cellini espresso machine, as they do in the video, remember that you can get your MACAP M4 in the same high polish stainless housing, so they match and look great together, not to mention the fabulous espresso you'll be brewing!
Technical Points
The Macap M4 has a 250 watt motor and operates at 1600 RPMs / 60 HZ, using flat grinding burrs which are 58 mm wide and can be replaced if need be.
The dosing capabilities of this grinder are extremely helpful when measuring out shots, and, as we said, you can dose the conventional way or be a little more "free" with it.
The doser gives you quick and easy access to the grinds chute. This helps with alleviating grind retention, which is a problem with doserless models these days, as they can get all clogged up.

The hopper, as we mentioned, is big at 1.3 pound, and its very easy to clean – just use some suds and water and presto!
If you are using this for your home, then chances are you won't be grinding the full capacity of the hopper, although its nice to have the option.
If you are a café owner, then the hopper is sufficiently sized for daily usage.
Cleaning The MACAP M4 Doser Grinder
If you want your MACAP M4 to have a long and happy life, then you will need to clean it at some point.
In order to do that, you are going to have to roll up your sleeves, grab yourself a brass brush and some compressed air, plus maybe a vacuum, a screwdriver, and a wrench, and then get down to business.
The steps for doing a thorough cleaning of the MACAP M4 are numerous, although we wouldn't say its too complicated of a process.
Thankfully, we managed to dig up a great video which will walk you through the entire process of cleaning this specific grinder, and will show you everything top to bottom.
Check it out!
Overall
All in all, the Macap M4 Doser Adjustable Coffee Grinder is a truly effective machine and great for either home use or commercial use, although the worm drive makes it all the more suitable for a café where settings might need to be changed more often.
This is the type of grinder you buy and you won't be needing anything else for a very long time. Highly recommended!
Hamilton Beach 49980A Coffee Maker, Single Serve Black/Stainless Steel

Breville Bes880Bss Barista Touch Espresso Maker, Stainless Steel