Last Updated on
By: Know Your Grinder
DIMENSIONS:  5 x 5 x 9 INCHES
SHIPPING WEIGHT:  1.9 POUNDS
MANUFACTURER:  MR. COFFEE
MODEL NO:  IDS77
PRICE:  $14.40+
WARRANTY:  ONE YEAR
PROGRAMMABLE GRIND NO:  THREE
CAPACITY:  FOUR TO TWELVE CUPS
GRINDS NUTS AND SPICES:  NO
OUR RATING:  4 STARS OUT OF FIVE
So you are passionate about good coffee, whatever form it takes.
Whether you have a simple French Press or a swanky espresso machine, love making cold brew coffees or fancy mocha-chocca-frappapocalypses, the one thing you are going to need is a decently ground coffee bean.
Perhaps, hitherto you have been managing with shop bought packets of ready grounds or taking your beans to stores that have a machine.
However, now it is on your mind that fresh is best, because it is indeed the best way to brew – with fresh ground beans.
---
Always Grind Fresh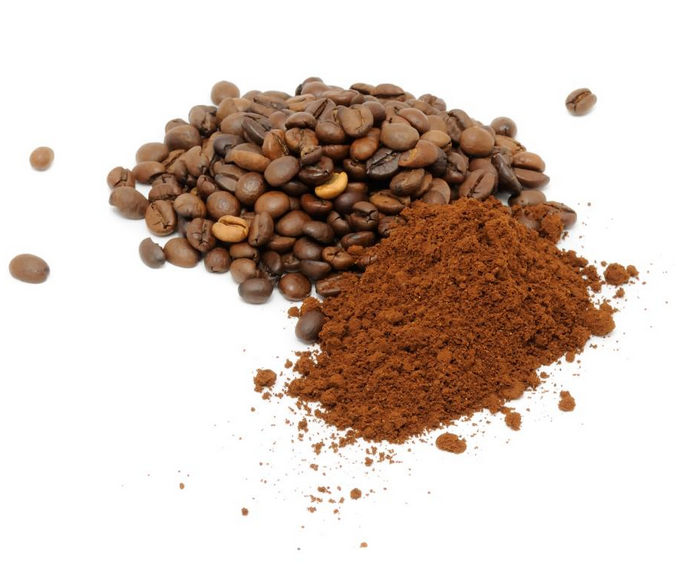 Although opinions on how fresh the grind must be to get the best results can vary, immediately seems to be what most experts agree on.  
Some coffee pros will cut you some slack and give you a couple days before it all gets completely stale, but we recommend either using it right away, or storing it in a vacuum sealed coffee vault if you can't use it right away.
Either way, suddenly, your store bought packet of ready ground is no longer looking quite so alluring.
But you are not sadly endowed with the zillions of dollars required to fund an expensive burr grinder.
---
Enter The Mr.
C
offee
IDS77 Blade Grinder!
If that is you then, ladies and gentlemen, may I introduce you to the humble Mr. Coffee IDS77 blade grinder.
It gets a lot of stick, mainly because it is not as fancy or swish as its grander cousin the burr grinder, but it has a job to do and for many, it does it perfectly well.
True, you are not going to find them in the large (or even smaller!) coffee chains, but for a domestic kitchen, especially perhaps for a singleton or a household with a not yet excessive coffee habit, they serve a function.
---
Coffee Snobs Agree – The Blade Is Forbade!  But…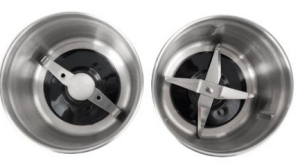 Coffee snobs will tell you that a blade grinder will never be as good as a good burr grinder.  
This is because it repeatedly hits the coffee bean, exposing it to a lot more heat, which can change the flavour somewhat, as opposed to burr grinders, which kind of chew your beans up and do so at a much cooler level of heat.
We will cheerfully admit that this is true and if you are after that level of coffee experience you should probably save your pennies and buy the best burr grinder that you can afford to if you do want that much control.  
Oh, and it so happens we have talked about a number of burr grinders here on this website if you do want more info, however…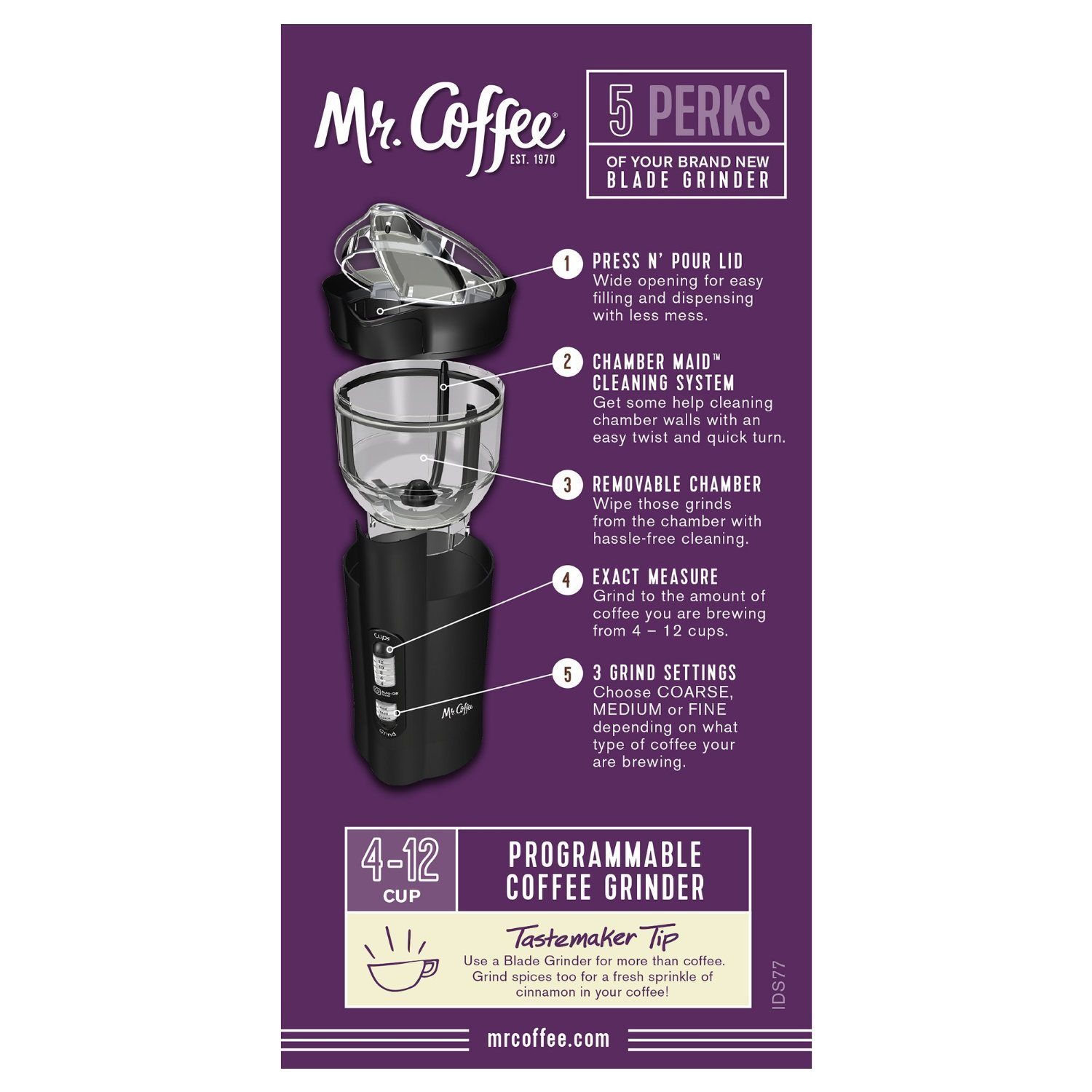 …However, maybe you are just looking for something inexpensive to grind your coffee freshly with a minimum of fuss. In which case, the Mr. Coffee IDS77 would be a great choice!
Even coffee purists will confess that it is the freshness of the grind that is the most important thing and that "even" a blade grinder is better than using packets of ready ground. 
Only your tastebuds know for sure, and if you have never owned a grinder, then the Mr. Coffee IDS77 Manual Blade Grinder could be as top notch a blade grinder as you'll ever come across.
---
The Mr. Coffee IDS77 – Why Buy This Grinder?
Unlike a lot of the more basic models out there, Mr. Coffee comes with programmable settings for different levels of grind.
Also, there is the (partially) self cleaning "chambermaid" that helps keep the grind chamber (relatively) clear of coffee debris.
Helpfully, the grind chamber also detaches and tips out separately, removing the need to shake the entire unit upside down and also making it far easier to clean. It is also dishwasher safe.
This is a manual operation, so despite the fact you can choose between the types of grind, you still literally need to keep your finger on the lid of the appliance to operate it.
---
Burr Vs. Blade – The
E
ternal
Battle For Coffee Supremacy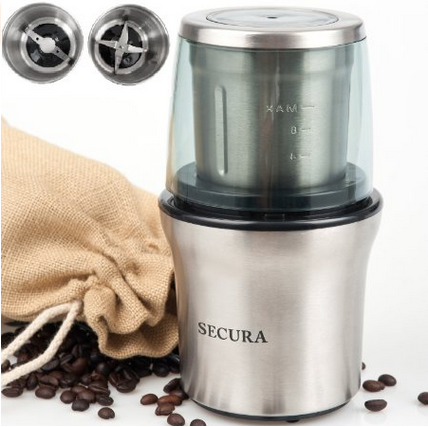 So how does Mr. Coffee measure up to some of the other blade grinder.
Well, the first thing to remember is that this is not a burr grinder, nor is it pretending to be.  With that aside, we must realize that it does not come with the same price tag, so it would be unfair to expect it to be performing at the same level as a $500 coffee grinder.
Quite simply, if you are expecting a basic quality-made grinder, which this is, you will not be disappointed.  
In fact you may even be pleasantly surprised with the quality of grind you get. Customers who have reviewed this product seem to love it!
After all, this does at least "do" different types of grind (which many manual spice and coffee grinders do not).
As the name implies, Mr. Coffee is a brand that caters exclusively for coffee. It is therefore not advisable to use this grinder for spices or nuts.
Longevity? This depends on who you ask, but it would be fair to assume that given the price tag of under $20 that this blade grinder will not be immortal.
It comes with a one year guarantee on it though and if you consider that far more expensive models often do not come with any better warranty, then it may not be such a bad idea for the extra low asking price.
---
A Few Complaints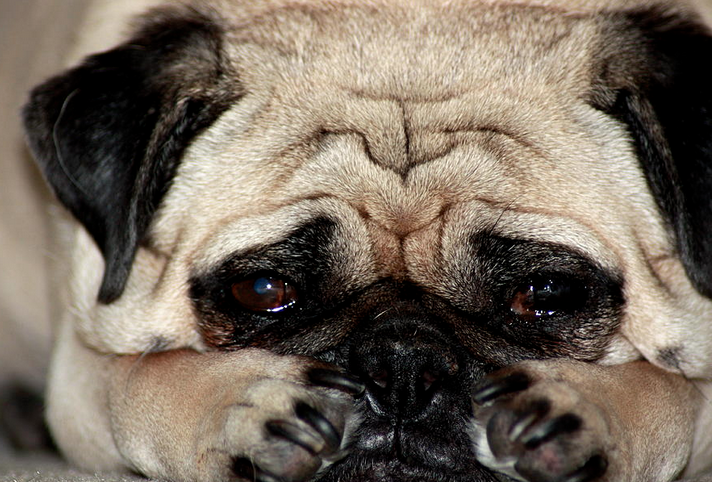 So what are the downsides to purchasing this Mr. Coffee IDS77 blade grinder?
Well there has been some dissatisfaction about the consistency of the grinds among some users.  
A lot of this really comes down to how much you are expecting for your dollar.
The vast majority of users are more than satisfied with the quality, some however do voice caution, which is something to bear in mind when making your decision.
There have been a lot of complaints about the very short cord that this model comes with.  Here, something needs to be said.  
Hidden within the unit there is an extra 3 feet of spare cable that a lot of the people leaving these negative blade grinder reviews did not evidently see!
This is one of things that perhaps it is a good idea to read the manual for before use – for both this and vital safety operating instructions.
One other thing to know is that the plastic in the grind chamber might possibly be eroded as a result of daily wear, eventually.
---
Overall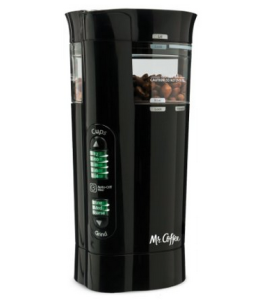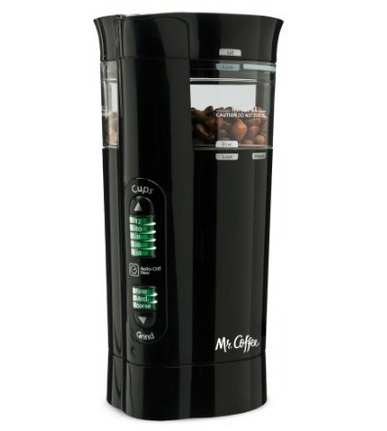 Overall though, the Mr. Coffee manual blade grinder offers a cheap and easy alternative to the confusing world of coffee grinders.
It is light and portable. It might not look sexy in your kitchen particularly, but then you can take it with you more easily.
If it breaks before one year is up it will be replaced just the same as the far more expensive models. Any extra life it has after that will be purely a bonus, considering the tininess of the outlay.
When all is said and done, this is never going to be the best coffee grinder ever made, but this blade grinder review says you could do a lot worse if you are happy to spend in this price range!
PROS
PROGRAMMABLE THREE OPTIONS

SELF CLEANING 'CHAMBERMAID'

INEXPENSIVE

ONE YEAR WARRANTY – THE SAME AS MORE EXPENSIVE MODELS
CONS
MIGHT GRIND SOME OF THE PLASTIC

UNEVEN GRINDS