Last Updated on
By: Know Your Grinder
Every year, Catholics from all over the world, make a pilgrimage to the mountain community of La Talpa in the Sierra Madre mountains, 4 hours east of Puerto Vallarta. 
They pass through the village of San Sebastian, which is famous for its coffee.
My wife and I love coffee. We travel the world tasting coffee and learning all about it. 
We have visited the famous mountain community of San Sebastian 2 times over the years, and we decided to go again to visit the coffee plantation there. 
We were heading that way anyway, on our pilgrimage to La Talpa.
Our first time in San Sebastian, we were on a small tour with a group of friends. 
We went to see the Catholic church, as well as the tiny museum, which gave us the history of the mining industry in Mexico. 
The one room jail was interesting too.  Check out the art on the walls. 
Of course we ate in the quaint restaurant where they feature the local organic coffee.  It is located just as you enter the village on the right. 
If you visit San Sebastian make sure you wear shoes that give you lots of support, because the streets are all cobblestones.
The second time we visited San Sebastian, we were bird watching.
Our biologist drove us in his jeep right through the center of the village, and up to the top of the mountain on the other side. 
We sighted many different birds that afternoon such as flycatchers and buntings.  
As we drove back through town, we stopped at the coffee store just at the entrance to the village and purchased bags of coffee, and a very interesting treat called, La Quinta Mary, which is roasted coffee beans, for a mere 20 pesos (less than $2.00). 
They were delicious! They tasted kind of like a roasted nut, not a coffee bean.
We thought at the time that we should return to San Sebastian some day and take a tour of the Altura plantation.
A few years passed by and we had a chance to go on a modern day pilgrimage to find the Virgin Mary in the town of La Talpa about an hour past San Sebastian. 
The bus tour was planning on making a 2 hour stop in San Sebastian to experience the coffee so this was our big chance to learn all we could about San Sebastian coffee. 
Maybe we could buy some more of those roasted beans to snack on as we traveled on to La Talpa.
The coffee store called "La Quinta Cafe de Altura" at the edge of San Sebastian also sold other magical items besides coffee. 
Make sure you ask them for their "secret" coffee recipe.  It has something to do with adding chocolate, cinnamon, and sugar to the grinds.
La Quinta Café de Altura is not only a store and coffee shop but a coffee and tequila plantation. It was established in the 1930's by the Sanchez family and they are still at it. 
After the mining of gold, silver, and lead stopped years ago, farming became the #1 industry.
The elevation and the pine, maple, and oak forests are perfect for shading the coffee plants.
Rafael Sanchez, his wife Rosa, and their family are environmentalists and very smart business people.
They even roast agave hearts (penas) over open fires as was done in the good old days. 
We bought some agave sugar and syrup, as well as those roasted coffee beans to snack on.
Besides making organic and flavored tequilas such as Licore de Café with its hints of coffee, chocolate and vanilla, they also produce almond tequila made from nuts grown in Durango and roasted in San Sebastian. 
They do all this work without electricity.  
The Sanchez family has been farming this land for over 120 years. Today they farm 11 acres of coffee trees, and handpick 30 tons of beans each year. 
The drying, roasting, and grinding of the coffee beans are arduous and methodical jobs. 
Rosa's homemade candies, such as guava rolls and sweets made from sweet goat's milk, goes well with all the coffee options.
Fresh homemade foods are everywhere. We were once again glad that we visited San Sebastian and experienced the magic of coffee.
The two jumbo buses filled with Mexican Christians, loaded down with coffee, continued their pilgrimage into the countryside, over and around many mountains, to an older community called, "La Talpa". 
They are famous for a different kind of magic.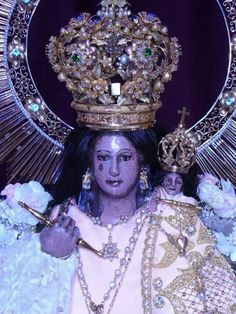 Many years ago. a small statue of the Virgin Mary was discovered in La Talpa. The people at the time, decided to move it to another community not that far away. 
The statue magically returned to La Talpa so the locals believed that a miracle just took place.
Today many people visit La Talpa, especially in the Easter season of March, to ask the Virgin Mary for some sort of healing. 
In 2010, 3 million people walked to La Talpa from far and wide, just to experience the magic of the Virgin and the coffee. 
The statue is kept in the church of La Talpa on the alter.
If you need some San Sebastian coffee or maybe some of those delicious roasted Mary beans to snack on, come to Bucerias Mexico for the winter and take a day trip to San Sebastian and La Talpa, both interesting mountain communities worth visiting. 
If a Mexico trip is out of the question for you, feel free to read some of my other Mexico-related articles here on Know Your Grinder, as I've written quite a couple more, such as:

Oh, I forgot to mention the bridge. On the road into San Sebastian, you will cross over a long span bridge. 
Make sure you stop in the middle and take some photos of the river Ameca.  The bridge is a miracle in its own right.