Do you know the golden rule of coffee?
There are a few important things to remember when you are preparing your coffee at home, and they are: the ratio between coffee and water, and the coffee grind itself.
More specifically, its how you grind your coffee (your grinder) and when you use those grinds (freshness).
Freshness is all important when it comes to making yourself a delicious cup of deep black joe.
Words of wisdom, especially if you have any experience making coffee yourself at home and have bungled up any of these key considerations.
As a self-proclaimed coffee aficionado I want my coffee to be excellent. I don't settle for second best, nor will I drink it if it doesn't taste good. Those days are done.
It took me a long time to perfect my coffee routine and even though some people say 'it's just coffee' I don't agree.
If you are going to prepare it, be sure that you will prepare it the right way. For me, I have a little recipe.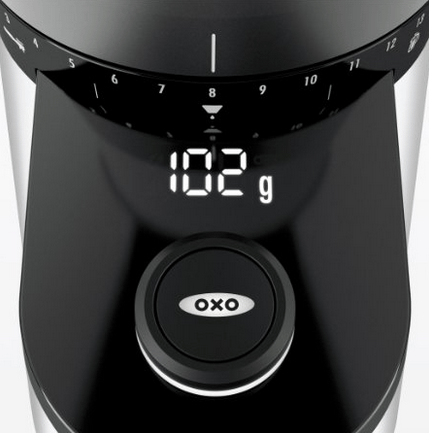 Now, the recipe I use anyone can easily follow, and you can adapt it quickly to your own taste, but what about the grinder?
I've said many times that the grinder must be easy for handling and practical in every meaning of the word.
A few weeks ago, the OXO On Conical Burr Coffee Grinder made it on my kitchen counter, and now I'm here to report on its performance.
OXO On Conical Burr Grinder – Performance Report
Although in most cases I prefer using manual grinders for many reasons, the OXO On Conical Burr Coffee Grinder – which is available with an intelligent dosing scale – got my attention so I had to see exactly how it works.
I was having some issues with finding the proper measurements for the magic ratio of coffee to water, and I decided to splurge and get myself the OXO, hoping that the scale feature would be as good as I'd heard it was.
First of all, the looks, design, and performance of the OXO coffee grinder were what I'd hoped for.
I figured, if I was spending $200 on this grinder, it had darn well better be pretty impressive. Luckily, it seems to be a fine piece of coffee-brewing equipment, and the scale is a really handy feature.
You can see how gorgeous it looks, and it has far more performance features than I ever seen on an electric grinder (although maybe I just don't get out much).
Besides giving you the exact number of cups of coffee you'll be getting, it also weights your coffee too.
As advertised, it has an integrated digital scale that precisely measures grind output by weight. Had the scale not been as good as it is, I'd be kind of peeved, so I'm glad it all worked out.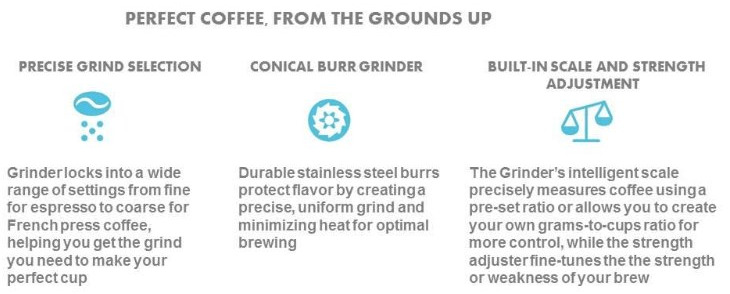 Ok, so let's take a look at each part separately.
The top removable container / hopper (it keeps the harmful UV rays away from coffee beans and this way it preserves their delicate essential oils) is easily screwed and unscrewed from the base.
Although I don't prefer to keep my coffee beans inside the grinder, I found this one to be very suitable for that matter, when I'm rushing out the door.
The coffee beans I left inside remained fresh and aromatic even after a few days in there, although normally I try to use them up within hours of grinding them.
Anatomy Of A Great Burr Grinder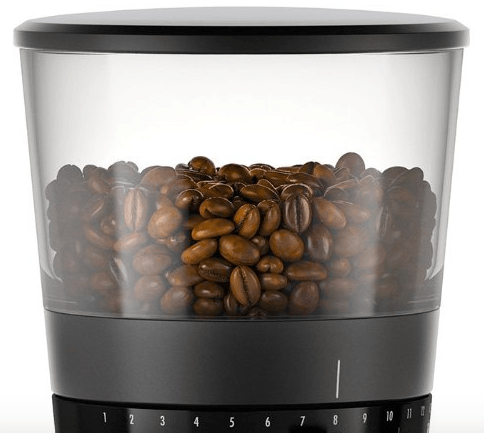 If you're new to all this grinding business, the hopper on the top place where you pour your fresh whole coffee beans; it is big enough to contain a whole pound of beans.
This is a wonderful thing if you use this grinder at work where more people want a fresh cup of coffee, or if you have a bigger family.
The bottom has a vault that automatically shuts when you take the container off the base, so your coffee beans stay inside.
Now that we removed the container, we can easily remove the top screw of the 40mm conical burr.
This is a good thing, so you can actually clean the screw and the burr as well.
When you are going to put the container back, make sure you lock it in, with just one screw to the left.
The whole container can be rotated (there are numbers below its bottom) from 1 to 15.
These numbers represent the density of the grind, and the more you go towards the bigger numbers, the finer your coffee will be measured.
We tested it on number 8 and it ground a perfectly consistent medium blend.
Capresso 56001 Infinity Conical Burr, Black

Baratza Encore Conical Burr Coffee Grinder

Hario Ceramic Coffee Mill – "Mini-Slim Plus"

Rancilio Hsd-Roc-Sd Rocky Espresso Coffee Grinder

Breville Bcg820Bssxl The Smart Grinder Pro Coffee Bean Grinder, Brushed Stainless Steel

Then, just out of curiosity, I switched it to number 14 and it really was a fine blend, sort of like salt.
The lower numbers provided me with very coarse blend, just ideal for a French press.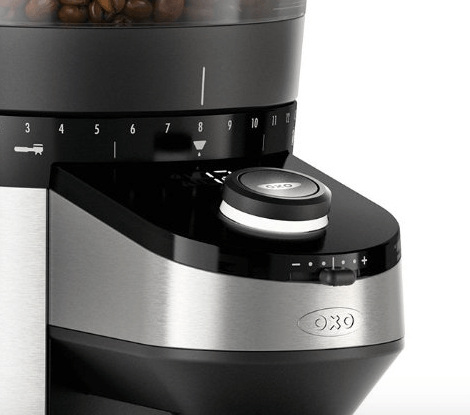 Right below the top container, there is a big button that if you hold for a second will change between cups, grams or porta-filters (depends what you find easier to measure).
The preset is 8 grams for a cup, so if you grind let's say 5 cups, you will have 40 grams of ground coffee.
The switch that is below the button can add or reduce grams in your cup, again it is up to you, whether you want your coffee stronger or not.
You can grind up to 12-cups, or grind directly into a porta-filter. OXO is designed to grind up to the exact amount you preferred – 12 cups, 12 cups it is.
We filled the top container with coffee beans and then lightly pressed the big button below it and voila, it started grinding.
I have to say it isn't the loudest electric grinder. Within a few seconds OXO On Conical Burr Coffee Grinder provided me with the exact grind I needed.
Once the coffee is ground, just remove the bottom container from the stainless steel base and open it.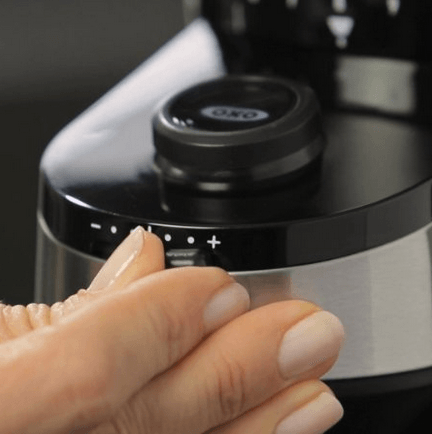 The OXO On Conical Burr Coffee Grinder with Integrated scale is fairly light weight, something that I didn't expect for an electrical grinder.
Sometimes when a coffee grinder is both lightweight AND costing me a fair bit of money, I start to wonder, but I have no bad news to report here, so I can only assume that the hardware is good, and the reports on Amazon are the same – this is a 4 star machine.
As usual, I manage to find some cons which bother me, but they are not dealbreakers, at least for me.
For instance, it is a little complicated to use at first; you will have to read the manual and follow the instructions.
You will have to learn it well if you want to get the perfect result.
But, once you have read the manual you will see that the simple dial/button and the LED interface which displays grind icons, warnings and settings can be easily operated.
I honestly thought I'd know how to use it even without reading the manual (I guess that's why there is a manual though).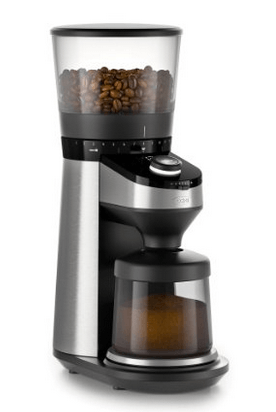 Anyway, it doesn't grind the finest of super fine blends (eg. Turkish style), and I expected to get coffee powder when I switched it up to 15, but I think that I can do without that, since I don't need super duper fine powder.
It makes great espresso grinds, and that's enough for me.
Another thing that can be a con is the price, but you can't actually expect this modern and good looking, with an LED interface, weight scale, and stainless steel coffee grinder to cost any lower.
I think we'd have a lot of good mornings together, especially because it isn't as loud as I thought it would be. Good work OXO!
Hamilton Beach 49980A Coffee Maker, Single Serve Black/Stainless Steel

Breville Bes880Bss Barista Touch Espresso Maker, Stainless Steel