The Italian-made Rancilio Rocky Doserless Coffee Grinder is a roughly 18 pound piece of beautiful coffee-making technology that is well known in the by espresso fans and the coffee industry in general as a premier model for a number of reasons we will explore presently.
Just so you know, the purpose of this review is to help anyone looking to grind and then brew great coffee at home to decide whether the doserless Rocky would a give you a grind that would suit your particular needs, whatever they may be.
Although to be quite honest and upfront with you, I can't imagine how this coffee grinder could not give you what you want, short of you opening your own café.
In any case, let's have a look at this thing, shall we?

Espresso Grinder For The Home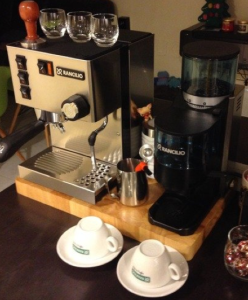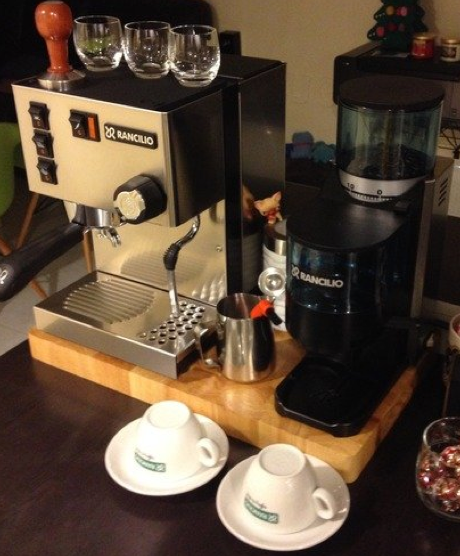 For those of us who are contemplating getting "serious" about our coffee making – as in grinding our own fresh coffee beans ourselves at home with the intention to make our own great-tasting, guest-astonishing espresso, drip, or french press coffee, the Rocky has a reputation as the go-to grinder for such things.
Less expensive grinders can do some of the same things, but the doserless Rocky is on a whole other level of performance, where you can depend on it to make great espresso and coffee every time, and its a real workhorse to boot.

Doserless Rocky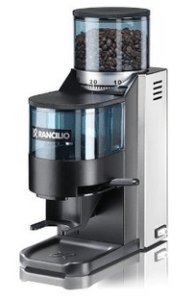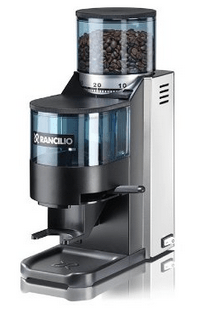 When you begin researching higher end coffee grinders, you will come across those that are "doser" models, and then there are "doserless" models.
This Rocky we're reviewing here is a doserless model, which means you are in control of the amount of grinds that fill your porta-filter, and you don't grind into a dosing chamber.

The doser models are preferred by some espresso buffs because they allow you to automate the process of grinding, but in the case of the doserless Rocky, you basically grind as you need, and your fresh ground coffee comes out of the chute and into your porta-filter.
Overall, the doserless has one less thing to clean, but whether you go with the doser model or the doserless that we're discussing here, its really up to you. They're about the same price.

Solid Construction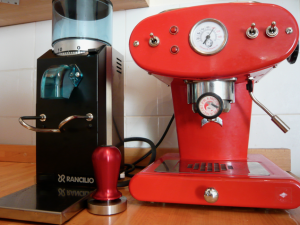 You can get an idea from looking at this coffee grinder that it appears to be a very sturdy machine, and it really is just that – very solidly constructed at 18 pounds.

In regards to its shipping weight, when it arrives on your doorstep, you will definitely notice it has some heft to it.
As we know as a general rule of quality, the heavier something is, generally speaking, the better quality the machine is overall.
While this may not always be true, as you're trying not to displace a disc in your back getting it up the stairs, you will find that the rule of heavy = good certainly holds true for this coffee grinder.
table added –
Here are some of the best burr grinders for home use according to our editors!
Capresso 56001 Infinity Conical Burr, Black

Baratza Encore Conical Burr Coffee Grinder

Hario Ceramic Coffee Mill – "Mini-Slim Plus"

Rancilio Hsd-Roc-Sd Rocky Espresso Coffee Grinder

Breville Bcg820Bssxl The Smart Grinder Pro Coffee Bean Grinder, Brushed Stainless Steel

Here is a rather lengthy but informative video review of the Rancilio Rocky by our friends at Crew Review.
Sure, you can skip over it if you wish, but it really is a helpful review which will introduce you to some of the functions of the Rocky, and these things are usually good to know before you buy.

The Rocky SD – Looks and Style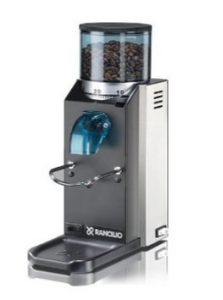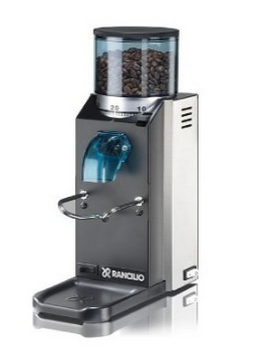 If you want a coffee grinder that is more than just a utilitarian device in your kitchen, there's a fair chance that you will get some ooh's and ahh's from guests who happen to lay their eyes upon the Rocky.
Perhaps its striking appearance is due to its European design work, but in any case, the Rancilio Rocky is definitely more of a "looker" than a lot of other coffee grinders you'll come across.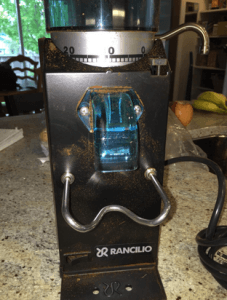 Not only that, but its modern yet classic appearance lends to many different styles of kitchen.
Some grinders and other small appliances look out of place in certain kitchens, but the Rocky has been designed have a rather timeless look to suit most styles of kitchen.
At least that's our take on it, and many other buyers seem to feel the same way.

Rocky Settings – Grinding For Drip, Espresso, French Press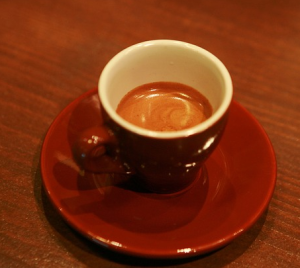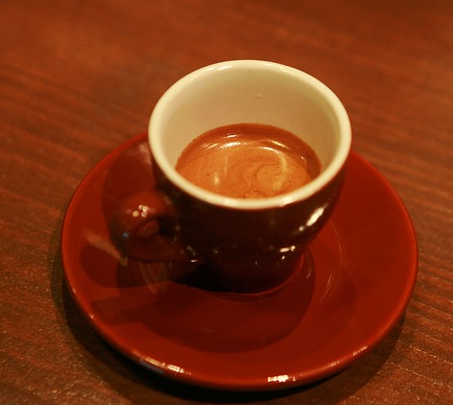 The main reason people seem to be buying the Rocky is because its grinding abilities, which are second to none.
Whether its a very specific fine grind for espresso you're after, or something coarser for drip coffee, the Rocky has the built-in flexibility to handle these two popular types of grinds, and practically everything in between.
If it does have a weakness, the occasional person will claim it isn't as strong at grinding for coarser blends, but if you are an espresso buff, you will be certainly in for a treat.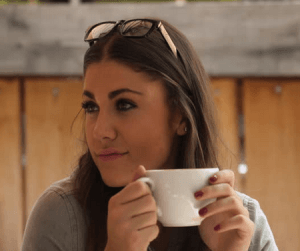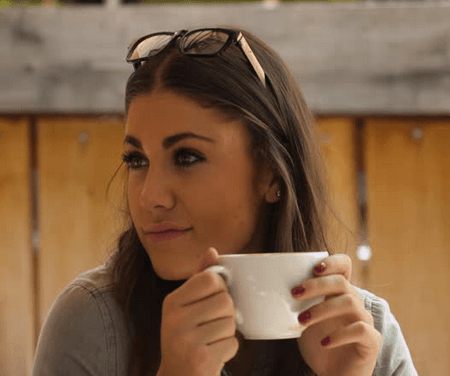 One reviewer had this to say in regards to getting the right grind for French Press:
"The only things keeping Rocky from getting five stars have to do with the grind settings. On the coarse end of the adjustment, Rocky just doesn't quite make it to a real french press grind…That said, the steps are close enough that I have not found a problem in getting the grind I desire, and the system of a release button on the collar that adjusts the burrs is slick and simple."
Grind Settings – A Few Ideas For Espresso, French Press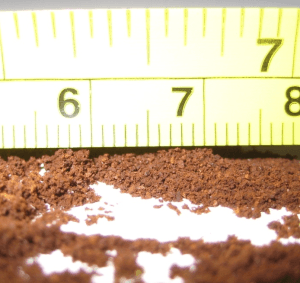 If you're just starting out, the Rocky can take time to get in tune with, as far as your grind settings go.
Normally, you will want to set it between 5-10 for espresso, whereas for French Press you might need about a 25, give or take.
Regardless, the taste of your espresso will ultimately depend on a few things, including origin of the beans, blend, humidity, and a dozen other small factors as well.
This is all part of the fun, but we admit it can also be frustrating at times.
Unfortunately, we simply can't say in this review how exactly you should grind for drip coffee with your Rocky, for example.
It's going to be up to your taste, and some trial and error. Them's the breaks, kiddo!
Zero Point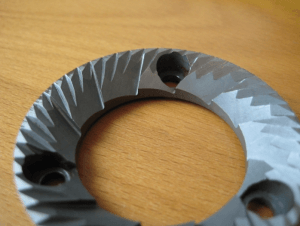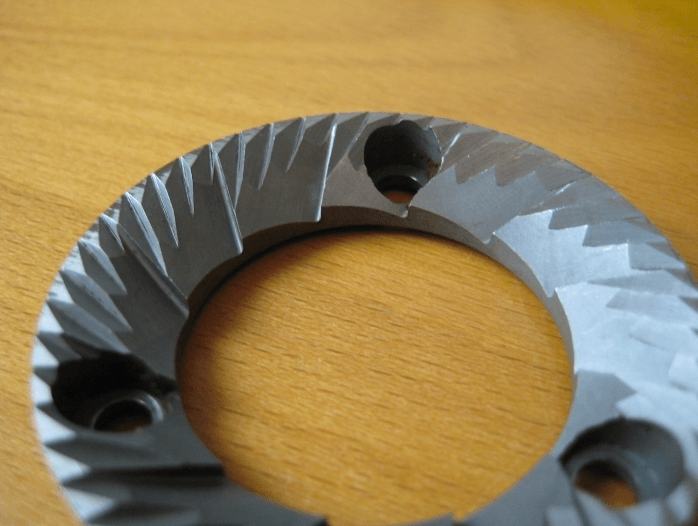 That said, be aware that with the Rocky there is something called the "zero point" where its as close as you can get the burrs together on the unit without them touching.
This is a good starting point for starting out, and you can start adjusting clicks from here until you figure out where you like things.
Here's a quick video review of the Rancilio Rocky doserless grinder…
A Quiet & Cool Operation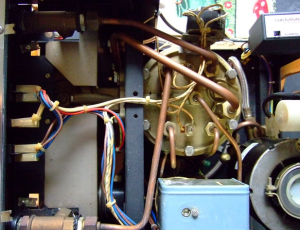 When we get into the more higher end coffee grinders, such as the Rocky – a far cry from the $20 Krups F203 – we start to see the reason that a coffee grinder like the Rocky can last for over a decade.
The Rocky has a heavy duty 166-watt direct drive motor which accounts for its overall power.
This ties in with our previous statement that the heavier a grinder is, the better it usually is as well.
Some people might try to argue this, but, by and large, its true.
In addition to providing more power, you get a quiet and cooler operation, which is a big plus when it comes to the taste of your coffee.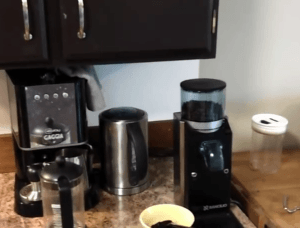 How does this work? With most coffee grinders, having a more powerful motor actually allows it to do the job with such efficiency that it doesn't have to make much noise to get the job done.
In addition, the same principle applies to the level of heat it creates.
Because its backed up with a strong motor, the machine is able to work with less effort, and keep all operations relatively smooth and cool, so as not to overheat or scorch the beans while grinding.
This leads to truer, and overall better coffee flavor.
Rancilio Rocky – How To Clean

Don't let its fanciness throw you off. Cleaning the Rocky is relatively easy, but there are some things you should know.
Rather than try to explain how its done, here's a great video which actually shows you what to do:
As this video shows, you will need a few tools to get the job done – a screwdriver, a wire brush, and a compressed air duster.
To quickly recap on the video, once you take everything apart, you just grab your handy wire brush to dislodge all of the gunk, and then use your duster (the micro-cleaning tool really helps) to remove all of the lose grounds, you simply put it back together and you're good to go.
Don't forget to unplug the machine too!
As one Rocky user said:
"I confess I have cleaned mine only once in the last 3 years and only then when it got gummed up and the motor stopped. It isn't particularly hard to disassemble, clean, reassemble and recalibrate the burrs."
We recommend cleaning it much more often than once every three years, but that doesn't mean every single week.
Its always good to get to know the ins and outs of your machine, but let it be known that there are some people that can get away with hardly cleaning it at all (although we do not endorse this).
Big Burrs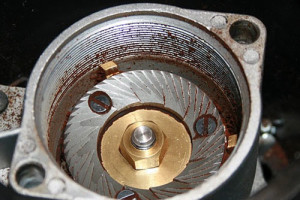 One example of a crucial part of this grinder is its 50 mm commercial grade grinding burrs.
As we have mentioned here on this website, the bigger the burrs, generally the better the coffee grinder.
Of course, bigger burrs usually means more expensive hardware as well, but you really do get what you pay for.
The burrs are the part of the grinder that actually does the grinding, so they are a key component for any quality grinder, and 50 mm is a size that says this grinder means business.
Coffee Dust On Arrival?
One Rocky user reported this odd phenomenon with regards to delivery of the product:
"Did anyone else's Rocky arrive with grinds all over the outside of the machine and packaging?"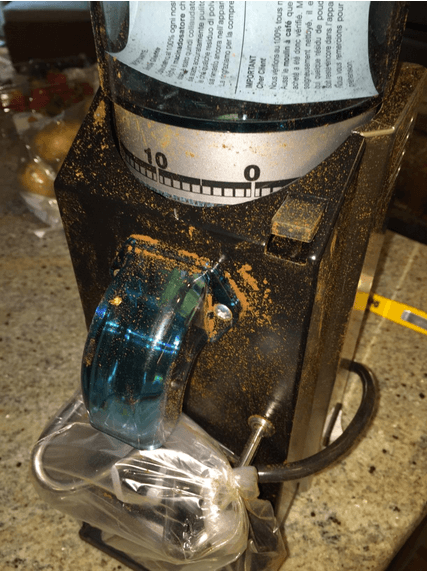 Since each and every Rocky is factory-tested, this results in the occasion deliver of a dusty Rocky, although this is not generally the case.
Rancilio even mentions that this *could* happen, due to this factory testing, so watch out!

The irony here is that due to this type of messy testing, your Rancilio Rocky will actually be much better off for it, since the testing Rancilio does on their products is rigorous.
Still, this could be a potential bother so have your vacuum or blower ready. A quick dust-off and you'll be ready to go!
Conclusion
The doserless Rancilio Rocky is one of the best coffee grinders out there today, hands down
It's got everything – the looks, the durability, and the precision to give you exactly what you want in terms of grind size, whether its a fine grind for great espresso, or a coarser grinder for drip coffee, this is the unit you buy when you're ready to up your home brewing game.
Hamilton Beach 49980A Coffee Maker, Single Serve Black/Stainless Steel

Breville Bes880Bss Barista Touch Espresso Maker, Stainless Steel