Some coffee grinders are specifically made with commercial purposes in mind, such as grinding day-in and day-out at your local café.
These grinders are definitely pricier, but then again, look at what is expected of them – year after year of dedicated usage, so that you as the café owner can gain a reputation for having the best espresso in town.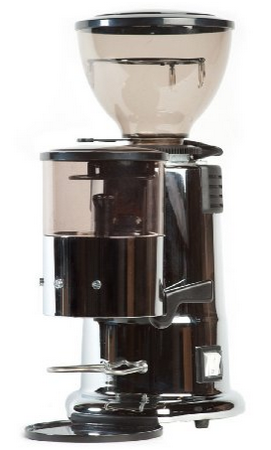 Read our full review of the Macap M4
For those who are serving espresso and coffee to the publish, these types of coffee grinders are not only needed for their speed and power, but also their control.  
To qualify as the "best" in the industry, your coffee grinder needs to be the total package.  This is hard to achieve, but some companies have certainly done it.
The main difference between commercial models and home units is that commercial models are designed to deliver results on a level that home use coffee grinders can't.  
Commercial grinders have the power to deliver results all day long, every day, and then last for 10 or more years on top of that, so long as they are well taken care of.
Have a look at this video for the Mazzer Super Jolly, which is a commercial grinder that many pro baristas love, and you will see some of the features that make a commercial grinder worth having at your café.
Listed below are what we consider to be the best commercial coffee grinders of 2017.  You can click the name of the coffee grinder to read our feature review or you can click the Amazon link to view the product's Amazon page and read user reviews.
We have written a number of extensive articles on commercial coffee grinders and of course we recommend giving them a look if you have a chance.  Commercial grinders aren't cheap, so it is worth reading up on them and these articles highlight all of the features that they use to make your coffee superb.