If you read our review on the Touch Brewer you probably remember that these bad boys work perfectly well with K cups.
We've tried a few different kinds and I wanted to share something very delicious and super strong with you and that is San Francisco Bay OneCup French Roast.
Here we have a fine gourmet blend of coffee that come from Central and South America; the roast is very dark, while the flavorful oils rise to the surface of the bean so you can actually taste it all.
It is really quite strong and perfect for when you've just woken up. The coffee contains caffeine and no artificial flavors.
The OneCup makes for a very smooth, strong cup of java.
I have to say that this coffee is just perfect for me, according to my taste with an intense, smoky flavor that I wouldn't recommend to people who have gentle hearts and nervous systems because trust me, this one will shake you up a bit.
Eco Friendly French Roast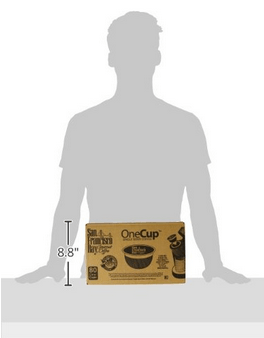 The San Francisco Bay OneCup has a rigorous testing process which means before, during, and after roasting, and it fits absolutely perfectly into most electric brewers that have a special K cup holder.
The cup is made of 97% bio-degradable and as it says, it is eco friendly.
Now if you're someone who would constantly use these cups, its worth noting that they're eco friendly because many K cups are not, and that has lead to a lot of people complaining about how bad K cups are for the environment.
Well, not these ones, so worry not!
The package includes a ring, a bag and a box. If you own an electric coffee maker that is K-cup friendly, I'm sure you already know how what to do with these things.
I must say, the San Francisco Bay OneCup has a cool design; they are foil sealed with a plastic ring around the top, and the rest of it is a filter.
Love The French Roast? Great Package Deal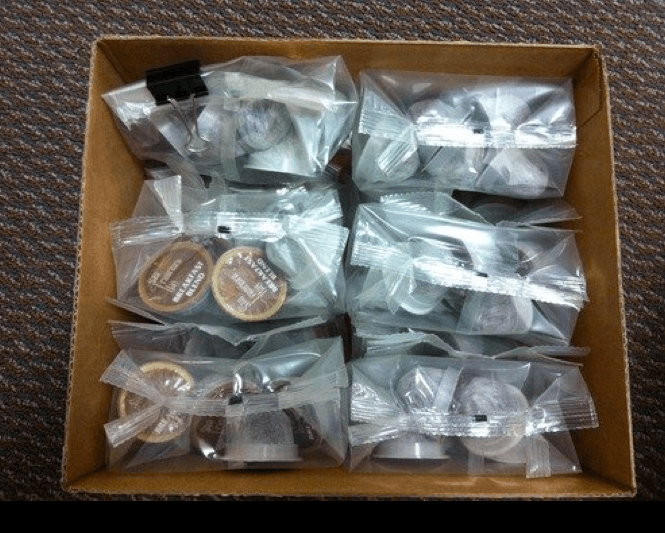 Never used a K cup? Its easy! Once you have placed it in the brewer, just a hole gets punched on the top, not the bottom as it happens with K-cups.
Actually, there is a bottom where the open filter is placed. Still, this is not a problem as each box includes a small container to keep your K-cups fresh.
The box includes about 10 sealed bags per box, and each bag contains eight K-cups. Once you open the box, make sure you'll store the other seven cups somewhere where they will remain fresh till you use them for your next cup.
Before placing them in your coffee brewer all you have to do is remove the lid and mesh the filter in trash. The cups are fairly easy for placing inside the coffee maker.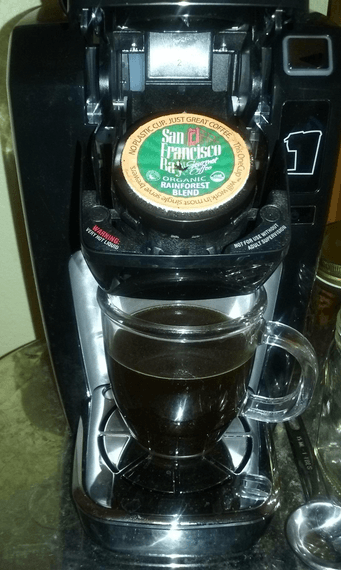 San Francisco French Roast Fog Chaser
San Francisco Bay OneCup is 100% Arabica coffee and can be used with
• Keurig K-Cup Brewing Systems
• Cuisinart SS-700c Single Serve Brewing System
• RealCup RC400 Single Serve Brewing System
Arabica beans grow at high altitudes of 3000 ft. or higher. Coffee beans that are grown on high places and in deep shade make complex and tasty cups of coffee such as this one.
San Francisco Bay One Cup serves 80 single coffees and costs about $25 or so dollars, depending where you buy them.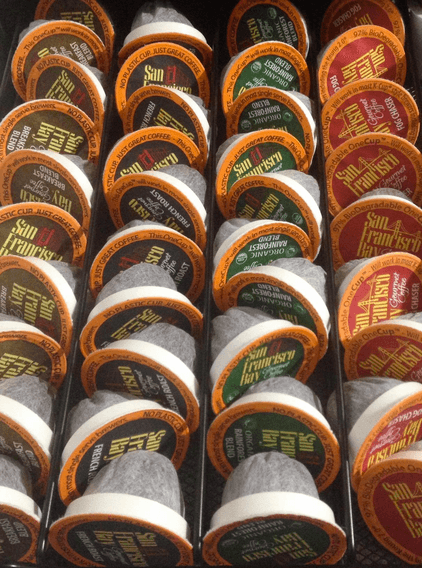 Remember, the coffee is strong, has a clean taste and is not for people who don't prefer extremely strong tastes.
San Francisco Bay OneCup, French Roast, 80 Single Serve Coffees
But on the other hand if you're a fan of strong coffee tastes this will absolutely surpass your expectations, and yeah, the price may seem a bit high, but let's be serious, you'll get coffee shop quality coffee at home.
I personally liked what I got and 80 cups is a pretty reasonable number even for a coffee addict like me that will keep me occupied for a while.