Last Updated on
Many coffee lovers are familiar with Turkish brew, but not too many know that you can quickly and easily recreate your own little Turkish coffee haven right at home, but with the right equipment, it is possible.  All you need is some whole Turkish coffee beans such as Café Altura, and a few simple tools, and you're good to go.
One of those tools is a Turkish style grinder.  To be honest, any hand crank or high quality burr coffee grinder will do, so long as it specializes in an extra fine grind.  So its not really all about appearance here.  You don't *need* an ornate-looking Turkish grinder to make this delicious type of coffee.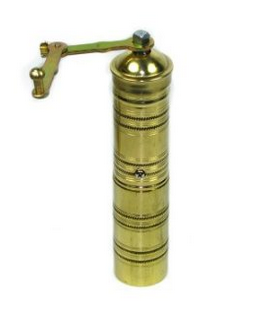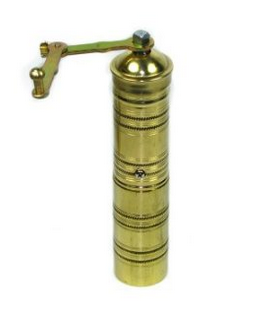 Visit http://www.sozengrinders.com
However, if you want the experience to be authentic, and you've already got yourself a Turkish copper coffee pot, Turkish coffee beans, and maybe even a Turkish serving set…well, you can go the whole nine yards and get a beautiful Turkish-made hand grinder to complete the package.  Today we are looking at this large-sized Sözen coffee grinder, which is made in the authentic eastern style.
QUICK STATS
MANUFACTURER: SÖZEN
CAPACITY:  4 OUNCES
DIMENSIONS: 1.8 x 1.8 x 8.5 INCHES
SHIPPING WEIGHT: 1.2 POUNDS APPROX
TYPE: MANUAL TURKISH COFFEE GRINDER
OUR RATING: 4 STARS OUT OF FIVE
Sözen, the makers of this grinder, are a very small family run business, making hand crafted Turkish coffee grinders, as well as pots and other coffee-related items.  Their reputation is high amongst those who know about quality Turkish coffee – the Turks themselves!
Standing 8.5 inches tall, it is not the absolute largest grinder on the market, but, for a Turkish grinder, it is one of the largest of this type.  It is a fair bit bigger than the Bazaaranatoli model, which was previously reviewed on this website.
Can Also Be Used For Pepper & Spices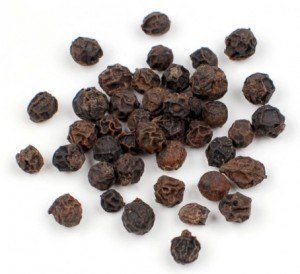 Some customers find this to be as good of a pepper mill as it is a coffee mill.  
Made strong and firm from solid brass, this is a burr grinder with an impressive 3/8th of an inch steel mill. This means that sure, you can throw pepper in there, or coffee – stuff that's pretty tough – and it will do its mightiest to chew it up for you.  In fact, it does a good job.  
We would suggest, however, that you don't use it for both coffee and pepper or whatever spices, because the flavors will mingle and you run the risk of your coffee being umm.. disgusting!
There is also a detachable handle (5.5") which fits snugly inside the unit when it is in transit or not in use.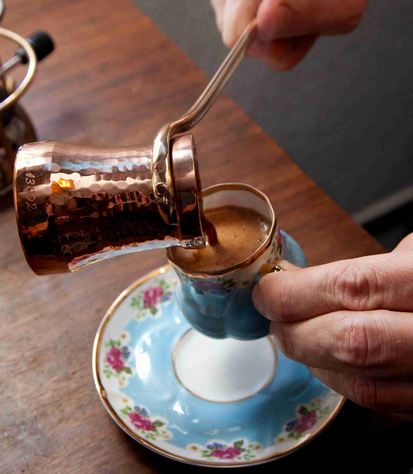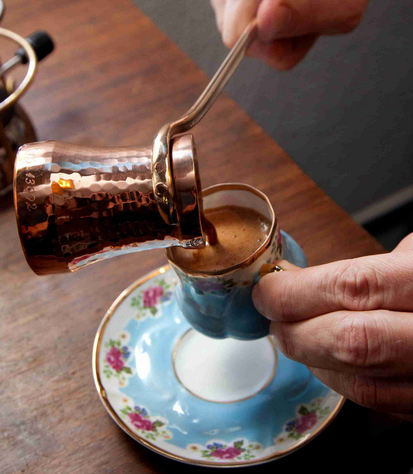 Adjustable Grinder
The coarseness of the grind can be adjusted, so you are not just limited to the super fine required for making Turkish coffee, but most likely that is what you purchased it for.
The grind consistency that this model produces is good and you should not be disappointed with the general output.  Additionally, it looks charming. Cast from shining brass, it is cylindrical and smooth, whilst also retaining its Turkish allure. 
There are other, far more expensive Turkish Coffee Grinders out there and not all of them enjoy the esteemed reputation that Sözen do.
Portable, Requires No Electricity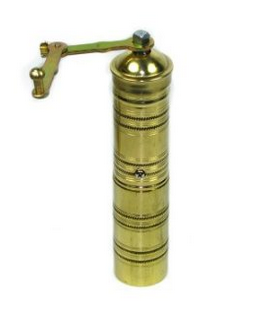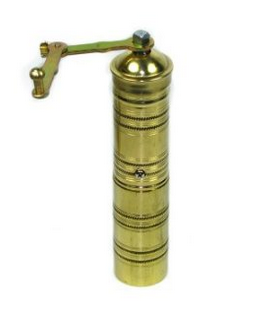 Obviously, as a hand operated piece of machinery, you already have the advantage of this being available to use anywhere, even in a power blackout!  Because it is not too big, or heavy, you will be able to carry this about your person, if grinding great coffee on the hop is important to you.
In terms of detracting factors, some people have commented that it is too small for their liking, and it doesn't grind enough coffee for one sitting for you and friends.  In this grinder's defence, we'd like to say that while it does take time to grind a fair amount of coffee, the purpose of Turkish coffee brewing is to be rather slow and intimate, gathering together friends to make a special brew and also taking your sweet time.
If you want to get a clearer idea of what is involved in making Turkish coffee according to the age-old maxim "Black as hell and sweet as love!"  Watch this video below…
Cleaning
Now we move onto the thorny issue of cleaning, as you may have guessed, it is NOT the greatest idea to drop this into the dishwasher – or even the sink.  Being made of solid brass, this requires a light brushing and some gentle cleaning up with a damp cloth to keep it in tip top condition.
In fact, there are some pretty weird and wonderful tips out there for cleaning without water, including using toothpaste(!) and soaking in grain alcohol.  Our advice would be to proceed with caution with these types of suggestions, unless you really know what you are doing.  
Here is a video showing how to clean brass that should help you out with the cleaning of this grinder.
Ok, now we move one to a short list of what we see the pros and cons of this Sözen coffee grinder…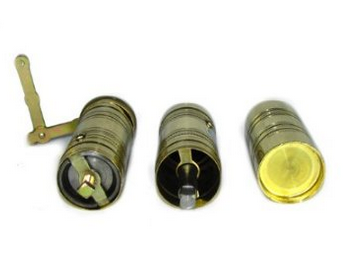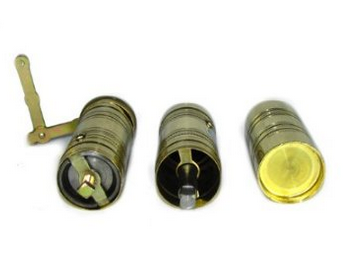 PROS:
THE PRICE

ROBUSTLY MADE

HANDCRAFTED AND AUTHENTIC

RENOWNED MANUFACTURER

MULTI  PURPOSE – ALSO GRINDS SPICES

PRODUCES GOOD QUALITY GRINDS

100% METAL – NO PLASTIC PARTS
THE CONS:
COULD BE BIGGER

NOT ELECTRIC

PACKAGING COMPLAINTS
Overall
We must say that as much as we do like this Turkish coffee grinder, there have been a few complaints which are difficult to ignore.  From botched packaging jobs, to accusations that this grinder is better for pepper than it is for coffee, people have definitely given this grinder a few mixed reviews.  In our opinion, much of the fuss seems to stem from this grinder coming all the way from Turkey where it is made.  On the other hand, many other people simply love this grinder and have had no issues with it.  
Our overall recommendation would be to read some of these reviews for yourself before buying, as ultimately the decision is up to you.  That said, we love the design of this grinder and give it 4 STARS!
Summary
Reviewer
Review Date
Reviewed Item
Sözen Turkish Coffee Grinder
Author Rating