When looking for the perfect coffee maker, there's a lot to consider: size, format, cost and more. However, many people fail to consider one very important thing – the carafe.
Your coffee will sometimes sit in the carafe for up to several hours at a time, so it's very important to understand how different carafes can affect your morning cup.
The two main types of carafes are thermal and glass. Both have their merits – as well as their drawbacks. Stay with us to find out how they differ and which is the best choice for you.
Coffee Gator Pour Over Brewer – Unlock Flavor With Paperless (…)

Bodum Pour Over Coffee Maker With Permanent Filter

68 Oz Stainless Steel Thermal Coffee Carafe/Double Walled Vacuum Flask (…)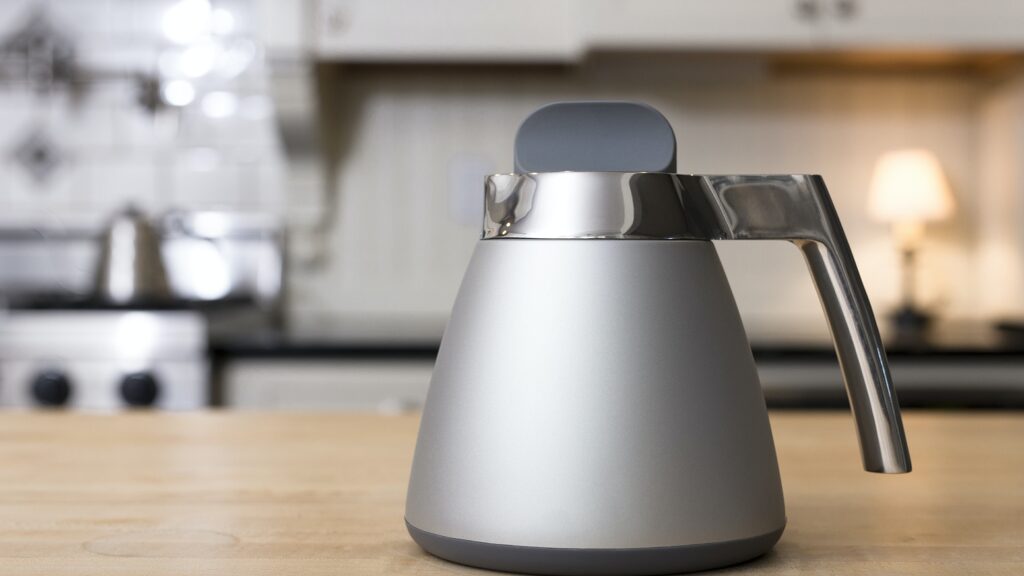 Thermal Carafe
A thermal carafe is a double-walled container, usually made of stainless steel or aluminium. It can also be made of combination of different materials; the inner layer can be made of aluminium and the outside layer of stainless steel, rolled steel, plastic, or other composite material.
Between the walls, there is (but not always) a vacuum to help minimize heat transfer via convection (i.e. air movement).
As the the two layers touch only in a few specific spots, heat transfer through conduction is also minimized. With minimal heat loss, the contents in a thermal carafe can retain heat for hours.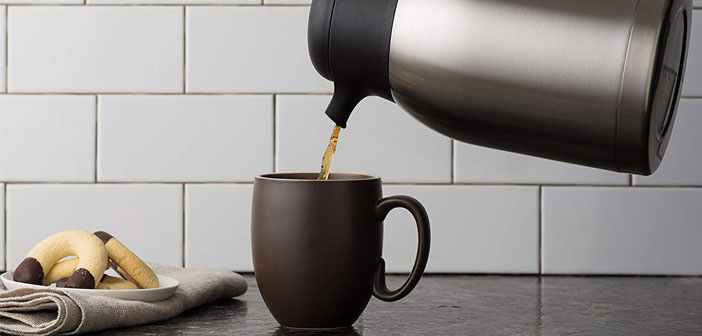 The stainless steel walls also ensure maximum durability and allow the carafe to take a beating without denting or cracking. This means you get to save money as your thermal carafe should remain in great working condition for a long time.
Pros
Keeps coffee hot for longer
Sturdy and durable metal construction
Preserves the coffee aroma and flavor
Great for commercial use
Cons
Typically heavier
No sight gauge to see the amount of coffee left
A little hectic to clean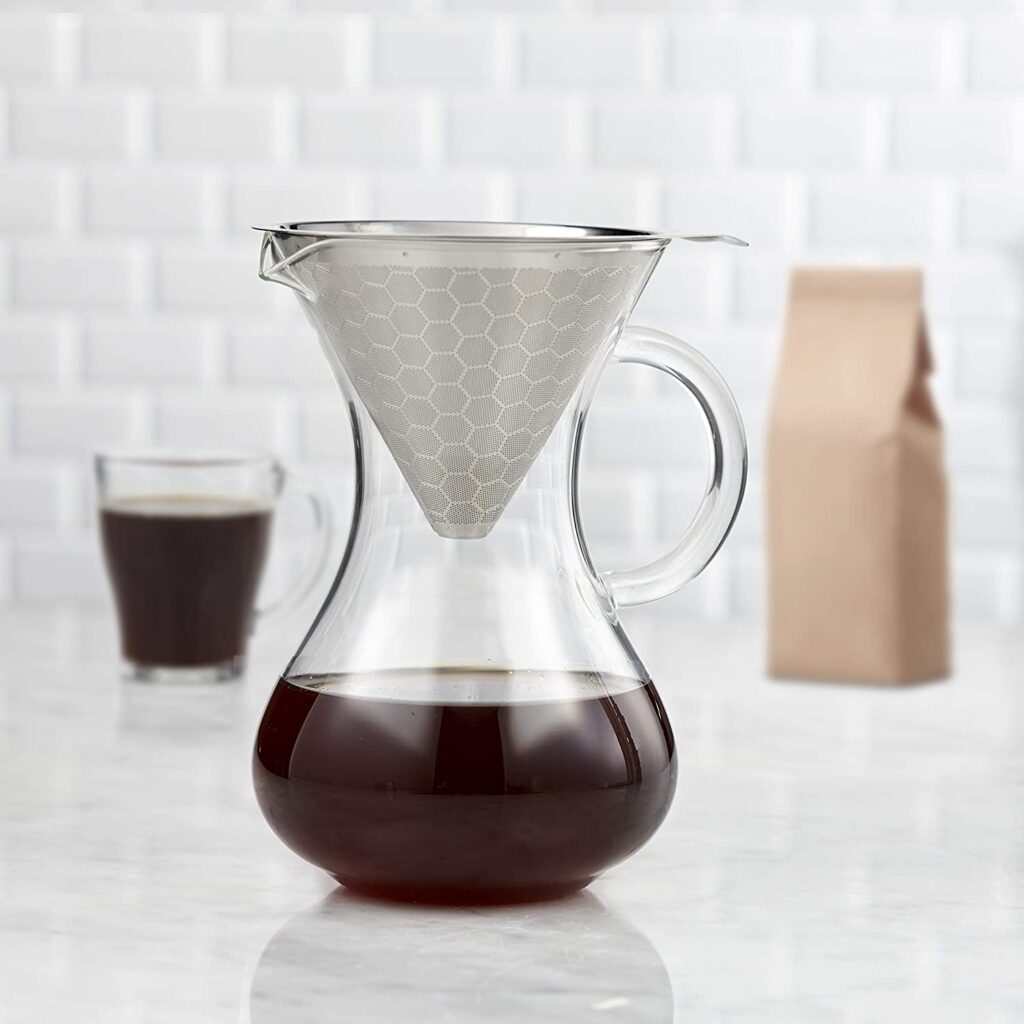 Glass Carafe
Glass Carafe
A glass carafe is exactly what it sounds like–a glass container for liquids. A glass carafe is considered the "traditional" option.
Glass carafes are more common than thermal carafes as they have been around much longer and are usually the standard type that many coffee makers will come with.
Glass carafes are made from glass, but usually have some sort of plastic or wooden handles that are built to remain cool to the touch even when the carafe is full of hot coffee.
Glass carafes let you easily monitor the coffee level and can easily tell when you are running out of coffee.
Given that there is nothing very fancy about these carafes, they usually cost less than the thermal carafes. Glass carafes are also easier to clean than their thermal counterparts. In most cases, glass carafes are dishwasher-friendly.
Pros
More elegant look
Dishwasher-safe for easy cleaning
More affordable
Glass makes it easy to monitor the coffee level
Cons
Fragile
Can't keep coffee hot for long
Coffee can become stale, rancid or even burnt over time
Ok, now when you know the difference between glass and thermal carafes, you are all set to get the one which better fits your needs. Here we review two of the most popular models on the market today.
Bestek Coffee Carafe
BESTEK Coffee Carafe
Made of double wall stainless steel, the BESTEK Coffee Carafe is perfect in keeping your beverage hot or cold at any temperature.
The BESTEK coffee carafe is designed with a spill-proof technology which makes it incredibly easy to use. Thanks to the spill-proof designed just a single hand is enough to pour your favorite beverage into your mug, without making any mess.
The sleek design makes this carafe best for home, office or for parties.
The interior part of the carafe is filled with a vacuum glass liner which help the beverages remain hot or cold for up to 8 hours.
This thermal coffee carafe from BESTEK has a capacity of 50 ounces which is perfect for many people.
Pros
Holds nearly all kinds of beverages
Retains temperature for up to 8 hours
50 ounces capacity
Easy to fill and clean
Perfect for home, office and restaurant use
Cons
The lid can be hard to open and close


CHEMEX Pour-Over Glass Coffeemaker
The Chemex coffee maker is a popular pour-over coffee maker (and carafe) made from borosilicate glass.
The carafe is available in two different styles and in a variety of different sizes.
When it comes to style, you can choose between the "Classic", which includes the wooden collar, or the "All Glass", which has a glass handle.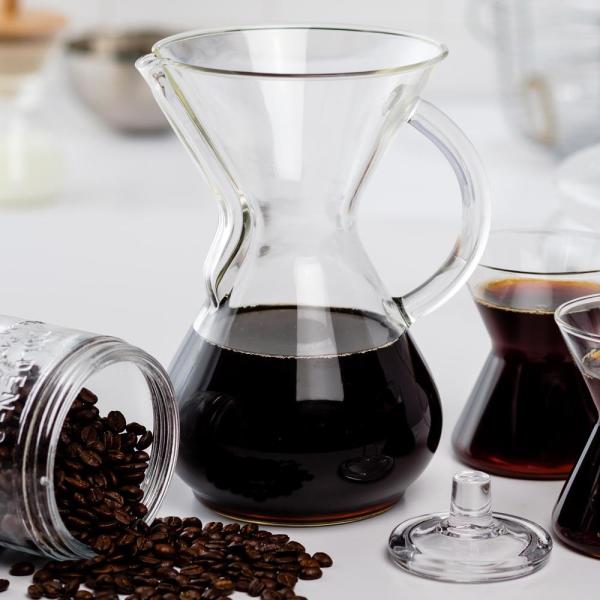 The collar on the Classic carafe serves as an insulated handle and protects your fingers from the heat.
This coffee carafe is beautifully crafted and simple to use. Together with its propriety bonded paper filters, it makes a perfect beverage that's clear, pure and flavorful without any bitterness.
Pros
Beautiful and elegant design
Available in various sizes
Made from borosilicate glass
Easy to use and clean
Cons
Fragile
Not great for traveling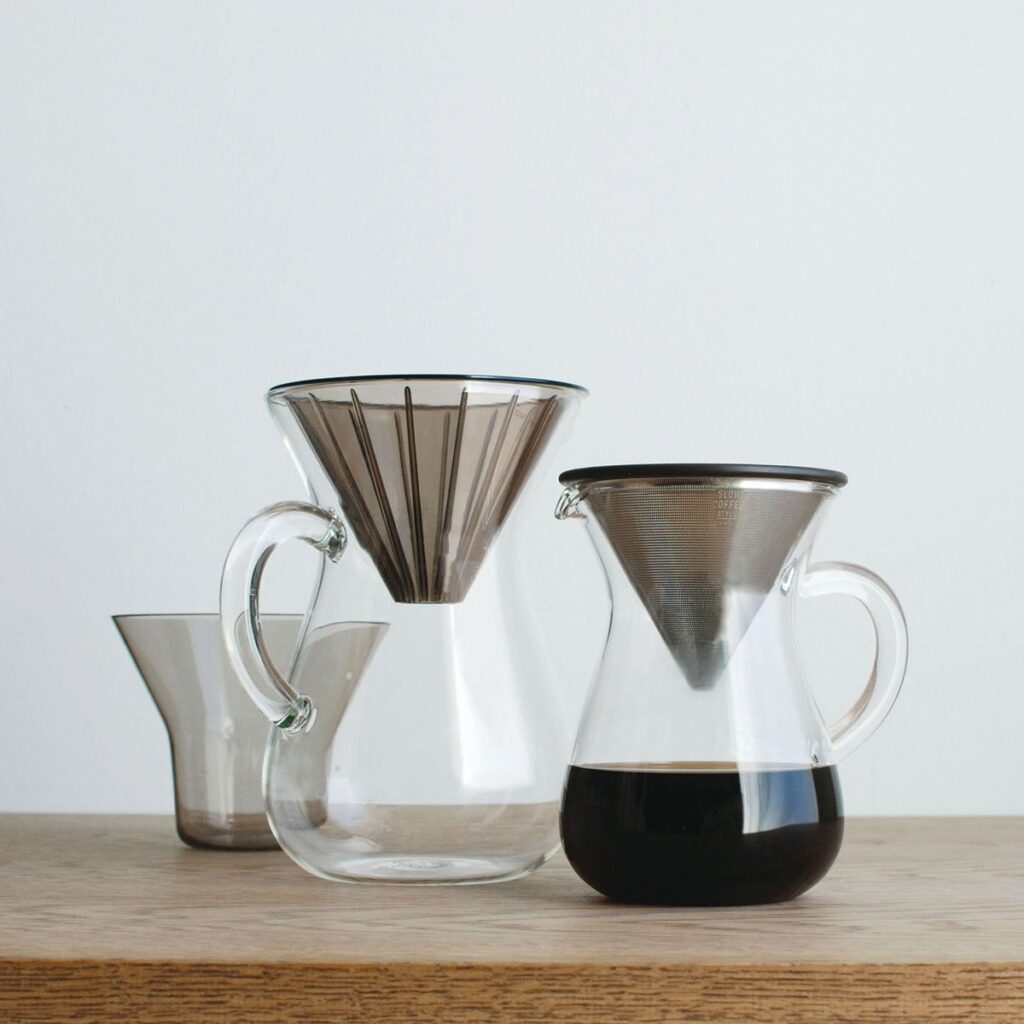 To summarize – We can't tell you which carafe is definitively better, because both glass and thermal carafes work just fine depending on your needs. It is only up to your preference and the speed you drink your coffee.
Some people don't mind having lukewarm or even cold coffee, so glass would be better for them as they lose heat faster.